Broadcast All Audio On Mac (Using Audio Hijack 4)
For broadcasting all audio on Mac, Audio Hijack 4 is an elegant solution. Take granular control of your audio sources with its easy-to-use block system.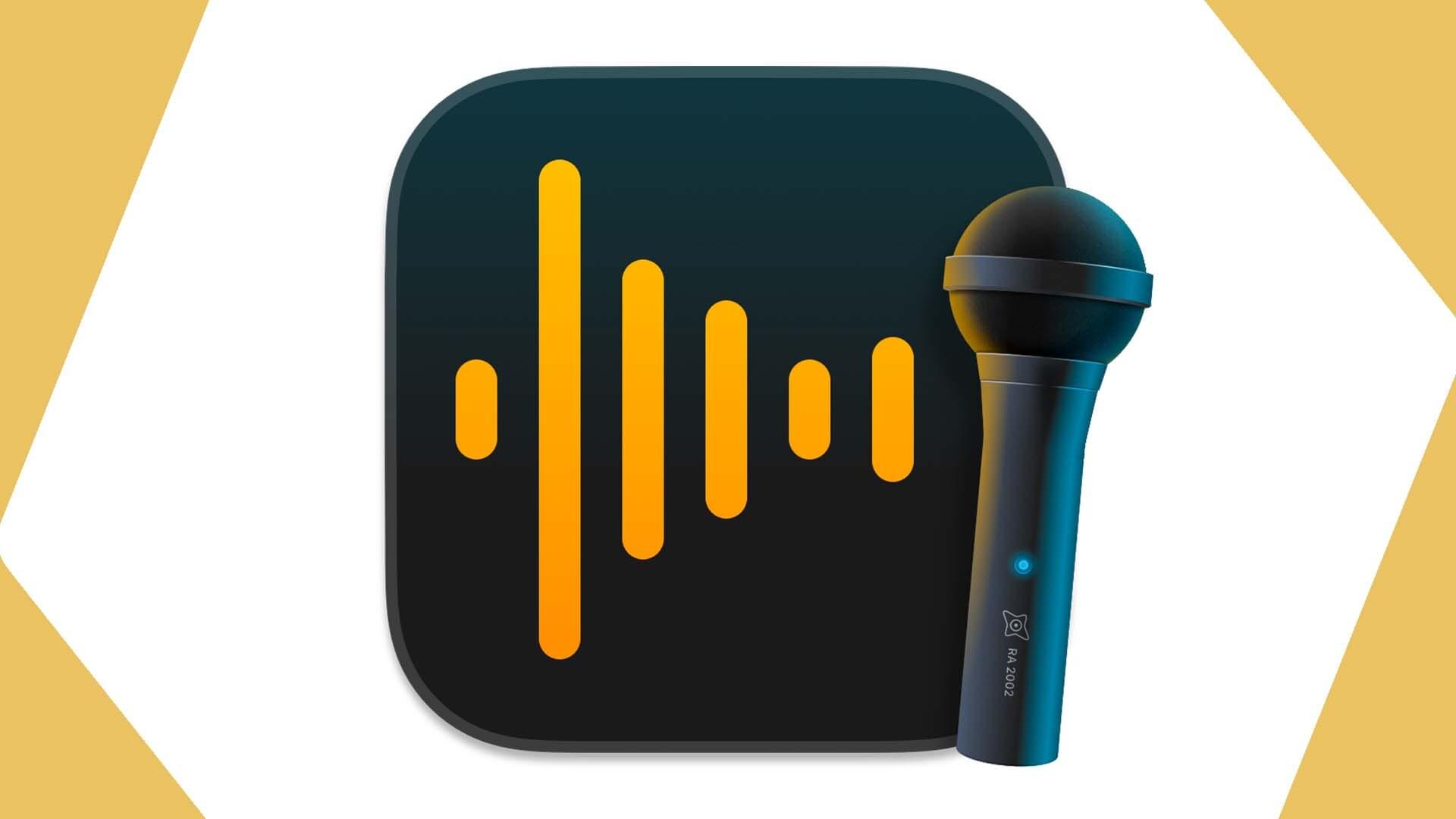 What is Audio Hijack 4?
Audio Hijack 4 is an easy-to-use DAW (Digital Audio Workstation) for Macs. Audio Hijack 4 makes it super easy to alter, record and broadcast all sorts of audio on your Mac. Audio Hijack isn't exactly new - it's 18 years old - but this 4th edition has made the software better than ever.
We'll run through Audio Hijack's new features that are great for radio stations. And if you're new to the software, here's everything you need to know to use Audio Hijack 4.
How Much Does Audio Hijack 4 Cost?
Audio Hijack 4 costs $69 + local taxes.
But If you have Audio Hijack 3 already, you can upgrade to Audio Hijack 4 for $29.
How Does Audio Hijack 4 Work?

Audio Hijack 4 uses blocks that you can drag and drop within the app. Each block does various things. They can capture, record or manipulate different audio sources. And they can mix these sources together or send the audio to various places.

For example, you could use a block to capture the audio from a microphone. Another block to edit this audio e.g. with a low-pass filter. And another block to send this to your internet radio station.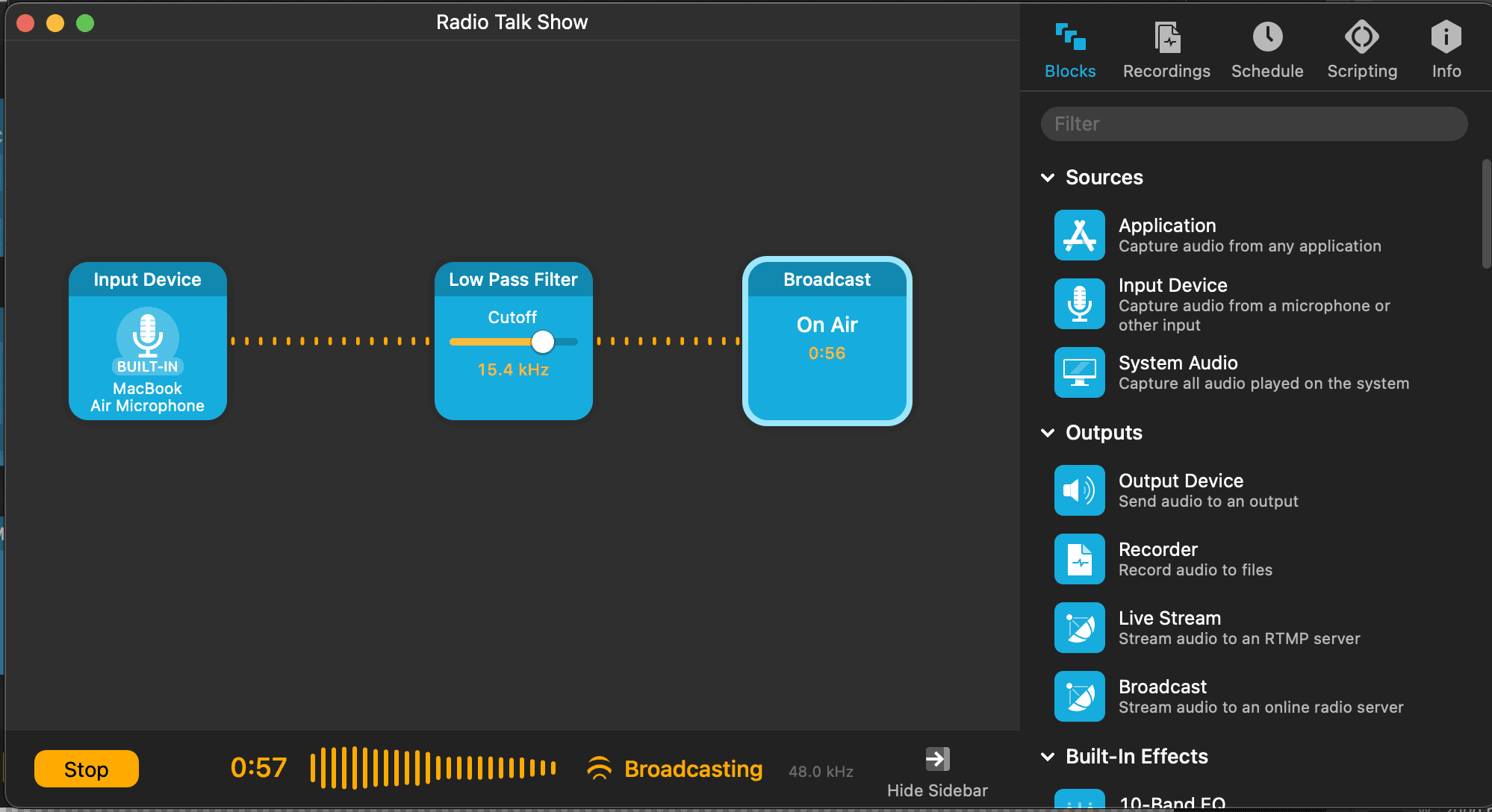 The block system lets you broadcast all audio on Mac. So you can add in any audio source and create a session that brings together all your hardware and software.
Alternatively, Audio Hijack 4 can capture your entire Mac's audio with one block. But its advantage is letting you be selective over what you capture, record and broadcast. So, you can have granular control over your sessions.
And as you can have many audio sources (inputs), you can send this to many places (outputs). You can send your audio to be recorded, you can listen to to it through speakers or headphones, send it to a live stream and your radio station all at the same time if you wish.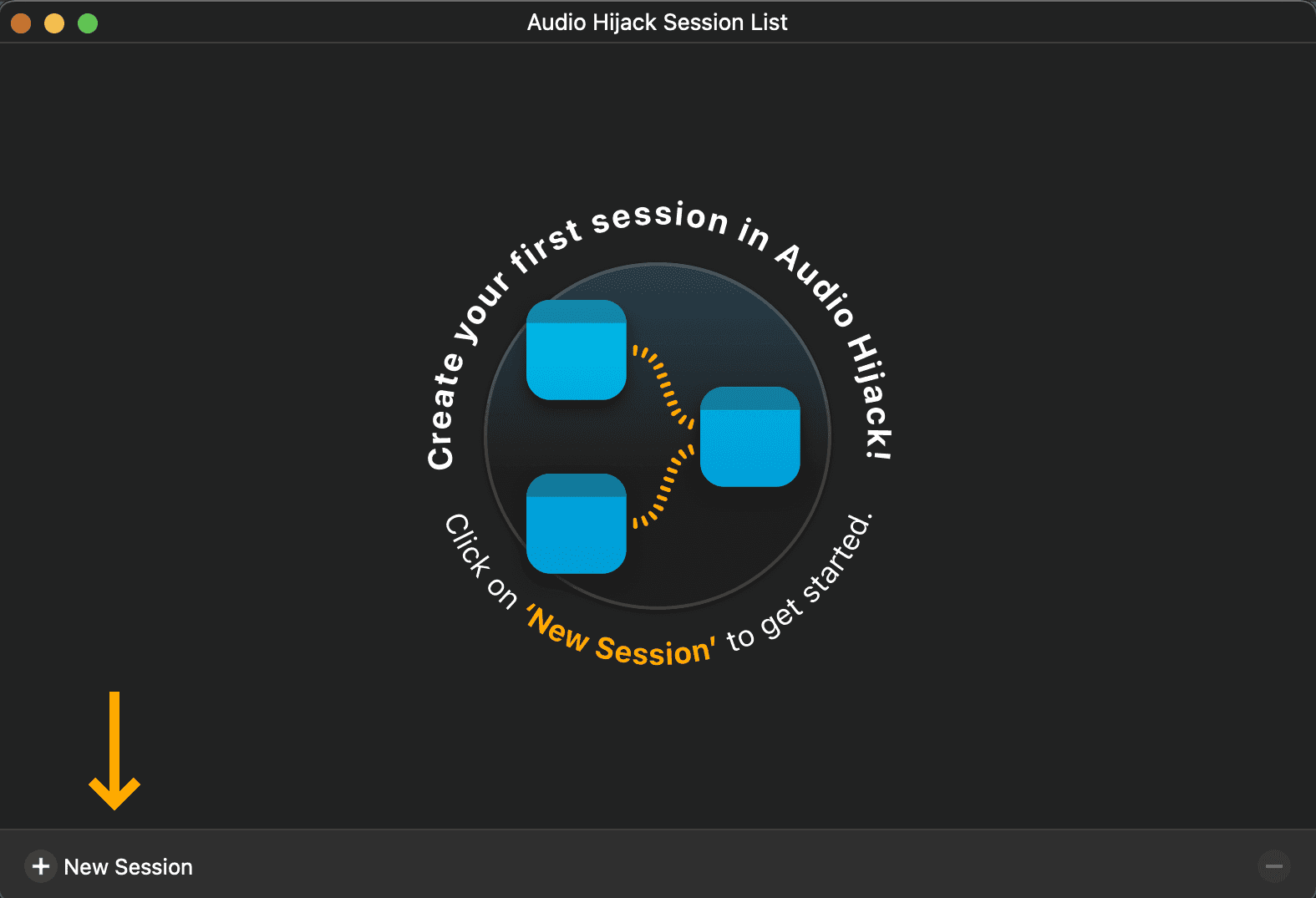 What's New With Audio Hijack 4?
Rogue Amoeba, the company behind Audio Hijack, have gone to town upgrading this new version.

Here's a few of the new features, but be sure to check out the full list.
Interface Improvements
Versatile Session Window: Start and track different sessions using the main window. This will be handy to seamlessly transition between DJs that use different hardware.
Manual Connections: Previous Audio Hijacks automatically connected blocks together. But Audio Hijack 4 lets you do it manually for greater control in complex setups.
Blocks Filter: Need to mute or boost an audio source? The Blocks Filter lets you find a block with ease, great for when you have a complex set up/loads of blocks.
New Blocks
Mixer: Mix up to five sources together using this new block - complete with volume controls & fades.
Magic Boost: Increase the volume on quieter sounds without affecting the louder sounds.
Simple Compressor: This block reduces the range between soft and loud sounds. so can improve your audio - be it from a microphone or other source.
Auto-run & Background
Background Session: Close the Audio Hijack 4 window and it can keep running in the background.
Auto-run: Set Audio Hijack 4 to run automatically when it's launched.
Run Continuously: You can set Audio Hijack to run non-stop, perfect for a 24/7 radio station.
Automation & Scripting
Scripting: Scripts can run automatically when sessions start and stop. And they can process recordings as they're created.
Shortcuts Support: On MacOS 12 (Monterey) and up, you can integrate Audio Hijack 4 with workflows you run in the Shortcuts app.
Built-In Scripts: Streamline your use of Audio Hijack 4 using the built-in scripts for basic automation.
New Block Features
Presets: you can now save each block's settings for a later session.
Editable Block Titles: rename each block what you like and make them easier to find.
Pinning: Pin any blocks popover so you can see what's going on, regardless of what else you're doing on your Mac.
Other Features

Specific Sample Rate: You can now set a session to run at a specific sample rate if you need it to.
Global Hot Key: You can set up a a keyboard shortcut to bring Audio Hijack 4 to the front of your desktop.
New & Improved Session Templates: So you have plenty of options to choose from a pre-configured set up.
Broadcast All Audio on Mac (Using Audio Hijack 4)
Broadcast all your desired audio to your internet radio station by setting up Audio Hijack 4.
Download Audio Hijack 4, open the application and select New Session. Then choose Blank from the session templates.
Rename your new session to something meaningful, like your radio station's name, by clicking on the Info icon in the top right corner of the window.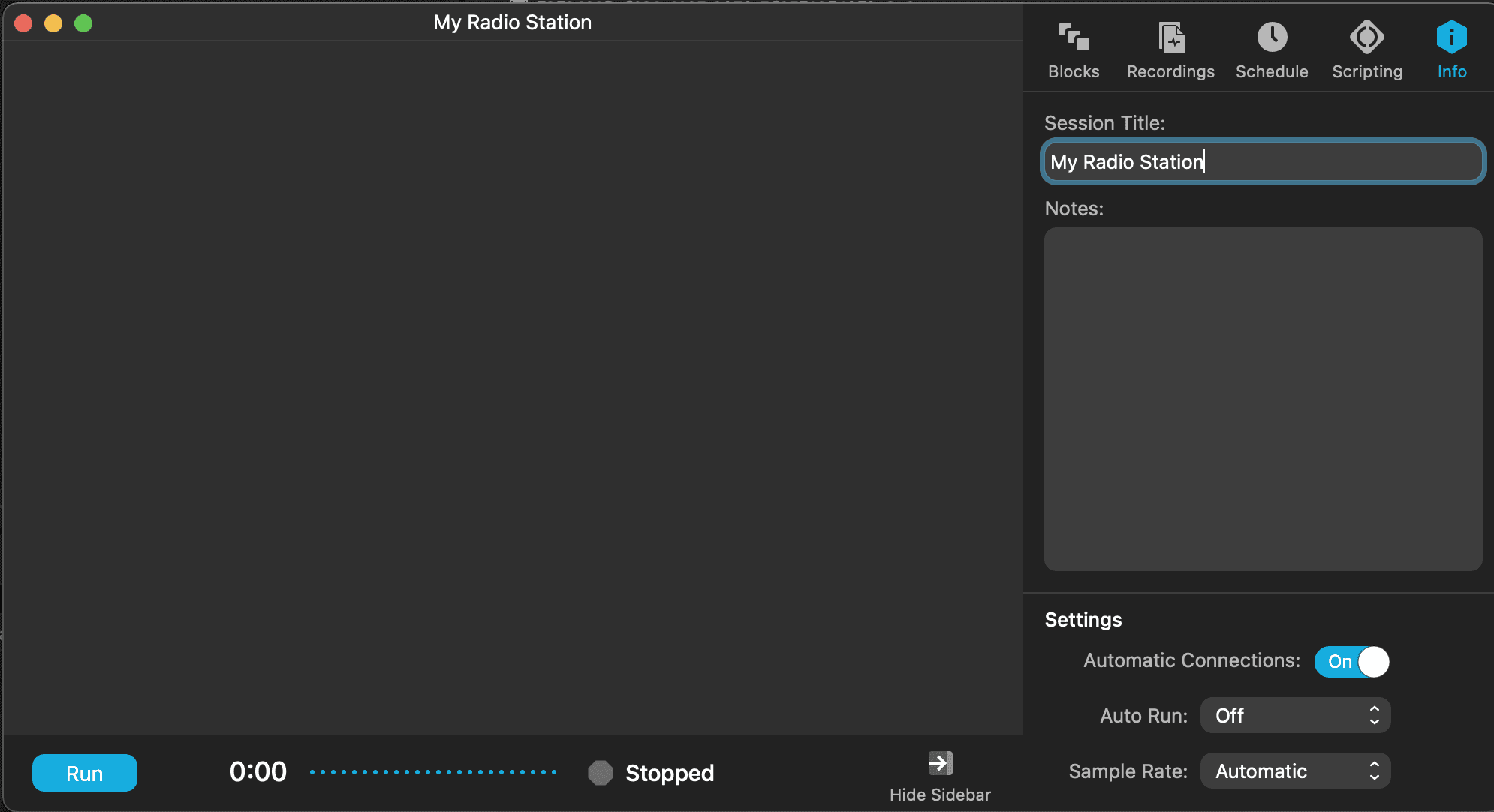 From the Sources area in the right-hand side panel, drag in the relevant blocks for the inputs for your broadcast.
The Input Devices block can generally be used for hardware audio sources like microphones, mixers or sound cards.
The Application block can generally be used for any software audio sources i.e. music players like iTunes, Spotify & Winamp, calls applications like Skype & Zoom, soundboard software like Soundplant 50.

Use one block for each piece of hardware and one block for each software programme/application.
Drag in the Input Device blocks and select the microphones, mixers, or sound card you have connected to your Mac
Drag in the Application block and select the app you want to use

From the Outputs drop-down, drag in a Broadcast block. This is the piece that will broadcast all your chosen audio to your internet radio station.
Once dragged in to your session, select the broadcast block and under Setup, select Shoutcast v1 & enter in your Host Name, Port, and Password. If you use Radio.co, these details can be found under your Live tab in the Radio.co Dashboard.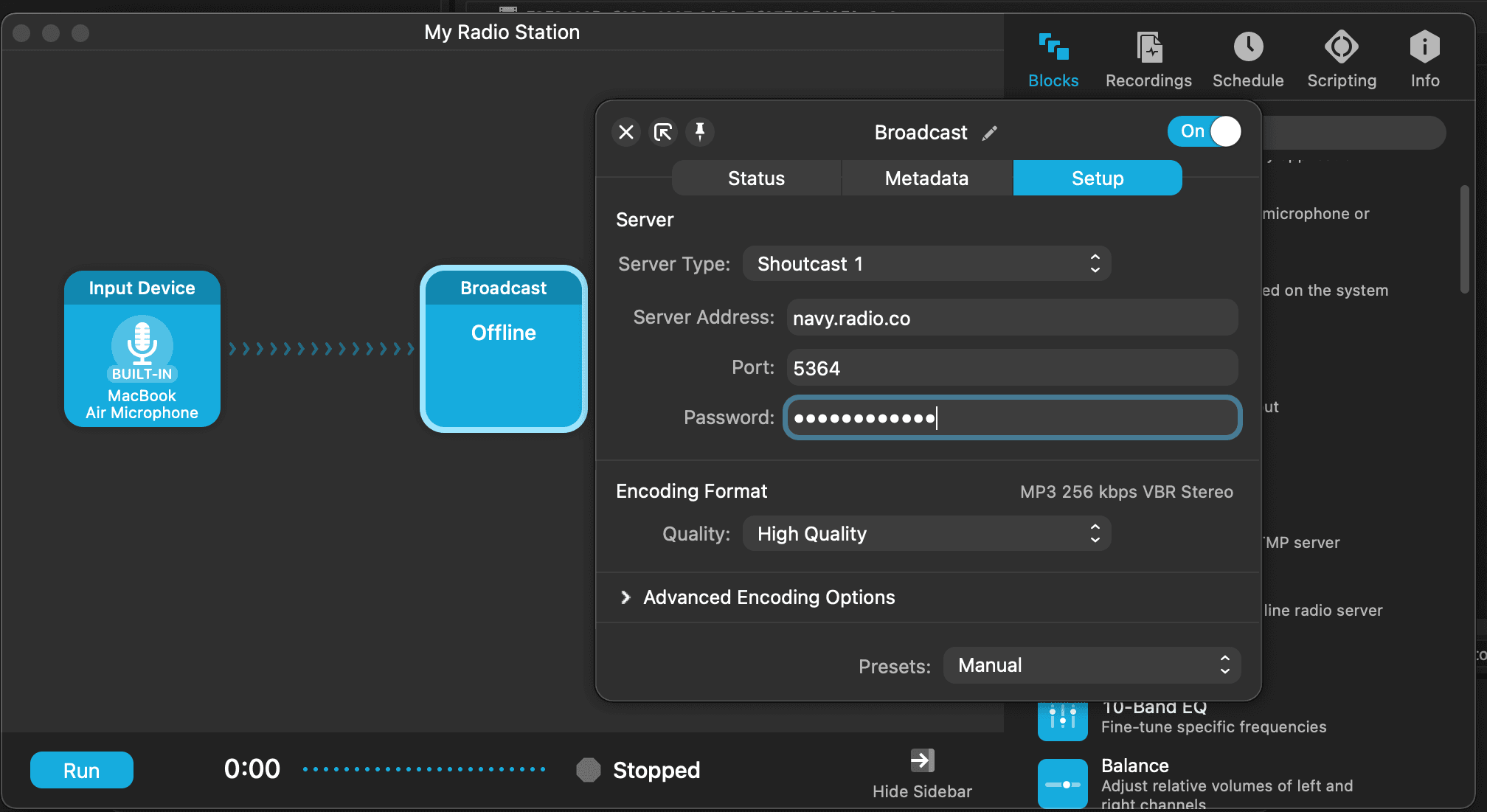 Once you're ready to get on air, hit the Run button in the bottom left corner of Audio Hijack 4. It can take a couple of seconds for your stream to reach your station, when it does your connection should show that it's on air.
Alternatives to Audio Hijack 4
While Audio Hijack is incredibly easy-to-use there are some great alternatives.
LadioCast
This is a free app designed exclusively for Macs. LadioCast lets you add up to 4 inputs and 4 outputs, which is plenty for many radio stations that have smaller set ups.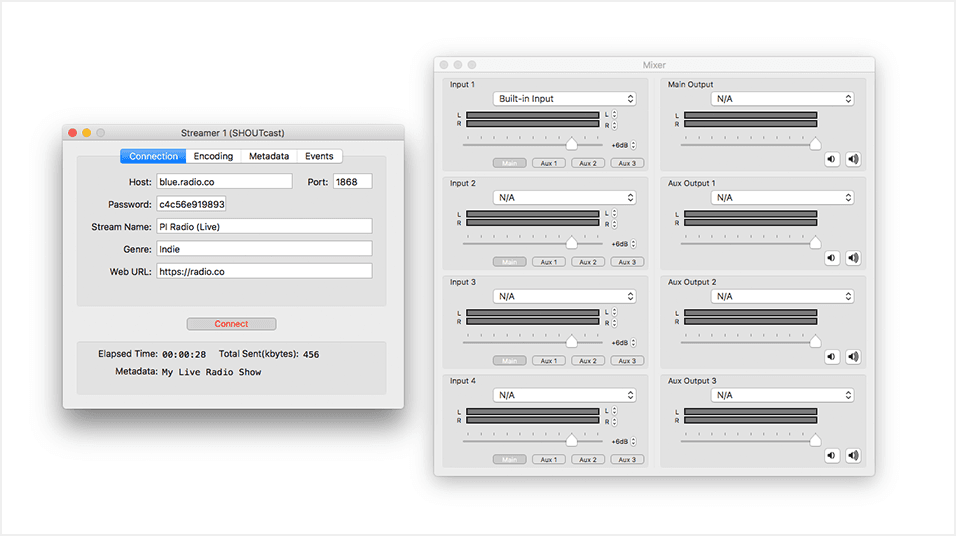 Pros
Free to use
Simple, easy to use interface
Can manage your devices from one place
Cons

Offers fewer abilities to manipulate or alter audio
Limited to 4 input and 4 outputs so not suitable for larger set ups with more hardware & software
BUTT (Broadcast Using This Tool)
BUTT (Broadcast Using This Tool) is another free tool that will encode your audio and push it out to your radio station. This is perhaps the simplest to use so is ideal for beginners or advanced broadcasters looking for a simple solution.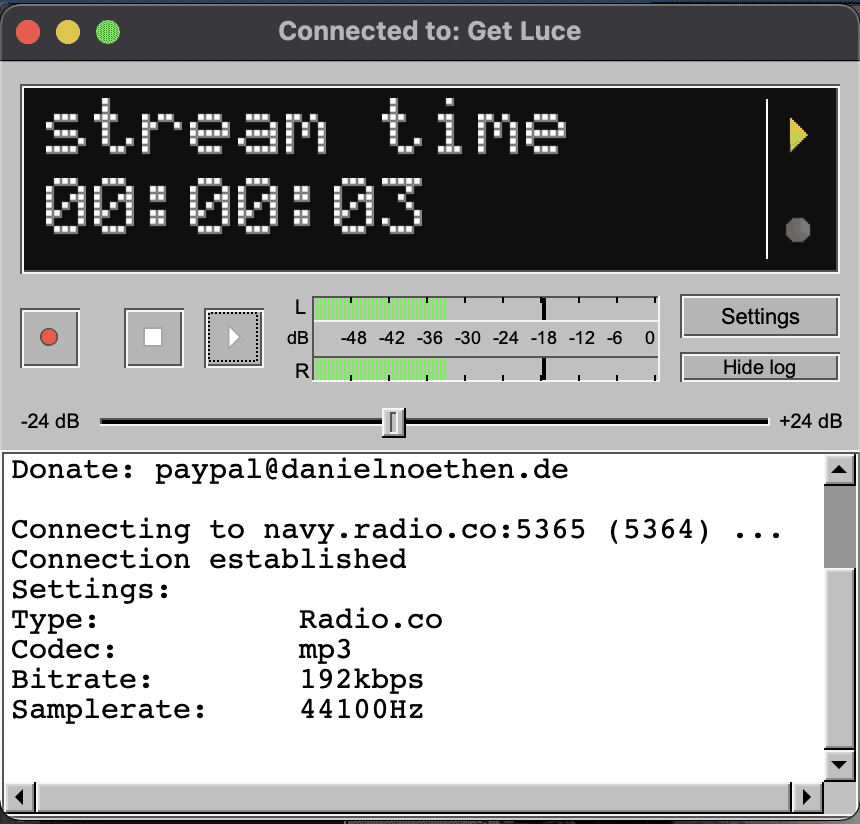 Pros
Free to use
Extremely simple to use and set up
Has an equalizer with genre pre-sets and a dynamic compressor for altering your audio.
Cons
Will only capture the audio from one device or your whole computer audio