Essential Tools for Radio Broadcasters (2017 Roundup)
Radio.co has the best tools for radio broadcasters to manage their station. Here are some of our favourite features we released from 2017 worth checking out.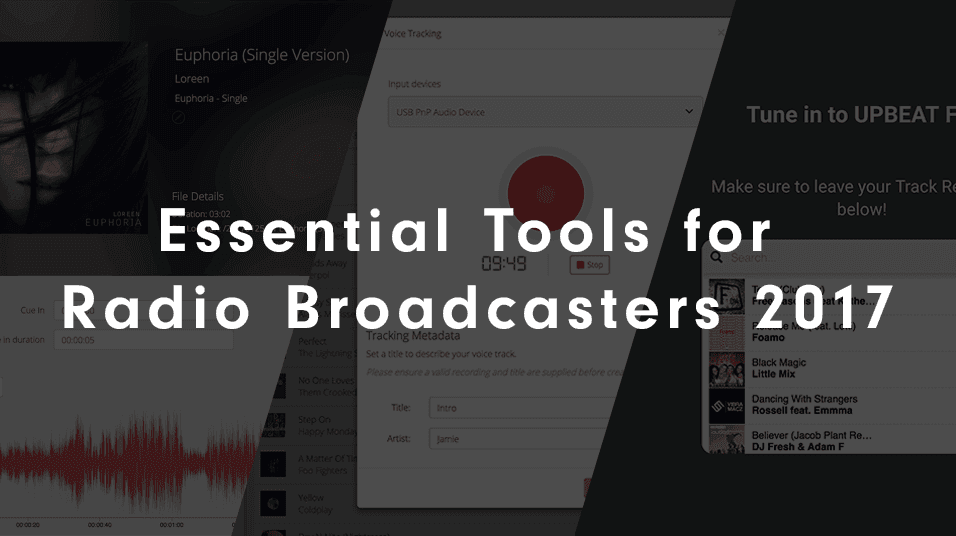 2017 has been a fantastic year! Our team here at Radio.co have built some of the best tools for radio broadcasters. Much needed (and requested!) broadcasting features like song requests are now available. If you haven't already checked them out then stick with us as we countdown our top tools from last year worth using with your radio station.
Note: All of the following tools are only available on the Broadcaster and Station plans. If you are on the DJ plan you can upgrade in Radio.co Dashboard > Settings > Billing > Change Plan.
Voice Tracking
Broadcasters often talk in between tracks when live on-air. Things like what's just played, what's up next, or discussing a topic. Automated radio shows don't allow you to speak between tracks as easily as a fully live broadcast, but with voice tracking it's easy!
Create a playlist and record voice tracks in between music to sound like you're live. This way you can prepare shows well in advance and free up time for more important things. Record audio by selecting the microphone icon in a playlist.
Choose a microphone you want to use from the drop-down menu, for example, a USB microphone or audio interface like the Scarlett 2i2. Start recording up to 10 minutes of audio by clicking the red button.
When finished add a title and artist name. Once saved it will be added to your playlist.
Manage all your voice tracks in Media > Voice Tracking. For more on how to use this feature visit the help centre.
Track Editor
The track editor allows you to trim the start and end of tracks, setting custom fade points to streamline transitions, and adding track info and artwork.
Edit and preview your tracks in the browser and make quick changes without needing to export and re-upload your files. Set custom track info and assign artwork which will be shown to your listeners in the apps and players.
Edit your tracks by clicking and dragging the bar to set specific cue in and out times and adjust the track's crossfade times to achieve that perfect sound you'd expect from a professional radio station.
Interactive Track Requests
We've built a powerful and innovative tool for you to use to interact with your listeners. Easily take track requests from listeners by embedding a widget onto your website or Facebook page. Design your widget using the request widget builder, accessible in your Radio.co Dashboard > Requests > Widgets.
After it's on your website, your listeners will be able to request tracks.
Manage submitted track requests under Requests Manager. See all of your requests in real time, see how many people have requested them, and removed tracks.
Play out your requests by adding the Request Tag to your playlists. Simply drag it in when you're creating them.
Volume Normalization
Are some of your tracks a bit too loud or quiet? You can use the volume normalization feature to level out all your audio. Also known as automatic gain control, works by matching the volume level of your tracks to one another. Essentially, it provides your shows with a more uniform experience.
Turn on volume normalization in your Settings > Broadcast area.
Duplicating Playlists
Got a playlist you love, but just want to change a few things? Rather than completely rebuild it, just duplicate the playlist and make changes. In your playlist click Duplicate.
Edit the playlist with a new name and make some alterations using the playlist metadata tool.
Once you've finished, you can make those small changes without having to completely rebuild the list.
Guest DJ Role
Got a guest DJ on your station and don't want them to see tracks, stats, or other sensitive info? Restrict their permissions using the Guest DJ role.
Guest DJ differs from the normal DJ role. They won't be able to see any of your statistics. The only details they can see if their connection details and ongoing scheduled tracks in the dashboard.
Use the Guest DJ role right now by going to the Users section on your account and assign the role of "Guest DJ" to one of your users.
Recording Live Events
Got a very special live show coming up that you don't want your listeners to miss? Record it using the record broadcast feature for later use. Schedule it for another time of day for listeners or download and add it to on-demand catch up services like SoundCloud or Mixcloud.
Record an event in your schedule and select Advanced > Live DJ > Record Broadcast (On).
Once the recorded event has ended, it will automatically be added to your media library.
Swapping Default Playlist
The default playlist takes over your station when nothing is scheduled. If you've already created an awesome playlist, you can just select it to take over when you've got nothing lined up with a new default playlist.
Now it's easy for your or station managers to switch over the default playlist. It's really simple, just tick the playlist that you want to be the default in the main Playlists window.
Customising Playlist Info
If you're playing at an event or a long 1-hour mix then your station will show the last played track. With custom playlist metadata, you can setup custom track info and assign artwork to your playlists.
When you start broadcasting on your station, the custom track info will be shown directly to your listeners in the players and your mobile apps.
New Radio App Design
In 2018 radio is more diverse than ever before. Your listeners can now tune into your station on the radio, on a computer, in a car, and on their phone. At Radio.co we released apps when we launched back in 2015 for iPhone and Android, but 2017 brought new changes.
The new apps build on the older ones and add some much-needed functionality like song history, alarm clock, and an overhaul of the design. You can completely custom the look and feel of your app, then submit it to our team for development to The App Store and Google Play.
Order, update, and submit your app by following this guide.
Website Builder Plus
Got your own website yet? No? There's never been a better time with website builder plus. There's no code or technical knowledge needed to get going. It has everything you need to run a professional radio station website to update your followers, including:
Video Backgrounds: Draw your visitors in with cool background video templates.
Website Statistics: How visitors found your site and what they are viewing.
Site Search: Find content more efficiently with a search bar.
Password Protected: Keep areas of your site secure and hidden away from public.
Membership: Setup a members area for premium content.
HD Video: Upload high quality video to engage with visitors.
Online Store: Turn your station into a business by selling merchandise.
Apps: Recommended features you can add to your site.
Start building your website today in your Add Ons > Website Builder.
Radio.co Broadcaster for Windows
Radio.co Broadcaster is the easiest way to broadcast live audio online to your station from Windows. Our new desktop software lets you and your DJs broadcast live from your computer or laptop. It's easy to set up - play music on any application such as Spotify or iTunes. Hook up a USB microphone to talk over your music to create some awesome shows.
Download and start using it today by following this guide.
Essential Tools for Radio Broadcasters
That covers everything from 2017, but the new year is here and we're ready to develop more awesome stuff! If you have a suggestion or something you would like to see then let us know. Add a new feature to the form below or upvote existing ones.
That's everything from us, but feel free to leave a comment below to let us know what you think of 2017's features. Good or bad, we're here to improve Radio.co for broadcasters like yourself. Hope you have a fantastic 2018 :)