Where to Find Music for Your Radio Station
Find Music for Your Radio Station - Here's a list of the best places to find free and paid music for your online radio station.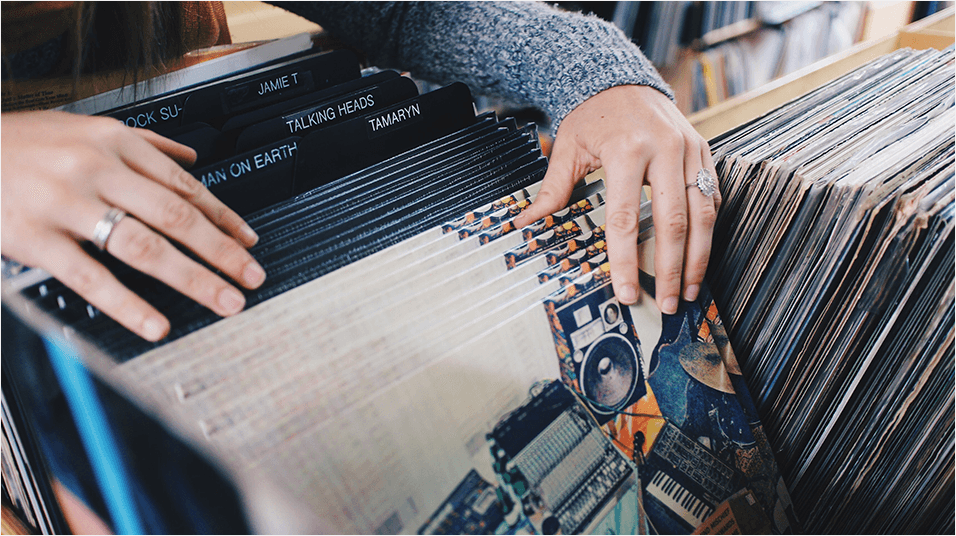 As a broadcaster how many songs have you received from artists to play on your station? I bet the answer is very few to none, which is why it's up to you to discover the latest tracks and uncover some old classics you might not have heard about. Let's take a look at where to find music for your radio station, starting with the best places to get them for free!
Free to Use Music
What we mean by "free to use" is it falls under "Creative Commons", which is a license for non-profit organisations with permission to use the creator's work freely - It's a way to share and make music more accessible for everyone.
Here are the best free to use music websites you can use to find music for your radio station.

HookSounds prides itself on offering the best curated, royalty-free music from some of the greatest musicians on the planet. So it's safe to say you won't find their exclusive high standard collection of music anywhere else.

The "Use & Mention" license gives you access to an extensive library of music for free. But tracks are for non-monetized content and can only be used as background music. For a small monthly fee, unlock HookSounds so you can broadcast all their music untethered.

Free Music Archive, or FMA for short, is a public domain archive and Creative Commons licensed songs. FMA is an ideal place to find originally curated music from new electronic to old country tracks. Find high-quality tracks to play the freshest music on your radio station.

You can download any track you want as there's plenty to choose from; search through the list of curators, genres, and the most popular songs of the week or all time.

Jamendo is a world of music discovery boasting some of the newest and best tracks. It's about connecting musicians and music lovers together as a community.

There are more than 500,000 tracks shared by 40,000 artists from over 150 countries worldwide. You can stream all the music for free, simply download it and support the artist. Jamendo has a community of listeners happy to share and comment on the best tracks, which is ideal for stations looking to curate recommended playlists.

NoiseTrade is a music platform built on generosity by thousands of artists and labels wanting to connect with fans through the exchange of free music.

NoiseTrade gives you the tool to discover and share new music. Download entire albums from several thousand artists from around the world. Genres like hip-hop, dance, and pop are available for free, you can even get instrumental music which is perfect for your radio station jingles or promotions.

ccMixter is a large community of over 45,000 musicians collaborating and sharing music to anyone for free.

Built as an open source tool for anyone to contribute to as all of its music falls under Creative Commons licensing - Download and share royalty free tracks from ccMixter.

SoundCloud is the world's leading social sound platform with over 75 million music curators uploading around 12 hours of audio each minute.

There are literally millions upon millions of tracks and mixes from popular artists to undiscovered talent that's worth sharing with your listeners. It's the best place to discover new and upcoming artists.

Opsound is a free online music library largely consisting of instrumental music from various different genres, so it's suited for stations looking for background tracks for shows, jingles, or promotions.

Paid Music
Most well known bands and artists like Queen and Elvis Presley aren't going to be on any of the places above as they'll be paid for music.
Broadcasting bought music requires some form of licensing or coverage for royalties. You should know what you can do to protect yourself and the licenses available to you by reading this article.
Please note that we recommend always consulting with qualified professionals or the relevant authorities for you country regarding copyright and licensing.

I Like Music's incredibly large database includes every UK Top 40 single since the charts began, all of which are of broadcast quality and cheaper than any other provider!

Designed for and built by broadcasting professionals, I Like Music supply thousands upon thousands of tracks, ranging from all time classics to tracks you cannot obtain digitally anywhere else. Their 'Pay As You Go' pricing structure means you can download the latest tracks whenever you like, and the more tracks you purchase in bulk the cheaper they work out being.

Beatport is home to a large collection of electronic music, ideal for DJs looking for full sets and mixes from independent artists.

It's home to exclusive albums and artists only available on Beatport with 1 million tracks and over 120,000 artists, DJs, remixers, and musicians. Behind Beatport is massive community of cutting edge artists and fans that are constantly uploading and recommending new music, plus there's encouragement for new users to get involved and share their favourite tracks.

Google have thrown their hat into the ring with YouTube Music, a service aimed at music fans that want the latest songs, but are on a budget.

There are over currently over 35 million songs to download and stream, plus there's a bunch of free music available with the occasional discount on selected albums from time to time. Much like SoundCloud, just about anyone can get on YouTube Music like DJs, basement bands, and other unknown artist, so it makes it great place to find cutting edge songs.

Bandcamp is a self-promotional platform aimed at new and upcoming musicians that want to get heard (whilst making a bit of money on the side).

There's plenty of genres of music for everyone like metal, jazz, folk, and experimental, which you can listen to individually or entire albums so as to get a taste for the artist or band. Discover amazing new music by following artists and fans who in turn share their favourite picks and new releases, this way you can easily keep your finger on the pulse of the within the music scene.

Amazon offers pretty much every artist and music track you can think of, either in digital or physical format. It's the go to place to buy an album, alternatively it can be put to good use for search purposes as customer reviews give you a rough idea of how well received a track or album is.

As there are millions of artists on Amazon you're really spoilt for choice, you can even preview tracks before you buy. Most can be bought in digital format, alternatively you can get audio CDs and grab the tracks from there.


CD Pool is a music resource purpose-built for DJs. You can pay a monthly subscription to have access to download all of the latest top 40 hits, along with pre-release promos and expletive-free edits already done for you. So for one convenient price, you never have to worry about falling behind the charts.
As well as subscription services, CD Pool has dozens of music libraries for sale, allowing you to bulk buy all of the modern classics, crowd-pleasers and one-hit wonders of the past few years.
Bonus: Compilation CD's
If you're on a budget, one little hack (that may be a bit time consuming but will save you lots of money) is to buy 2nd hand compilation CD's from Amazon or another site like MusicMagpie and then rip them into MP3 format. You can pick these up really cheap - normally for £2/3 per CD for 40 tracks. Think about how much you'll save doing this. It works out at around 0.07p per track, instead of the normal 79p per track you'd pay elsewhere!

This method works really well if you're building a station playing decade based music, or specialist music - as you can easily identity genre-based compilation albums based on a decade or specific genre.
Find Music for Your Radio Station
Now it's over to you! Hopefully, this list of music services gives you a good starting point to finding the right music for your radio station. If we've missed any or you have a suggestion that you think will help other broadcasters then let us know in the comments below.
Got the music, but do you have the station to play them on? Get started today with Radio.co and begin your journey to building your own radio station with your 7 day free trial by clicking the button below.