How to Find Radio Guests
Take the hassle out of finding radio guests. Discover like-minded people ready to spark interesting conversations at the drop of a hat.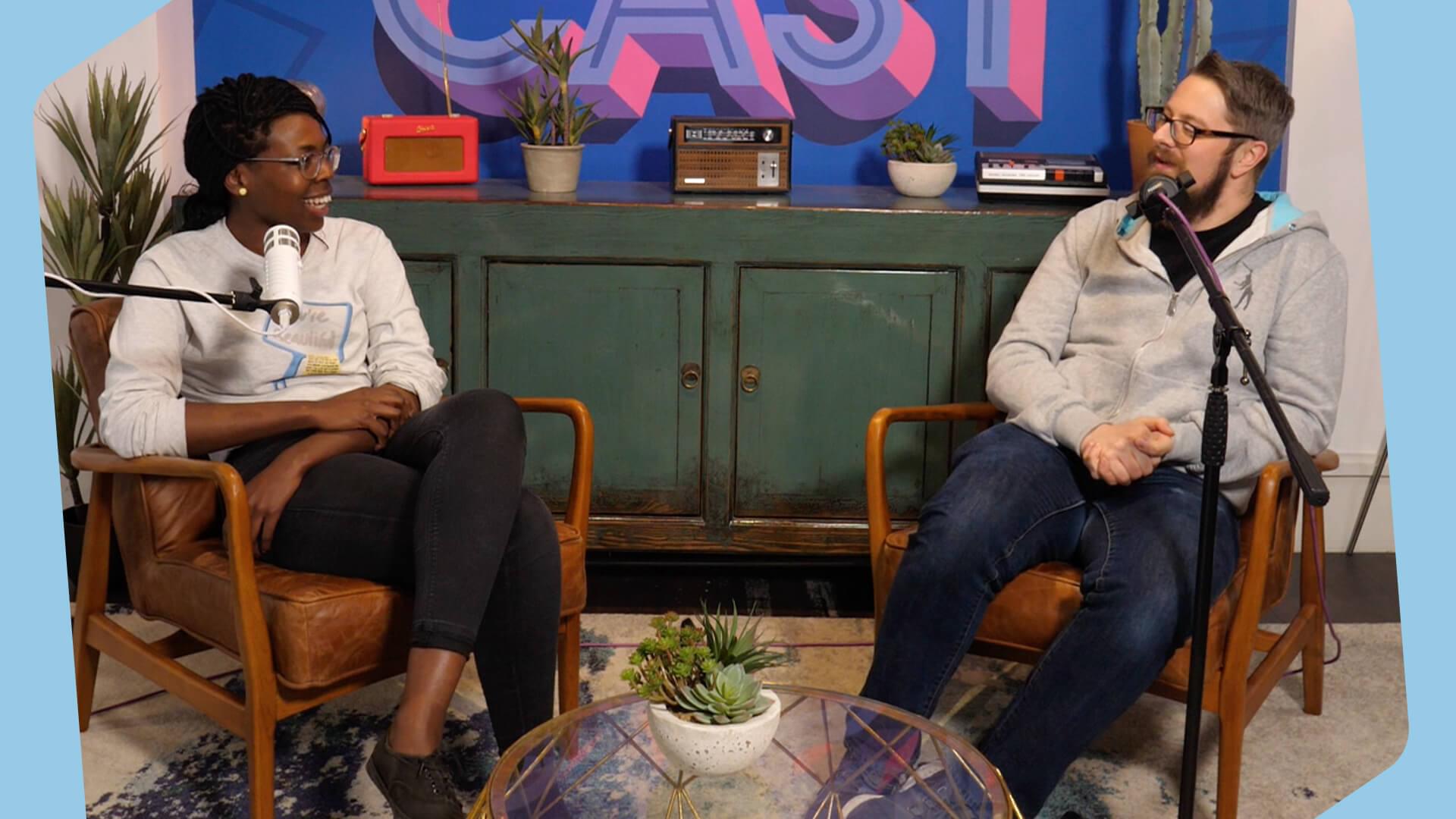 Since the late 19th century, radio has been a mainstream staple of mass communication. And although today music plays a big role, listeners return time again for engaging conversations, both from presenters and guests alike. But trying to find radio guests to breathe new life into your station is easier said than done.
Whatever your type of show, be it educational, underground, or political, get to know the lay of the land, tools at your disposal, and how to approach guests for guaranteed success.
Why Find Radio Guests?
As the saying goes, variety is the spice of life. Without guests, shows can sometimes grow stale or uninspired. That's why most presenters often bring in co-hosts and rotate guests. Whether a political talk show like LBC or mainstream stations like KIIS FM, guests inject new blood and perspective you wouldn't get within a close circle of friends or colleagues.
And finding the right guest can boost your station's visibility. Shows like Live Lounge on BBC Radio 1 often chat with artists, then broadcast exclusive live performances on air. Same goes for news heavy stations like WTOP, bringing in experts weighing in on recent newsworthy stories or political issues.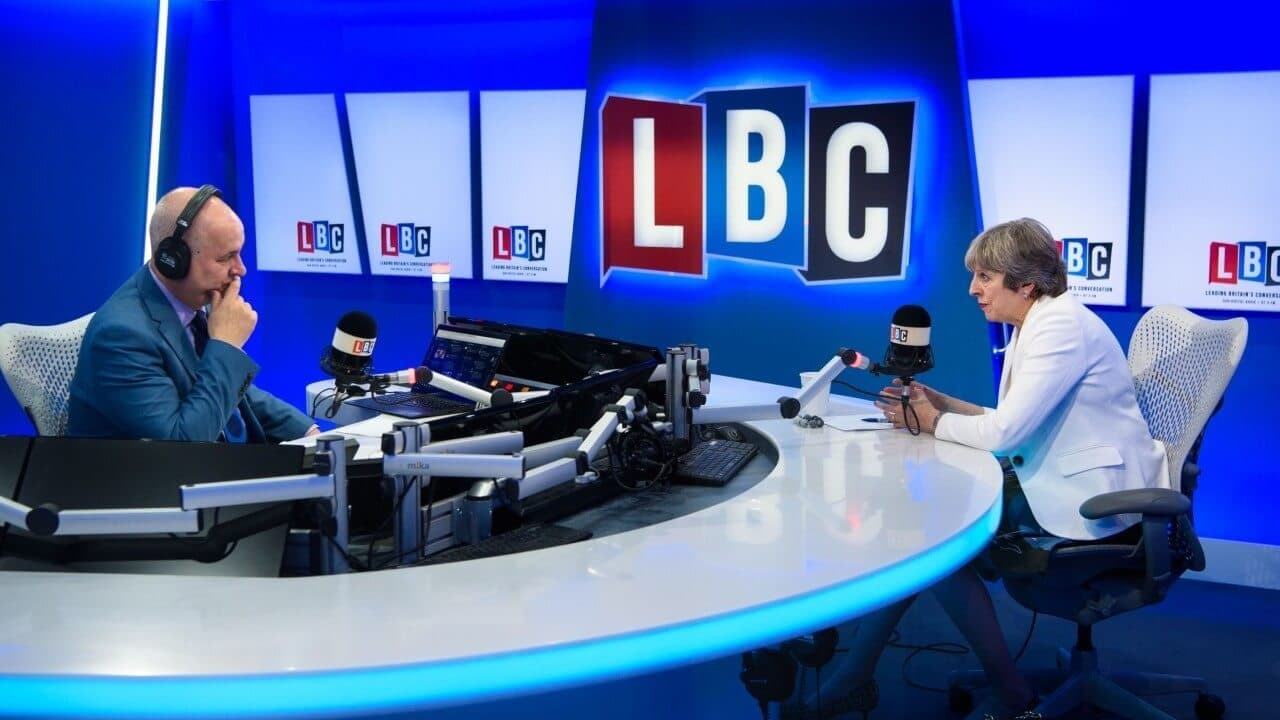 But on the flip side, finding the wrong guests can have the opposite effect. Take Rick Salomon on The Howard Stern Show back in 2004. Explicit content was discussed surrounding Paris Hilton, sparking controversy, resulting in Stern being fired, and the station being fined $500,000 by the FCC. Speaking of which...
Choose the Right People
We all make mistakes. But picking the wrong guests shouldn't be one of them.
Before you find radio guests, think about the ideal person that would add value to your show and waw your listeners. Whether that's a professional at the top of their game or your average joe with something newsworthy to say, pick credible guests that resonate with your listeners.
But if you're unsure, use the HIT technique.

High Social Reach: Followers that wouldn't have found you otherwise.
Interesting Hook: Compelling angle to draw in listeners.
Trustworthy: Credible and reliable guest for guaranteed success.
In a nutshell, find radio guests the right way by defining a specific audience or type of person, then targeting them.
MatchMaker.fm: Connecting Hosts with Guests
MatchMaker.fm is the easiest way to find radio guests and start conversations fast. The thriving community has over 25k members, with hundreds of messages sent each day.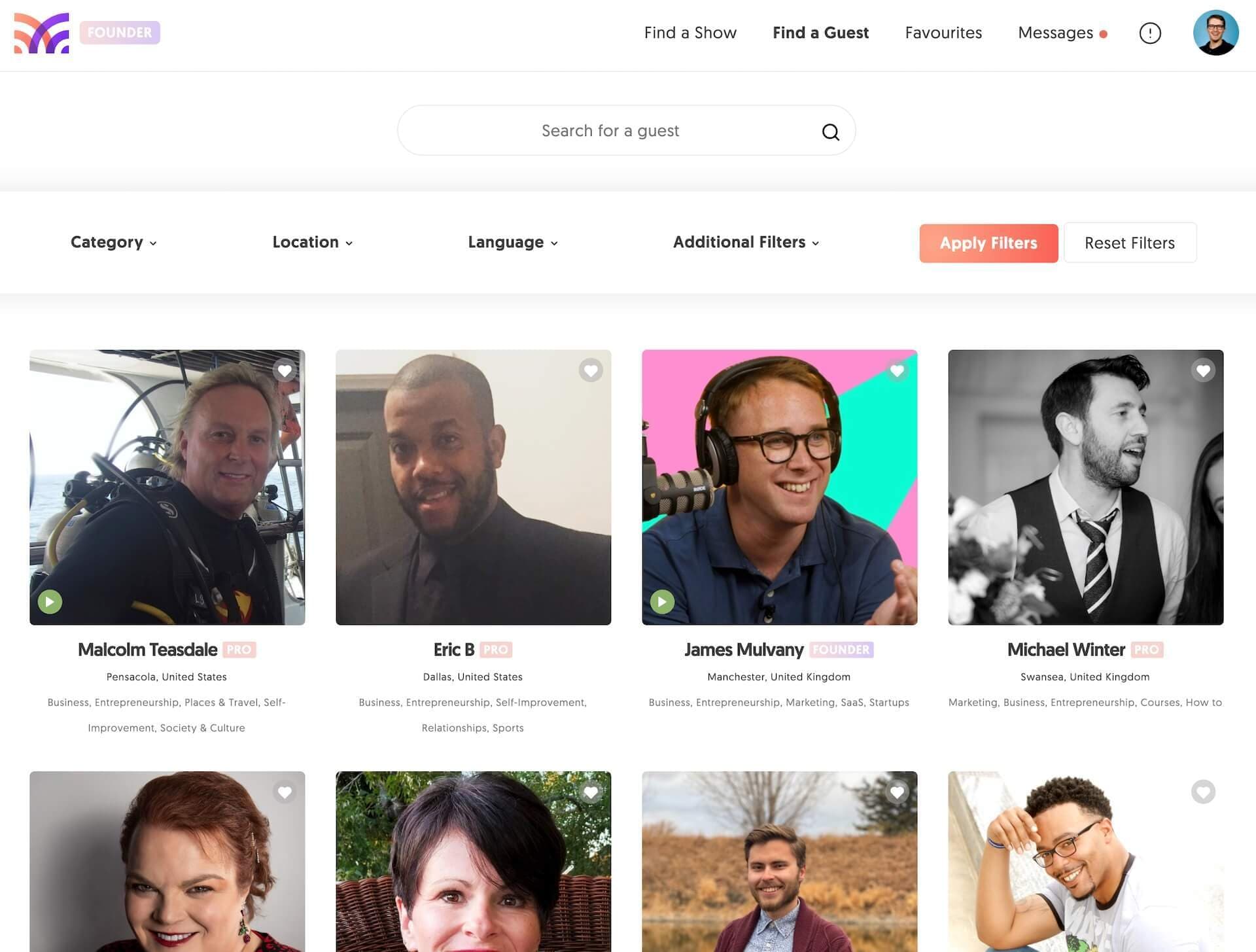 And the hunt for guests goes mobile with apps for Android and iOS, meaning you're always reachable no matter where you are. Plus, MatchMaker.fm is free to use, so you can't go wrong.
James Mulvany, founder of Radio.co, Podcast.co, and MatchMaker.fm, used the service as part of his 30 podcasts in 30 days challenge. The idea was simple, find shows using MatchMaker.fm to appear as a guest. And the results speak for themselves.
Whatever type of guest you're after, be it a self-help guru or music historian, use MatchMaker.fm. Create your profile and find radio guests in no time. All for free.
Approach Each Person Differently
Everyone is unique. So pitching the same message to multiple people won't work. Imagine talking to your boss the same way you'd talk to a friend - just wouldn't fly.
For best results, cater what you say to who you're talking to. And as a rule of thumb, keep these 3 essential points in mind.
Give Specific Benefits: Offer value your guest won't find anywhere else.
Provide Social Proof: Reach of your show, like listener numbers or site traffic.
Be Direct: Get to the point, make your case as quickly and clearly as possible.
Remember, behind each email is a real person. So treat everyone as you would in real life, but tailor what you say to win over potential radio guests.
Basic First Contact Template
Finding radio guests is easy, but winning them over is hard.
On average, people get 121 emails a day. So if your first contact doesn't speak clearly and offer value, guests will throw your message straight in the bin.
Use the following template to keep it short, to the point, and human.
Hi [name],

[your name] here from [radio station]. Wondered if you're up for a quick chat live on air?

I'd love to pick your brains about [subject]. And our [listener number] daily listeners would get a real kick out of what you have to say.

Let me know what works for you.

Thanks,
[your name]
[station name (with link)]
Although basic, short emails usually get better results than bloated messages littered with waffle filled paragraphs. Nobody wins, so keep it succient.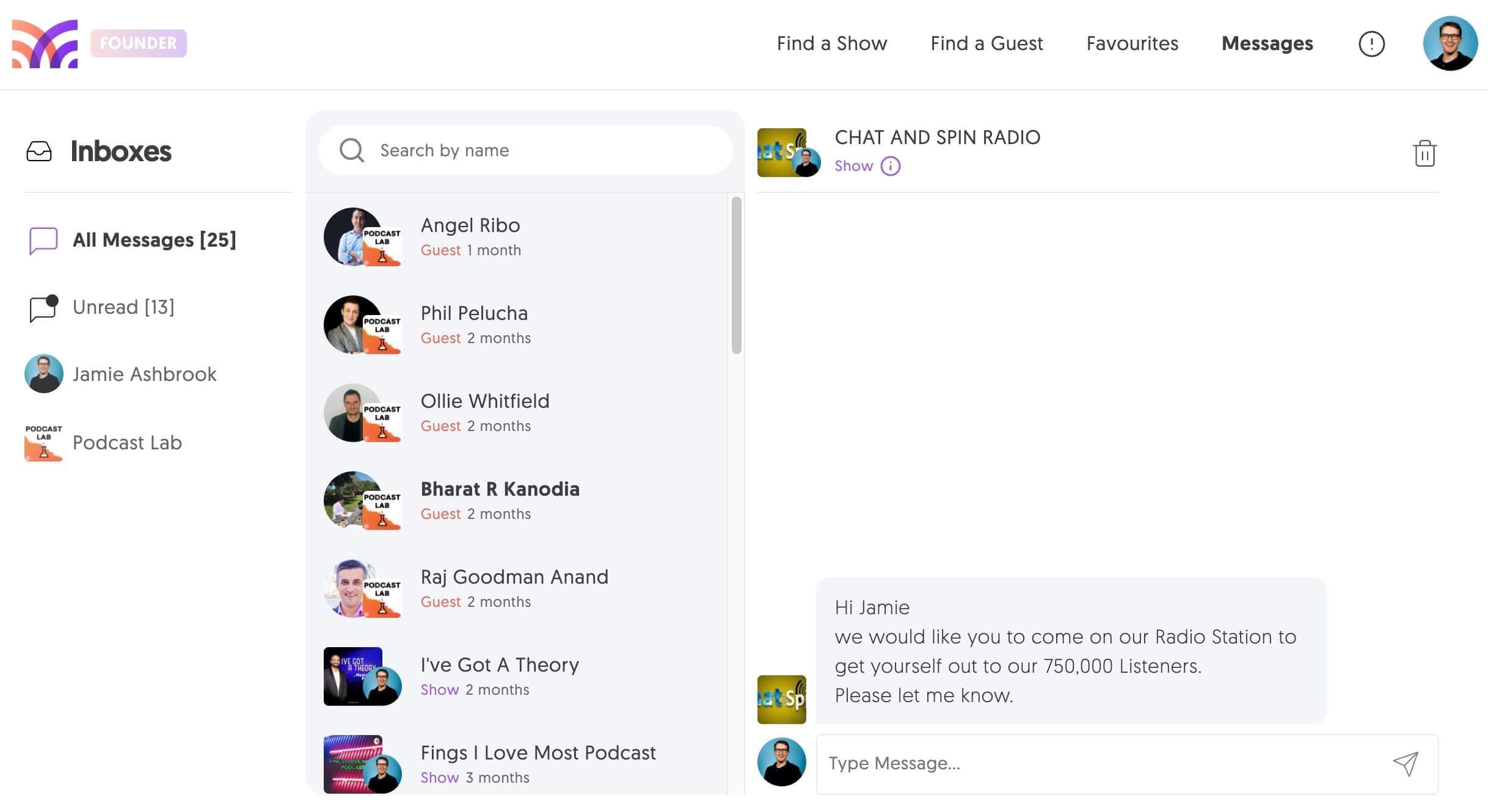 Use the template as a springboard, and tweak to fit who you're talking to. For example, has the guest recently published a book? Then lead with that.

Additional Guest Finding Tools
Besides MatchMaker.fm, there are plenty of tools to help you find radio guests or appear on other shows, be it radio, podcasts, or video like YouTube, Facebook Live, and Twitch.
Then there are the usual places like LinkedIn, Facebook groups, Twitter, and so on. Granted, you know who to target and then contact directly. But if unsure, use MatchMaker.fm. On a regular basis, get guest and show recommendations based on your preferences direct to your inbox.

Conclusion

Over 7 billion people live in the world today. But not all of them are going to be ideal guests for your radio station. Using the proper tools and techniques, identify the right ones that fit your show's style, offer value to your listeners, and increase your reach, all whilst getting in front of more people long-term.
But if you're looking for a cakewalk, then try MatchMaker.fm. With over 25k active members, apps for Android and iOS, and a roster of awesome people, find radio guests in minutes (or get booked on other shows). The best part? It's free.