How to Broadcast FM Radio Online
Here's how to broadcast FM radio online using the Radio.co platform. Give your station an edge and better flexibility than your current setup.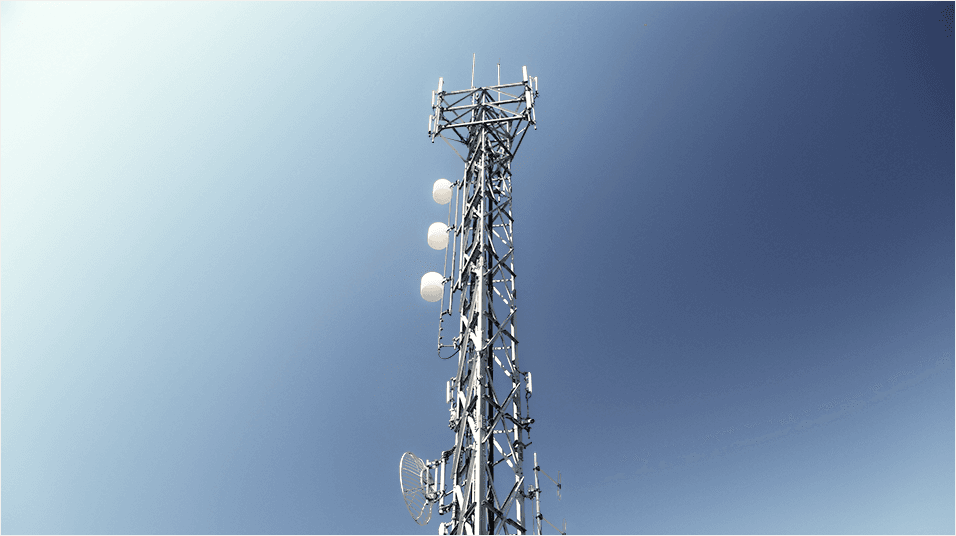 Listener patterns are changing in a major way. 47.2% of the UK now listen to digital radio. Terrestrial stations are now broadcasting shows out online. Today I will show you how to broadcast FM radio online using Radio.co. Give your station an edge and flexibility then you might not have with your current setup.
How Your Station Might Look Now
This is how your radio station might look now. Traditionally you have an on-air studio. It consists of a desk, microphones, and analogue inputs like CD players and a playout computer. This will handle the automation of your station.
Your computer will have a big music library which DJs can you use for a live assist. You will also use this to continue playing out audio when there is no one around, e.g. overnight.
Now that is absolutely fine. You can use Radio.co without changing any of this as you can keep your current setup. Normally your output gets transmitted via a transmitter or mast somewhere. This might be on your site, it might be on a hill, but it doesn't really matter. The point is you have got the feed going from your studio and out to your local area via a radio transmitter.
Radio.co can act exactly the same as your terrestrial radio transmitter. It takes your audio and broadcasts it out across the internet. In order to do this, you have to install a bit of software. It gives you access to the audio output of your desk. What it does is sends it out across the internet and then Radio.co handles the distribution.
Radio.co acts a bit like a transmitter in a conventional radio setup. The cool thing about this is you can still keep using your play out software and hardware like microphones, processors, and mixers already setup. This configuration is taking the existing feed and broadcasting it online. Radio.co handles a load of your listeners, just like the mast would do in a traditional analogue radio setup.
3 Modes of Operation
Really there are 3 different ways you can use Radio.co. When we are talking about keeping existing AM or FM setup going.
1. Live Stream Only
Firstly you can use us just for your live stream. Radio.co is in itself a radio automation system. You can upload files to it and schedule them to go out at different times of the day. Similar to what you would do with your radio automation system that you have probably got running inside your studio.
Don't worry about that. If you want to keep using your radio automation software then you can do that. It doesn't matter if it's Windows, Mac, or Linux based. Use your current software to keep your station running 24 hours a day, with the addition of sending your stream to Radio.co. Everything gets handled in the cloud, so you don't need to worry about any of the technicalities like running servers. Your current setup, whether you have got scheduling software or automation software it carries on going as it was.
Broadcasting 24/7 without Downtime
So why use this kind of mode? The platform is not just one server. If you have ever used streaming providers with things like SHOUTcast, generally they are just a single server. Which means if that server goes down or the data centre goes down then it basically means your station is off the air. No one can tune in online anymore.
With Radio.co you are actually getting access to a network of multiple servers. Each client has a streaming pool. Now, this is not just one server, but multiple, and not just in one location, but several. Servers are physically in different locations. Let's say one of the data centres goes down, your traffic is just rerouted to a different server and a different location.
Know Who is Listening
We also provide the best statistics in the industry. Track who listens and how they are listening. Whether they are tuned in on a mobile device, desktop, or home entertainment system like a SONOS. You can see all of this in your browser at home on a laptop or if you are out and about on your phone.
We also look at how long people have listened for. All of this is presented to you in lots of nice easy to understand graphs. We are not giving you raw log data or anything like that. You can see at a glimpse how many people have tuned into your station and how they have been listening.
Custom Branded Mobile Apps & Players
We also provide native iOS and Android mobile apps out the box. Brand your apps to your station's look and feel, so your station's app stands out on your listener's phone.
Also, build and customise web players. Embed them in any website, so listeners can tune in when visiting your pages. You can use Radio.co to stream your station. You can keep all your current setup. All of your current in-house software and everything like that. Just use us in live only mode. If you are just getting setup or you are not sure exactly what to do next after you have signed up for your 7-day free trial, then we can help. Our team are happy to help talk you through how to use Radio.co in live only mode.
We have lots of FM/AM style stations that use us just to do this. Handle the streaming and nothing else.
2. Live Stream with Backup
You can also use us to do everything just mentioned but with a backup. Obviously, this means that you are going to send us 24 hours a day encoded stream from your studio, but what happens if you have a power cut or lose connection? Well, we can host backup files which we will host for you that will only ever get played out if your live connection drops. This means something is always going to be on air or on your radio stream. Listeners will not experience dead air.
Let's say there is a power cut. Perhaps your station is in a rural area. The power can be a little bit intermittent at times. Well, you can out together a playlist, it can be a pre-recorded show or even just a bunch of music with sweepers in between. Schedule this is a backup feed and listeners will always stay connected. If your station goes completely down, for example, power has gone, the station has gone, desks have gone, everything! People will still be able to tune in online and hear whatever you have scheduled to play.
3. Automated with Live
The last mode of operation you can use Radio.co for is automated with live. What I mean by this is that we take care of your radio automation. You can use our cloud platform to handle the playout of your pre-recorded content or just your music when there is no around.
What this allows you to do is really free up your studio. You are not necessarily using it for a live broadcast. You can still use it for a live broadcast. Let's say you want to have you breakfast show live every day, then that's fine. Keep your studio, connect to us for the 3-hour period in the morning when the breakfast jock in on air. When he or she is finished our system will cut back to whatever playlists or pre-recorded shows you have scheduled.
This might be a weird concept at first, but we go into a bit more detail later. Basically, this means you can upload individual tracks or you can create playlists and schedule entire full-length pre-recorded shows. We have used this for one of our side-projects called MCR Live.
We have a combination of live talent in the on-air studio and lots of pre-recorded shows. But to our listeners, they don't know any different! It still sounds like a live radio station. If they are expecting a show to start at 4 pm in the afternoon, we can record a 2 hours show and schedule it to go out at that time. Listeners will not know the difference.

Plus...
You get access to all the great stuff that comes by using a cloud-based system on multiple servers for your shows in different countries. For example, if one goes down listeners automatically just get redirected to another one.
We also track listeners like how they have listened. That is every single listener that actually tunes into your station we will analyse them and look at how they have been listening. Plus, all of our systems on Radio.co are based in the cloud. We use Amazon and multiple other providers to ensure high availability and massive scalability. We have got stations running from a few hundred listeners to tens of thousands of listeners in a single day.
The great thing about this is you free up a lot of your engineer's time to do more cool things with your station. This way they are not constantly trying to eliminate technical headaches with your current streaming setup like configuring servers. Radio.co does all the hard stuff for you. It gives you more time with your engineer to do other stuff which is more important to you.
How it Might Look with Radio.co
Let's look at how the third setup might look with Radio.co. As you can see below you still have your on-air studio with your playout software. If you have something that you would prefer to use, plus any other analogue input devices like microphones or CD players.
Send out your broadcasting stream to the Radio.co cloud platform and redirect your feed to the AM/FM or DAB transmitter. Effectively you have a PC listening to the online stream 24/7. Then it gets routed out through your audio processor to the transmitter.
Let's say everything is online and looking good. Your listeners can tune in online, but they can also listen via your terrestrial transmitter.
Now let's say for whatever reason the on-air studio goes down. Well, you will notice your feed still stays online because you still have access to our cloud platform. The transmitter's feed will still be pulled from us. It is great because whatever is on-air will just fade out and you will go back to your backup playlist.
It also means you can do other things as well. You can broadcast easily from anywhere. Outside broadcasts are no longer a chore. All you really need is a laptop with a bit of software installed and an Internet connection. You can broadcast sporting events, news, and interviews on location.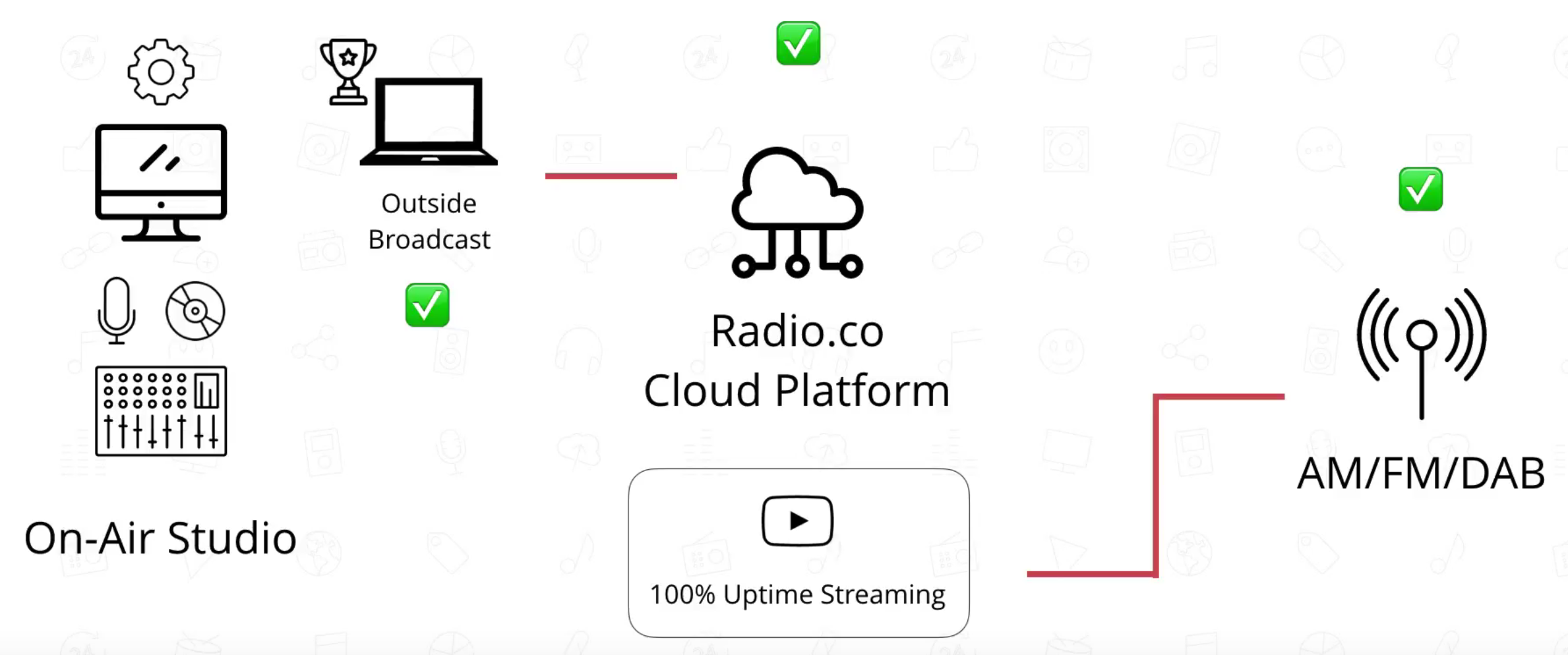 Again, if there is anything if there are any problems here, let's say you lose your internet connection at your event. It does not matter because Radio.co just takes back over. This is the beauty of using a cloud-based system. You can use it for doing things like DJ sets from nightclubs or bars. Let's say you have a show on-air that finishes at 7 pm. We can cut right across to the DJ on location without any downtime or cuts in audio.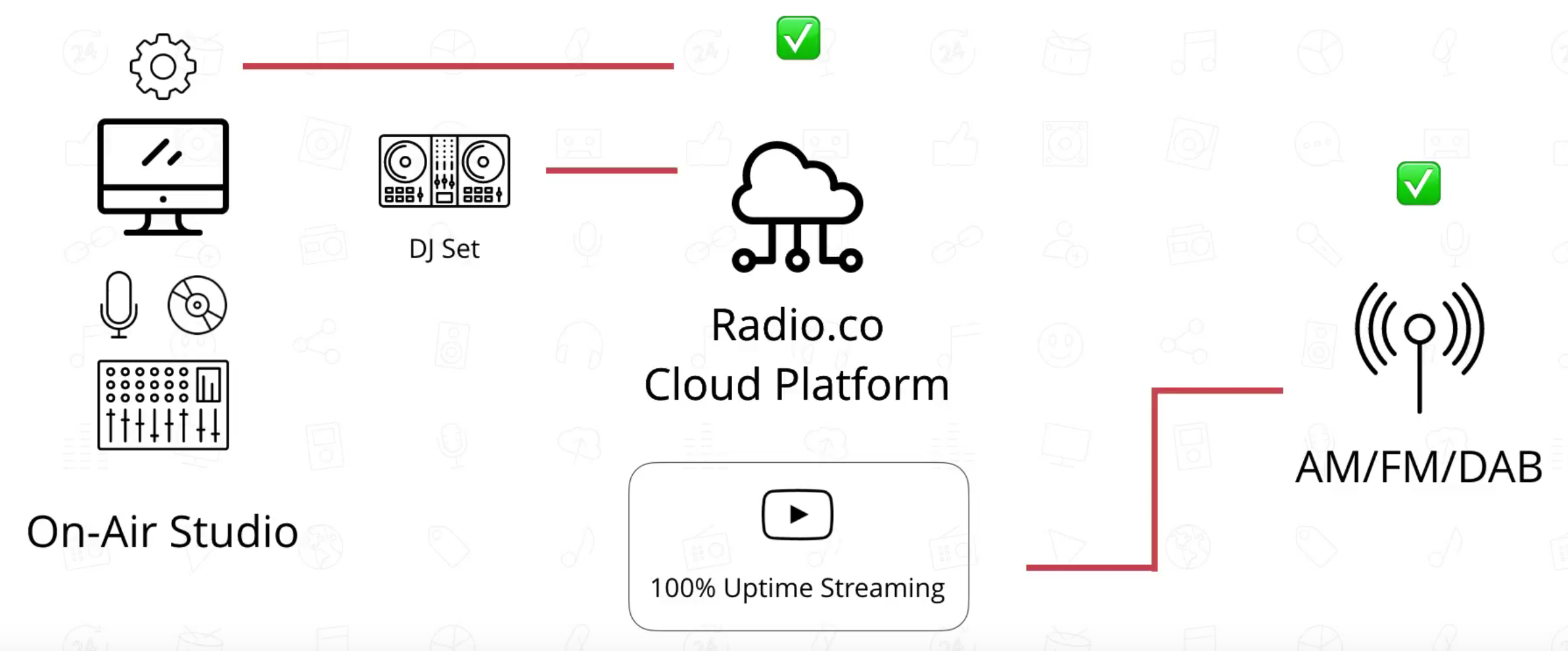 There is very minimal technical engineering required to broadcast FM radio online. This is basically something anybody can setup with very minimal training. It is not like you need to go and have a big outside broadcast van or satellite links. This is all done via the internet. Anybody who has used a computer can set this up.
Broadcast FM Radio Online
Let's chat! If you perhaps some think some of these things could be useful to you or if you just want to use us as a live streaming solution then we are here to help you.
We will happily talk to you specifically about what works best for your station, so it's not just a generic "one-size-fits-all" solution. We will sit down and talk about your specific requirements. Chat with one of the team by clicking the button below to book a demo today.