LadioCast Setup for Online Radio Broadcasts
How you can setup the free to use LadioCast for Mac to connect and broadcast to your online radio station, then out to your listeners.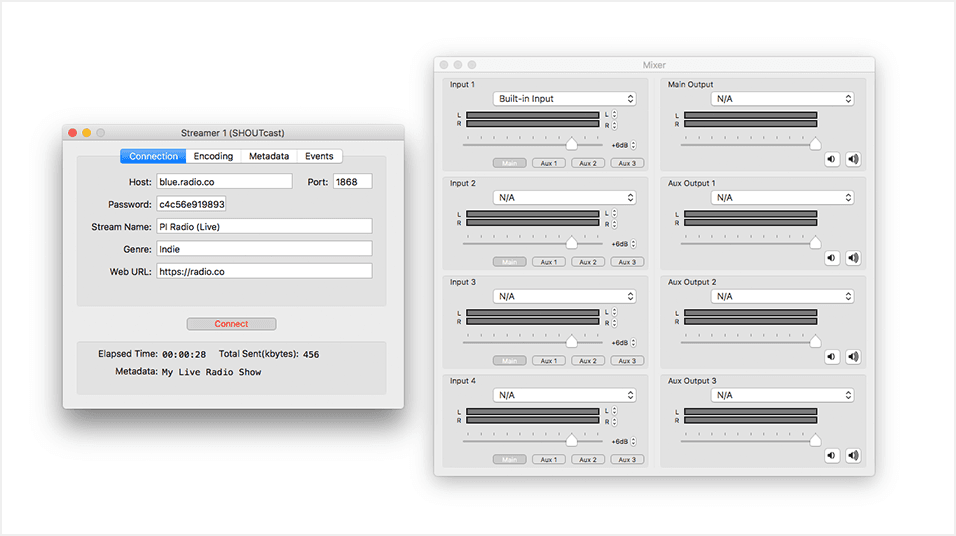 The cool thing about Radio.co is that it seamlessly integrates with other services. LadioCast, for instance, is ideal if you're looking to broadcast live from your computer to your station with Radio.co. We're going to take a quick look at why you should use LadioCast and how you can set it up.
LadioCast for Mac (Free)
LadioCast is a free to use app designed for Mac OS X. Use it to broadcast audio from your microphone and mix in music.
Equipped with 4 inputs and 4 outputs for greater flexibility, you can connect and manage multiple devices like microphones, mixers, CD players, and decks. Transmit your stream to either one or multiple stations simultaneously.
How to Setup LadioCast
What You Need
Download LadioCast from The App Store here.
As LadioCast is free you don't need to pay for it, however, you do need an Apple account to grab it from The App Store. If you don't have one then you can download it here.
Note: LadioCast is only accessible with Mac OS X 10.6.6 or later.
Setup Guide
1. Download & Install LadioCast
Download LadioCast from The App Store.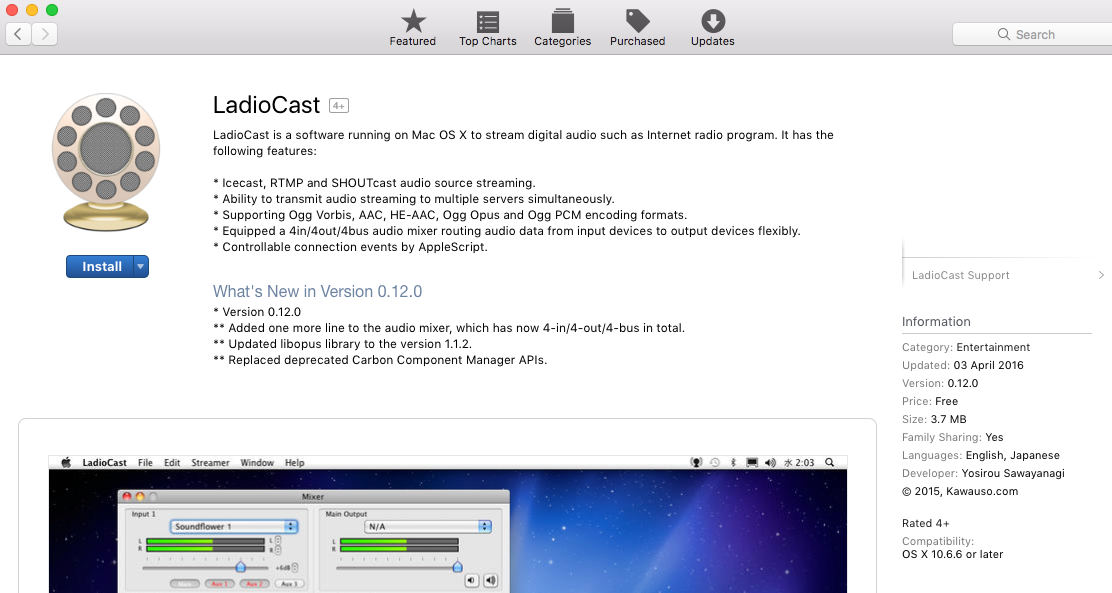 Open the .dmg file which will proceed to install the app, then finally open it up.
2. Enter Your Station's Details
In LadioCast, go to the top bar to Streamer -> Streamer 1 -> SHOUTcast.
Enter your station's details, these can be found under your Live tab in your Radio.co Dashboard.
Enter your connection details:
Host: E.g. blue.radio.co
Port: E.g. 1172
Password: E.g. a12b3c4d5e6f
Stream Name: E.g. PI Radio (Live)
Genre: E.g. Indie
Web URL: E.g. https://radio.co
Set your encoder details:
Format: AAC
Sample Rate: 44100
Bitrate Mode: Constant
Bitrate: 128kbps
Quality Level: 3
Channel: Stereo
Enter your stream's metadata which will show up on your station, e.g. My Live Radio Show.
In the mixer control panel, you can adjust your inputs and outputs, however by default your built-in input is used (your microphone). If you need to change this then use the drop down, if not then leave as is.
3. Broadcast Online
Before you broadcast live, set a live event in your Radio.co Dashboard -> Schedule. Alternatively set the live anytime feature on so you can connect whenever you want - More details here.
When you're ready to broadcast click the connect button in your streamer. You should see a connection made within 5-10 seconds depending on your bandwidth speed.
That's all there is to it - You're now broadcasting from LadioCast to your Radio.co station!
---
Did you know that Radio.co now has track editing and you can even upload your own custom album artwork!
These are just a few features in our ongoing service to improve and give you better tools. Try Radio.co for yourself and take it for a test drive with your 7-day free trial.