How to Make Great Radio Playlists
Are you struggling to choose the right music for your internet radio station? In this blog, we'll give some tips for you to make great radio playlists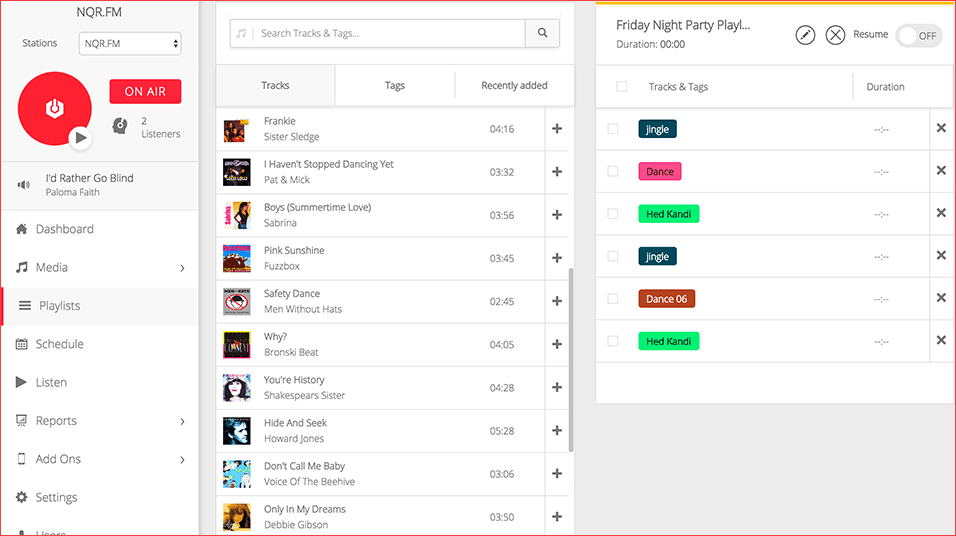 Are you struggling to choose the right music for your internet radio station? Are you finding that your mix of music lacks continuity and clashes with the branding of your station? In this blog post, we'll give some tips and tricks for you to make great radio playlists and find the music that truly fits your station and your audience.
What Makes a Good Playlist Structure?
One of the easiest ways to make great radio playlists is to give them a good structure.
Arrange your playlist to stop repetition; to keep listeners engaged and tuned in; and make your station interesting to listen to. For example, if you love playing just pop songs, choose a variety from different artists which range from slow to fast music, ordering them accordingly depending on the time of day.
Furthermore, it's always good to schedule unfamiliar tracks to keep your station fresh, but you want to be strategic about how you apply them to your playlist. Introduce new songs carefully and over time based on current hits, so they have to be popular or familiar to your audience. Sandwich an unfamiliar song between two familiar ones and make sure that at least one of the two familiar songs is popular so your listeners aren't tired of it.
Radio.co makes it really easy to schedule, structure and make great radio playlists for your internet station. For more information, check out our video below.
Song Choice: What & What Not to Choose!
There's nothing more enjoyable than playing a song that you love. However, it only makes sense to play that song if it fits in with the wider branding of your station.
If you are playing the latest number 1 pop song on the US Billboard Charts, but you are a classic rock or country station, that doesn't make sense. To make great radio playlists, the music you chose has to correspond with your station and branding as a whole. Make a checklist of arguments to add a song to your playlist, for example:
Does this song fit your music format or station image?
Does it have a good hook or gimmick?
Is it popular and talked about online?
Is it featured on a hit TV show, movie, or commercial that fits in with your target audience?
Your own checklist could have a number of different checks depending on your taste and style. The more checks a song has, the more reason to add it your playlists.
Make Great Radio Playlists for Background Music
Having background music or radio beds as it is known in the industry is a great way to make your radio sound more professional.
Curating a great playlist of instrumental or background music can add to the tone of your station and can be an effective way to get your point. Using dramatic music as a background to your speech can add gravitas and authority to your content. Using comedy or upbeat music can add a sense of fun and energy to your content.
An example of a good playlist of background music and radio beds is with a top UK CHR commercial pop station Capital FM. In this link, they use a mixture of fast paced, upbeat beds and comedy music to emphasise and enhance the entertaining content. It adds a slickness, professionalism and impact to the link and certainly makes the content more enjoyable.
The next time you're selecting what music to play on your station, spend a few moments to think about your playlist as a whole. When you make great radio playlists, it helps to build meaningful and engaging content that targets your listeners, not to mention a more interesting station to tune in to.
---
Do you have any tips on the best ways to curate radio playlists? Be sure to let us know in the comments below.
You can easily manage your playlists with Radio.co - Start your 7 day free trial and start broadcasting today. Alternatively if you'd like to talk to one of our radio experts about how to get setup, your station's imaging, or anything else then book a demo here.