How the Highest Earning Podcasts Make Money
Do you want to know the secrets of how the highest earning podcasts make money? Here's how they earn a living and how you can too.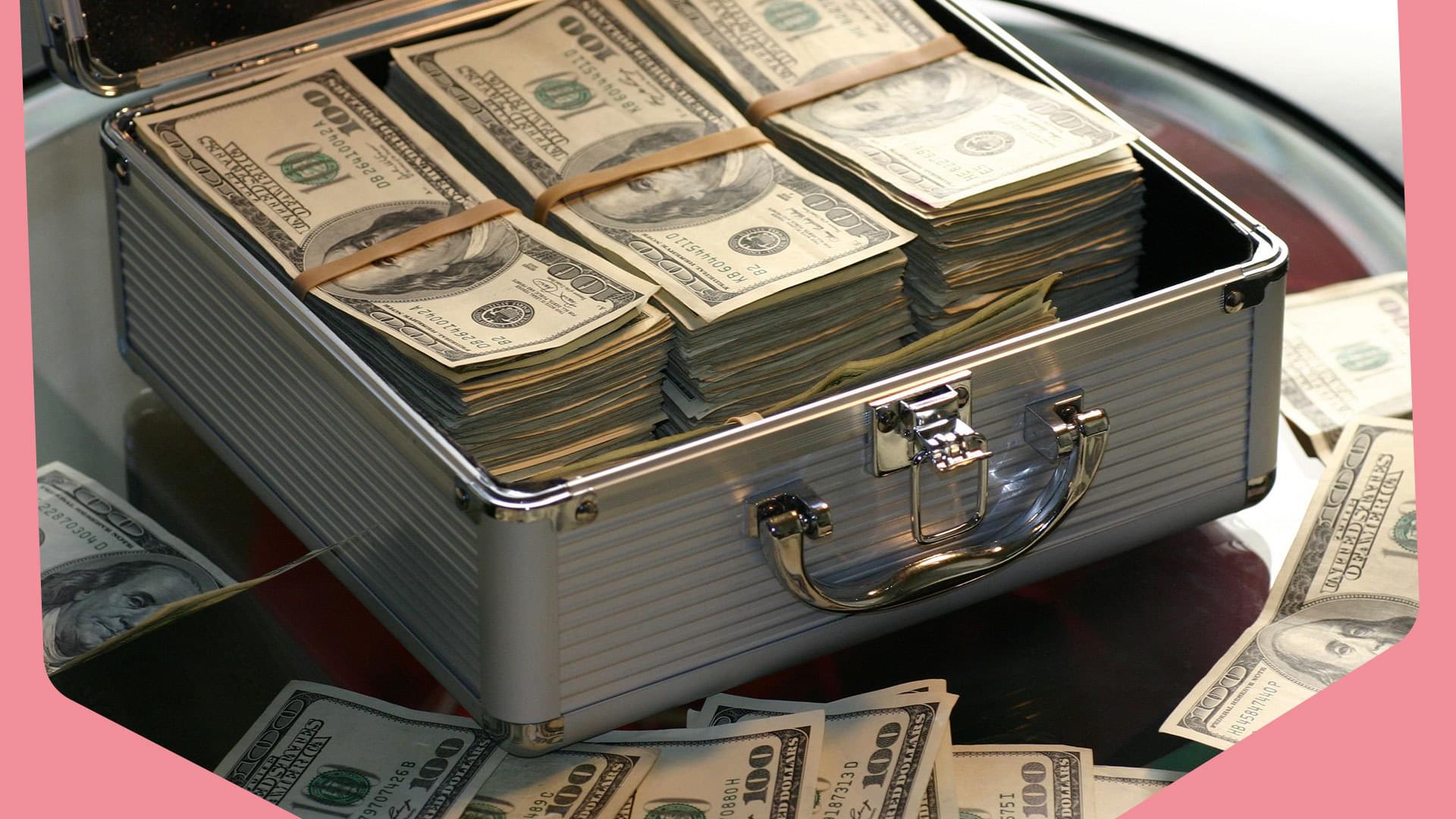 The earning figures for some podcasts are pretty impressive, and let's face it, it would be nice to be able to make a living off of a creative outlet that you're passionate about. So how do these podcasters make enough money to thrive?
3 Primary Paths
There are a few different paths that you can take to make some money. Podcast funding usually comes from the same three primary sources:
Sponsorships: Businesses provide money in exchange for promotion
Crowdsourcing: Raising money from communities
Extras: Offering extra services like editing, workshops, etc.
Usually, the most successful podcasts rely on a few different sources of income instead of just one. For example, the Strangers podcast gets roughly 500,000 downloads per month. They got there by getting sponsored by a radio station called KCRW, then by Public Radio Exchange, and now they earn a decent amount of income from running workshops and training days, donations from listeners and selling merchandise on their website.
1. Sponsorships
Sponsors can be found in many places but quite often they will find you as long as you're putting your content out there and promoting it well. It helps to make your show as visible as you possibly can in various online communities. Niche companies are more likely to agree because as long as their product is closely linked to the content you're creating, they are 100% guaranteed to benefit from running a promotion on your show.


Some Media Hosting websites are actually set up to help you find sponsors too. Places like BluBrry and Acast can send your notifications whenever a sponsorship deal comes up, or can even offer to insert advertisements for you when you host your podcast with them.

2. Crowdsourcing
A lot of podcasts are now getting their audience to help fund the podcasts as well. They create an account on Patreon, a site where consumers can donate money to their favourite companies, and content creators, usually for some kind of rewards.

It's really easy to set up a Patreon account and start earning money. You just need to create some tiers of rewards for different levels of donations. These usually range anywhere from getting a pin badge set and a free shirt, to access to bonus episodes or personalised recordings from the host/s. You can decide what you put into these tiers but it needs to be something that your listener will want to donate money for.

3. Extras
Some podcasts offer extra services. This can be anything from, helpful courses on an area of expertise or editing other peoples podcasts. As long as people make a donation towards your podcast, they can gain access to these extra services.

Some podcasts offer paid courses or coaching on an area of their expertise, like the School of Podcasting podcast. This is a nice option as then you are getting funding out of it, and your listeners are getting expert advice. Everyone is getting something they really want.

Another popular way of offering extra content is to offer access to bonus episodes with a donation or paid subscription. One example of this is The Ralph Report, who coincidentally was on the list of Highest Earning Podcasts over on Podcast.co! He publishes one free episode every Monday, and then if listeners want access to the other episodes of the week, they can subscribe to pay a $3 monthly subscription fee and get an episode every single day!
Top 5 Highest Earning Podcasts (& How They Make Money)
Let's take a look at the top 5 Highest Earning Podcasts according to Graphtreon, which pulls all the figures from Patreon. You'll be able to see how many Patreons they are getting and, with those that choose to publish their earning figures, you'll be able to see just how much they are making from this.
All of the following figures are starting from May 2017 and displaying up until May 2018.
5. Last Podcast On The Left
Ignoring the sharp decline towards the beginning of June due to a Graphtreon glitch, we can see that Last Podcast on the Left's earnings figures are steadily growing day by day. We can see that during the 1 year time period selected, their earnings are up by around 87.4% and on an increase.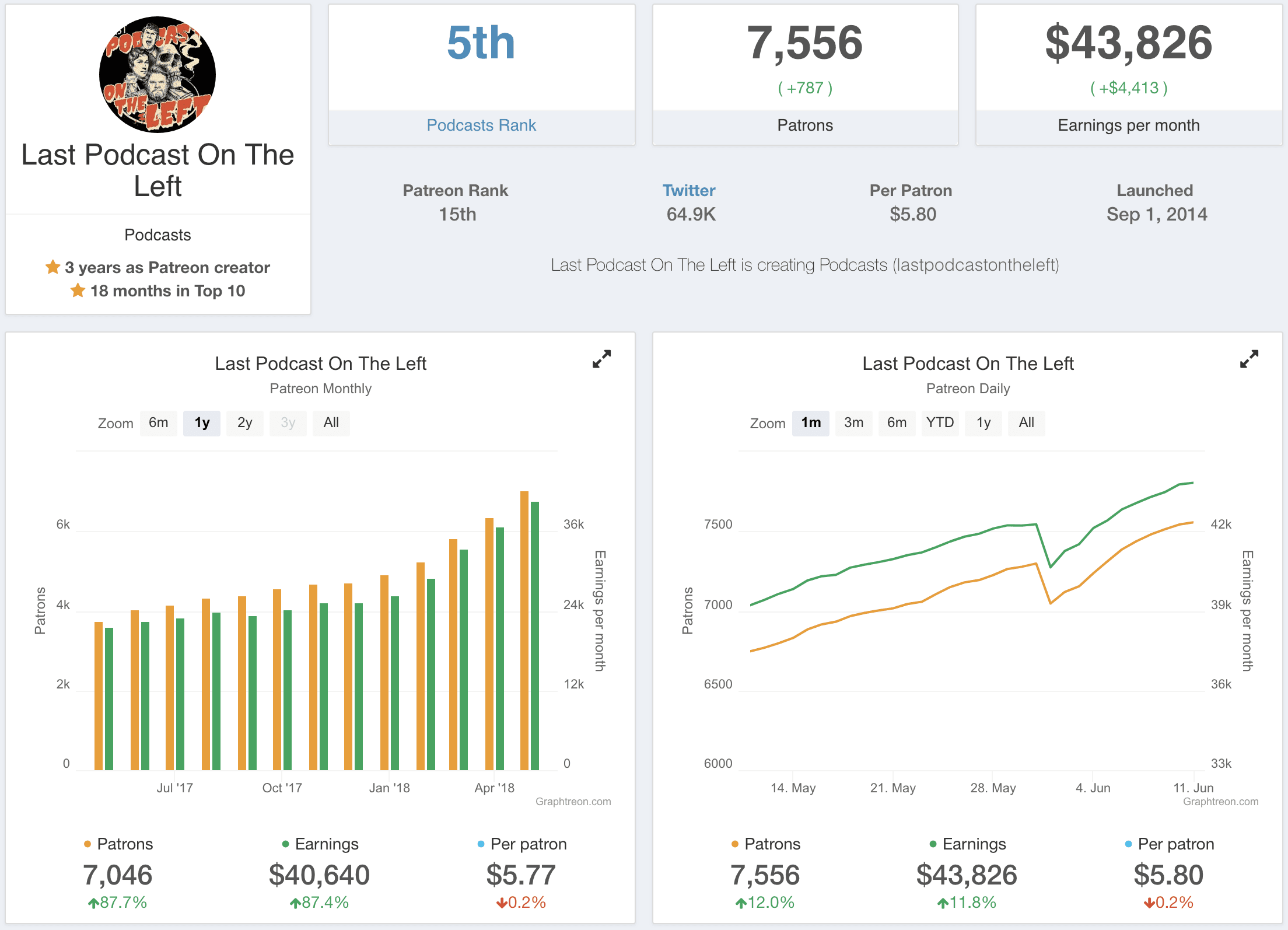 4. Sam Harris
Again ignoring the sharp decline at the beginning of June, we can see that Sam's figures have been pretty steady the whole time, with around 8,500 regular Patreons. Although, he has chosen not to make his earnings figures visible, we can make a guess that his earning figures are steadily rising with the amount of Patreons.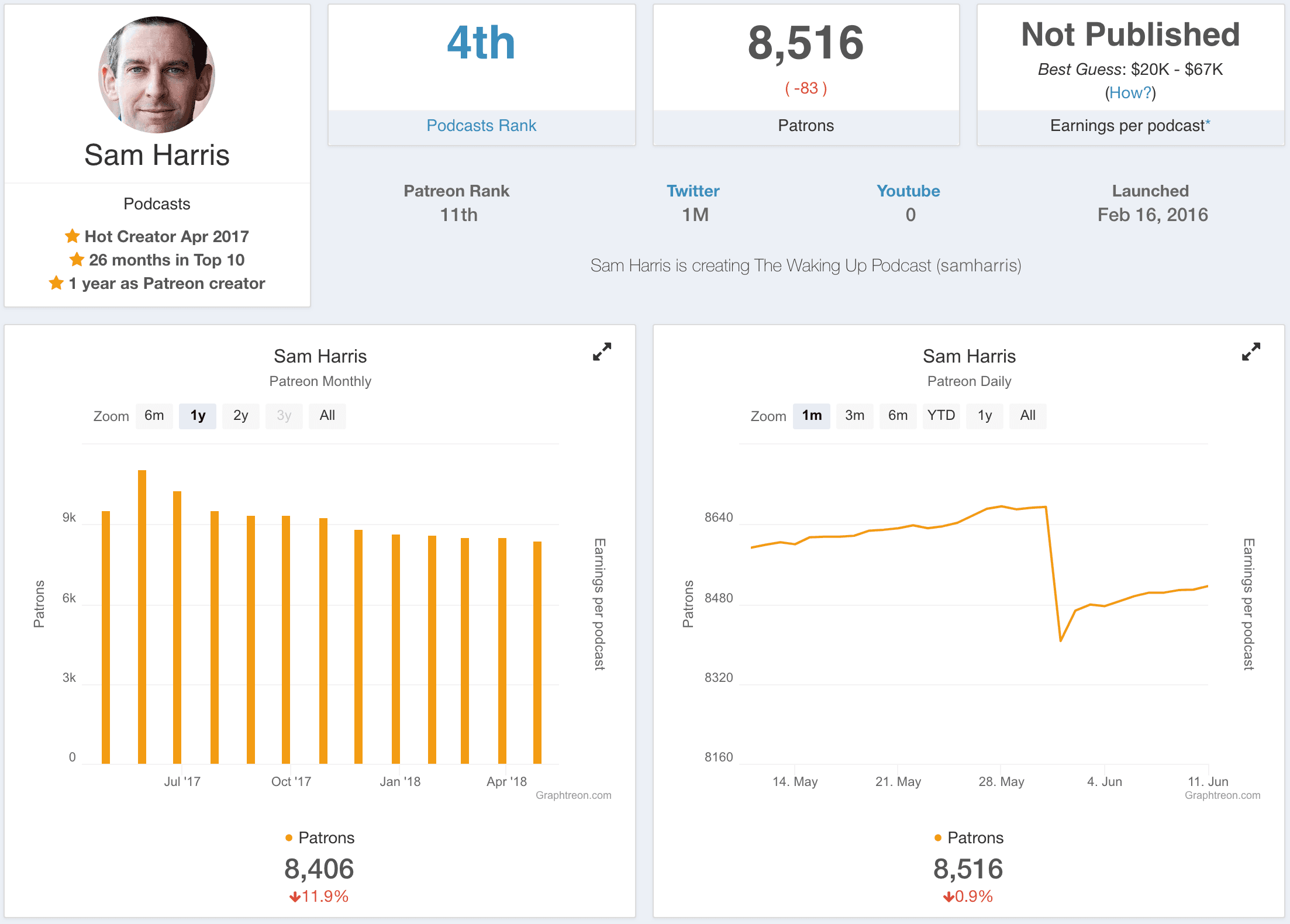 3. Second Captains
Second Captains, the creators of Second Captains World Service, have chosen not to display their earnings either, however they have displayed their Patreons. As you can see, they're also on a steady incline, meaning that their earnings for their podcast are definitely also on the increase.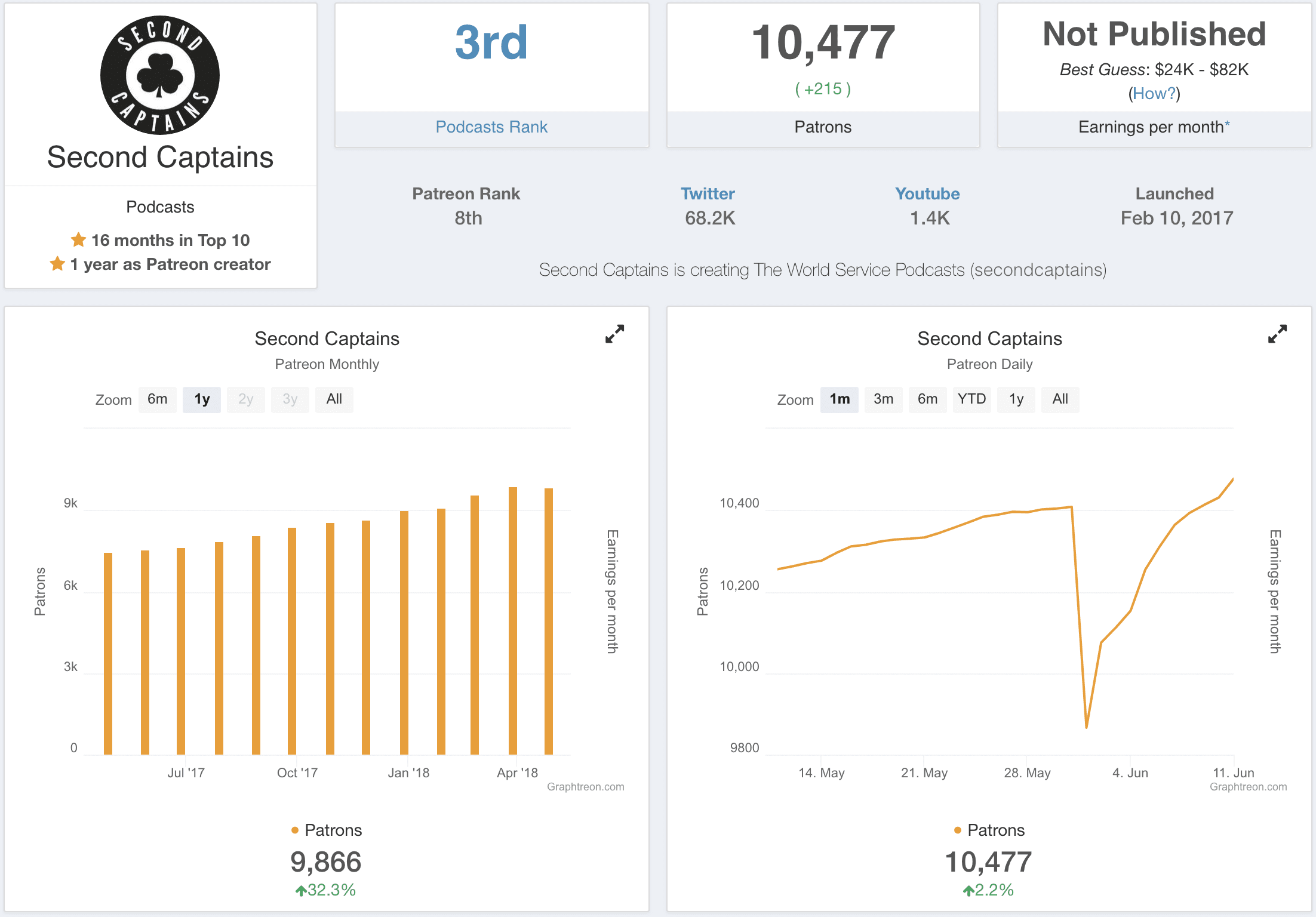 2. Sword and Scale
Sword and Scale are another podcast that has chosen to not make their earnings figures public. Looking at their Patreon figures though, you can see that, similar to the others, the amount of Patreons for Sword and Scale are increasing so we can make a decent guess that their earnings will be increasing as well.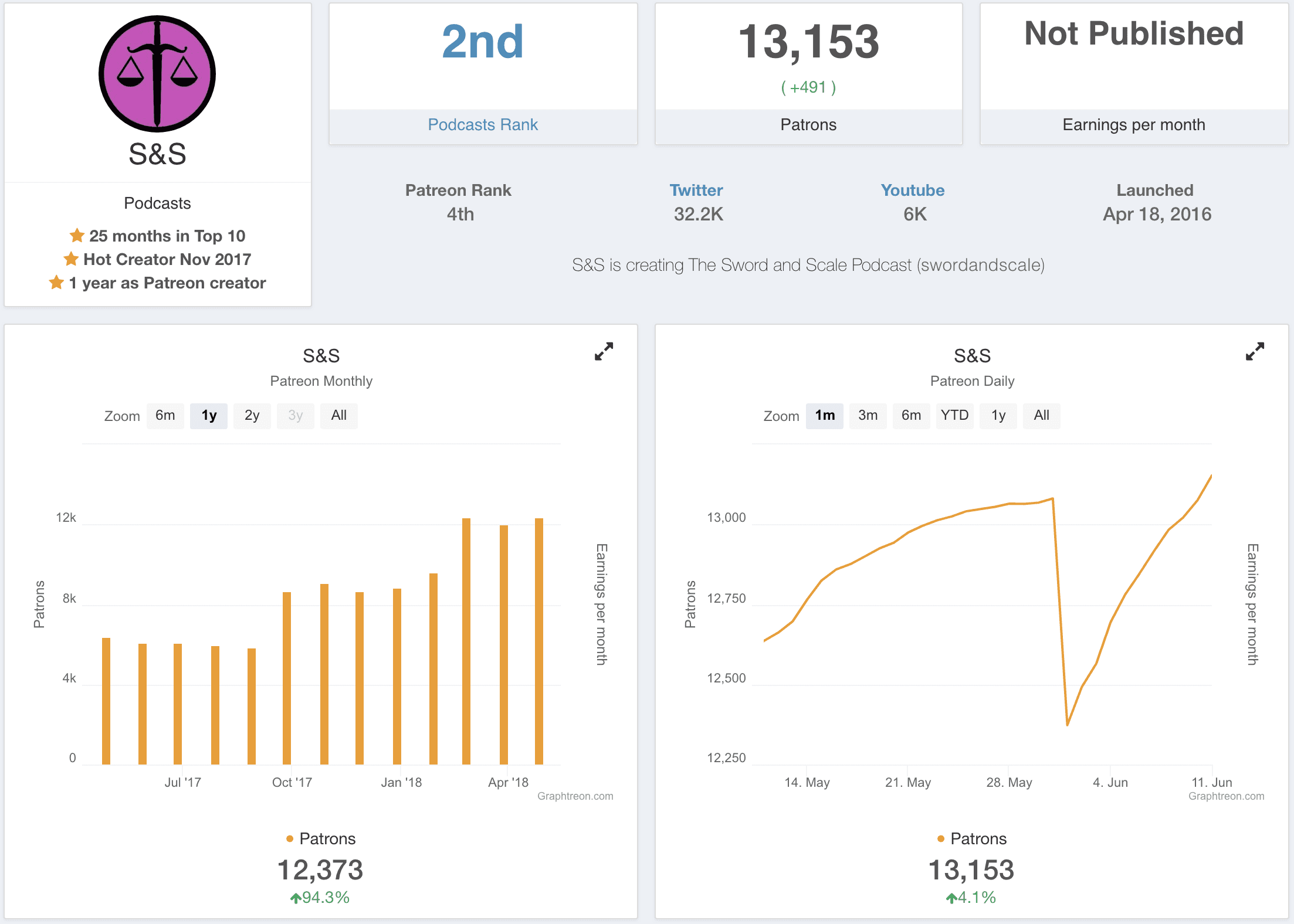 1. Chapo Trap House
Chapo Trap House have published both their Patreon figures and their Earnings figures. As you can see, both are on the rise with total earnings for the year sat at just under $96,500! This shows you that you can absolutely create a successful podcast that you can run as a full time job.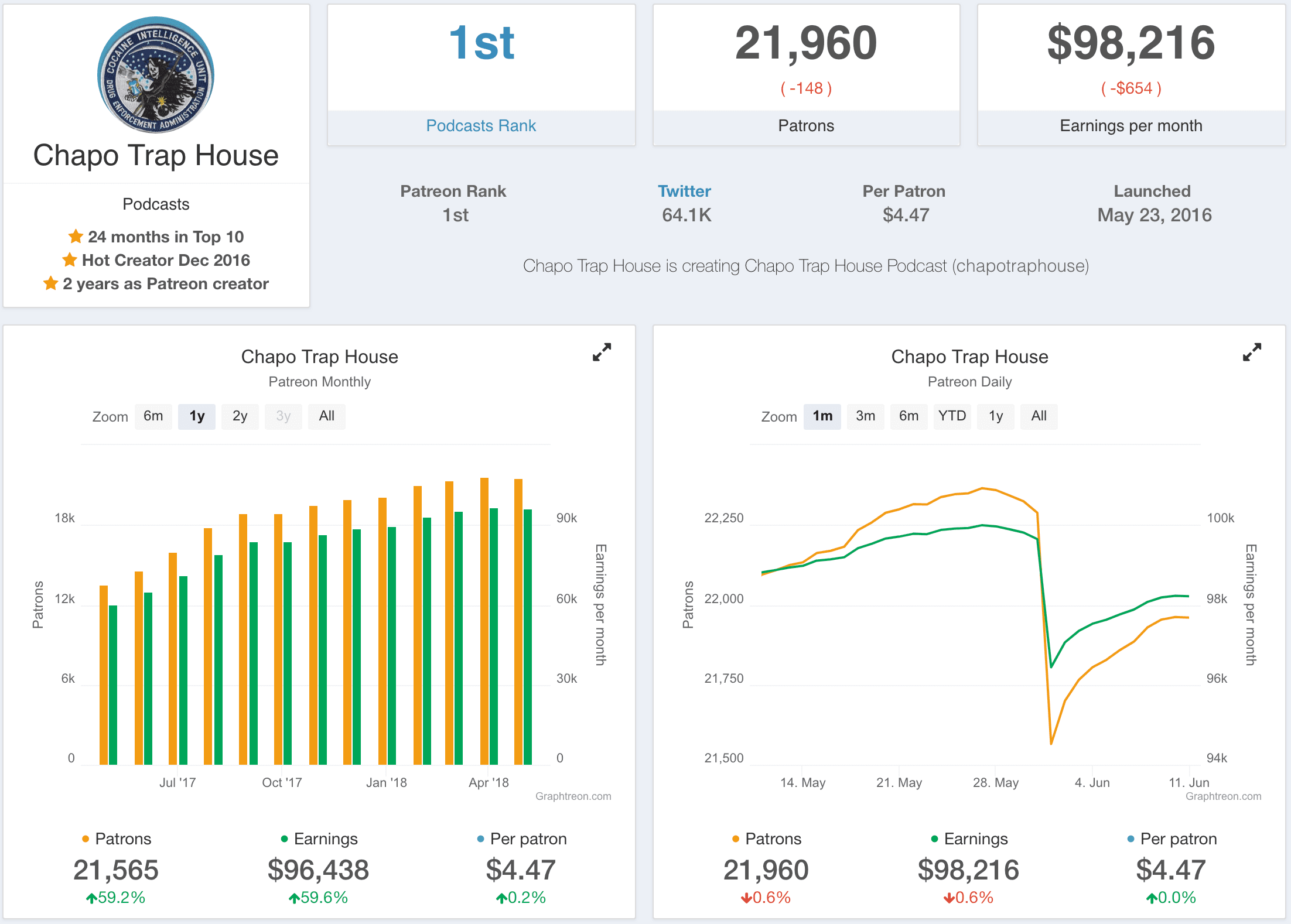 Which of these methods do you think you'd use? Or if you currently earn money from your podcast, why not share your methods in the comments below? For more even Podcast specific advice, you can head over to the new Podcast.co website!

Podcast.co: Everything You Need to Know to Start Your Podcast