Radio FAQ: Common Questions Answered
Find answers to common radio FAQs about starting a radio station. From audio equipment to sound professional to software for easy music management, get the lowdown on how to get up and running quickly.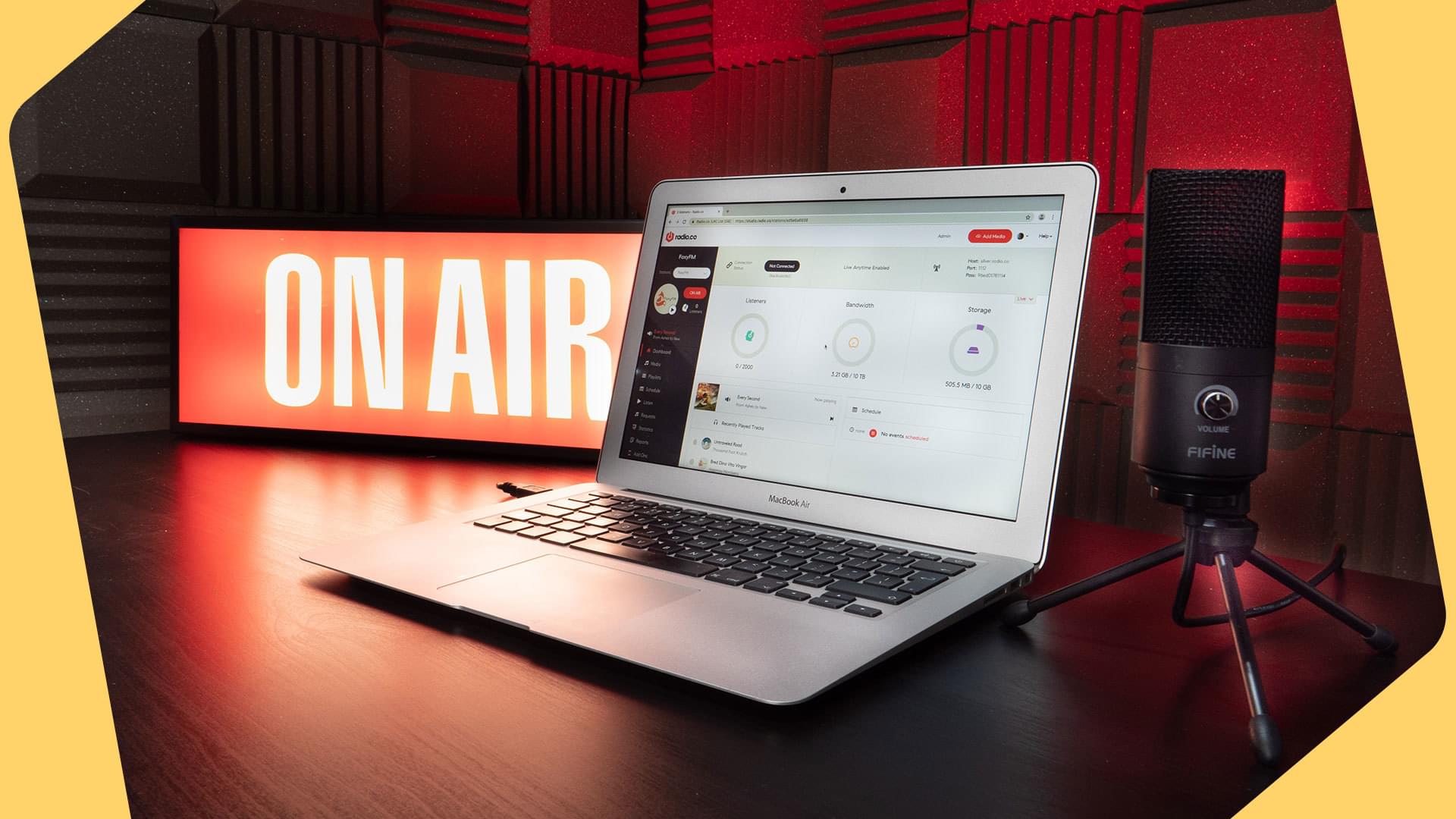 At Radio.co we get loads of common radio FAQs. Some of which we hear more often than others. Over the years we've helped people from all walks of life. So if you're new to the scene and looking to broadcast online, don't worry. Get the lowdown on the most common questions asked before starting a radio station.

Common Radio FAQs
I'm not very tech-savvy. Is online radio right for me?
Surprisingly, you don't need a degree in computer science to run a radio station.
Nowadays, broadcasting online is easy. Most things are done for you, but you'll still need to put in a bit of leg work. So with Radio.co, everything is at your fingertips. Tools for scheduling, sharing, and tracking your listeners are all in your browser. You'll just need to upload files, organise them into playlists, and manage your broadcasts.
There's no coding needed, with most things being friendly for anyone to use. But that doesn't mean you'll get stuck from time to time. Whether that's setting up playout software or choosing a microphone, Radio.co support has your back. And if you're the 'go it alone' type, then there are countless help guides to point you in the right direction.

How is online radio different from AM, FM, and DAB?
Terrestrial radio, also known as traditional radio, is a way of broadcasting using radio waves. This includes AM, FM, and DAB.
You've probably driven past radio towers a million times before. But these tall masts produce a wide signal, usually covering a few miles like a city and neighbouring towns. Although reach is limited, anyone within the transmitter's signal can tune in.
On the other hand, online radio works very differently. Anyone with an internet connection can access a radio broadcast. Whether that's through a player, app, or smart speaker.
What if I don't have a lot of money to spend?
With Radio.co, we have a variety of plans available to help you get started with your own radio station, from only $29 per month.

The other cost will come from the equipment you need, but it's also good news here! To get started, all you need is a microphone and a broadcaster. You can pick up a microphone for less than $25, such as the Fifine 669 (review here: Fifine 669 Microphone Review), and you can download the Radio.co Broadcaster on your Windows-based computer for free! (There's also free Mac-based broadcasters, such as BUTT).
How do people listen to my station?
Actually, there are several ways. But the two most popular are web players and mobile apps.
Listeners browsing your site can quickly tune into shows using a custom-branded player tailored to your station. And for those on the move, apps let listeners take your station wherever they go. Other than that, there are:
Direct Links: URLs to listen in your browser, without going through a site, player, or app.
Smart Skills: Speakers like the Amazon Echo can tune into your station, just say 'Hey Alexa, play my station'.
Third-Party Sites: Places like Streema, TuneIn, and other places can host your station, usually with a baked-in audience of thousands.
What if my listeners have a poor internet connection?
Even with major advances in technology, not everyone has fast internet speeds. And coverage in some rural areas can be downright atrocious. So if streaming at the standard 128kbps is too much to handle, lower your bitrate.
Within Radio.co, the stream quality can be adjusted. That's anything from 16kbps to 320kbps. And a second lower quality stream can be enabled for those on mobile or with a poor internet connection. Although audio quality won't be as good, listeners will be able to stay tuned without disruption.
Do I need a website?
Short answer? No.
But without a website, you're limited. Listeners won't be able to find you on Google, so getting discovered is more difficult. And you won't have a place to build a community or further down the road, sell merchandise.
In saying that, creating a website is easy nowadays. Most things are taken care of, so you just pick a template, customise a few things, and away you go. That's the idea behind our website builder anyways. But more on that over at Radio.co.
Where do I get music?
Gone are the days of Napster and other file sharing sites. But that's not a bad thing, as today there are places you can get tracks legitimately, both as paid at a reasonable price or for free.
Although it sounds too good to be true, free to use music does exactly what it says on the tin. Some artists offer their music under Creative Commons, which is a license that gives non-profit organisations permission to use the creator's work freely. Just don't expect any Fleetwood Mac or Britney Spears. So there's...
HookSounds: Priding itself on offering the best-curated royalty-free music, their "Use & Mention" plan lets you deep-dive into an extensive collection of both well-known and fresh artists.
Free Music Archive: Or FMA for short, is a public domain archive of Creative Commons licensed songs. From pop to jazz, download and use any tracks for free.
Jamendo Music: Connecting musicians and music lovers together as a community. With more than 500,000 tracks shared by 40,000 artists from over 150 countries, it's safe to assume there's something for everyone.
Then there's paid music. If you're looking for Elton John's 'Rocket Man' or Bob Dylan's 'Like a Rolling Stone', then you'll need to try…
I Like Music: Designed for and built by broadcasting professionals, the marketplace supplies thousands of tracks that range from all-time cult classics to new tracks you usually can't obtain digitally elsewhere.
Beatport: Home to a large collection of electronic music, Beatport is ideal for DJs looking for full sets and mixes from independent artists.
Amazon Music: Every song under the sun is available in both digital and physical formats on the popular online retail goliath. Amazon is still the go-to place to buy an album. With millions of artists available, you're really spoilt for choice.
Do I need a radio license?
Unlike terrestrial radio, you don't need to own a license to broadcast online.
But if your station is playing copyrighted music, as opposed to just talk, then you'll need a license to fully protect yourself and pay the correct licensing bodies. In most cases, copyright is normally held by the recording artist or record label.
In the UK, PRS and PPL handle licensing. PRS collects on behalf of songwriters, composers, and music publishers. Whereas PPL collects on behalf of performers and record companies for the use of their recorded music. Together they offer 'TheMusicLicence', which covers both. But in places like the US, Canada, and Australia, licensing is handled differently.
Without going into too much detail, find your country's governing body to see which license is right for you.
Which microphone should I get?
Honestly, what equipment you choose all comes down to personal preference. Whether that's a microphone, mixer, or even DJ decks.
But what you choose depends on where you're recording, what you'll be using the microphone for, and your budget. Although cheap USB mics seem appealing, they just don't sound as good as the proper thing.
In the audio world, the Shure SM7B is slowly becoming the de facto mic of choice for audio professionals, but for good reason. With a built-in shock mount, internal pop filter, and simple design, the SM7B has everything you need in a rock-solid and reliable dynamic mic.
How can I make money from radio?
Let's be real for a second. There's no get rich quick scheme or simple way to make money from radio. It takes hard work and dedication. But with a good plan and insight, turning a profit is achievable.
Just like any business, radio stations don't rely on one way to earn cash. Right off the bat, ads and sponsorships are the most popular. And investors trying to get in front of a large audience will pay good money. But there are several ways radio stations turn a profit, like…
Paywall/Subscription: Regular payments on a rolling basis.
Merchandise: Physical goods like clothes.
Affiliates: Sales from referrals.
Crowdfunding: Donations from loyal listeners.
Events: Earn from hosting, like conventions or sports games.
Competitions: Free giveaways to promote businesses.
Ads: Play clips selling a business's goods or services.
Sponsorships: Promote businesses throughout your station.
So plenty to choose from. But if you're unsure which is best for you, look at successful stations to see how they do things.
Plans & Payments
Can I change the payment date for my direct debit?
No. Our billing system is completely automated, so we can't change the billing date. If you need to change the billing date, you'd need to cancel your station, then re-activate on the new payment date. Please be aware, once the station has been cancelled and the current billing period has ended, your station will be off air.
What payment methods does Radio.co accept?
All plans accept PayPal, Visa, and Mastercard credit/debit cards. Choose to be billed in either US Dollars ($), British Pound Sterling (£), or Euro's (€).
When will I be charged?
Payment is automatically taken at the end of your trial and processed roughly the same time you signed up. But this may vary, so no approximate time can be given.
Can I upgrade/downgrade my plan?
Yes. In your billing area, select the plan you'd like to change to.
Why did my payment fail?
Please ensure you have sufficient funds available in either PayPal or on your card. If card payment fails, please contact your card issuer as they may be blocking the transaction. Often they can resolve any problems and you can retry payment again.
Getting Started with Radio.co
Can I try before I buy?
With Radio.co you can. Test drive with a 7-day free trial to see how everything works before committing. You won't get charged and there are no contracts to sign. Just join, create, and broadcast in a couple of minutes.

Can I have more than 1 station?
Yes, you can have multiple radio stations under one account.
Can I invite multiple people to manage my station?
Yes. Grant access to your station for music management and live DJ takeovers. But restrict what people can do with user roles.

What are add ons?
Add ons are additional features like mobile apps or the website builder. Depending on what plan you pick, some add ons are included. But if not, then purchase them in your add ons area.
Account Issues
My station has been suspended, what can I do?
Suspension happens either due to a failed payment attempt or cancellation. To reactivate your station, login to Radio.co and make payment. But be quick, stations are maintained for 60 days before automatically deleting.
I forgot my password, how do I reset it?
Reset your password to update your details. You'll receive an email to enter a new password, then login.
Can I customise my plan?
No. If you need more storage, bandwidth, users, or features that aren't available on your current plan, then you'll need to upgrade.
Radio.co Basics
What file formats does Radio.co support?
Radio.co can broadcast in either MP3 or AAC format at up to 320kbps. Any tracks uploaded need to be in either the MP3 or M4A format. And a few other things to note before uploading tracks:
200MB upload limit via the browser.
MP3 and M4A (AAC) files supported.
MP3 files need to be encoded at CBR (constant bitrate).
VBR (variable bitrate) files won't play.
Files protected by DRM are not supported.
How do I upload tracks to Radio.co?
You can upload files by dragging them over to Radio.co from Windows explorer or OSX Finder. Alternatively you can use an FTP client such as FileZilla to upload larger files.
Conclusion
Reading a bunch of radio FAQs isn't quite the same as being able to chat with someone over the phone.
You've probably got dozens of questions that weren't covered. In which case, why not book a demo and chat with one of our team? Whether you're new or an experienced radio broadcaster, it's always useful to have someone on hand to answer your questions. So book your demo today for a day and time that suits you.