Radio FAQ: Common Questions Answered
Find answers to your questions with our complete radio FAQ; from equipment you need to sound good, software for easy music management, and loads more tips to get started!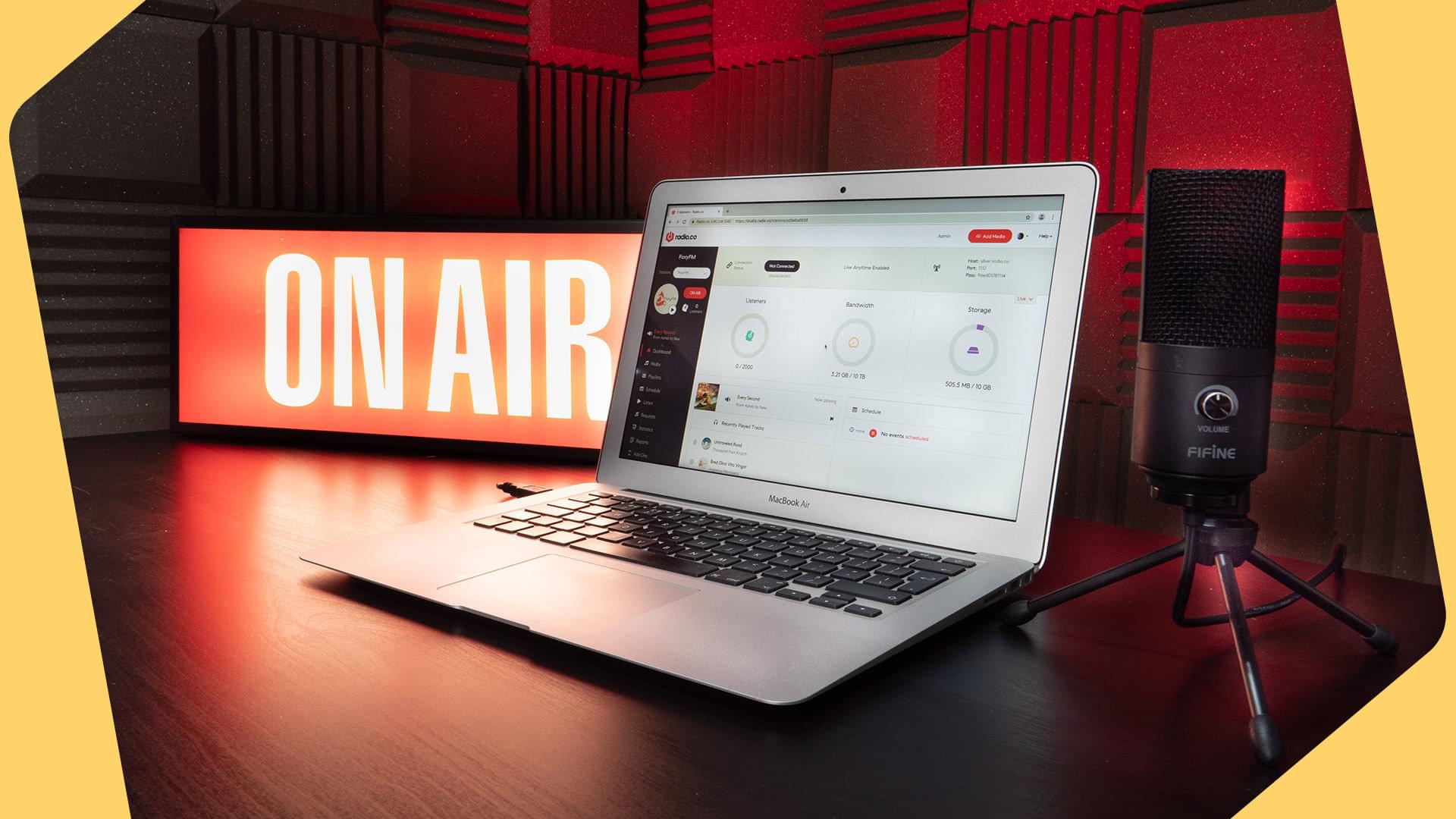 At Radio.co we get loads of common radio FAQ (frequently asked questions). Some of which we hear more commonly than others. We're a friendly bunch here and decided to list the most common ones below to help you out! So with that, let's get straight in to it...

Common Radio FAQ
I don't have technical knowledge, is online radio still right for me?
It sure is! We all have to start somewhere, and here at Radio.co we've got a great support base to help you along the way. With 100's of support guides, as well as a technical support team available to answer any of your questions, we've worked hard to make running your own internet station as easy as it possibly can be!
What if I don't have a lot of money to spend?
With Radio.co, we have a variety of plans available to help you get started with your own radio station, from only $29 per month.

The other cost will come from the equipment you need, but it's also good news here! To get started, all you need is a microphone and a broadcaster. You can pick up a microphone for less than $25, such as the Fifine 669 (review here: Fifine 669 Microphone Review), and you can download the Radio.co Broadcaster on your Windows-based computer for free! (There's also free Mac-based broadcasters, such as BUTT).
How do people listen to an internet radio station?
One of the great things about internet radio is that your listeners have so many different ways to listen in to your station. Smart speakers are gaining popularity, and our Alexa Skill add-on can help you build a specific skill for your station to reach those people! We also provide embeddable players for your station so you can pop these on a website and your listeners can listen there, or you'll have a streaming link so you can share that directly and once they click that they can listen! Our Android and iOS apps allow listeners to access your broadcast on to go too!
Do I need a website?
You can have a station with Radio.co without a website, and a lot of stations do just this! However it's definitely a good idea to have one. It makes a good destination for your listeners to go to and you can fully customise this to suit your stations appearance. You can include so much more information on your stations website and really boost your publicity. We actually have a Web Builder add-on to help you out with creating a website for your station!
Plans & Payments
Can I change the payment date for my direct debit?
Unfortunately our billing system is completely automated, and therefore we'd be unable to change the billing date for you, regardless of circumstances. If you need to change the billing date, you'd need to cancel your station (Settings > Billing > 'Cancel your account'), and then re-activate on the new payment date. Please note, once the station has been cancelled and the current billing period has ended, your station will be Off Air.
What payment methods does Radio.co accept?
Radio.co accepts either PayPal, Visa or Mastercard credit/debit cards. You can choose to be billed in either US Dollars ($), British Pound Sterling (£) or Euro's (€).
Is there flexibility for me to upgrade/downgrade my plan?
Yes. Visit the billing page in your Station's settings to manage your subscription, upgrade or downgrade.
My payment failed, what should I do now?
Please ensure you have sufficient funds available in either PayPal or on your card. If card payment fails, please contact your card issuer as they may be blocking the transaction. Often they can resolve any problems and you can retry payment again.
Getting Started with Radio.co
Do you offer a free trial?
With Radio.co, you get a free 7 day trial. This gives you the opportunity to test drive the software, and decide whether or not it's something you'd like to continue with! To start your trial, you just need to head on over to the Radio.co pricing page, and select 'Start Trial' on the plan you feel would best suit both you and your stations needs. You will be asked to enter payment information, but do not worry, you will not be charged until the 7 day free trial has elapsed, and you can cancel anytime before then, in which case you will not be charged.
I forgot my password, how do I reset it?
If you visit studio.radio.co and click the 'forgot password' link, it will send you a password reset email which you can use to set a new password.
Can I have more than 1 station?
Yes, you sure can! To do this, you'd just need to follow the guide here: Adding Multiple Radio Stations.
Does each station allow for multiple users?
Yes. Depending on which plan you have chosen, you can invite a number of users such as DJ's, Music Controllers and Station Managers. Each will have access to specific parts of your station so you don't need to worry about who can see what.

What are add-ons?
Add-Ons are additional features like Android/iOS apps and the Website Builder. Depending on the plan you select, some Add-Ons may be included in the subscription price. More information on this can be found here: Radio.co Plans.
Alternatively, if you'd like to purchase an Add-On separately, you can do so by heading to Settings > Billing > Add-Ons.
Account Issues
My station has been suspended, what can I do?
Your station may have been suspended due to a failed payment. When logging in to Radio.co you will be advised of this and prompted to take action to make payment. Don't worry we keep your data for 60 days. The station will reactivate on successful payment.
If no payment prompt appears when signing in to Radio.co, the station has been suspended for another reason. In this case, please get in touch with the Radio.co team using the red chat box here, and we'll be happy to assist.
Radio.co Basics
What file formats does Radio.co support?
Radio.co can broadcast in either MP3 or AAC format, up to 320kbps.
Any tracks uploaded need to be in either the MP3 or M4A format.
How do I upload tracks to Radio.co?
You can upload files by dragging them over to Radio.co from Windows explorer or OSX Finder. Alternatively you can use an FTP client such as FileZilla to upload larger files. If you'd like more information on this, please do have a read of the following guide here.
Book a Demo: Get Your Questions Answered
Reading a bunch of radio FAQ isn't quite the same as being able to chat with someone over the phone. You've probably got dozens of questions that weren't covered, in which case, why not book a demo and chat with one of our team? Whether you're new or an experienced radio broadcaster, it's always handy to have someone on hand to answer your questions, so book your demo today for a day and time that suits you!