Do I Need a Radio Station App?
Do you really need a radio station app? With over 4 billion people that have smartphones it would be kind of silly not to have your own app.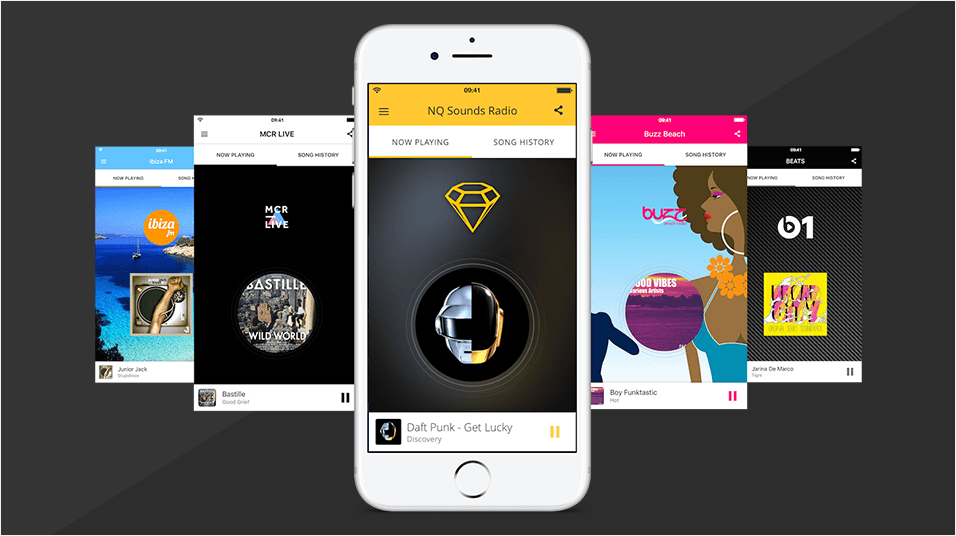 Over 4 billion people have smartphones and average daily usage is over 2 hours, so it would be kind of silly not to have your own radio station app.
It's more than just a destination for listeners to tune in, it's also a tool for you to showcase the best of what you have to offer through your music and shows. What you play will be accessible anywhere, anytime, directly from your listener's pocket.
Your Radio Station App
Radio station apps are custom built by the mobile team here at Radio.co and dedicated to you and your listeners who can easily access your stream on either iOS from The App Store or Android devices from Google Play.
Apps have awesome features like song history search, optimised for users with poor cellular connectivity, alarm clock and sleep timer, and a fully branded mobile app that showcases your station's brand makes it a killer asset you need.
Design & Brand Your App
There's nothing more annoying than ads or pop-ups trying to sell you stuff, which is usually the case with third-party apps like TuneIn or Streema. Instead of listening to your station on someone else's app, use your own custom radio station app which is designed, branded, and offers a fluid experience for listeners to access your stream with just the tap of a button.
Got a tablet instead? Access your station's app on an iPad or larger Android device such as the Samsung Galaxy Tab, Sony Z4 or Amazon Fire. Your app adapts to the listener's screen size, so it always looks good.
Your Dedicated Radio Stream
It's now become the norm to inject ads into radio streams or music services, just look at Pandora or Spotify for instance, but if you want full control over your shows to play what you want then you need a dedicated radio station app.
Your own app provides listeners with a smooth experience, with one tap of a button they can tune into your shows. Radio.co's iOS and Android apps are updated and maintained by a team of experts, so you don't need to worry about a thing.
Alarm Clock & Sleep Timer
One of the cool features the apps have is an alarm clock and sleep timer, they're designed in a "set it and forget it" way so you can schedule the app's music to close or open when you like.
The alarm clock turns your station's stream on whenever your want, you can even set a snooze time if you're using it as a morning alarm.
The sleep timer does the opposite by switching off your stream if you're not around, just set the hours and minutes when you want it to turn your station's stream off.
Share Your Station
Your radio station app has the option to to share what's playing via any other app installed on your phone like Facebook, Twitter, and Whatsapp. Listeners can organically spread the word about your station to friends or followers which can help your station grow.
Link to Your Social Media
Does your station have a Facebook page or Twitter feed? Link these directly in the app sidebar so your listeners can interact with you when they are on the go. You can also link out to YouTube, Soundcloud, or Instagram.
Reviews Made Easy
Increase your radio station's visibility and ranking in both The App Store and Google Play by gaining 5 star reviews from your listeners.
People trust other's recommendations, so showcase your station whenever you can to look good, that's why the app has a built in feature which makes it easy to review your radio station app. Stations like Buzz Beach Radio have already built their app building a following within their communities.
Build Your Radio Station App Today
It doesn't take long to create your very own app for iOS and Android devices as the team at Radio.co will do all the heavy lifting.
Are you already with Radio.co? Purchase either the iOS or Android app in your Radio.co Dashboard -> Add Ons area. Alternatively if you're on the Station plan then you can grab both apps for free! Get in touch with support to get started here.
Not with Radio.co and want to build your apps? Get started today with your 7 day free trial by clicking the button below and start designing your apps straight away.