How to Broadcast Using RadioBOSS
RadioBOSS setup for your online radio station | How to install everything you need to get up and broadcasting with RadioBOSS.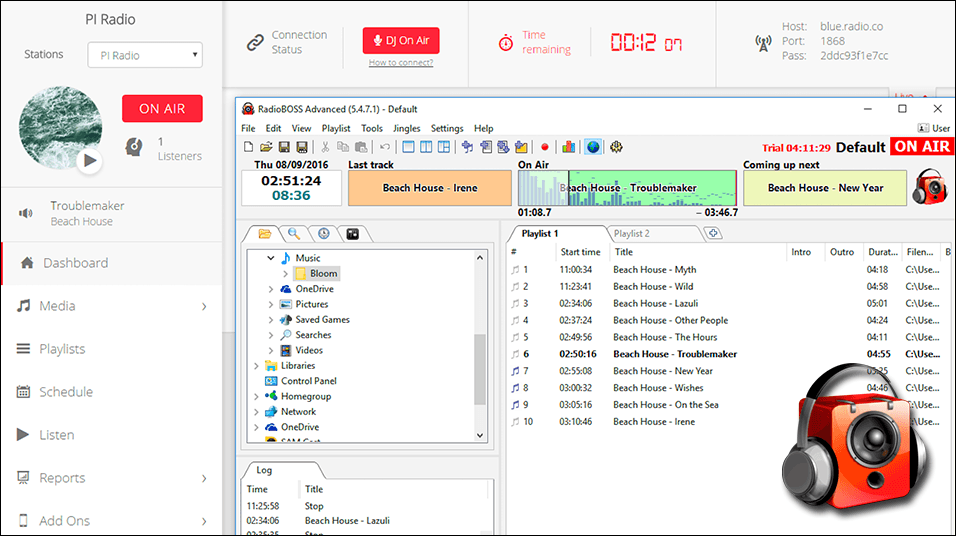 All too often broadcasting software solutions are overcomplicated, bloated, and down right a pain to use. RadioBOSS throws out the unnecessary and streamlines the essentials to manage your shows.
A veteran of the radio industry, DJSoft.net (the team behind RadioBOSS) has been around since 2003 building Windows based applications. RadioBOSS makes managing your music simple, affordable, and easy to use.
Find out how RadioBOSS works, what it offers, and how you can use it to connect to your online radio station.
What is RadioBOSS?
RadioBOSS is a Windows based automation application that allows you to manage tracks, create playlists, schedule those playlists, and broadcast them live to your online radio station. Like other broadcasting software, you can use RadioBOSS as a media player for personal use at home to playback your favourite tracks and curate playlists. It also has a bunch of cool features like volume levelling, timed announcements, and block rotations for easy management. RadioBOSS is a paid service, however you can try it for free. Use it up to 150 times, which is easily enough time to figure out if it's right for you.
RadioBOSS Features
RadioBOSS keeps it simple, but there are a few stand out features worth looking into if you're thinking about giving it a try.
Crossfade Editor
Edit each track's crossfade start and end points for smoother transitions between songs.
Radio.co offers an advanced track editor you can use to manage your track intros and outros. Add custom cue points, fades, and track information in the browser.
Reports
RadioBOSS logs your entire play out, so you can use the report generator to produce tracks from selected dates, which are ideal for licensing purposes.
RadioCaster - Live Audio Encoder
Not a feature, but a stand alone application. RadioCaster captures your computer's audio or microphone input audio and broadcasts it live to your listeners online.
Think of RadioCaster as the stripped down version of RadioBOSS, it offers the basics you need to connect to your radio station.
Playlist Generator
There are two ways you can make playlists, either manually create them from your back catalogue of music/shows or automatically with templates to avoid repeat tracks.
RadioBOSS Setup: Connect to Your Online Radio Station
What You Need
Download RadioBOSS - You can use the free trial for 5 hours at a time and 150 tries, this way you can see if its right for you before purchasing. Alternatively you can get the full version here.
Initial Setup
Launch RadioBOSS.
Drag music from the sidebar into your playlist.
Select Settings (cog icon).
Choose Broadcast and click the + button to create a new encoder.
Enter Your Station's Details
Your radio station's broadcasting details are unique, they can be found under the Live tab in your Radio.co Dashboard.
Server Type: Your host URL & port (e.g. blue.radio.co:1868)
Password: E.g. 11a1aa1a1a1a
Encoder Display Name: Your radio station's name.
Sample Rate: 44100
Encoder: MP3
Bitrate: We recommend matching this to your stations' main output bitrate (Default: 128Kbps)
Channels: Stereo
Select "Show ON AIR when broadcasting is turned on" in the broadcast area, this way you will know if the connection is being sent from RadioBOSS correctly. Choose your encoder you just added and click OK.

Broadcast Live
Before you can broadcast live, you must schedule a live event within your station's calendar by following this guide.
Start by playing music or switching on your microphone by clicking the "Mic" button, then press the globe button to connect to your station. You should see "ON AIR" in RadioBOSS and your Radio.co dashboard status will update along with your track information to show your live connection.
Check your stream is broadcasting correctly by clicking the play button in your Radio.co dashboard. You can also use listen links as explained here.
Your station is now broadcasting around the world using RadioBOSS and Radio.co! If you need help or have a question then the team here at Radio.co are available here.
---
Join the Radio.co family today by starting your 7 day free trial and broadcast your station on the most advanced and reliable radio platform.