RAJAR Q2 2016: Radio Listening Shifts to Online & Digital
RAJAR Q2 2016 Overview: Broadcasters see listener shifts to online and digital platforms like internet radio and DAB stations.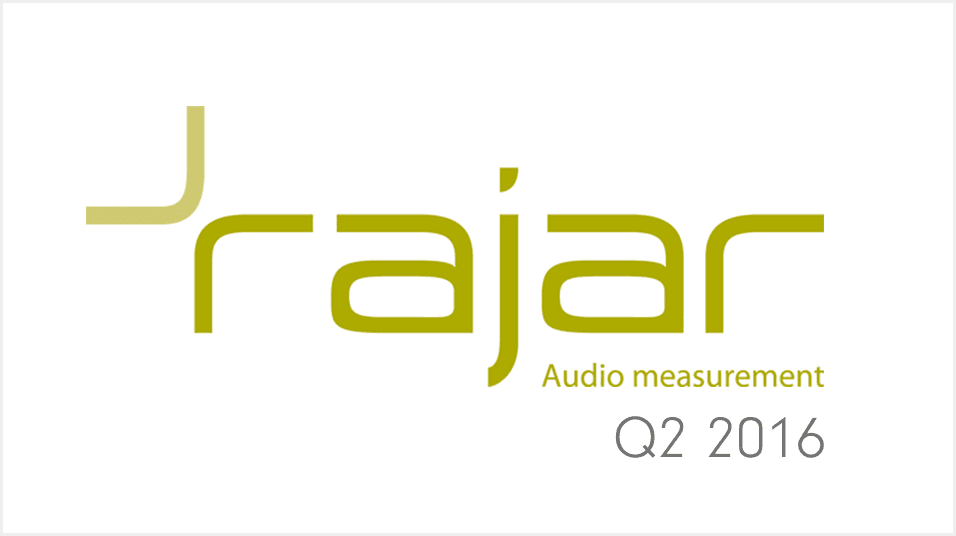 UK listening figures have seen another sharp rise in online and digital radio according to the latest RAJAR Q2 2016 data release.
Radio Listening Increase
48.7 million adults or 90% of the adult (15+) UK population tune into their favourite radio stations each week in the 2nd quarter of 2016, which is up by half a million listeners from the previous year.
The total average number of weekly hours listened to by adults for Q2 2016 is a massive 1.045 billion.
Online & Digital Radio: Sharing is Caring
6 in 10 adults aged 15+ are listening to radio via digital platforms each week and share streams and content with others via Twitter, Facebook, and other social platforms. 32 million people now tune into radio either via online, DAB, or DTV on a weekly basis.
473 million listening hours are consumed digitally:
18% online (83 million)
11% DTV (54 million)
71% DAB (336 million)
Digital Shares & DAB Ownership
Radio listener shares nearly take half of the overall listening hours with 45.3%. DAB stands at the highest at 32.2%, DTV 5.1%, and listening online and on mobile apps is 8%.
DAB radio ownership has also increased by 10% from last year, now 30 million adults have their own digital radio device to listen to DAB stations.
Mobile Listeners & Social Radio
27% of adults say they listen to the radio via their smartphone or tablet at least once per month, which is a 6% increase from the previous year.
39% of 14-24 year olds also say they tune into radio on their phone or tablet every month, which is another 6% increase from last year.
Radio listening on mobile devices has nearly doubled since Q4 2013 to Q2 2016, seeing a steady growth each quarter.
RAJAR Q2 2016 Roundup
View RAJAR's full data release for Q2 2016 over at rajar.co.uk.