RAJAR Q3 2016: Digital Radio Listening Increases
RAJAR Q3 2016 Overview: Radio stations in the UK see a further shift as listeners moved towards online and digital platforms.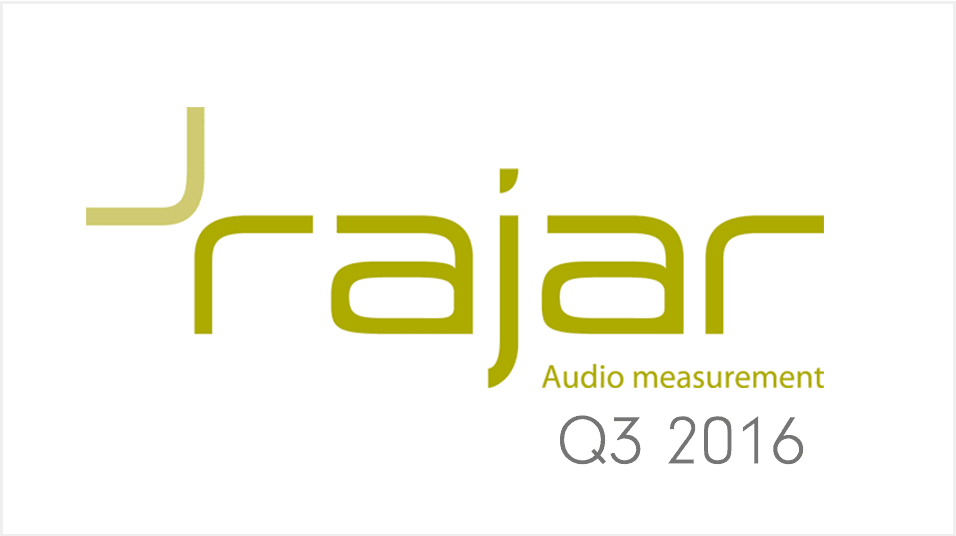 RAJAR Q3 2016 radio listening figures for the UK have officially been released. Statistics show that digital radio listening figures continue to grow, along with the number of hours people tune in.
All Radio Listening
48.2 million adults, which is 89% of adults in the UK, tuned into radio each week for the third quarter of 2016, which is up by 320,000 adults last year.
Total average number of weekly hours consumed in radio for Q3 2016 is 1.038 billion. On average each listener tunes into 21 hours and 30 minutes of live radio per week.
Digital Platforms
6 in 10 adults aged 15 and over listened to radio via a digital platform each week. 32 million people now tune into radio via a digitally enabled receiver, that's DAB, DTV, and online radio every week.
59% of the population i the UK now tunes into digital radio each week.
Radio listening share via digital platforms now stands at 45.5%.
DAB: 32.3%
Online & App: 8%
DTV: 5.2%
Digital Listening Hours
472 million hours are now tuned in either via DAB, DTV, or online.
DAB: 71% (336 million hours)
Online: 18% (83 million hours)
DTV: 11% (53 million hours)
DAB Ownership
DAB radio stations are now integrated in cars and easily available online and in shops - This has helped the increase of radio DAB ownership in the UK.
31 million adults claim to own a DAB radio, which is up by 7% year on year.
Radio on Mobile & Tablet
27% of adults now claim to listen to radio on their phone or tablet at home, work, or when travelling.
37% of people aged between 15-24 year olds also tune in on mobile and tablet devices.
Social Media
43% of 15-24 year olds use social media to follow updates of their favourite radio station or presenters, as opposed to 31% of adults that use social media.
RAJAR Q3 2016 Roundup
View RAJAR's full data release for Q3 2016 over at rajar.co.uk.