Recording On The Go
Broadcasters recording on the go have a wide selection of devices they can choose to ensure quality audio is captured, but which one is right for you?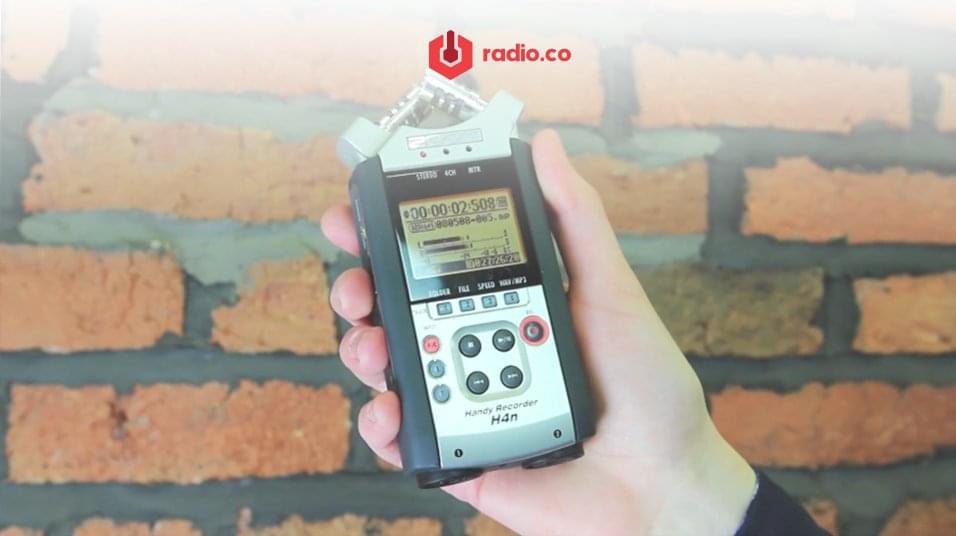 Let's face it, we all love a good chat! There's no better feeling than having a quick natter with your friends face to face about things you care about. Whether that's hot topics like the news, current trends, or even the weather! That's why we're going to show you recording on the go techniques to use later in your radio shows.
Recording an interview can be an exhilarating and exciting experience for everyone involved, as the more relaxed you are, the more engaging your content will be. To make a deeper human connection with your audience the conversation needs to feel organic and flow naturally, which makes for a much more enjoyable experience for your listeners.
It can also help to have tools which get out of your way when you're recording on the go, allowing you and your interviewee to focus on what's important, plus there's nothing worse than returning from an interview to find out your recordings aren't usable, so it helps to have the right setup for the occasion.
We're going to go through the different level of tools you can use to record your conversations.
Microphones
When recording on the go, it's vital to capture clear audio and have a lightweight setup so you're ready to spring into action at a moment's notice.
Everyone has their own type of requirements when it comes to broadcasting, that's why we're going to go through the different levels of mics you can use, starting with one you can find in your pocket!
Recording On A Phone
Nearly everyone has an amazing mobile recording device that they use every day, so whether you have an iPhone, Android, or Windows phone then it's a perfect place to start.
Also, if you're not quite ready to make a commitment with an expensive setup, then your smartphone is an awesome free alternative that's easy to use and lightweight, so it's perfect if you're in a rush and need to record when out and about.
Android devices are hugely popular, owning nearly ¾ of the smartphone industry, so it's safe to say that there are plenty of apps for all your recording needs. The Smart Voice Recorder for instance is great as you can record different levels of sample rates and then send recordings via email for editing later.
Benefits
Free alternative mic
Mobile and easy to use
Nearly everyone has access to a smartphone
Countless number of apps available for recording
The only major downside is that for most phones the quality isn't great and can put off some listeners, so the next level up is recording on a laptop.
Recording On A Laptop
Although not quite as portable as a smartphone, laptops still pack quite a punch, especially when combined with external mics. They're great for intermediate broadcasters looking for that professional tone.
Most modern mics come with a USB port, so once you have your laptop and software setup, you can just plug in and start recording!
A great USB mic to start with is the Samson C03 which is around $100.
It really shines out for it's ease of use and quality audio capture, plus studio condenser mics like this are perfect for one on one conversations, but you'll have to be up close and personal to really get that professional crisp sound, so be sure to get a stand you can lean it up with.
Benefits
Quality audio for home or studio capture
Minimises background and ambient noise
Simple and easy to use with it's "plug and play" USB input
Perfect for 1 on 1 conversations
Pricing varies with other external mics depending on the level of quality you're after, they can range anywhere between $10 for low end ones to $300 for higher market mics. Alternatively if you want professional sound bundled in a lightweight package, then try an expert portable mic.
Recording On A Portable Mic
Portable mics have the best of both worlds, they're lightweight and come with a bunch of cool features so you can easily record on the go, capture high quality audio, manage files with simple playback functionality, and most come with two external mics so they pick up natural depth and accurate imaging for a more immersive sounding experience.
The Zoom H4n for instance is a brilliantly designed versatile mic that's packed with features for broadcasters recording in the field.
One of the most useful features is the ability to adjust the two mics on top. When pointed upwards, audio can be picked up from further away, which is ideal when two or more people are talking as you can place the mic down, hit record, and don't need to worry about a thing!
Benefits
Flexible and mobile
Audio interface for easy playback and format converts
Adjustable mics for better audio capture
Two external mics and two internal inputs
Quality audio capturing
Portable mics like the Zoom vary in price, the H4n, for instance, is around $200, but there are others for considerably less if you're willing to lose a few non-essential features.
Whatever recording device you choose, make sure you're comfortable using it, it suits your needs, and above all have fun when recording on the go!
Need a few more pointers? Catch our video which covers how to record professional sounding audio using different varying levels of microphones. If you have any questions then be sure to get in touch with a Radio.co expert.