How to Relay Radio Streams to Your Station
How you can relay radio streams and scheduled them in your station's calendar to broadcast throughout the week with Radio.co's new feature.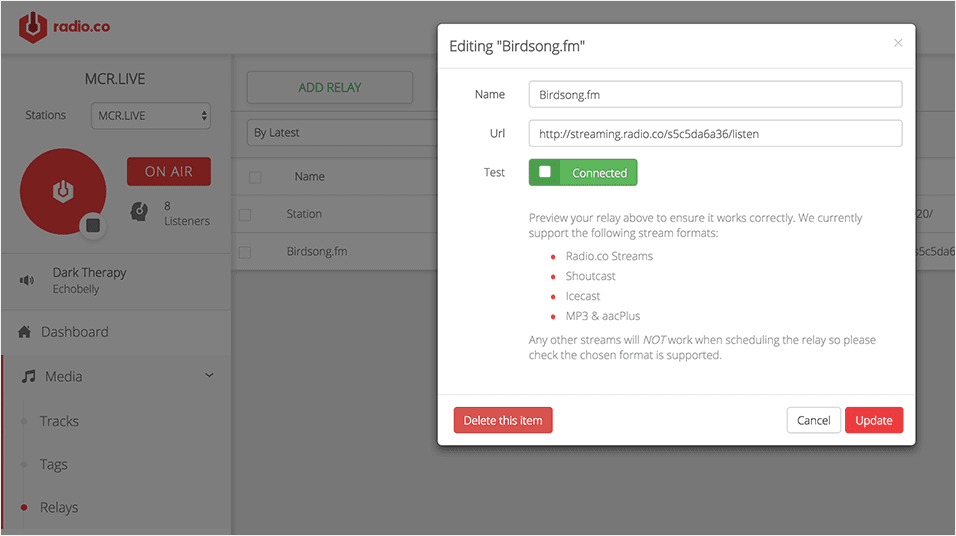 Did you know you can now relay radio streams to your radio station? This cool new feature lets you basically grab another stream online and relay it to your station with Radio.co, which is handy for affiliated shows and broadcasters managing multiple streams.
There's quite a lot of awesome new things you can do with this feature, so we're going to breakdown how it all works and how you can relay radio streams below.
What is a Radio Relay?
A radio relay is a way to grab a stream online and broadcast it somewhere else. Traditional radio (used in AM/FM radio) follows this same method but with repeaters, which essentially retransmits a signal from point A to point B.
How Does Relaying Work?
Stations use a relay URL, which is a direct link to a stream you wish to rebroadcast.
If you want to relay radio streams then you cannot use links from places like TuneIn, web pages, or web players. It's recommend you get the relay URL from a representative or the owner of the station you're rebroadcasting.
Note that only MP3 or AAC streams are supported at present.
How Do I Relay Radio Streams?
Add Relay Radio Streams to Your Station
Login to your Radio.co Dashboard.
Go to Media -> Relays.
Click Add Relay, then a popup will appear.
Add a name to the stream you're relaying, which is used to identify it in your schedule options later.
Add the relay Stream URL. Radio.co supports most SHOUTcast, Icecast, and Radio.co streams as show below in Relay Examples. (It's recommend you ask permission from the station owner or a representative you wish to relay for licensing or copyright purposes.)
Test the stream URL to make sure it get pulled by clicking the Test Connection button.
Click Create to save the relay.
Relay Examples
SHOUTcast V1 URL: stream.example.com:8000
SHOUTcast V2 URL: stream.example.com:8000/1
Icecast URL: stream.example.com/mount.mp3
Radio.co URL: stream.radio.co/STATIONID/listen
Schedule Relay Events
Once you've added a relay, you can schedule it to broadcast on a day and time that suits you within your calendar. It's similar to how you add a live DJ event to your station.
Go to Schedule in your Radio.co Dashboard.
Click the calendar at the point where you wish to add the event.
On the popup window make sure the Start and End times are set correctly, then choose a Playlist which will be used as backup in the event the relay stream isn't available.
Set the type to Relay Stream.
From the drop-down menu choose the relay you want to schedule.
If you wish to create a repeating event, set the relevant days at the bottom of the window.
Finally click Update.
If the stream you're relaying includes track information like artist and title then this will also be relayed through your station. If there isn't any metadata available the previous information will remain.
You relays streams by adding and scheduling them in your calendar. If you have any questions about setting up relays then get in touch with the Radio.co support team.
---
If you're not with Radio.co or you haven't had a chance to start your station yet then you can today for free! Start your 7 day free trial now by clicking the button below.