RODECaster Pro II: Revamped Mixer For All Audio Content Creators
A wild RODECaster Pro II appears! From recording to broadcasting, the new and improved mixer aims to make your audio management a breeze.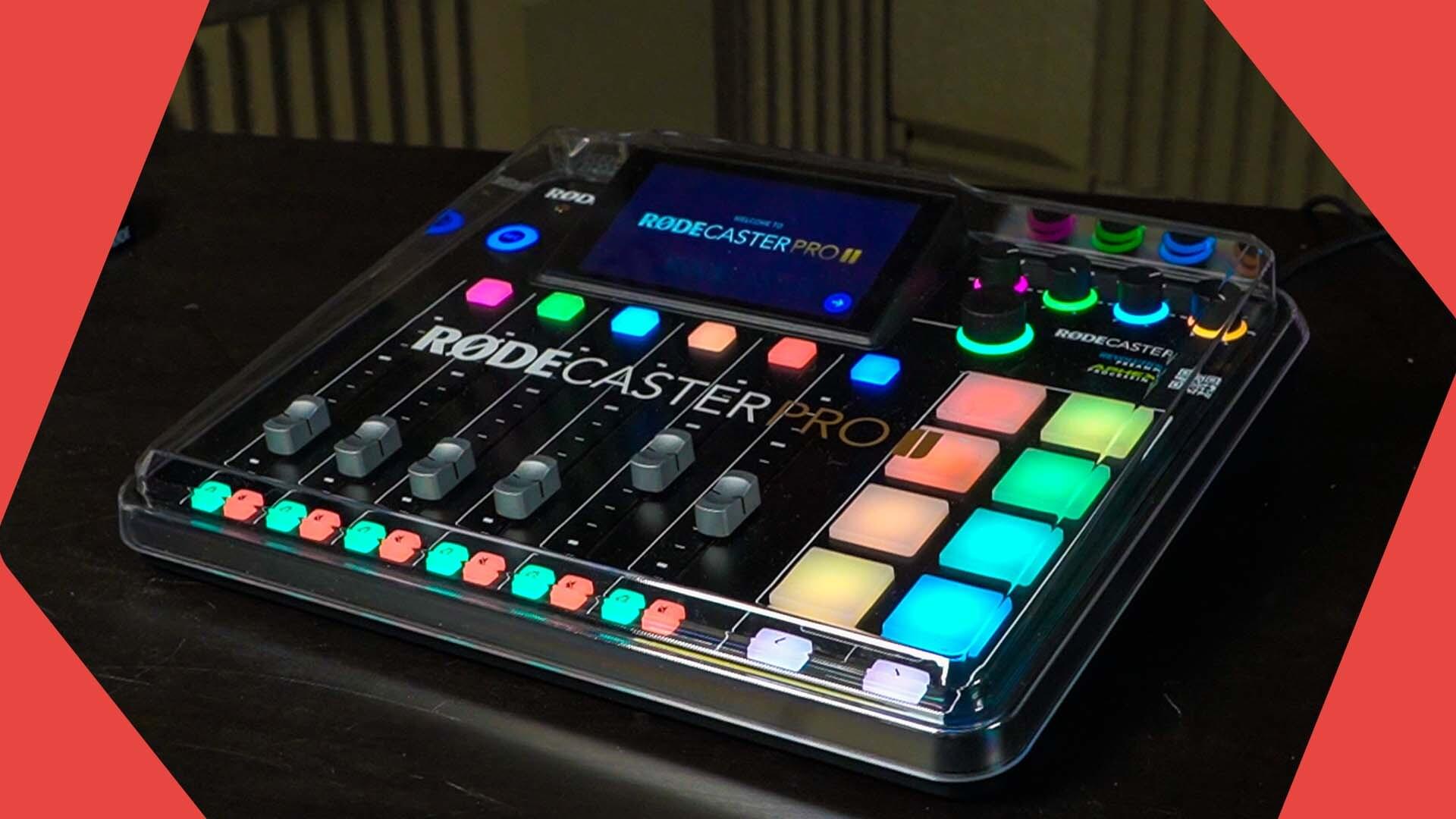 Audio brand RODE officially announced the launch of the RODECaster Pro II today - a new, upgraded version of their game-changing mixing console the RODECaster Pro.
Of course, there were rumours of a new RODECaster Pro II since it was leaked back in May. A week later, we were happy to confirm the RODECaster Pro II was on it's way. And now we're even more happy to say it's hit shelves.
Customers looking to buy the mixer can order it today for $699.
RODE have designed the RODECaster Pro II to be used across the board in audio content production. RODE wants this to be the go-to console for not only podcasters and broadcasters, but musicians, gamers and streamers alike. And at first glance of the RODECaster Pro II's features, it seems they may have just done that.
Check out our review...
Like its predecessor, the RODECaster Pro II brings the various elements of a production studio neatly into one bit of kit, making it an all-in-one audio management system that is both easy-to-use and easy-to-transport.
RODE claim the RODECaster Pro II is different to the RODECaster Pro as it's an:
Entirely new beast that is set to revolutionise audio for all content creators, just like the RØDECaster Pro did for podcasters.
Would we go as far to say it's an entirely different beast when it certainly looks similar and performs many of the same tasks as the original? Let's take a look at what the RODECaster Pro II is offering, to find out.
What's New With the RODECaster Pro II?
For those familiar with the original, the RODECaster Pro II is pretty similar in design but smaller and more compact.
The RODECaster Pro II has been trimmed down to 1.95 kg (68.6oz) and 305 x 270 x 60(mm). The original RODECaster Pro is 1.98 kg (69.84oz) and 350 x 275 x 82 (mm).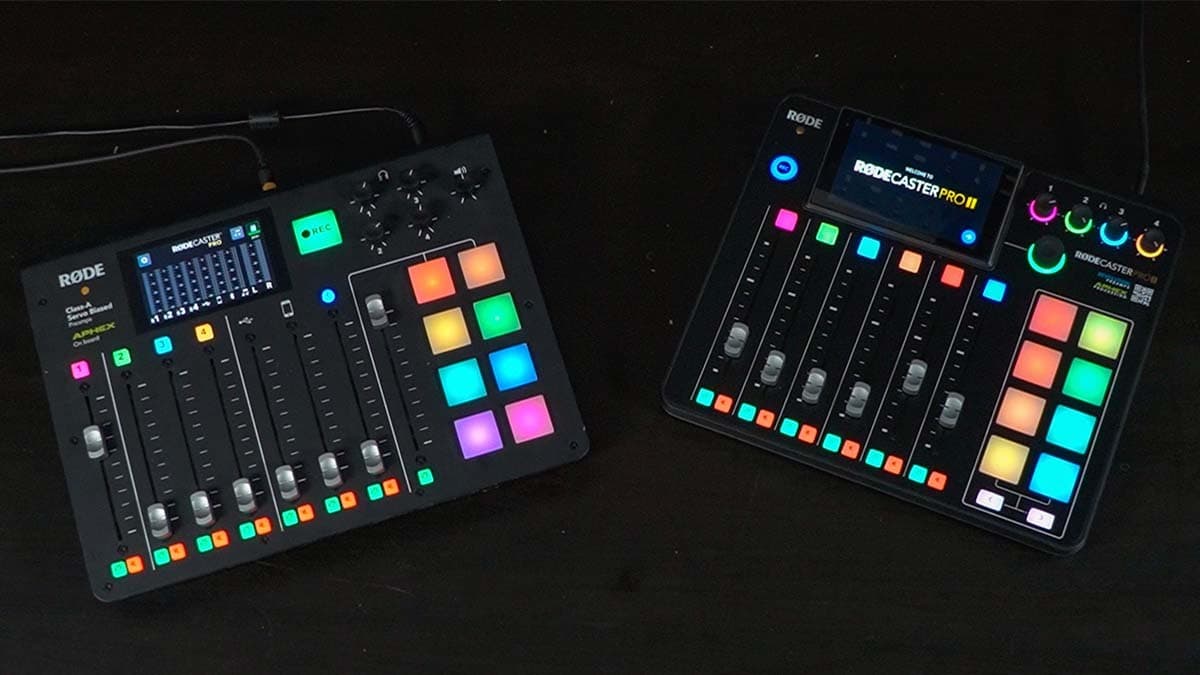 1) Smart Pads, Not Sound Pads
The RODECaster Pro II has 8 smart pads. Where the 8 sound pads on the RODECaster Pro could be used to play sound effects, the smart pads on the RODECaster Pro II can do so much more.

The smart pads can send MIDI commands to hardware or software. That opens up loads of options to the user. They can be used for activating mixer actions like applying ducking or a fade-in/ fade-out, changing scenes in your streaming software, or triggering samples in your DAW.

Each pad has a bank of 8 commands and can be accessed by the bank switching buttons. So in total, users can have 64 unique actions with these smart pads.
2) 9 x Fully Customisable Channels (6 Physical, 3 Virtual)
The RODECaster Pro II has 6 physical channels, alongside 3 virtual ones. And crucially, they are customisable. Whereas the original had two channels that were already mapped to USB and Bluetooth, with the RODECaster Pro II "the 4 analog inputs, USB & Bluetooth interfaces and the SMART pads can be assigned to any of the physical faders or virtual channels.
3) New Pre-amps
The RODECaster Pro II has new 'Revolution Preamps™' that they promise are low-noise and high-gain and eliminate the need for CloudLifters or FetHeads. In fact RODE say using a CloudLifter or FetHead with these pre-amps will make the sound worse.
4) More Versatile Inputs
In place of the 4 XLR inputs, the RODECaster Pro II has 4 x Neutrik. combo inputs for connecting both microphones and instruments.
5) Improved Screen Quality
The RODECaster Pro II has a high resolution 5.5" touchscreen with haptic feedback.
6) More Processing Power
The RODECaster Pro II has a 1.5Ghz quad-core processor. Meaning it has 16x more processing power than the RODECaster Pro.
7) Improved Build-Quality
RODECaster Pro II's faders are "broadcast-quality' and certainly more sturdy than the RODECaster Pro's ones.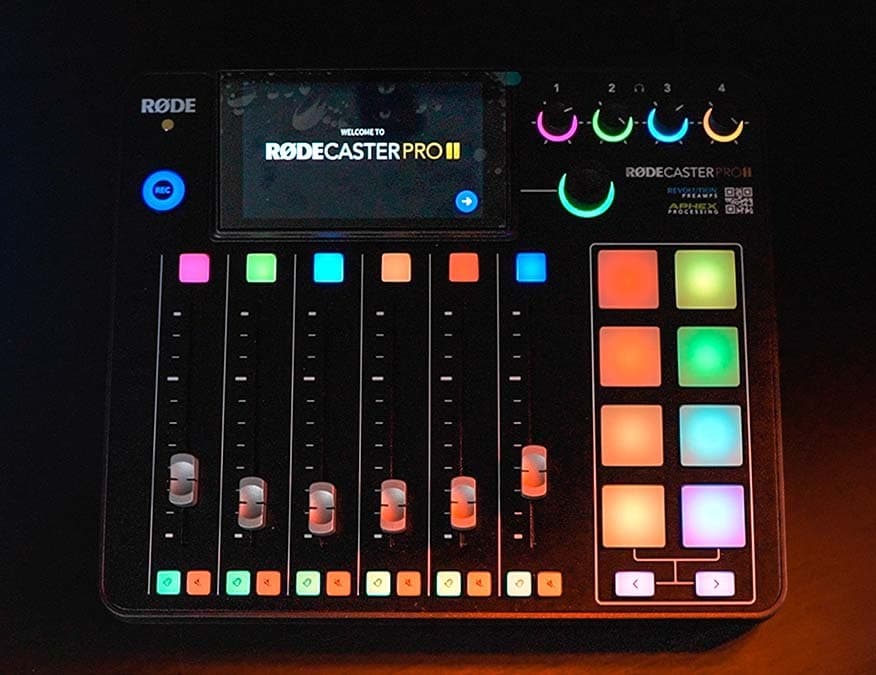 8) More Options to Record in the Console
The RODECaster Pro II allows you to record to a SSD in addition to the micro-SD card and computer recording options that the original offers.
9) New Rotary Encoder
For tactile navigation of the device.
10) Hindi Has Been Added
Alongside English, Chinese, Japanese, Korean, French, German, Italian, Spanish and Portuguese.
11) The Headphone Gain Dials Now Light Up
And the RODECaster Pro comes with coloured XLR cable rings, so you can colour customise each set of headphones to make things even simpler for yourself and other guests.
What Are the RODECaster Pro II Specs?

Acoustic & Electrical

Processor: 1.5Ghz quad-core audio engine
Bit Depth: 24-bit
Sample Rate/s: 48kHz
Equivalent Noise: -131.5 dBV EIN
Gain Range: 76dB
USB Connectivity: 2 x USB-C connectors (dual audio interfaces)
Bluetooth Connectivity: Wide-band speech Bluetooth
MicroSD Card Transfer Rate: USB 3.0 130 MB/s
Screen: HDR with haptic feedback and auto brightness
Power: USB-C 30W PD
Mechanical
Dimensions (mm): 305 x 270 x 60
Weight: 1950g
Included:

1 x R.DECaster Pro II
1 x SC27 USB-C to C cable
1 x USB-C Power Adaptor
1 x AC Power Cable
What's the RODECaster Pro II Cost and Where to Buy?
The RODECaster Pro II RRP is £699/$699. Stock lists can be found on the Rode website.
When Will I Get the RODECaster Pro II?
The RODECaster Pro II is now being shipped! So, the shipping time is dependent on the retailer.
Should I Buy the RODECaster Pro II?
With many new features and now customisable elements, the RODECaster Pro II does look like it may be a great all-in-one solution for any audio content creator. But watch this space for our full review to see how these new features measure up.