The Secrets of Successful Radio Stations
Want to know the secrets of successful radio stations? We share the best marketing techniques to draw in listeners and advertisers.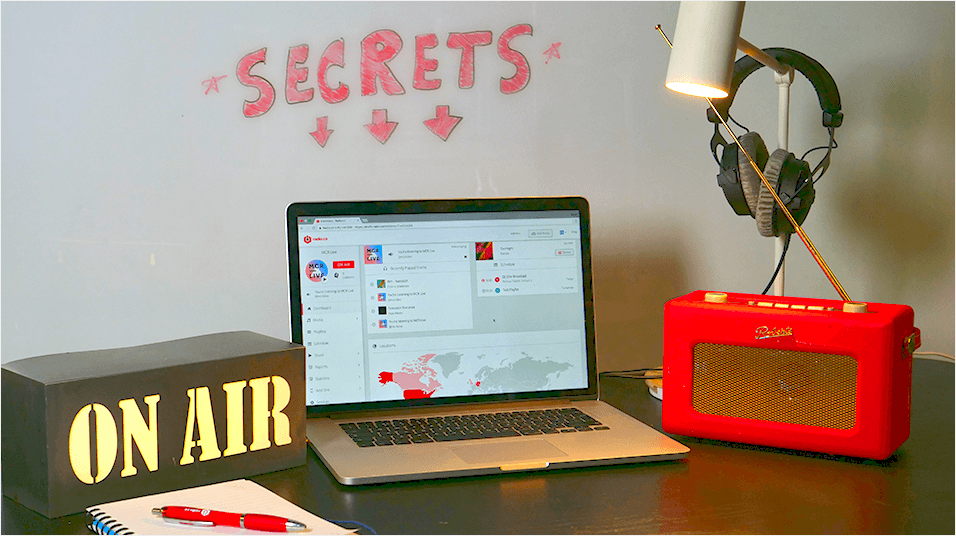 Want to know the secrets of successful radio stations? We share the best marketing techniques you can use to draw in listeners and advertisers alike. At the end get inspired by 5 Successful Radio Stations, all of which are hosted with Radio.co!
Using Lead Generation to Grow
Every day we get bombarded with hundreds of advertisements. On website banners, emails, on television, and on the radio. People tend to switch off because of this, unless they have an interest.
Your radio station must learn to attract listeners and businesses to keep them coming back for more. Get found by people who are looking for you, rather than throwing yourself at everyone that's trying to block you out. According to Hubspot, you are 4 times more likely to have an effective marketing strategy using lead generation.
Lead generation is the process of identifying and cultivating potential customers for a business's products or services. Successful radio stations use this technique to grow their audience and attract a bigger following.
Using a blog and social media, grow visitors naturally. Let people find you from your breadcrumb trail of articles or show links on social media. Optimise your content so you can easily be found on search engines. We show you ways to optimise your content to get found online as part of the Listener Magnet Course.
Capturing Leads to Stay Connected
To be able to use lead generation effectively, you need to be able to communicate with your audience. The best way to do this is through email. On your website get visitor details using email captures. For example, at Radio.co we offer a weekly newsletter with tips and guides on running a successful radio station (check it out at the bottom of this page).
Email captures, are simple call-to-actions to make sure visitors stay informed. Offer visitors the option to stay connected with your station. Increase your chances by embedding email captures on any appropriate articles or pages that are popular. The more options you have, the more leads you will get.

Nurturing Leads the Right Way
Leads need to be nurtured so they can grow. At first, leads will be cold (no contact). Over time they will warm up and take action when you get in touch. For example, warm leads will be much more responsive to tune into shows or buy merchandise if you give them a nudge.
A great way to communicate and nurture your leads is by sending emails. However, they need to be relevant and valuable to the lead. Sending out spam or irrelevant emails will turn leads away. For example, the same content won't apply to everybody if you're emailing thousands of leads.
Emails must have a personal touch, like your emailing a friend. Use the lead's name, keep it informal (if applicable for your station), and get to the point quickly. For example, if you are broadcasting on location for a special event then try:
Hi Abagale,

Just thought you should know we're performing live this weekend from The Mayflower in Rotherhithe. They'll be awesome music, drinks, and competitions (many prizes to be won!). If you're in the area then come on down! Not around? Tune in online at https://stream.radio.co/s7ee52...

Talk to you soon!
Will (Casual Radio)
On first contact, establish trust with users. Make the email relevant and offer value to convince them to open future emails. On second contact, provide leads with info about your station whilst keeping it relevant to them. Is there something your station has done well? Like a fun competition? If it's something of interest to your leads then share it. Finally, on third contact, offer valuable content with a call-to-action, like a live radio show or merchandise.
From now on, leads will associate your station with something of value. On any future contact, they are more likely to check out what you have to say. Automate the process of nurturing leads by using funnels to personalise content for different people.
Funneling Leads to Personalise Content
Research shows sending emails to targeted segments not only improves open and click-through rates, but also revenue can increase by more than 25% for businesses.
Funnels are segmented lists of people defined by different conditions. For example, listeners that buy your radio station's merchandise and those that do not will react differently. Funneling those that do into their own segment will improve your chances of selling more merchandise.
The idea is to personalise content for better engagement. Add further value to your radio station's brand and convert leads to loyal fans. Let's take a look at how successful radio stations use these methods and more to grow.
5 Successful Radio Stations
Radio.co is home to thousands of broadcasters. Many of which are successful radio stations, pulling in large audiences and making a name for themselves. Here are 5 of the best we think you should check out.
1. Soho Radio
Soho Radio built a community cafe radio station in one of the most creative hubs in the world. Based in London, they regularly broadcast shows from an ever growing line up of talented presenters.
Broadcasting online using Radio.co, Soho Radio brings the vibrant and diverse culture together. The award-winning station has grown organically since it's beginnings in 2014. Gathering talent, legends, and support along the way. Watch co-founder Dan Gray talk about Soho Radio's journey on building an internet radio cafe in the heart of London.
2. Whalebone Radio
Whalebone are a well known lifestyle brand based in New York. Starting out just selling t-shirts, they built up a media company from the ground up appealing to the right audience and through organic content like their Whalebone magazine.
With the help of Radio.co, Whalebone Radio is now their newest venture to grow their brand. Playing morning meditation, afternoon punk hour, evening stand-up, soothing ocean noise to fall asleep to, and more music that will likely make your entire day.
3. Cult Records
Cult Records are an independent record label founded by The Strokes frontman Julian Casablancas in 2009. At first they solely managed Casablancas releases, however Cult Records have since grown to include releasing albums by various different artists and signing up with label services such as the Kobalt Music Group.
To date some of their most notable artists that have signed with Cult Records include The Growlers, Har Mar Superstar, Everything Everything, and of course The Strokes. The record label not only distributes tracks, but live show tickets and merchandise as well like t-shirts and hoodies. For more check out Cult Records: Independent Record Label Showcase.
4. One Ocean FM
One Ocean FM believes in the power of music, community, and creativity. They raise awareness about the threats our oceans face and what needs to be done to protect it.
One Ocean FM are dedicated to music, the beach, protecting the ocean, and mother Earth. They stream beach music 24 hours a day over the internet with no commercial breaks. They specialise in downtempo beach sounds with roots in soul, funk, jazz, trip hop, and cutting edge lounge. The very best chill-out through to deep house and electronica.
5. MCR Live
MCR Live is the best place for music, culture, and radio in Manchester. Moving away from the ad-heavy format of existing commercial radio, they have put content front and centre by focusing on the vibrant cultural scene in the north of England.
There's something for everyone at MCR Live. Playing the best new artists, upcoming gigs, and events going on in one of the biggest music scenes in the UK. Shows are accessible online, mobile, and DAB. Radio Manager Rhys Hancock talks about how Radio.co has helped MCR Live achieve their growing success.
Starting Your Own Radio Station
Not started your station yet? It takes less than 10 minutes to get up and broadcasting with Radio.co. If you have any questions before you get started then be sure to contact us or chat with us by booking a demo. Start your station today! Activate your 7-day free trial by clicking the button below.