How to Play Sound Effects On Your Radio Show
Create a rock solid and engaging radio brand with sound effects, making your live or pre-recorded shows a joy to listen to in the process.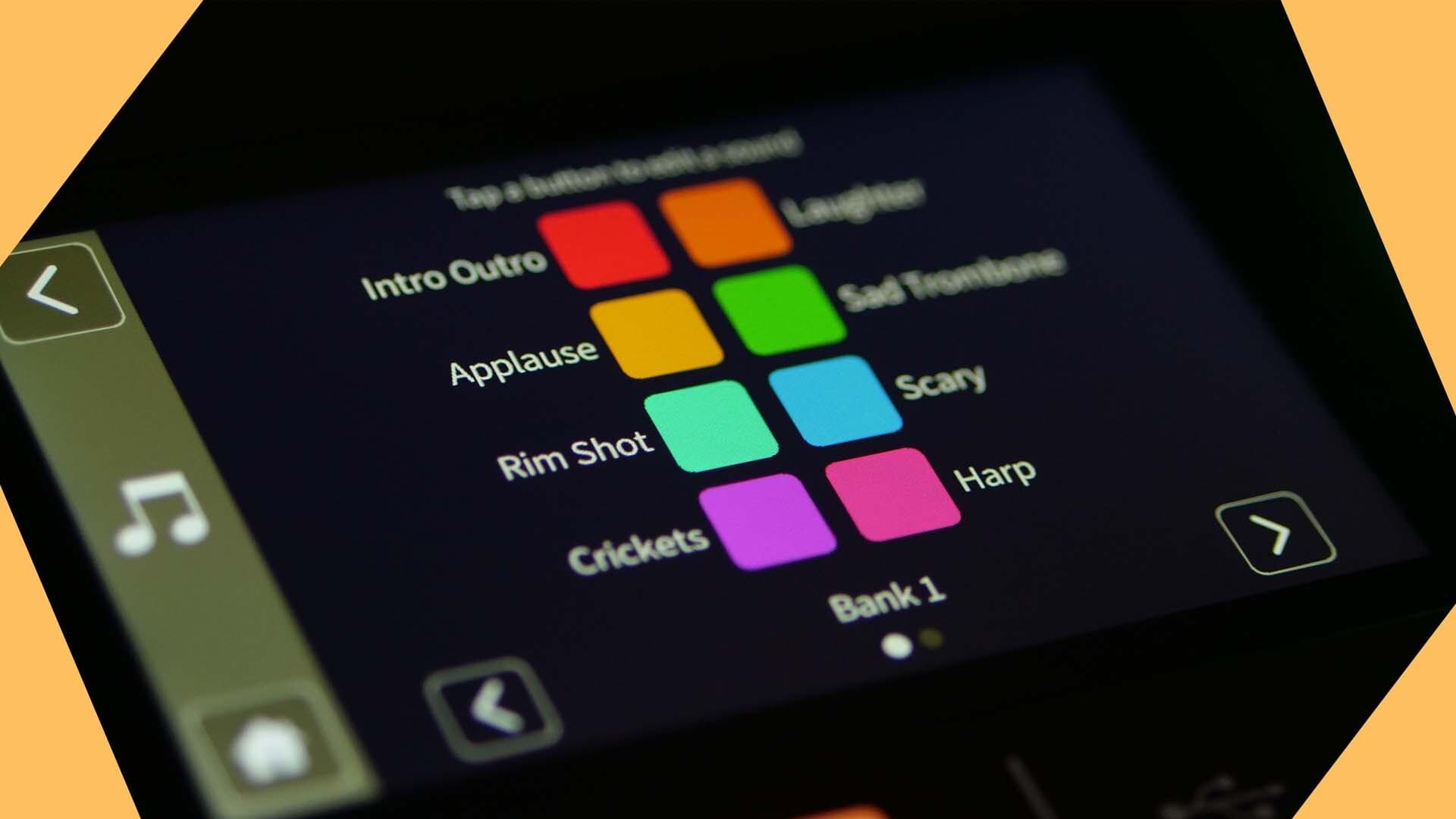 Whether it's a presenter sounding a klaxon after playing a banger or it's that little jingle you'll never, ever get out of your head - sound effects are a big part of radio.

They make what's generally called radio imaging, and include jingles, sweepers and idents. They have different functions but all serve one purpose: to enrich the listener's experience and get them to listen again. Radio personalities like Shaun Keaveny, have built their brand on using sound effects creatively:

I've made an entire career out of the cart-wall.
Why Radio Shows Use Sound Effects

Radio stations distinguish themselves from their competitors in two ways: with their shows and with their branding. But, obviously radio is an auditory experience. So radio stations focus on branding you can hear, i.e. their sonic branding.
A key part of sonic branding is radio imaging. Radio imaging is a fancy term for all sound effects you hear peppered through broadcasts.
There are a fair few, but here's a breakdown of the main ones:

Jingles
Typically a catchy, short and memorable audio, that states the station/show details (like name, frequency, broadcast time) and they are designed to be memorable.

Promos
Typically speech that teases details about an upcoming show along with details of when the show will be broadcast.

Sweepers (aka idents, IDs, shotguns)
Voice only announcement that typically details what the listener is hearing, ie station/show name & frequency.

Music Beds
Music without vocals that the presenter talks over.

Intros & Outros
Audio that bookend shows and are composed of many elements, including music, sound effects, upcoming features, the show and station names.
Good radio imaging speaks volumes about your brand. It shows your brand has a clear identity, knows its audience and knows its competitors.

Where to Find Sound Effects for Radio
You can get sound effects from:
Digital mixers with pre-loaded sound effects.
Downloading from sound FX libraries.
Creating your own with a DAW and a mic.
Paying a company like ReelWorld, Noise Fusion or TM Studios to create them for you.
Digital Mixers
Digital Mixers like the RODECaster Pro come with pre-loaded sound effects in the mixer, including laughter, a drum rimshot and a trombone.
Sound FX libraries

Some websites offer royalty-free sound effects. Typically you pay a one off-fee and can download and use the sound-effect as many times as you like.

If you have a subscription to a royalty-free music site, then it's worth checking if they have sound effects too.
Pixabay doesn't require a subscription and lets you browse through categories such as nature, technology and city. Find a sound effect you like and download it directly to your computer for free.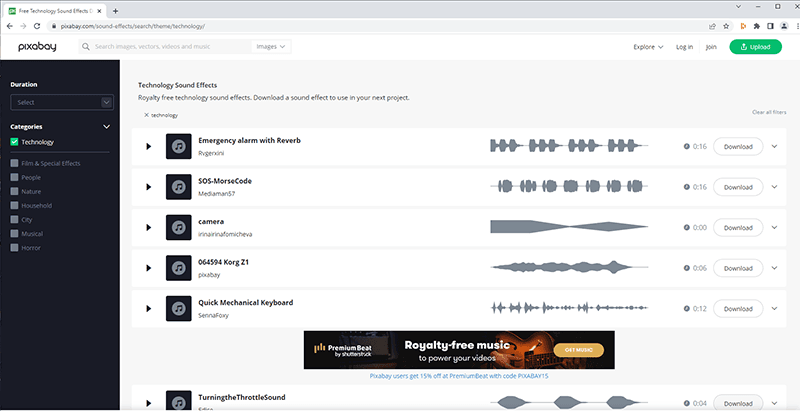 If you're going to be using a lot of sound effects, it's worth signing up to a subscription-based website like Storyblocks and downloading to your heart's content.
If you just need one or two sound effects, it's often cheaper to pay for them individually from a site like Audio Jungle.
Making Sound Effects Yourself
Using a digital audio workstation (DAW) like Audacity, Ableton or Cubase you can layer and mix different audio clips together to make sound effects.

Radio Imaging Companies
Companies like ReelWorld, Noise Fusion or TM Studios will create all of your radio imaging for a fee.
How to Play Sound Effects On Your Radio Show
For the sound effects that make up your radio imaging, you have a choice of automating these and playing them manually.
Automating Sound Effects
Automating your radio imaging is perhaps the simplest way to play sound effects on your radio show.
In your automation software, upload your jingles, idents, promos etc and label them within the software as such. Once labelled, you can set automation rules for your radio station.
Within Radio.co, label sound effects with corresponding tags in the dashboard. Once you've done this, you can create playlists that rotate through tagged media. So, you can create rules like every fourth song, play a jingle.
Playing Sound Effects Live On Radio
Here are some software and hardware solutions for playing sound effects live on radio.
1. PlayIt Live - free cart-based software for Windows
For this solution you'll need a windows computer and the free software, PlayIt Live.

Cart-based software, like PlayIt Live can be paired up with your radio station to let you play sound effects at the click of a button.
To use PlayIt Live, first set up PlayIt Live with your radio station.

Once you've configured PlayIt Live with your station and you're ready to broadcast then it's time to use the software to play sound effects.
Open up PlayIt Live, and drag and drop your sound effect audio files in to the media window in the right hand side.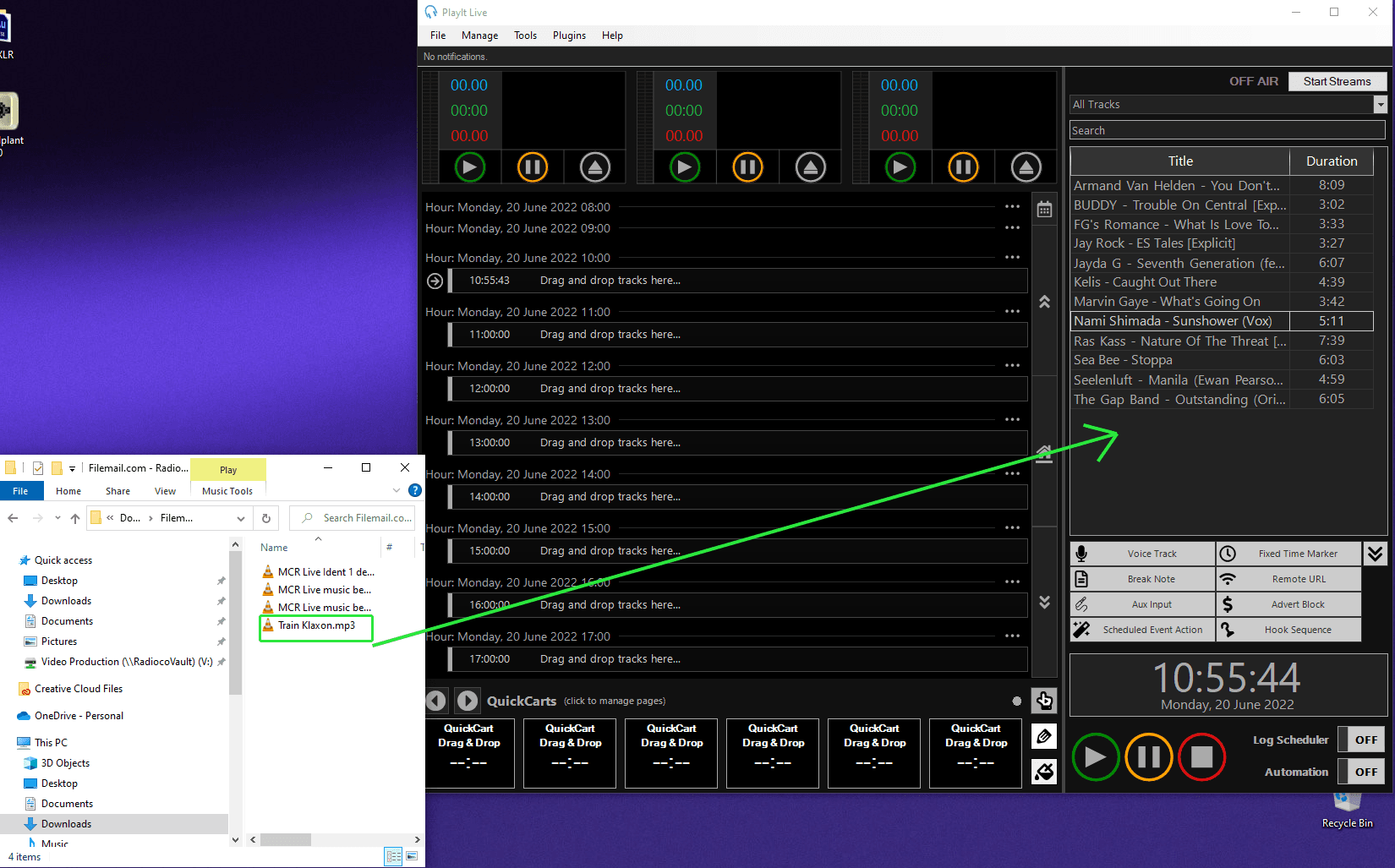 When you upload files to PlayIt Live, you'll have the option to adjust some settings in a series of windows. In the first window, you can set how PlayIt Live will deal with duplicate audio files being added.
The second window, you can select individual audio files (if uploading multiple at one time) and tweak how they are played and their metadata. Here, you may want to set cue points, fade-ins/fade-outs or skip over any silences.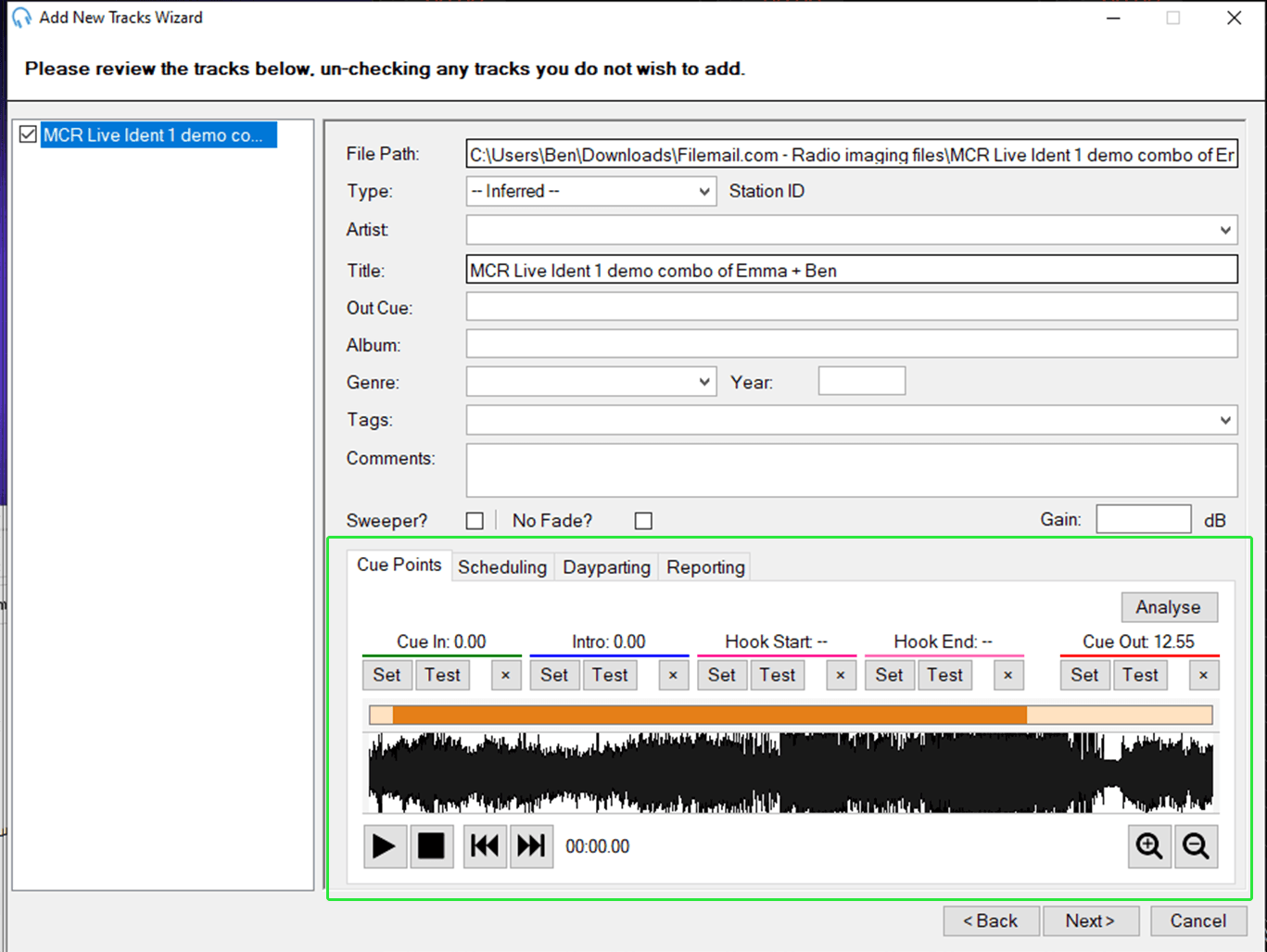 If you're already happy with how your audio files sound, you can skip this part by clicking next.
In another window, you'll be given an option to organise your uploading files in to groups. Creating a group for your sound effects makes them easy to find when you want to play them. When done, click finish and your files will be uploaded.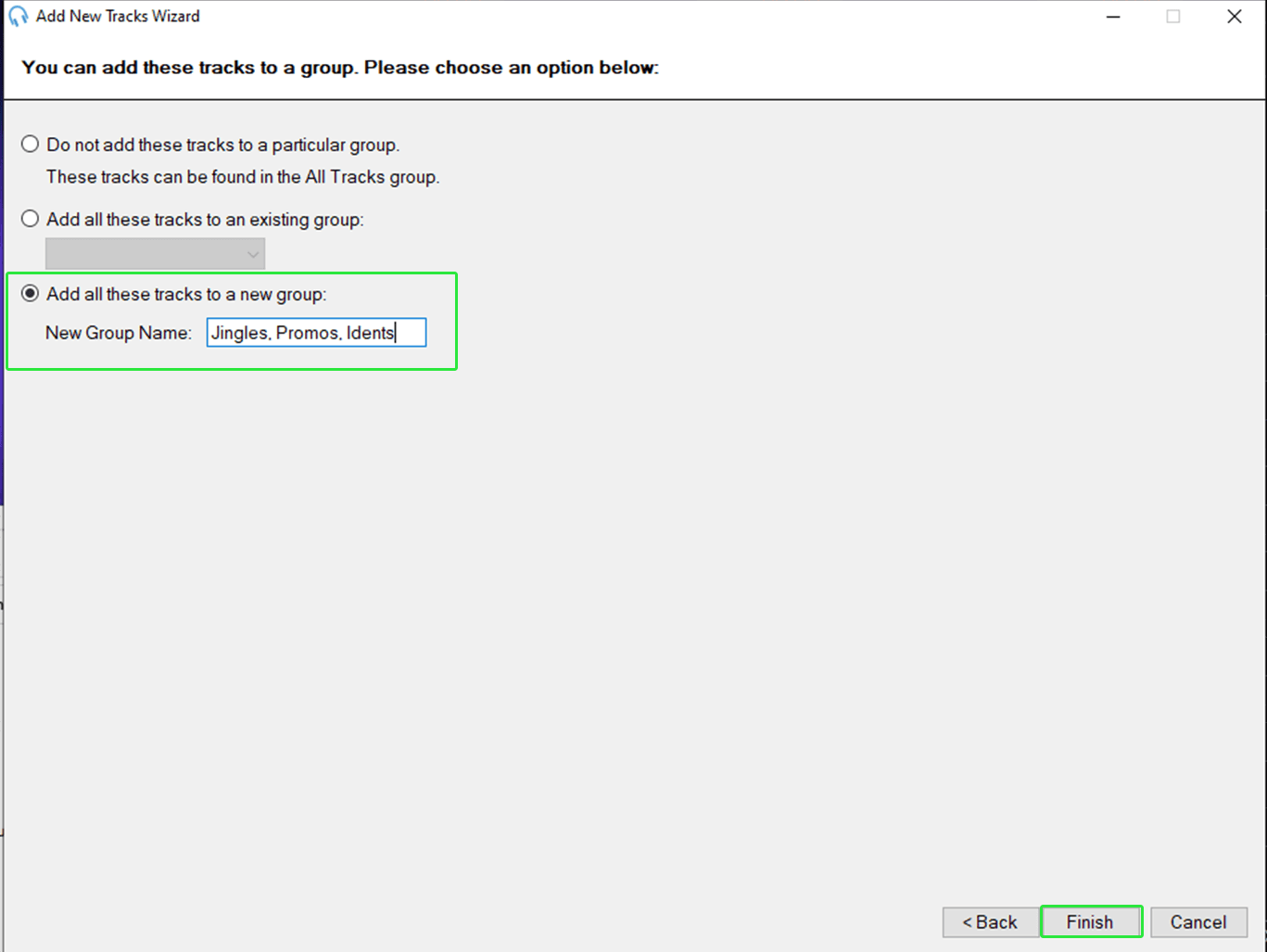 Now you've uploaded your sound FX audio files, you can play them. From the dropdown above the track library, choose the group where you've saved your sound effects. Then, drag and drop a file from the library in to the 'quick cart' at the bottom.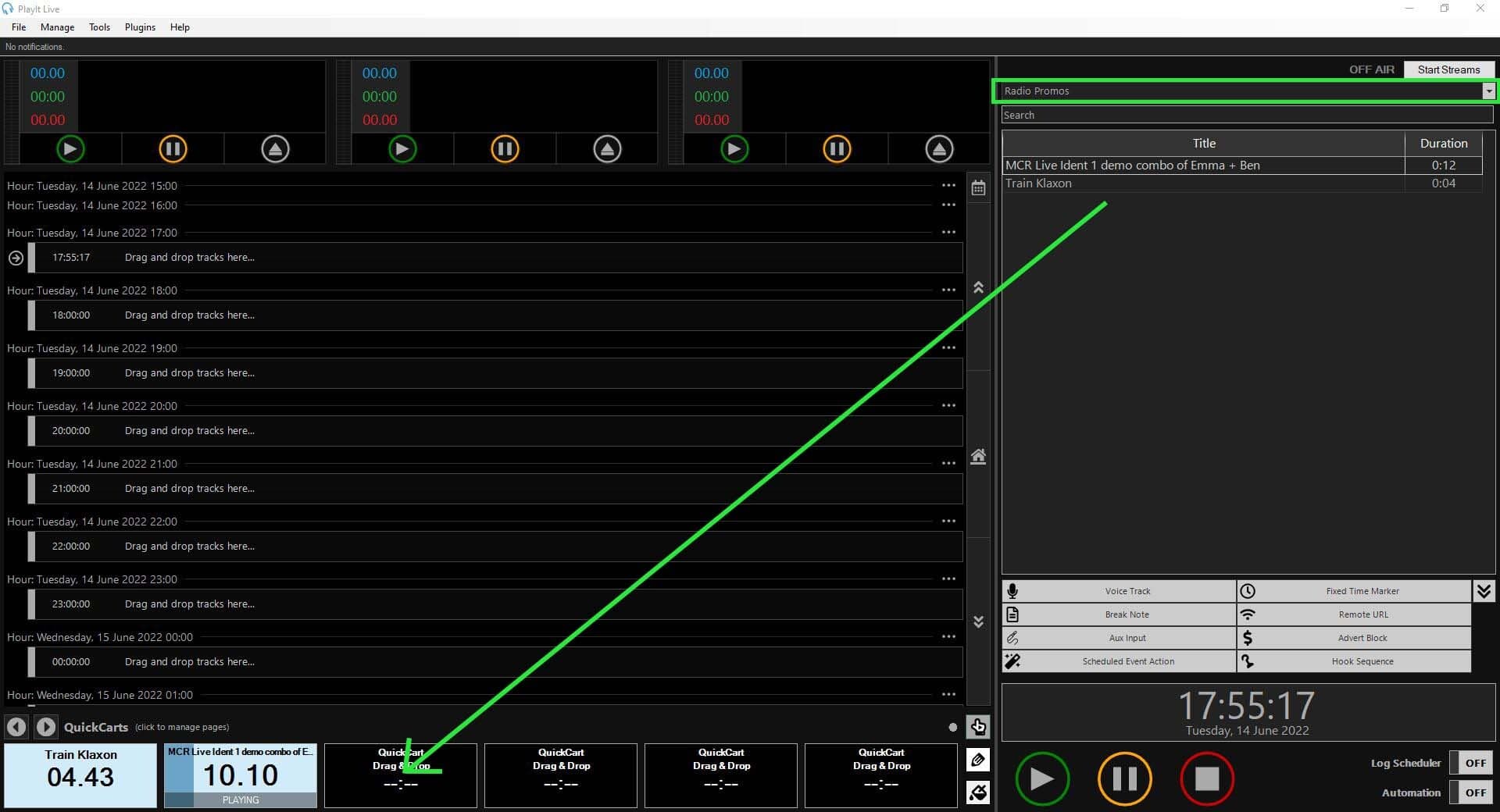 Finally, to play these sound effects, click on the quick cart that you've loaded a sound effect to. To stop the sound effect playing, click on the quick cart again.
2. Soundplant 50 - free soundboard software for Mac & Windows

Soundplant 50 is free soundboard software. It allows you to map your keyboard to play audio files. So you can play sound effects on your computer by using your keyboard and broadcast your computer audio to your radio station.
Open Soundplant 50 and drag your sound effects (i.e. jingles, idents, promos) onto individual keys of the on-screen keyboard.
If you drag and drop a sound effect on to the on-screen 'T' key, you'll press 'T' on either the on-screen keyboard or your physical keyboard to trigger this effect.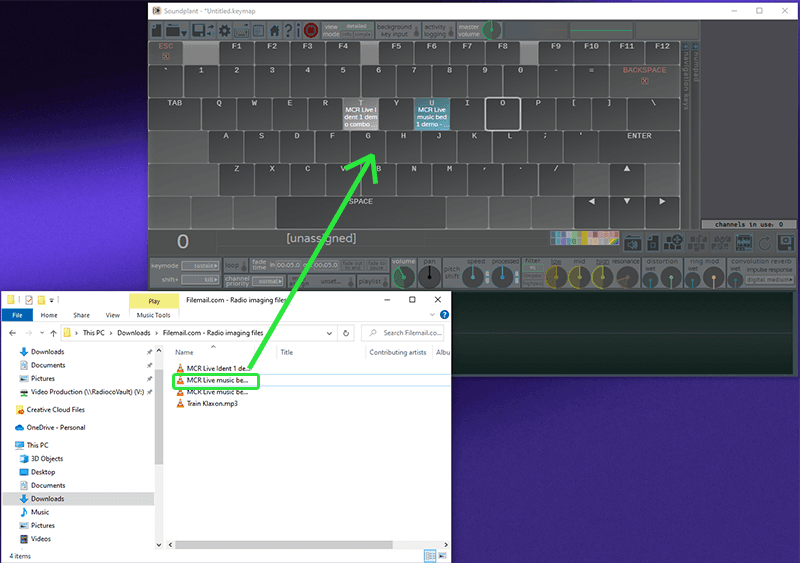 Throughout your show, you can play sound effects by hitting the respective keys on your keyboard. If a sound effect is playing and you press another mapped key, the second sound effect will be played over the top.
You can see what sound effects are playing in the right-hand part of the window of Soundplant 50. Each sound effect will be shown as a block titled with the audio file name.
Sop playing a sound effect by clicking the block's cross on the right-hand side.

Now you've mapped your sound effects to your keyboard, you can broadcast your computer audio to your radio station via broadcasting software. Your computer audio might include your microphone input, a music player, your on-screen soundboard and a calls application like Skype.

Windows users have a choice of the free Radio.co broadcaster, Broadcast Using This Tool (BUTT) or SAM Broadcaster.
Mac users can broadcast their computer audio with software such as Broadcast Using This Tool (BUTT), Audio Hijack or LadioCast.
3. Hardware - a solution for all users that varies in price
Mixing consoles like the RODECaster Pro, the RODECaster Pro II, Tascam Mixcast-4 and the TC Helicon GoXLR all have a soundboard feature. That is to say, they have physical buttons that can be uploaded with audio like sound effects. Ready to be played once pressed.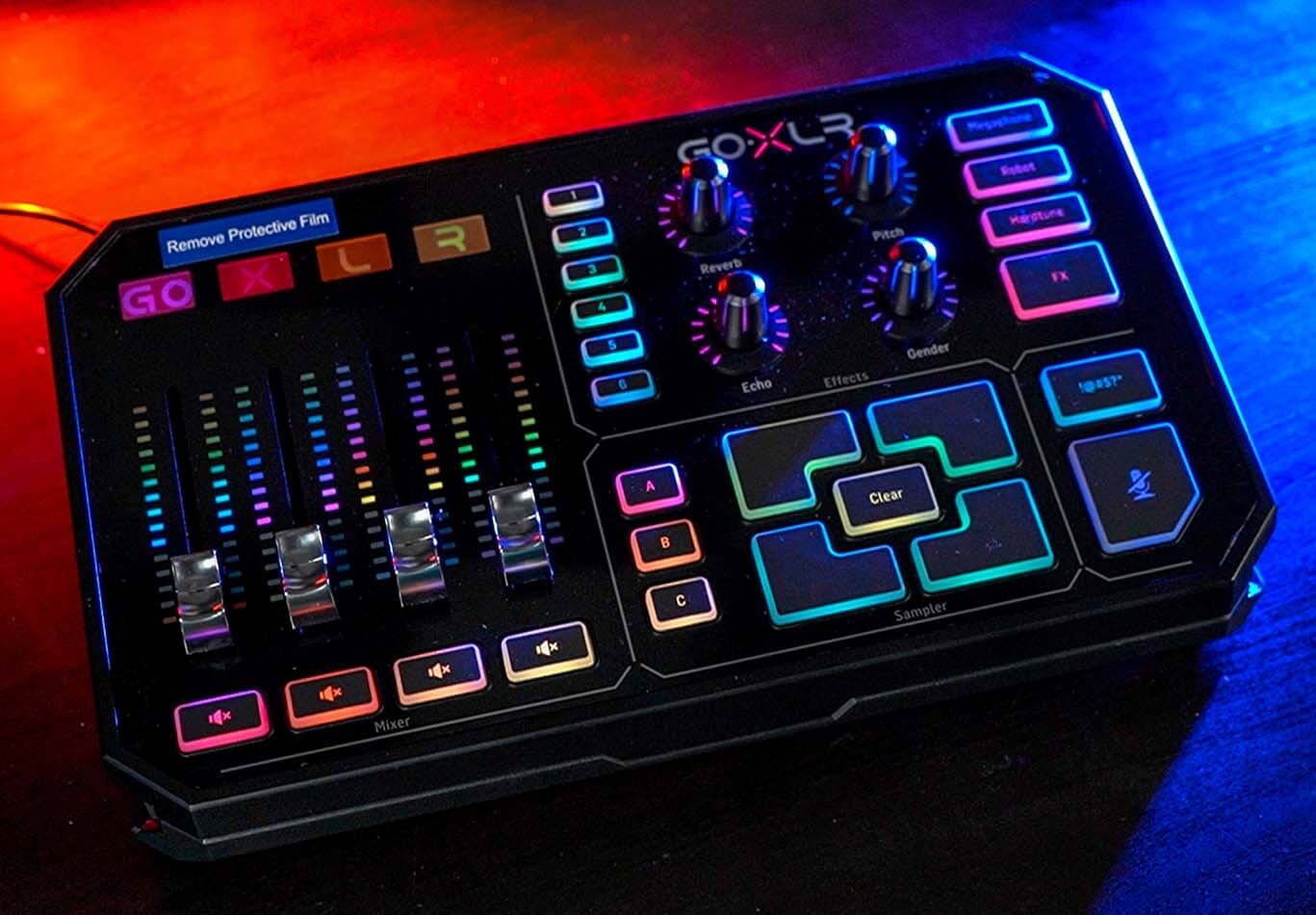 By loading these buttons with sound effects and connecting your mixer to your radio station, you can play sound effects quite literally at the touch of a button.
Wrapping Up
Playing sound effects on your radio show is simple. But choosing the right method for your station is tricky. Especially with so many options these days.
Are you using one of these methods or have you got a better alternative? Let us know over on the socials. Sharing is caring 💗