Stream Licensing Explained: Everything You Need to Know
Everything you need to know about stream licensing explained to protect you and your online radio station in the USA and UK.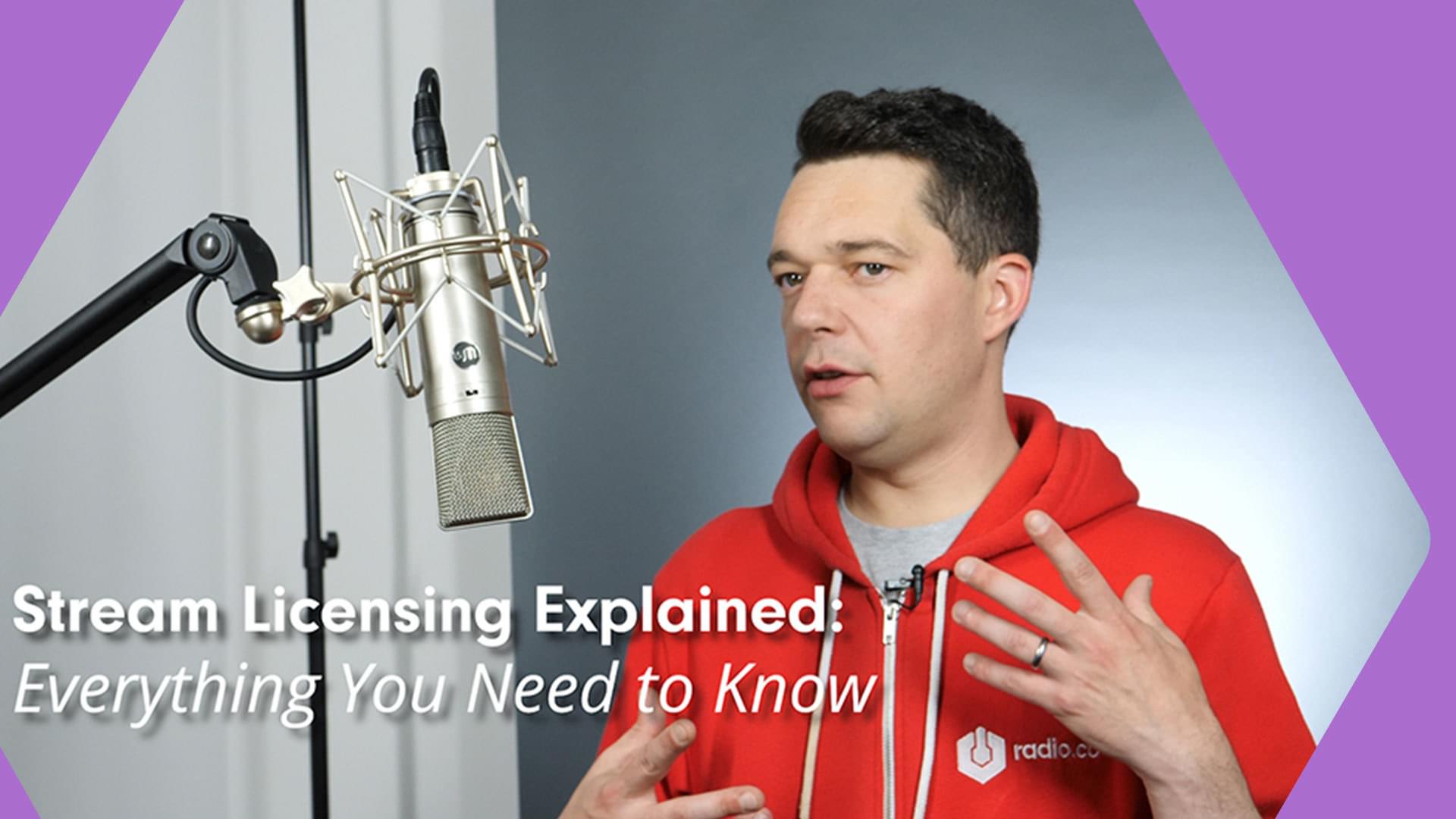 Do you broadcast shows over the internet? You may be at risk from your country's authorities and possibly breaking the law! However, we've got you covered. Here's everything you need to know about stream licensing explained to help protect you and your online radio station.
New to radio? Get help by talking to a specialist. Book a demo for sound advice.
Disclaimer: Radio.co does not provide licensing. We recommend always consulting with qualified professionals or the relevant authorities for your country regarding copyright and licensing. The following advice is not to be taken as legal advice, but instead, act as a stepping stone to get you to the right place.
Stream Licensing Explained... Finally!
Below you will find explanations to both USA and UK music licenses. If you are outside of either of these countries then check out another article which includes links to Germany, France, Netherlands, and Australia licenses here.
Not found the license you need? Let us know in the comments below and we will post another article with more relevant info and links for your country.
USA Licensing Explained
Licenses in the USA fall under a statutory license. It's defined as radio broadcasts that are non-interactive, so shows that cannot be skipped or listeners can't select their own music. There are 4 primary licensing bodies that offer statutory licenses:
ASCAP: Stands for "American Society of Composers, Authors, and Publishers".
BMI: Stands for "Broadcast Music Inc".
SESAC: Stands for "Society of European Stage Authors and Composers".
SoundExchange: Independent nonprofit organization that collects and distributes royalties from digital performances.
ASCAP, BMI, and SESAC collect royalties for public performances. That's radio stations, businesses, bars, shopping centres, and educational institute, etc. They are the Performance Rights Organizations (PROs) responsible for collecting and distributing royalties.
Essentially they all do the same job, which is act as an intermediary between songwriters and music users to protect intellectual property. If you are broadcasting in public places then you will need one of these licenses.
SoundExchange is different from the other licensing bodies as it collects royalties for digital public performances. It's limited to transmissions over digital platforms. If you are broadcasting your shows over the internet then SoundExchange will cover you.
UK Licensing Explained
In the UK licenses are simplified so it's easy to setup. Unlike the USA, which calculates license costs based on public performances, UK licenses have one off fees. There are 2 main licensing bodies:
PPL: Stands for "Phonographic Performance Limited". They represent the interests of record labels and collect royalties from radio stations on their behalf.
PRS: Stands for "Performing Rights Society" and collects royalties on behalf of artists, composers, and covers music that's played on TV, radio, and online.
Both licenses cover the use of music and collect royalties on behalf of the artists. However, each represents different rights holders and have separate licenses, terms, and conditions. If you play music in a public place, like a cafe or bar, then you need both PPL and PRS licenses. PPL covers you for public broadcasts, whereas PRS covers you for the music you play.
If you intend to broadcast music over the internet via an online radio station, then you will need both PRS (Limited Online Music Licence (LOML)) and PPL (Small Webcaster Licence). These are annual blanket licenses that cover your online broadcasts. However, if you intend to broadcast copyright free music or just talk radio then you do not need a license.
If in doubt, contact the licensing body directly for either PRS or PPL.
Restricting Listener Access
You can restrict who can and cannot access your stream using geo protection. This handy Radio.co feature lets you block or allow listeners from any country. In your Radio.co Dashboard -> Settings -> Security -> Geo Protection area, set whether you want to allow or block countries.
Allowing countries restricts access to everyone else, which is useful if your license is just for a specific country. Alternatively, blocking countries is just for the ones you add from the drop-down menu.
Broadcasting with Confidence
The last thing you want to think about is licensing. At Radio.co we understand that there can be legal hurdles when it comes to broadcasting your own shows, but there doesn't have to be.
Our team of professional radio experts are always happy to help. We offer advice and point you in the right direction. Whether it's the type of license you might need, what equipment you need for live callers, or station marketing tips, there's something for everyone.
Got questions about licensing? Talk to a radio expert about your station by booking a demo today.