The Power of Pop Up Radio
Pop Up Radio offers unique branded content and experiences for one off special events to really grab people's attentions.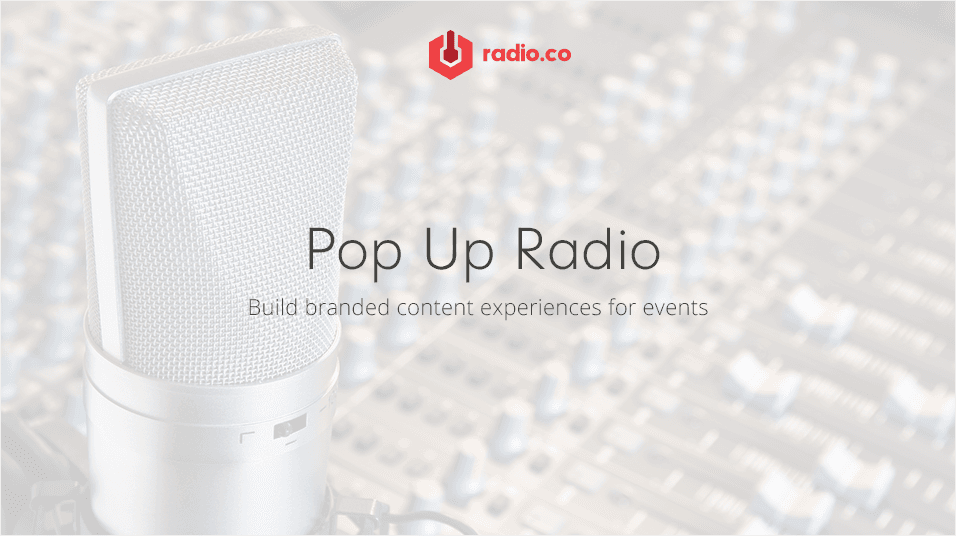 With so much content online it can be difficult to get cut through without having strong messaging, this is where "Pop Up Radio" can help out.
The internet has made it easier than ever to quickly create a radio station without much fuss - Pop up radio takes advantage of this by offering unique branded content and experiences for one off special events to really grab people's attention.
What is Pop Up Radio?
Pop up radio stations are usually created for a single purpose to showcase an event or topic and tend to have a short shelf life, for example they can be used as part of a marketing campaign to show off a particular product.
Most notably these types of stations are becoming more frequent and in demand as sponsors are looking to get their message across as clear as possible, and what better way than an entire radio station devoted to their cause?
How Can it be Used?
One off or yearly events like festivals are perfect for pop up radio as they can quickly be created to boost awareness and target a particular audience.
BBC Music for example are partnering with Jazz FM to create a pop up radio for the EFG London Jazz Festival, covering specially programmed content, inviting popular artists, and performing live events that you can't hear anywhere else, which will build traction for both brands and reach a large targeted audience.
It's not just festivals that take advantage of pop up radio, but any event or stand alone project that has clear messaging and a defined audience in mind, for example charity organisations can boost awareness for their cause and have live speakers, shows, and other events on their station to raise funds and get people talking.
Ultimately pop up radio increases brand engagement, whether that's music festivals, charity events, product launches, or an annual event, it's a good way to push clear targeted messaging.
Benefits
Although pop up radios have short lives, they pack quite a punch, offering enough incentive to try it for yourself:
Increase Revenue: Attract clients to sponsor your pop up station, whether that's a new product, brand, or something else that relates to the station.
Experiment: Pop up radio stations are campaigns that allow you to try news things and see what works to better engage with your audience.
Brand Awareness: Build your brand through a pop up radio to target a specific audience and drive awareness via viral content.
When pop up radio is done right it can generate enormous buzz and increase further demand for more content, like Pedigree's K9FM.
Pedigree's K9FM
Have you ever heard of a station dedicated to dogs? Well this is what Pedigree wanted to achieve when launching K9FM, a station devoted to playing music to soothe dogs whilst their owners are away.
K9FM is original, fresh, and has a clear message that corresponds with their product, everything that a pop up radio should be to get people talking and wanting more.
Radio Everyone
The Global Goals charity, created by Richard Curtis, is aimed at tackling big issues like ending extreme poverty, fighting inequality, and fixing climate change - One of their campaigns is Radio Everyone which is linked to their goals.
Powered by Radio.co, the campaign has been a success and reached 200+ million listeners, even getting on board celebrities like Bono from U2 to create content specifically for Radio Everyone.
One of their challenges was to take a lot of content and put it on 10 different streams each within a different language. Radio.co helped create multiple streams and disperse it around the world in over 100 different countries, resulting in a phenomenal result for The Global Goals charity.
BBC Radio 2 Country
BBC created a station to cover the Country2Country 2015 festival that lasted 4 days - It covered specifically commissioned programmes and had guest presenters from around the world focusing solely on country music from new, old, and live broadcasts from the festival itself.
The pop up station was a huge success, attracting thousands of likes on Facebook and thousands of followers on Twitter, which was enough to continue further development in the future for the idea.
How to Create Pop Up Radio
When The Global Goal's campaign Radio Everyone needed to create numerous pop up radio stations, they turned to Radio.co whom made it easy to get setup even with a small team.
Radio.co is an online platform that allows you to quickly setup a pop up station, so it's instantly on and always on-air until you switch it off.
Getting setup takes a few simple steps:
Upload Media: Drag files directly into the browser, either pre-recorded full length content or individual tracks.
Build Playlists: Specify tracks or dynamically create clock based playlists with tags (Top40 / Jingle / Advert / Top40 / Jingle).
Schedule Playlists: Specify the day and time you want your tracks to broadcast, with remove for guest DJs to come on-air and stream live to your audience.
Design Players: Brand players to your pop up radio and embed them on your website, blog, or allow users to embed them in other places online.
Share Your Station: Over social media platforms like Facebook and Twitter, or on directories like TuneIn.
Check Stats: View real-time or historical statistics from listeners that have tuned into your station, like what country they are from and device used to listen.
For an in-depth look at how to create a pop up radio station then watch our short presentation on Creating a Pop Up Radio.
Get started today by signing up for Radio.co's free 7 day trial or book a demo to chat with an expert about your pop up radio idea.