Voice Tracking and Powerful Scheduling Improvements
This month in our Product Update series, we've got some major news for you. We've introduced some major updates to make scheduling your shows even better.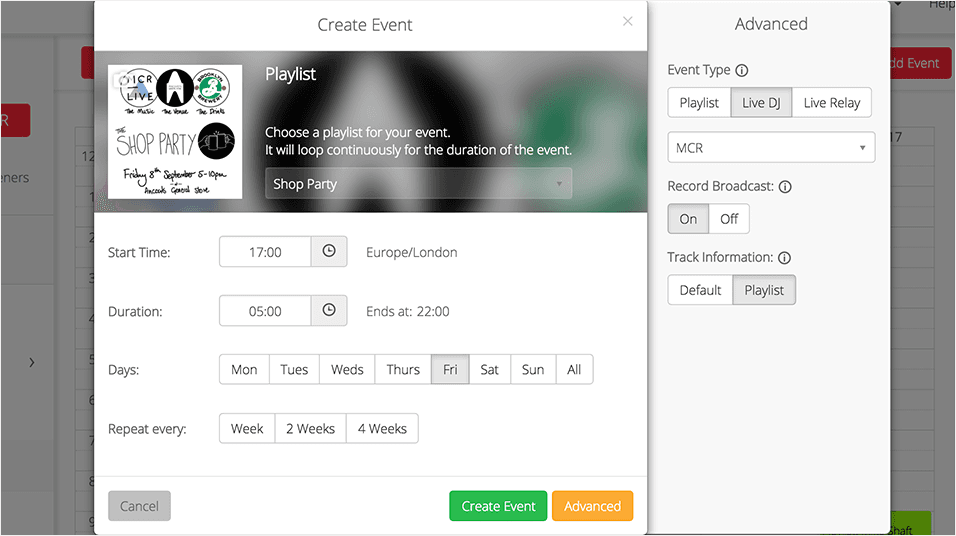 Do you want full control over your radio shows? This month we have focused on improving scheduling so you can start shows to the nearest minute, set artwork events, and much more! Essentially, it's a brand new way to curate your content. Plus, there are few other features we think you will love.
Voice Tracking to Sound Live
At the start of the month, the team discusses improvements and features to be put into Radio.co in the next round of updates. The first major update we have been working on is the revolutionary new Voice Tracking feature.
Last month, we promised that you will soon be able to record your voice tracks directly in Radio.co. We are happy to be delivering on that promise! You can now record all of your links and even small shows directly in your Radio.co Dashboard. Plus, there is no additional software required.
Simply click the microphone icon in the Playlist Editor, then start recording in just a few clicks. If you want to listen back to the Voice Track you've recorded, click the green play button to hear it back.
After hearing it back, set your track information and it'll be put directly into your playlist. If you want to tighten up the Voice Track, head over to the new Voice Tracks section in your Media library, and open the Voice Track Editor.
If you're on the Broadcaster or Station plans, just have a look at this guide to get started using Voice Tracking.
Scheduling Shows Just Got Easier
We've decided to give our scheduling pop-up a makeover to include and simplify all of the new features we've added over the years, and we're sure you'll agree that the outcome is a huge improvement!
Now you can curate your schedule and plan your content in just a few clicks. With some major behind the scenes improvements, the new scheduler is much more user-friendly and is lightning fast.
Learn how to schedule events in full by following this guide.
Recording Live Events for Later Use
Have you ever been broadcasting live and delivered your best performance yet, and wished you'd been able to listen back to the show or upload it somewhere for your listeners can listen to it again? Well, now you can!
Record your shows in Radio.co easily by enabling it on your events. You can even download a copy of the recording so you can edit the show and upload it to your website. Or you can always use the new scheduling tools to play it again on your station at a later date.
Get ready to record your live shows, by following this article we've prepared for you.
What's Next?
There are plenty more updates on the way, which we think you will love...
Dashboard Improvements: We are making a few changes to how DJ's appear on your station when they are broadcasting live. This will help you see exactly who is broadcasting. Also, there will be a few more usability tweaks to make the dashboard even more intuitive and user-friendly.
Redesigned Listen Section: Reorganised and freshened up, the Listen section will make sharing your station easier so you can connect with your audience quicker than before.
???: We can't tell you what this is just yet. But just so you know, it's going to be HUGE! Make sure you are subscribed to our blog to find out about this as soon as it's ready!
What new and exciting features do you want to see in Radio.co? Head over to our feedback forum to discuss your ideas and what you'd like to see in the future.