Want to Start an Internet Radio Station? Common Questions Answered
Everything you need to know to start an internet radio station.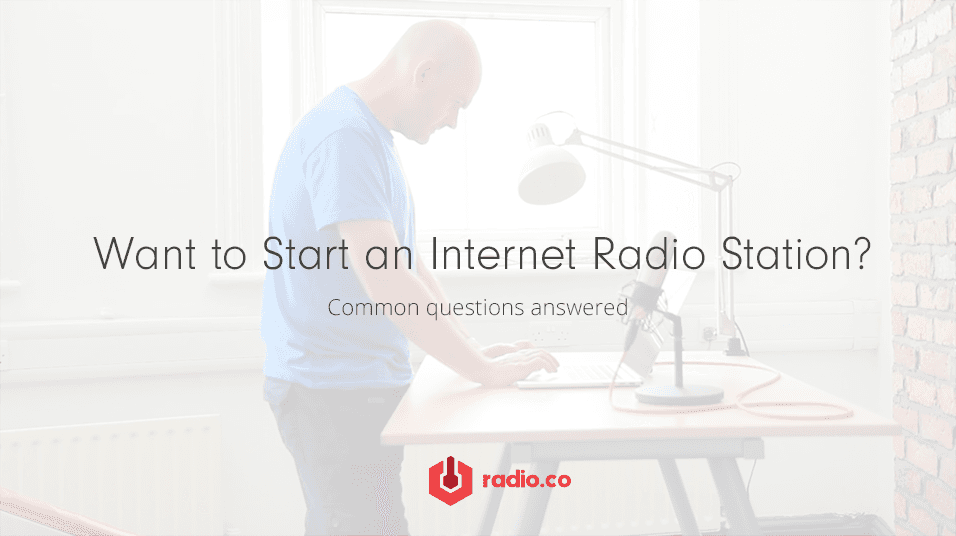 On a regular basis we get asked a bunch of common questions on how to start an internet radio station.
Usually these are misconceptions about what you need, but the truth of the matter is that the internet has removed all the red tape of days gone to make it super easy to start your own station so you can be up and broadcasting within an hour.
We've complied a list of the most common questions and answered them to give you a clear idea of what you need to know to start an internet radio station.
Common Questions Answered
I'm new to online radio broadcasting and not very technical, can you help me?
If you're a little bit unsure on how to get started and you don't have a techie background then there's no need to worry as starting a radio station is pretty easy.
Radio.co has streamlined the process of getting up and running with ease of use in mind, this means that you can broadcast without having to know all the buttons.
I'm on a budget and don't have thousands to spend on a radio station - Is this for me?
You can't start a radio station on the internet with zero investment, however you can start one with very little investment.
As the age old saying goes "You get what you pay for", so don't expect your station to do everything you want it do from the get go. Radio.co minimises the impact of high costs, whilst still offering everything you need to broadcast your shows online.
When the time comes that you need to scale up, Radio.co can help by offering increased features like more listener slots and add ons like the iOS and Android apps to help you grow.
Do I need a website to start an internet radio station?
Not at all! You can setup and run your radio station without building and managing a website. Listeners looking to tune into your broadcasts can find your stream on several different places, including directories like TuneIn, third-party sites, iOS and Android apps, and directly via a listen link.
However having your own site does come with it's perks as it's a good destination for your audience to find out more about you and your shows - If this is the case, then you can create a simple one page site that contains all the info the need to tune in, see what shows/events planned throughout the week, and get in touch with you.
Do I need high-end equipment to broadcast?
It's a common misconception that you need an expensive setup full of large microphones, a soundproof room so you can't hear a pin drop outside, and mixers with plenty of knobs on them to start your own radio station.
The core equipment you need are:
Modern Computer: Nothing high-end, but a computer or laptop that you can use on a regular basis to run day to day operations like handling music, broadcasting to your station, and running up-to-date software.
Good Internet Connection: Having a decent connection will allow you to upload tracks or stream live at a high quality.
Decent Microphone: Although you can use your computer's built in microphone, it's preferable if you have a decent external mic as it makes you sound more professional on-air.
What if I can't broadcast 24/7?
Let's face it, not everyone can be at their computer all the time broadcasting live to listeners, but this is how cloud automation can come in handy.
Radio.co offers the ability to schedule playlists throughout the week so you can set what you want to broadcast and when. DJs or guests can also be invited along to play at specific times to take over you stream which adds more depth and diversity to shows.
Do you offer music to put on my station?
Tracks are not provided, it's up to the station owner to select music that they want to play, this ensures that your broadcasts are you own.
FM/AM & DAB need licenses to broadcast - Does online radio need one as well?
Unlike FM/AM & DAB radio, online radio doesn't require you to own a license to broadcast over the internet. You can set up a station and stream your recordings to anyone online, reaching a potentially billions of people.
If however you intend to broadcast music from artists then you need a PPL license - Every quarter supply the licensing body with a total amount of time the service has been listened to and the average number of recorded music tracks broadcast per hour.
Can I have live callers on my station?
Inviting guests on your shows is one of the corner stones of radio and an essential part of any great broadcast as you can connect with your audience by having them talk to you and your audience live.
Guests can come onto your station by either using a communication program like Skype, which you can then send their audio stream through your sound-card and out to your station - Alternatively, use a mixing desk and connect your phone to connect with live callers.
How do I talk live on-air?
You'd be surprised at how easy it is to talk live on-air to listeners! With Radio.co you need to schedule a live event, either a one off or a weekly slot, then setup your live broadcasting software like Winamp, enter your details, and you're on air!
Can I broadcast from anywhere in the world?
If you have an internet connection you can broadcast from anywhere, that's the beauty of running an online station, you or your DJs can connect from anywhere and broadcast to anyone!
What happens if my internet connection isn't great or goes down completely?
Imagine you're broadcasting live and then disaster strikes: Your internet connection comes grinding to a halt!
With Radio.co you have piece of mind as it takes over and plays your scheduled tracks as a fallback in case your stream is dropped.
We need to report tracks to our licensing body, how can we do this?
Licensing bodies need to know what you're broadcasting to fully cover your station, this is why Radio.co has made it easy to view historical data.
Access stats for your listeners, either by hour, day, week, or month - You can also view song history and Total Time Spent Listening (TTSL). For a full run down of how stats work then check out the Radio.co Reports.
How do I run ads on my station?
Keep the revenue you earn - Radio.co doesn't take a cut of your station's profit. If you want to run advertisements on your shows then you can do so freely.
At Radio.co we believe you should be able to keep any revenue your station earns. We can help you out with recommendations, but unlike other platforms we don't have minimum listener targets or need to keep up with demands of advertisers, so we never cut you off for not meeting requirements.
How Radio.co Can Help
Setting up a radio station doesn't have to be a headache, that's why Radio.co has built a platform to manage everything within the browser and from anywhere in the world.
Radio.co gives you everything you need to start broadcasting your own radio station - You can build gorgeous website players for desktop and mobile that match your station's branding, then embed them on web pages so listeners can tune in.
Invite DJs from all over the world to broadcast on your shows during a time slot you give them. Easily create playlists online and schedule them at the click of a button throughout the day or week.
Online Radio Broadcasting Made Easy
Start your radio station today with your 7 day free Radio.co trial or get in touch with one of our in-house radio experts to talk about your ideas by booking a Radio.co demo.