Website Builder Plus, Volume Normalization & System Upgrades!
This month we've been making upgrades to our server network. We've made some small usability tweaks and released a new beta feature for you to try!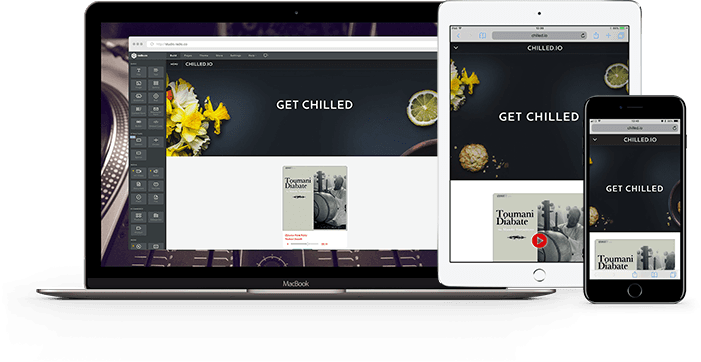 In this segment of our blog, we'll be letting you know every month what we've been getting up to. You'll be able to learn about new features that we have recently released and anything that we have improved in July 2017. This month we've been hard at work making some upgrades to our server network, some small usability tweaks, and a new beta feature for you to try!
New Features!
At the start of each month, the Radio.co development and operation teams meet to discuss progress on features, improvements based on client feedback, and think about new additions to the platform. As far as features go, we've implemented Website Builder Plus and Volume Normalization.
Website Builder Plus
As promised last month, we have now finished work on Website Builder Plus. It offers everything you need to run a professional radio station website, such as:
Video Backgrounds: Draw your visitors in with cool background video templates.
Website Statistics: How visitors found your site and what they are viewing.
Site Search: Find content more efficiently with a search bar.
Password Protected: Keep areas of your site secure and hidden away from public.
Membership: Setup a members area for premium content.
HD Video: Upload high quality video to engage with visitors.
Online Store: Turn your station into a business by selling merchandise.
Apps: Recommended features you can add to your site.
The Website Builder Plus add-on can be bolted on to any plan for $25/£20/€19 per month. Don't worry, if you're on our standard Website Builder, you can upgrade to Website Builder Plus from the Add Ons section in your Radio.co Dashboard.
Learn about getting started with the Website Builder and create a website for your station today by having a look at our Radio.co University guide here.
Volume Normalization
This feature has been highly requested by clients! We are happy to announce that you can now use Volume Normalization (sometimes referred to as Automatic Gain Control) on your station! The feature works by matching the volume level of your tracks to one another, providing a more uniform listening experience for your audience.
If you're on the Broadcaster or Station plan, you can get started with Volume Normalization right away by turning it on in your Settings -> Broadcast area.
If you're not on either of the plans but would love to use this feature, then learn about upgrading your plan here.

Network Upgrades and Behind the Scenes Updates!
Network Improvements
As Radio.co grows and matures, we believe we should keep innovating not just in terms of features, but also in the backbone of our infrastructure. We've introduced new streaming networks in new locations with new performance improvements to provide you with a better platform!
New Locations: Servers have been introduced in Asia, Central Europe, and the US to bring your station closer to your listeners.
Software Upgrades: All of our streaming networks have been upgraded to the latest software, with a whole host of performance improvements in tow.
New Streaming Network: Last but not least, a brand new streaming network has been established to boost availability of your station and reduce buffering times for your listeners.
Usability Tweaks
Default Player: We noticed a lot of people were wondering how to create players for their station. We, therefore, have agreed that all new stations will be given a Default Player which can be edited easily in the Listen section to increase awareness of this feature. If you haven't created a player for your station yet then click here.
Track Editor Improvements: We've made some performance optimisations to the Track Editor to ensure that playback of your edited track is smoother than it was previously, allowing you to accurately preview your tracks right from the editor.
Statistics Improvements: Several improvements have been made to the Reports section of your Radio.co Dashboard. Accurately track the devices and platforms your listeners are using to tune into your station. Whether that's your Radio.co App or a player on your website.
What's Coming Next?
We have got some very exciting features coming to Radio.co which we think you'll love!
Live Event Recording: Rapid progress is being made on bringing Live Event Recording to your station. Testing on this feature is set to begin soon. You'll be able to save your live broadcasts directly from your dashboard, so you can share previous shows with your listeners at a later date.
Scheduling Changes: In addition to the Live Event Recording, the new scheduling changes are fast on their way to being ready for release. We hope to be able to share this with you very soon.
Voice Tracking: Progress on Voice Tracking has come a long way since we last shared this with you last month. We are currently testing it in house and making some last minute adjustments... Expect to see this very soon!
That wraps it up for this months product update! We love listening to your feedback, so let us know what you would like to see next in the Feedback & Suggestions Forum.