Zoom H8 Review: All You Need To Take Your Shows on the Road?
Broadcast from anywhere you like with the Zoom H8. Leave the bulky gear at home and take your radio shows on the road with this all-in-one device.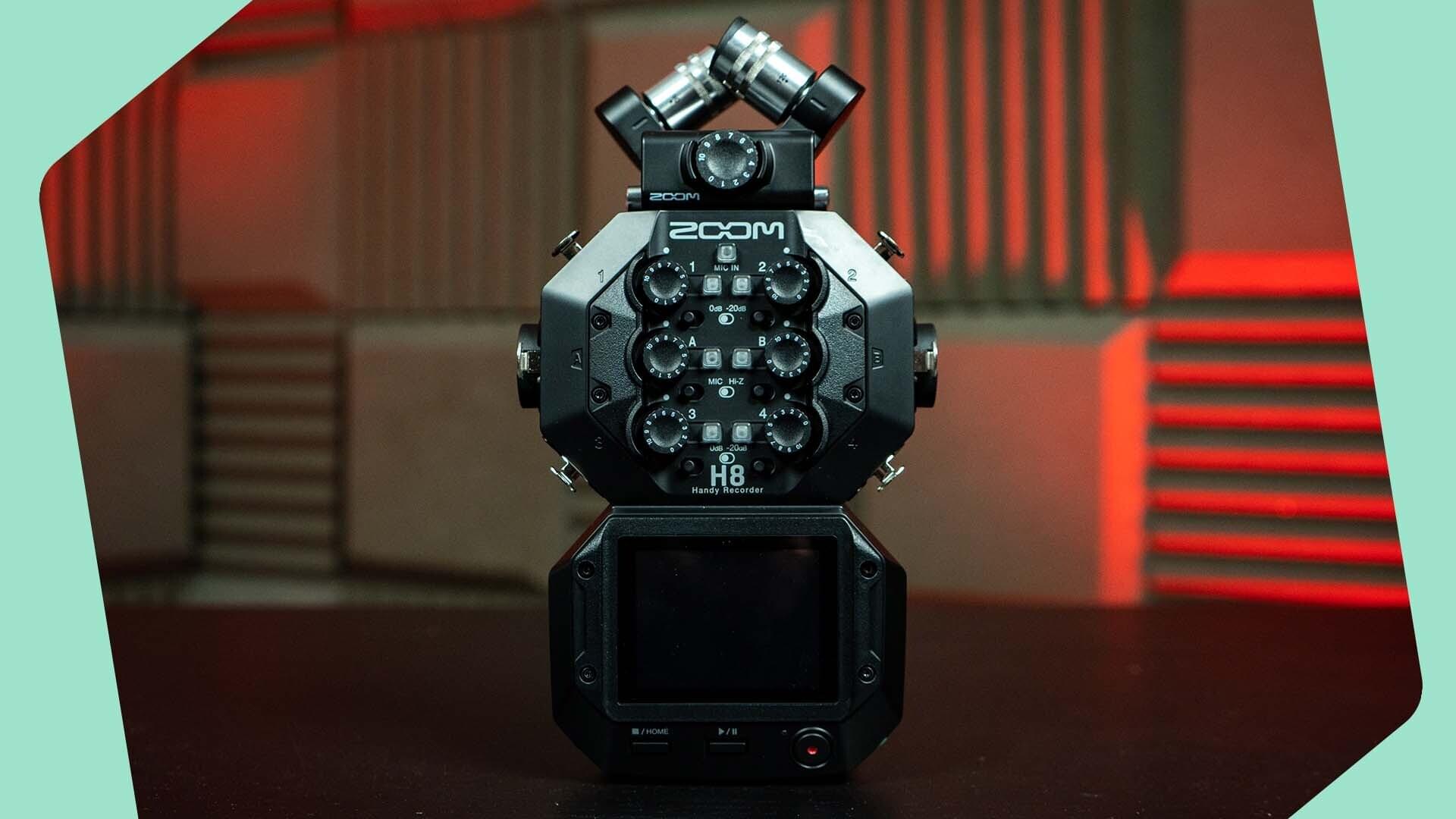 Internet radio stations and podcasts are beautifully simple to launch and manage. You need very little gear or software. In fact, with Radio.co you only need an internet connection and a computer. Any space and location can become a studio for your show, interview or live music performance.
And for all of these scenarios, the portable Zoom H8 has you covered. It's a microphone, mixer and an audio interface rolled into one handy device. So, we had to give it a test drive...

What's in the Zoom H8 Box?
Zoom H8 audio interface & carrying pouch
A set of XYH-6 microphones & carrying pouch
Instruction manual
Zoom H8 Features
4 XLR inputs
2 TRS/XLR Combo Jacks
Zoom's Capsule System 2.0* (for swapping different microphone capsules or additional inputs)
Zoom XYH-6 microphones capsule
3 app-driven interface options for different kinds of recording:
Podcast App, Music App or Field Recording App.
Touchscreen interface and virtual faders
Plug in and play for Mac OS (need to install driver for Windows).
Zoom H8: Compact Device, Big Sound

The Zoom H8 has a modular, capsule design for its microphones. So how it sounds is obviously dependent on which microphones you've attached. That said, the microphone capsule it comes with - Zoom XYH-6 capsule - is a worthy accompaniment.

Radio.co founder, James Mulvany, compared the Zoom XYH-6 capsule to the legendary SM7B…

The SM7B Shure does deliver a much fuller sound than the XYH-6 microphones. But it becomes a bit redundant in an interview setting. To capture two + guests voices clearly, they would both need to get really up close and personal with the SM7B.

So as a more comfortable alternative, this is where the Zoom XYH-6 microphones come into their own. XYH-6 microphones have cardioid patterns and can be angled opposite to each other. Between them, you can pick up voices from people standing opposite each other. Just like how you probably arrange your interview or podcast set up.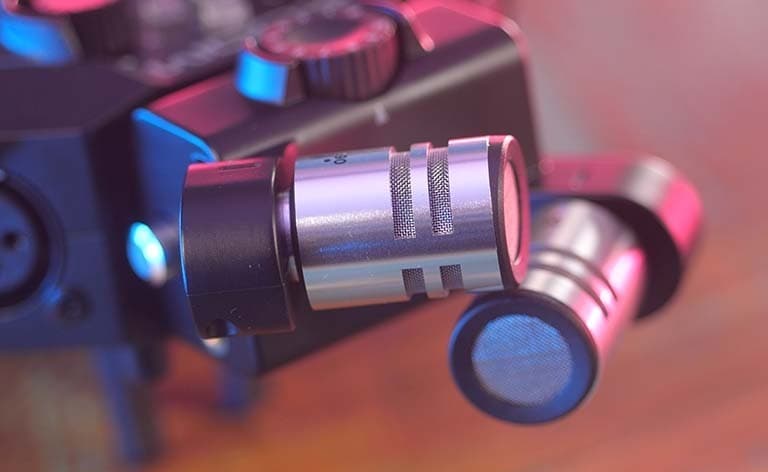 Also the audio quality they deliver is decent and clear. It's only when comparable to the SM7B it might fall up short. But it is the preferred podcast mic far and wide as a lot of mid-entry microphones do fail to match its sound.
A Setting for Every (Audio) Scenario
Zoom H8 has a healthy, not one, not two, but three apps in its interface to support your audio scenarios:

Podcast App
Field Recording App
Music Recording App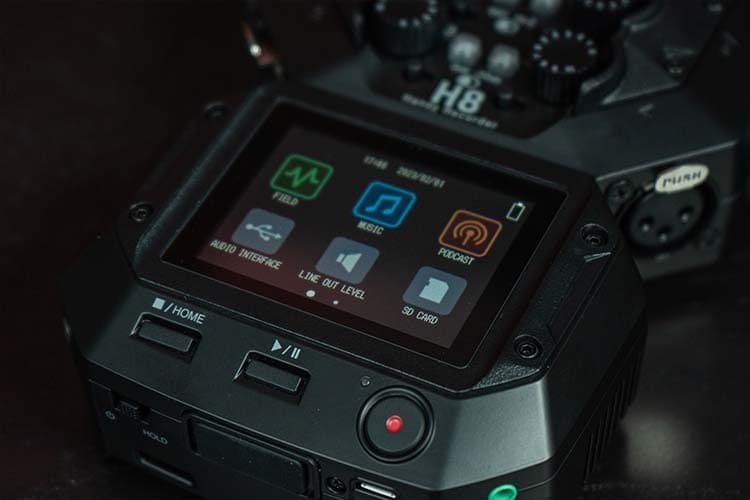 The app-driven interface means various audio settings and controls are virtual. This has helped keep the device compact and portable. And keeps your equipment list light when you're on the road. So for broadcasters after versatility and simplicity, the Zoom H8 is a good choice.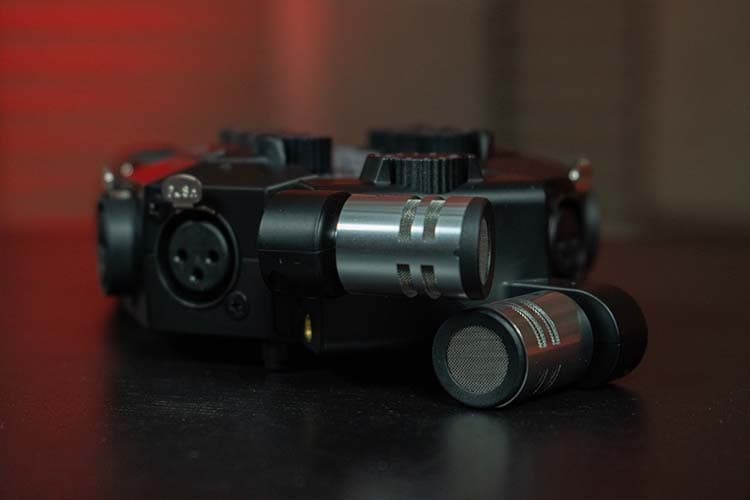 To get things off the ground, we tested the field recording app on a busy city street using the XYH-6 microphones. The Zoom H8 delivered Phil's voice nice and clear, whilst picking up the 'bustle' of Manchester. Of course this is inappropriate for many broadcasting settings, but it does have its use. Like when broadcasters need their setting to be heard in their recordings. Be that certain locations for a radio drama, or to deliver the atmosphere of a sports game.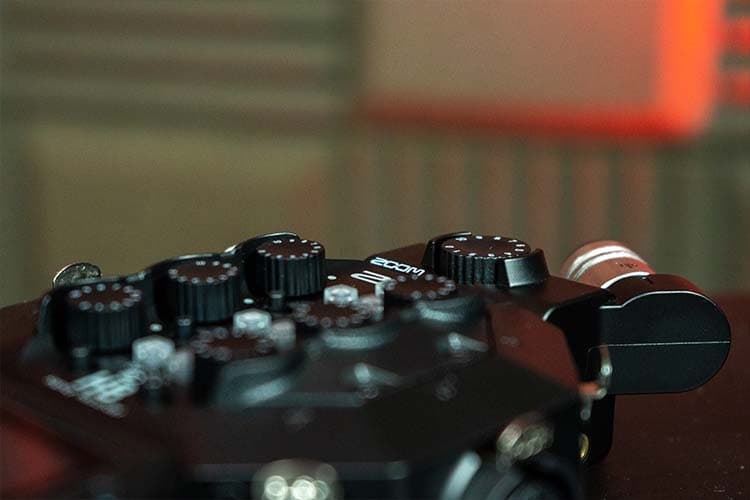 Many broadcasters will find the Podcast app is the most useful for them. They can plug upto 4 XLR microphones into the Zoom H8, and each will record on to a separate track. So this is ideal for a talk show, interviews and podcasts. Having each XLR mic on its own channel means the gain can be adjusted according to how loud each guest is.

On top of this is the Zoom H8 virtual sound board, preloaded with 13 replaceable sounds. Meaning all the radio imaging or your podcast sound design can come on the road with you.

For bonus points, the Zoom H8 has the Music app. It expands broadcasters options to record and/or broadcast musicians too. These three core settings mean many broadcasters will be covered by the Zoom H8.
Other Techs Specs
Gain control knobs and -20dB pads for each input
Supplied XYH-6 X/Y capsule provides secondary input via a stereo ⅛" Mic/Line In mini phone jack
Phantom power for all six XLR mic inputs: +24/+48V
Large color LCD touchscreen display
Records directly to SD, SDHC and SDXC cards up to 512GB
Up to 24-bit /96kHz audio in BWF-compliant WAV or a variety of MP3 formats
Auto-record, pre-record and backup-record functions
Built-in effects, including low-cut filtering, compression and limiting
Multichannel and stereo USB audio interface for PC/Mac/iPad
Over 10 hours of operation with 4 AA alkaline batteries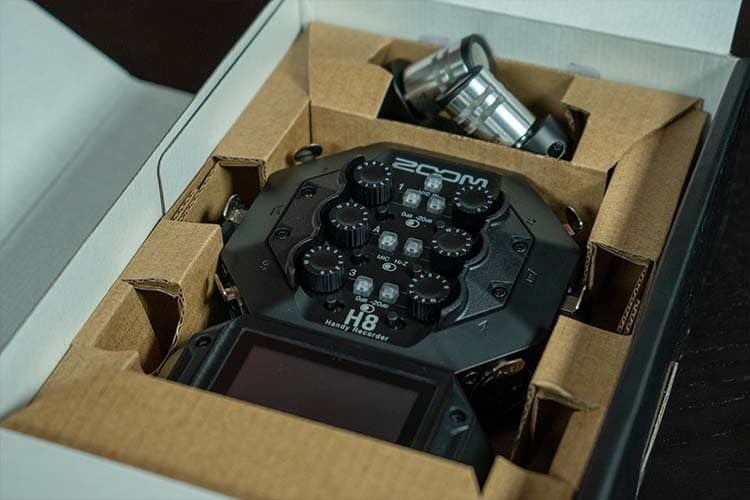 Plenty of Power Options
The Zoom H8 can be powered by either:
A Windows or Mac computer
4 x AA batteries (included with the Zoom H8)
An AD-17 Zoom Adapter (not included)
NiMH rechargeable batteries
How Much Does The Zoom H8 cost?
You can buy the Zoom H8 for $443 or £287.
Affiliate Purchase Links
In a Nutshell...

While the Zoom H8 may look a little like The Terminator's backbone, it's more like a Transformer in practice. For Broadcasters wanting gear that can easily go where they do and cover them in all major scenarios, the Zoom H8 is a good option. It's easy to switch between the Zoom H8's different uses and modes.
Some broadcasters may prefer separating out their hardware, for greater control. But for an all-in-one solution, there's not much competition for the Zoom H8.