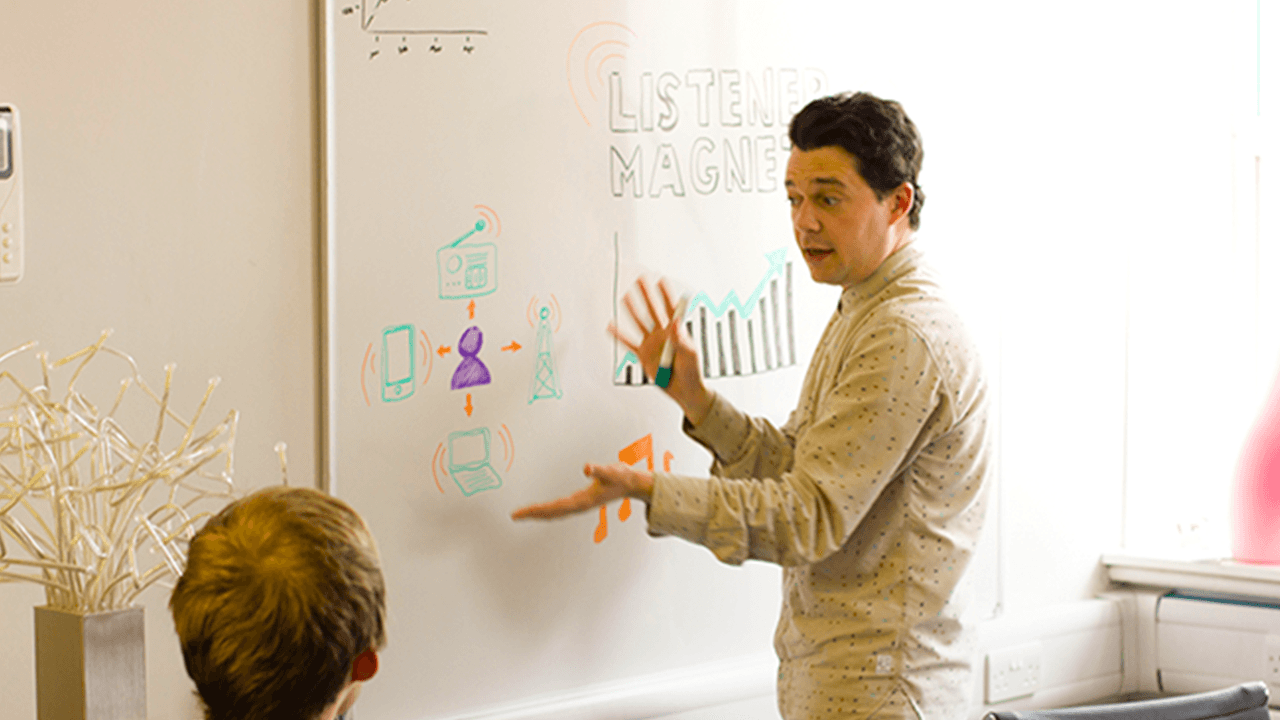 Everyday millions of people are tuning in to internet radio, some are even calling it the "The Great Internet Gold Rush" but is your station getting its share of listeners?
With Over 50% Of People Now Listening To Internet Radio, Audience Numbers Are Exploding. This resource will teach you How You Get Your Share Of The Biggest Transfer Of Listeners In History...
---
With More People Listening To Internet Radio Than EVER Before It's Time To Share Your Passion And Get Heard!
A lot of new station owners make the mistake of thing that once their station is setup, the listeners will come naturally.
It's understandable to think that way - we used to. If you build it, the listeners will not come. Ever. In reality, internet radio isn't that much different from FM - you need to work to get listeners.
The irony is, most internet radio stations are experiencing a drought in terms of listeners, at the very time more people are listening to Internet Radio than ever before.
---
There Are Now SO Many Ways To Listen That Our Potential Audience Is EXPLODING!
This might sound like hyperbole but bear with me and I think you will agree, there is a huge amount of opportunity.
The audience for internet radio is growing at an insane rate. In the next year it's pretty likely that the number of internet listeners will surpass the number of F.M. listeners.
And the people who listen to our stations listen for way longer, and tune in more often.
---
47.5% Of Americans Regularly Listen To Internet Radio. By 2017 We Should Hit 52%. This Is The YEAR EVERYTHING CHANGES…
Who would have thought it? Stations offering real quality and choice versus corporate dirge are better liked!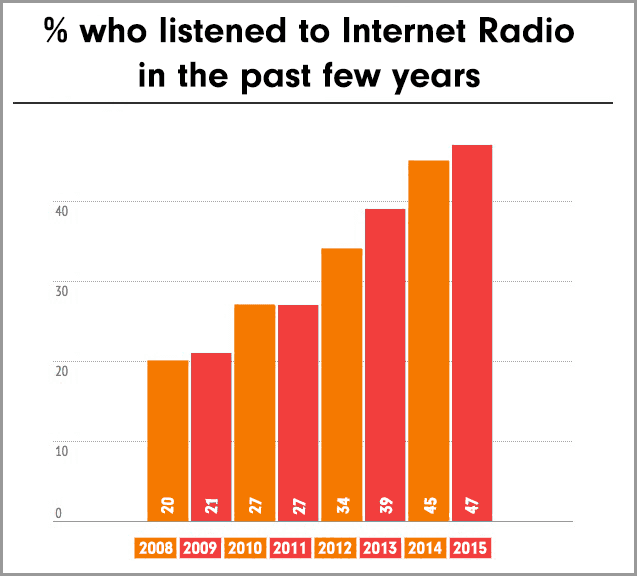 I'm being ironic. We've known for years that we offer a much better station than the big corporates ever can with their watered down approach. And as I mentioned there is huge opportunity.

---
Sadly, Most Station Owners Are Stuck In A Nightmare. Suffocating For Listeners & In Terminal Decline
More and more people have internet-connected TVs. Tablets and smart cellphones are the norm. 4g cell phones make radio streaming a practical way to listen.
Then we have the internet radio capable home theatre systems, TV sound-bars and web connected hifi. So, with all this opportunity - why are things going wrong?
Here Is Why We Are Concerned. Over The Past Year Things Have Changed SO Fast And Too Many Stations Are Falling Apart…
Internet Radio is becoming mainstream and the opportunities for you to get your message out there are bigger than EVER.
Sadly, this has caused more problems than it has solved:
Here Is Why WE Are Not Getting Access To The FLOOD Of New Internet Radio Listeners:
Audiences Are Increasing BUT Are Sticking With The Online Versions Of Their Favourite FM Stations
Just As Internet Radio Overtakes FM - The Shoutcast Directory Has RADICALLY Changed Meaning Your Station Is Harder To Find
The Competition Is Increasing Every Day With New Internet Radio Stations For EVERY Genre
People Who Are New To Internet Radio Don't Know How To Find Us - Directories Are No Longer Enough!
The Corporates Have Finally Moved In & Are Sucking The Audience Away From Us!
Traditional Listener Getting Strategies Are FAILING
Perhaps you are one of the more aware station owners, who has been listening to our predictions of an audience boom. Right now, you can see it happening all around you.
Hopefully, you've been implementing some of the core strategies top stations use to get listeners, such as SEO and Social media.
Traditional SEO No Longer Works Thanks To Massive Google Changes
Facebook Radio Fan Pages Get 44% Less Engagement Compared To Last Year
Directories still work but the average 'new' listener doesn't even know they exist...
New stations are being created at unprecedented speed, as more people become aware of the possibilities of internet radio and JUST HOW EASY it is to get started.
Corporates are transferring their massive advertising budgets online and buying up the 'new' audience
Thanks To The Corporations, The Internet Radio Dream Is Dying…
…all because the quality internet radio stations are expecting listeners to just find them.
Stations just like yours are being suffocated by the corporates.
People love radio of all varieties but if they can't find quality stations they end up getting sucked up by two sources.
The dying FM stations who are screaming about their web stations.
The 1% of stations who understand how to get listeners.
---
There Have Been Huge Changes In Our Industry & Things Are Getting Worse & Worse
A few years ago, internet radio was the format of choice for committed listeners. They were tech-savvy and would put in the time to find our stations.
They were part of communities that shared new stations like they were gold dust.
If you got in at that point I'm betting you had the same experience I did with my station.
Back then, getting listeners was easy - we were underground and the listeners put the effort into finding us.
The new generation of listeners are the mass audience.
The Irony Is That There Is SO Much More Opportunity To Get Listeners… If You Know The Secrets To Getting Them.
These are people leaving FM and discovering the power and choice that only internet radio can offer.
The first wave of listeners were tech-savvy and passionate. The new wave of listeners are arriving because of all those new internet radio capable devices.
They are hooked on Facebook, Twitter, and Pinterest. They love Sound Cloud and services like Spotify and Pandora.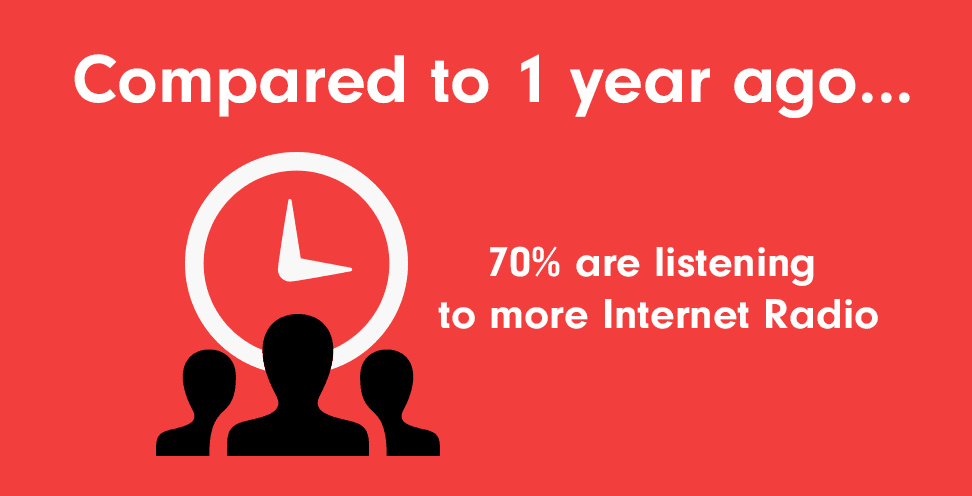 And here is the problem and one that is growing worse by the day… thanks to the listener getting savvy 1% of Internet Radio Stations & the corrupt, low quality corporate stations migrating to the internet.
This Avalanche OF New Listeners Are Not Ending Up On Your Station - They Are Being STOLEN By The Corporates And The 1%!
If people haven't heard of us, how can we expect them to become listeners?
Here is the frustrating part - the statistics prove that if people listen to our output they will listen longer and tune in more often.
In other words, there is a massive wave of passionate new listeners up for grabs but over 90% of us aren't even in the fight.
This is precisely the reason we founded the Listener Lab two years ago.
What we found was that our techniques from two years ago just weren't getting the results they used to.
Examine the newest results from the lab instantly revealed why - we are past the transition and people are moving from FM to internet radio.
Put simply, we are entering "the new normal".
Once we took the latest industry changes into account we saw things turn around for both our Radio.co stations and our own personal ones.
Listener Magnet FAQ
How is Listener Magnet different from Other Courses Online?
Listener Magnet is a fresh new course designed to give you the tools to grow your audience. Everything within the course has been researched by our in-house team of experts and delivered an easy to digest chuncks of info.
How Is Listener Magnet Delivered?
Listener Magnet is delivered in weekly modules, over six weeks. This way, you work through each weeks strategies and each week's content builds on the previous content. Lessons are delivered via video, text and PDF and can be viewed on PC, Mac, iPad Tablets and Smart Phones via your web browser.
What Is The Special Offer?
Listener Magnet is the result of two years of work by the Radio.co team. We've decided to make it available to customers and users of our other service, such as the Shoutcast Player. At the official launch Listener Magnet will be $339.00. For this 'private' launch we are offering a massive discount for 7 days only. We are able to do this because we already have an existing relationship with you and don't need to pay out for advertising and promotion.
How Long Is This Special Offer Valid For?
7 Days - then the price will rise to its public price of $399.00.
Do You Offer An Affiliate Or Reseller Program?
Not at this time - as the lack of resellers, affiliates and advertising allows us to pass the savings on to you.
Do You Offer Review Copies?
No - as this is a private offer for people using Radio.co Services ONLY.
Do You Offer Charity & Not For Profit Pricing?
No - we suggest that you take advantage of the 7 day discount.
We Needed To Know If Success Was Still Possible. So We Created "The Listener Lab".
The Aim Was To Break Down The Success Of Those 1% Of Online Stations Doing Phenomenally Well…
The flood of new listeners we predicted two years ago is now in full-flow. Those people who are passionate about their music or message are actually losing out because of their passion.
The reason is simple - those of us who care about our stations haven't been focused on marketing. We haven't been keeping up with latest ways to get listeners.
Ironically, those who care less about what they broadcast ( hint: corporate) have had the budget and the time to dominate the new gateways for listeners.
There has also been the 1% of stations that have learned how to get access to all these new listeners. Guess what type of stations these are? You guessed it - internet radio.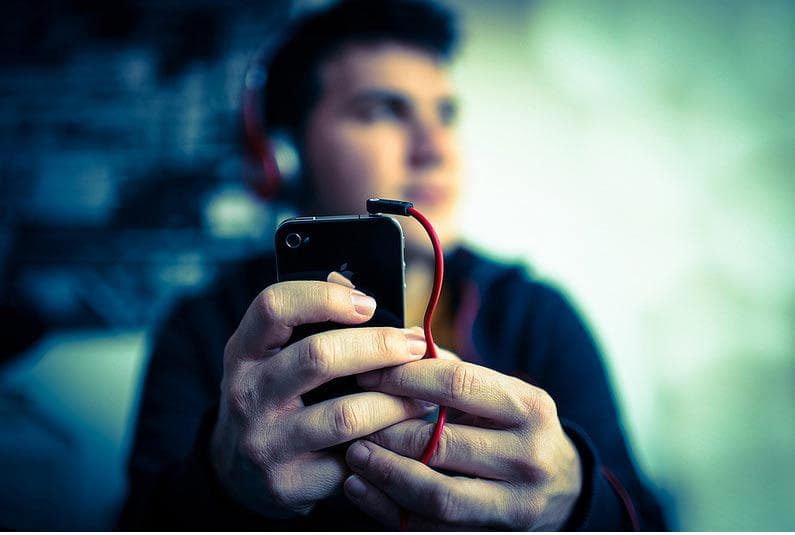 Internet Radio Has Exploded Thanks To All The 'Connected' Devices Around Now...
Those Stations At The Top Of Their Game Have Been Trading Insider Secrets & Strategies. We've Been Watching And Testing…
The fact is that the internet world moves a lot faster than the traditional radio world. The plain truth is that many of us don't have the time or inclination to be working on every new listener-getting opportunity. We want to focus on what our true advantage is, the quality of our output. Sadly this means that the corporates and the 1% are taking the vast majority of new listeners. Without significant growth, though we don't just face stagnation we face real decline.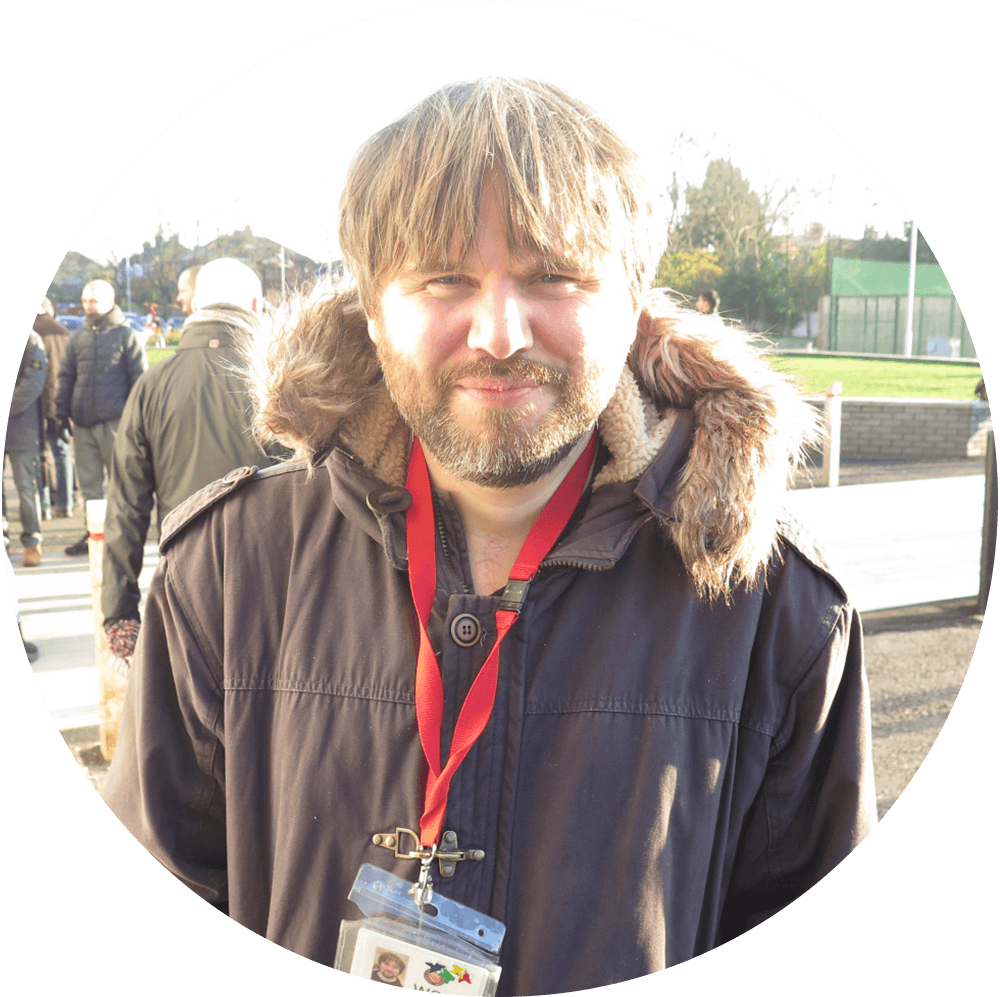 Ben Hughes
FCUM Radio
A message from James...
Hi Radio Station Owner!
If you're reading this, it's because you're either running your own internet radio station, or you're thinking of running one.
You've dreamed about your radio station for long enough and you're keen to get started. But, you have to deal with all that tech stuff first. That's where we come in. Here at Radio.co we make it easy - so that you can focus on your music, message or passion instead of focusing on technology. As radio enthusiasts ourselves - we love radio and run our own stations, so we know what it's like. We got sick of dealing with the technical stuff so we set out to make it as easy as possible. Just like you, we quickly discovered that getting your station up and running is only the first of many hurdles.
We already know you have the passion and vision for your station - and you've probably already tried to spread the word. So if you want to grow your dramatically increase your listener numbers then make sure you get the course today.
Thanks,
James :)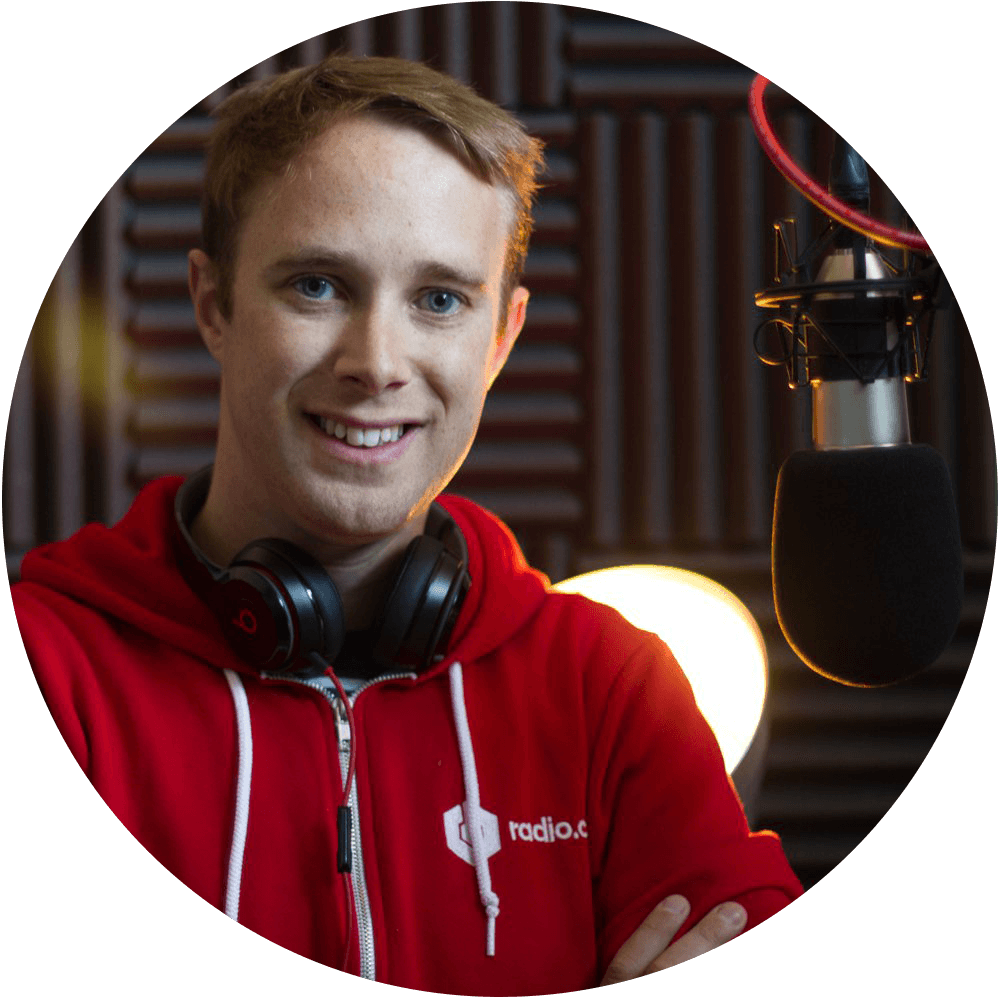 If Your Not Aware Of The Secret Ways To Get Exposure, Leverage Social Media Or The Psychology Behind It...
…You're Looking At Long-Term Listener Decline…
This might sound alarmist but that's not my intention. I'm simply trying to be honest based on what we've seen.
Few of us want to pass up on the wave of new potential listeners but far too many of us are resigned to waiting for that big break. A few of the stations I've spoken are resigned to not growing at all…
That is heart-breaking to hear - and is precisely the reason we founded the listener magnet lab. Now it's time to introduce you to what we've been researching, testing and building for the past two years…
---
We Have Completely Reinvented Listener Magnet Thanks To Our Latest Results.
Listener Magnet 2.0 is the result of two years of hard work, research and testing.
It is a completely new training program. Listener Magnet 1 was the perfect system for the transitional period of internet radio. Sadly, it was no longer working nearly as well as we wanted.
So we decided to do the unthinkable. We ripped everything up and started again…
---
It Was Hard To Do - But Necessary If Small Stations Like Ours Are To Survive Or Even Thrive
We looked at all the raw listener data we have, then matched up the biggest success stories with the tactics each station was using
We also looked at those stations that were stagnating or dying to figure out what they weren't doing. What we discovered was that there was a VERY clear distinction between the majority of stations and the success stories.
There was also a very distinct difference between the stations that we're doing well and the top 20% of the 1% who are doing exceptionally well. It's no exaggeration to say that this top 20% Of the 1% were taking far more of their fair share of traffic.
These are the stations that have put in the hard work, testing and implementing new strategies to ensure that they can out compete the corporates.
At this point, you, you might be thinking this all sounds complex. Luckily, we've done all the hard work gathering all the data and revealing the patterns of success.
---
Success Is Almost Never Due To A 'Lucky' Break. It Happens Thanks To A Repeatable Simple Process Known Only To A Select Few!
Ask yourself this - do you think listener-getting-success happens randomly? Or do you believe that there is a system?
Let me put it another way. A lot of station owners wait for their big break. A few get that break, but the majority don't keep it going. Here is why - random success is not sustainable unless you have a system. Ironically once you have a system, you don't even need to wait for a break…
The fundamental key to any listener getting system is to to understand your audience…
Listener Magnet 2.0 Takes You By The Hand & Helps You Understand What Your Potential Audience Really Want & How To Capture Them!
Once you understand your audience, you can run rings around the corporate stations migrating to digital.
They see every listener as an advertising demographic - nothing more.
They don't understand or care what their audience wants. In fact, the corporate listener strategy is to water down their output as much as possible.
This widens their listener base by ensuring that they appeal to more people, but really don't give any of them what they want.
They then push this strategy to the point where most of audience are about ready to change stations but don't.
Corporate stations have zero incentive to deliver what the audience actually wants. It's as simple and unpleasant as that.
Our great strength is that our message, be it music, talk, religion or politics is about breaking away from that model of lowest common denominator.
We already have passionate audiences who are happy. We can then tap into this passion to figure out what they want.
We Then Show You How To Radically Boost Your Listeners And Traffic.
You Can Mix And Match From Over 50 Strategies To Find The Right Ones For You...
Once you have this understanding of who they really are, we can then pick and choose strategies that work for your type of station. So - the mix of listener getting strategies will depend on your station type:
Music
Current music
Genre based
Underground
Dj based
Talk
Religious
Political
Sport
Community
Special intently
Business
Old time radio
---
The End Results Of The LM2.0 Process Is TWO Fold.
Firstly You Gain More Listeners Daily. Secondly, You Get More Repeat Listeners. This is really important. If you take away one thing from reading this letter, it should be this. The real key to success is simply this:
Grow at rate much faster than your listener churn rate. The FM model was possible because of a real lack of choice. This meant that the station would lose a lot of listeners due to the low quality of output, but would pickup the listeners leaving competitors for exactly they same reason.
In other words, corporates could afford to churn and burn listeners because their wasn't an alternative. They are still operating on this model.
---
Our Greatest Opportunity And Our Greatest Threat Is The Limitless Opportunity Of Internet Radio
In the world of internet radio, listeners have so much choice they can leave FM behind. Online, repeat listeners come from genuinely enjoying your output.
Right now, as an internet radio station, you already have repeat listeners rates that would make any corporate executive green with envy.
Here is the kicker, by understanding your audience and the right traffic getting strategies for your station you can create a situation where the number of repeat listeners goes through the roof.
They are the people who tell their friends about your station or show. They form the most responsive part of your audience. They are the people who help you break into that next level of listener base.

---
87% Of Internet Stations Lose 35% Of Their Potential Audience By Missing Out On One Trick…
That's almost ALL of the stations who are getting low audience figures. This might sound insane - but it's true. The vast majority of station owners lose over a third of their potential audience.
The reason is simple - your audience is never going to catch all of your output. In fact, on average, at any one time only 10% - 15% of your regular audience will tune in to any one broadcast.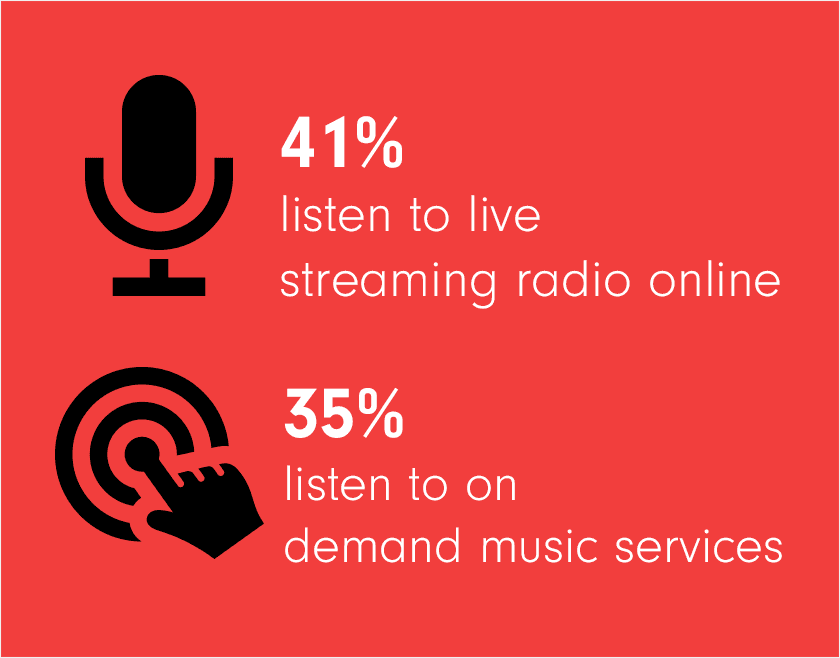 What the majority of stations do, is they make old show available for download. That means there are masses of interviews, sermons, speeches, interviews, masterminds, DJ sets, playlists and more being made available for download.
Sadly, this is not nearly enough to reach even a fraction of the people who didn't hear the live broadcast. Instead, you need a comprehensive 'repeats' strategy featuring:
Shows On Your Blog
Downloadable Shows On Your FaceBook FanPage
Timeshifted 'Playlist repeats - the most powerful strategy'
Repeats delivered via Podcast on iTunes etc
Third-party services such as SoundCloud, YouTube etc
Email notifications
Twitter notifcations
RSS Notifications
---
That's Just A Quick Example Of Some Of The Tactics We've Been Using To MASSIVELY Grow Station Audiences…
The fact is, getting more of our existing audience to hear our best content is just one strategy we've been using, and in reality is only a SMALL part of the audience growth we're seeing using Listener Magnet methods.
---
If You Want More Listeners - There Is Probably Just ONE Question Holding Your Back!
"Will This Work For Me?" - This is really important. If you take away one thing from reading this letter, it should be this.
That's very understandable. Non of us want to spend ages testing new strategies to get and keep listeners. We want to focus on creating great output for our audience.
That is exactly why we established the Listener Magnet labs and it has been the singled driving thought behind everything we have done for Listener Magnet.
"Yes - We Have Strategies For Everyone From The Seasoned Station Owner To The Absolute Beginner"
This was really important to us. To create a system that allows you to take your current level of experience and type of station and them give you a custom program of growth and listener retention strategies right for your station.
Listener Magnet 2.0 Is About Helping You Take Your Passion To The Right Audience For You
In other words, we don't show you how to get any listeners. We show you how to get the right listeners for your station to power long term sustained growth.
Let me put it another way. You could pay a ton of money on advertising and get a ton of new listeners. It wouldn't work. The likelihood is that many of them would have been curious but not that committed to your output or type of station.
In other words, the vast majority of new listeners would be gone around 6–8 weeks later.
"Who Else Wants To Grow Their Station On Autopilot, Whilst Doing What They Love?"
This is exactly why we don't believe in advertising as a way to get your core audience. The new audience aren't real and they don't last.
This is actually the corporate brute-force method. It's horrid and responsible for the watered down, poor quality that most of national radio has become.
Put simply these corporate strategies are exactly the reason we got into internet radio - and I suspect you did too. The real power behind Listener Magnet 2.0 is the fact that you get a program plan that is unique to you and what your doing.
---
Getting Listed On Radio Directories Is NOT Enough Anymore…
In the past, getting listed was about the most advanced strategy we had to get listeners. Since then, a small subset of stations (the 1%) have figured out how to get the lions share of the new audience.
That new audience has come as more people can connect to internet radio and are made aware of all the choice.
Many other changes have taken place in the 'transition' years - with corporates bringing their advertising budget to internet radio.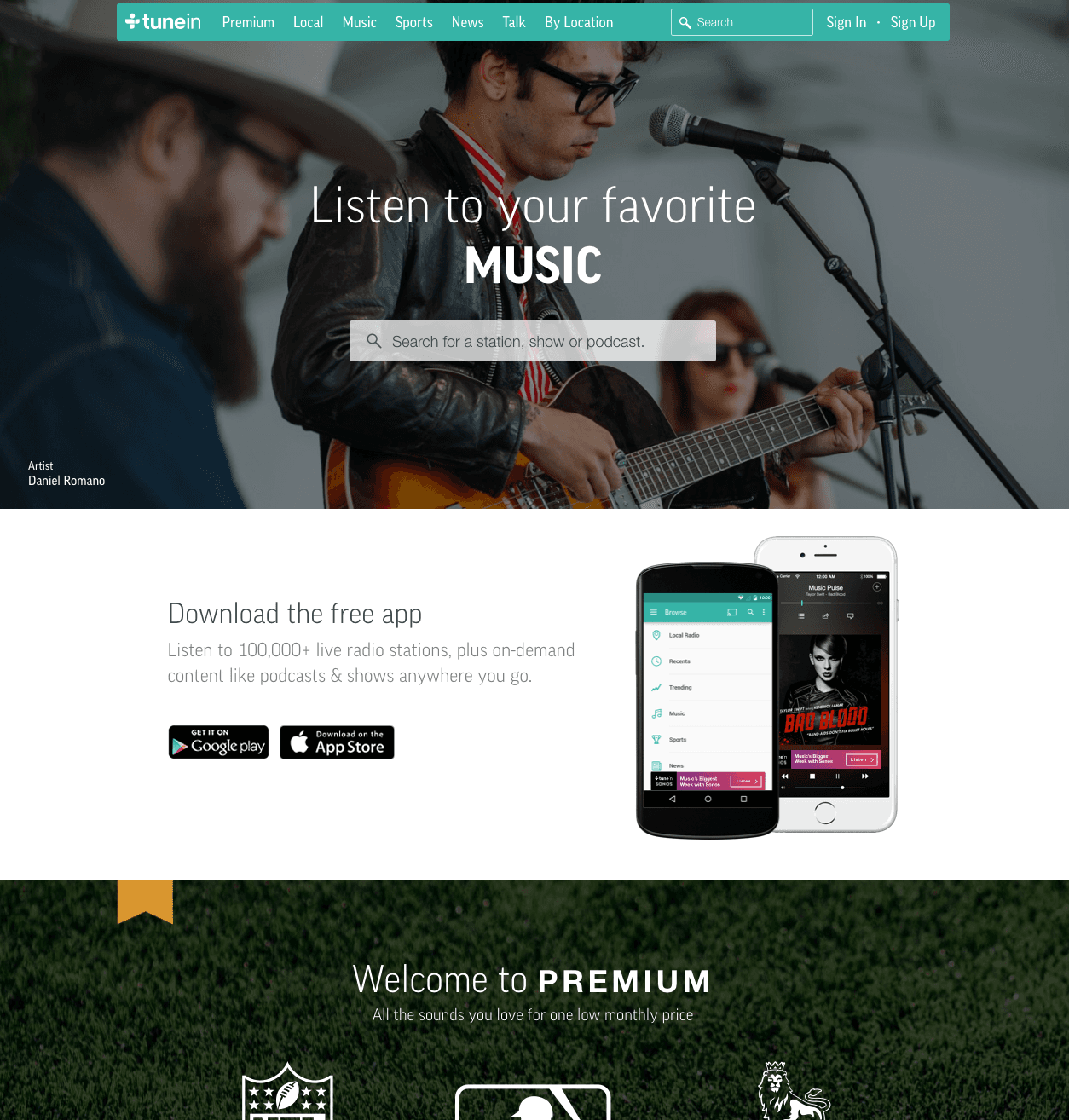 Also - resources like the TuneIn have REALLY changed. We wanted to make sure that our new strategies wouldn't just work for the minority of station types, but every station type...
---
We've Tested The New Listener Magnet With All Sorts Of Station Types And Genres
Sports Talk, To Religious Radio, Politics To Community, Chart Music To Old Time Radio And More…
We've also looked at the various goals that station owners have:
Spreading Their Message
Growing Their Audience To Commercialise Their Station
Getting Noticed By "The Industry"
Selling Their Station
Becoming A Celebrity
Building A Career In Radio
Sharing Their Music
Promoting Their Beliefs
To accommodate all of the different types of internet radio station, genres and goals - we've created a unique system which allows you to see which of our 50 strategies will help you and your station hit your goal as FAST as possible.
It's important to note that Listener Magnet 2.0 is based on getting a quality audience comprised of repeat listeners, not one time listeners.
---
The Original Listener Magnet Transformed Hundreds Of Stations By Revealing The Core Strategies Of Successful Stations
WARNING: Immoral Stations Can Easily Learn To Siphon Off Your Audience And Sabotage Your Station Audience. You MUST Prevent This.
The sad truth is that for radio station owners with the right knowledge it can sometimes prove too easy to cross the line.
There are numerous ways to steal a popular radio stations audience. If that wasn't enough - these 'radio pirates' can then collapse your listener base by sabotaging the points where new listeners find you.
It is CRITICAL that you shore up these weak points now.
Then we show you how to recognise a 'listener' attack and how to defend yourself.
The sad truth is that these tactics are common amongst a small, but persistent set of internet broadcasters from all genres and radio types.
We decided to take their immoral strategies and make them a 'win-win' situation.
Listener Magnet 2.0 shows you how to ethically borrow popular stations audiences and then partner with them.
This means that both stations benefit - but more importantly so do the audience.
Ultimately, the audience is the reason we are all in Internet Radio.
We want to give them a better alternative to F.M. An experience that makes their day better, that gives them hope and joy, an outlet for their passion and beliefs.
---
How Would It Feel To Know That Your Station Makes A Positive Impact On Thousands Of People A Month
If you are delivering great content and you are repulsed by the lower common denominator style of broadcasting awash in the FM world then you MUST read on.
You're already an expert in your radio niche. And your potential audience is out there just waiting for you. It's your mission to connect with as many of that audience as possible.
Here Is EXACTLY What You Get - The Complete 6 Week Course Showing You How To Grow Your Listener Base With Over 50 Unique Strategies
Please Note Some Lesson Names Have Been Intentionally Obscured To Protect The Value Of These Strategies
Welcome & Getting Started
Course Schedule
How To Get The Most Out Of Listener Magnet 2.0
What You Need To Have Done
Let's Start
Your Radio Station
Your Dream
Where You Are Now
XXXXX Be
XXXXX Plan
Week 1 - Your Listeners
Understanding Your Audience
Free Strategies To Get Secret XXXXX
Listener Levels
The Key To Getting XXXXX
XXXXX Your Station
Building Resources
The Power Of Directories
Directories Tutorial
Conclusion
Week 2 - Portal Traffic
TOP SECRET
Content Curation
XXXXX Creation
Guest XXXXX Creation
Week 3 - Media Strategies
Finding Opportunities
Exposure Strategies
Press Releases For Traffic
XXXXX For Reputation
Crowd XXXXX Strategies
Newsletter Strategy
Week 4 - Content Strategies
TOP SECRET
XXXXX
Podcasting
Expert XXXXX
Week 5 - Social Media
Facebook Advertising
XXXXX Bait
PlayXXXXX Pro
Week 6 - Advanced Repeat Listener System
Social Proof
XXXXX
Competitions
TOP SECRET
Trend Bait
Week 7 - New Listener Automation
Sponsorship Hacks
XXXXX Presenter
XXXXX Events
Services
Outsourcing Strategies
TOP SECRET
Automating Social Media
Bonus Content
Mind Control Radio Spots
Simple Money Strategies
Warning - Listener Magnet Is An ADVANCED Program
This isn't a short PDF report or a collection of tips you can find on the internet.
This is the result of years of studying the best of the best - and working one on one with top stations.
We've worked with every type & genre of station. We've seen what works and what doesn't. Now you can get access to over 50 of our best strategies!
We're at the heart of the internet radio industry and as such we are uniquely positioned to share with you what works - because we get to see the big picture…
---
Listener Magnet Is The 100% New System To Get And Keep Listeners For Your Station.
It Includes All Of The Latest Strategies Used By The 1% That THEY Don't Want You To Know About.
The original Listener Magnet sold for $299.00 and has had phenomenal feedback. Stations large and small have benefitted from the original program.
We also saw success across the board - both in terms of radio station style and genre. Talk radio, religious stations, business stations, sports stations, community stations, music stations playing chart, underground, folk, dubstep, bass, Rock, oldtime, electronica, techno, house, hip-hop and many many more!
Just think what doubling your audience would do. Now imagine that happened month after month. New, enthusiastic listeners wanting to hear what you broadcast and share it with others.
What would that do for your message, your passion? How would that alter the perception and profile of you and your station?
Many Stations Pay For Listeners - At Around $4000 Per 10,000 New Listeners. There Is A More Cost Effective, Long Term And Ethical Way To Get Those Listeners.
If you were to go down the advertising route - just how many listeners could you get? Well, from our research we can tell you that you would need to pay between $.40 to $.80 per quality listener advertising via social media. That means to gain 1000 extra listeners you would be spending, at minimum $400.
To get 2000 quality, repeat listeners you would need to spend $800.00. The alternative is to grow your station through proven strategies that keep generating new listeners long after you have set them up.
Special Notice: Listener Magnet 2.0 Is Normally $199.00 - We Have A Special Launch Offer…
You Are Getting Listener Magnet 2.0 & Saving $100!

We think this offers OUTSTANDING value for money. When investing in your radio station we believe that you would rather work with one of the top Internet Radio providers who work with many stations, versus a so-called 'expert' with no real credentials and experts.
As such - when Listener Magnet 2.0 moves to its public, advertised launch the price will rise to a more appropriate price - and this offer WILL not return.
---
PLUS For The Next 7 Days ONLY We Are Including Radio-Spot Control
This fantastic, extra bonus training, will not be made available at the public launch. Put simply Radio-Spot Mind Control is all about how to script and produce radio spots that ARE FAR more effective than the traditional approach. You get a full script and structure breakdown, showing you to how to create spots that get WAY more attention.
---
You're Getting Your Copy By Clicking The Button Below...
Simply click the button below to enrol for the Listener Magnet program. Once signed up - you will be able access the training and get your customised training plan - unique to your station genre, style and your own goals.
Don't forget that this a PRIVATE offer and will expire after seven days.
Sign Up To Listener Magnet 2.0 Training
LIMITED OFFER: GET 50% OFF WHEN YOU BUY THE COURSE TODAY
Video Replays Of Both Webinars Available In The Consulting Module Of the Listener Magnet Members Area
Professionally Produced Royalty Free Audio For Your Station - Over 230 Stings, Scores, Beds & Collections! - Normally Retails For $100
Turn your station into a listener magnet 🧲
Full Course
$199
$99
/ lifetime membership
Instant access to module 1
Exclusive presenter community
Purchase Now