Top 10 UK Radio Disasters (and How to Avoid Them)
Every broadcaster knows live radio can go Pete Tong (wrong) once in a while. Here's our top 10 UK radio disasters and how you can avoid them.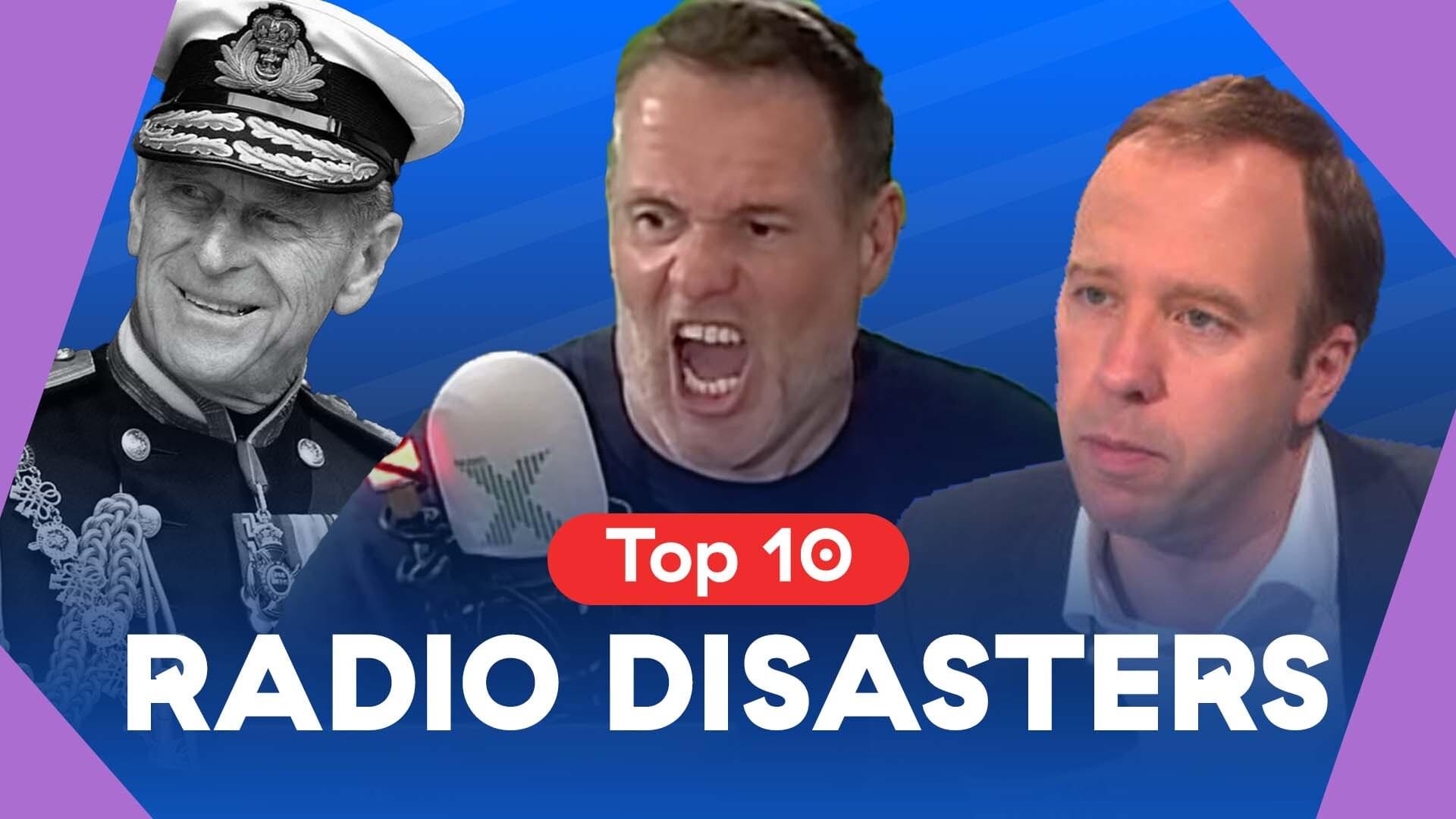 Live radio can be a lot of moving parts, and hey mistakes happen. Here are our top 10 UK radio disasters, from the hilarious to the downright cringe.
If something similar has happened to you, take comfort that even the most highly paid, professional broadcasters fudge it up once in a while.
If not, learn from these clangers and save yourself the on-air embarrassment.



10. Radio Jersey Not Off to a Good Start
Some mornings are hard. Just ask Radio Jersey. Their news presenter got the day wrong. On top of that, their breakfast presenter didn't show up, throwing everyone out of wack.
How to avoid: A loud alarm and strong coffee. And making sure your team is trained on the radio desk, in case someone has to step in for a no-show presenter.

9. Radio Silence on Jamie Cullum's Show
Radio silence is a double-edged sword in that it'll lose you listeners, and could get you fined if you're licensed by Ofcom. And that's what happened on Jamie Cullum's BBC Radio 2 show, when the news failed to materialise.

How to avoid: Make sure you've got someone managing the master output, broadcast with a delay or have an emergency programme ready to go if needed.

8. BBC Radio Ulster Swearing
So many presenters are caught out by an unmuted mic. And sods law means it'll always be on when you're swearing or saying something less than desirable.
How to avoid: Always double check your mic is truly muted. Try making a habit of not swearing at all in the studio (just in case).
7. Mic Fail (From BBC Radio 4)
Next up is another mic fail radio disaster. On top of a live interview, we hear a different presenter swear that it's so effing cold in the studio.
How to avoid: Always double check your mic is truly muted. And have someone listen to the master output to pick up if anything is being broadcast that shouldn't be.

6. Hits Radio Presenter Calls Their Own Voice Sh*t
When it comes to being your own worst critic, one Hits Radio Presenter took this to a new level. Not feeling themselves, they laid into their own voice live on air, calling it sh*t. Awks.

How to avoid: if your chat isn't the right tone, just commit to it and carry on. Chances are your listeners have barely noticed, but they will notice if you eff and blind.
5. A Slip of the Tongue…
Given this BBC radio presenter was discussing a sordid subject matter of a certain American ex-president so perhaps he could be forgiven for mis-pronouncing "election". The best bit is the presenter doesn't even correct himself…
How to avoid: Stick to your script and speak clearly, if you do make an error, just apologise and move on.

4. Jeremy Vine Intro Song Fail
Considering Jeremy Vine has a show every weekday on BBC Radio 2, you'd expect working his radio desk to be muscle memory.
Alas not, Vine has been known to press the wrong button from time to time. Resulting in this radio disaster where he plays his jingle rather than the song he introduces.
How to avoid: Maybe have an off-air refresher on your radio desk before you go live. Or you could even use the pre-fader listen (pfl) listen button on your radio desk to double check what you're about to play.

3. Chris Moyles Loses His Cool… Again
Chris Moyles once had the reputation as the bad boy of broadcasting, but this stunt could be pushing it even for him. Chris cranks the 'I'm the talent' dial up to 100, even his producer tries and fails to get him to simmer down.
How to avoid: Keep your ego always and forever in check.
2. James Whale Breaks Ofcom Code on Election Impartiality
Despite all the "warnings" from his co-host, James Whale repeatedly told listeners to vote for BoJo for Mayor of London on his TalkSport show and as a result broke the Ofcom's rules on impartiality at the time of an election.

This lost him his job and cost TalkSport a £20,000 fine.
How to avoid: If you're licensed by Ofcom, learn the code and stick to it.
1. Radio 1 Dance and Prince Philip's Death
Some call it radio disaster, others call it broadcasting genius. When BBC Radio 1 Dance announced the death of Prince Philip, it was timed in such a way that the national anthem cut into a middle of a dance track.
How to avoid: It's not everyday you'll have to interrupt a song to announce the death of a Royal, but maybe quickly fading the music will keep things in a more serious tone.
That's a Wrap...

Those are our top 10 radio disasters, that happened on UK radio. Have you had any big blunders yourself? And if so, how did you deal with it? Let us know over on your favourite social media platform.