Best Audio Interfaces For Online Radio
If you want professional sounding broadcasts, an audio interface is essential. Power your microphone and sound great by choosing from 6 best audio interfaces for online radio.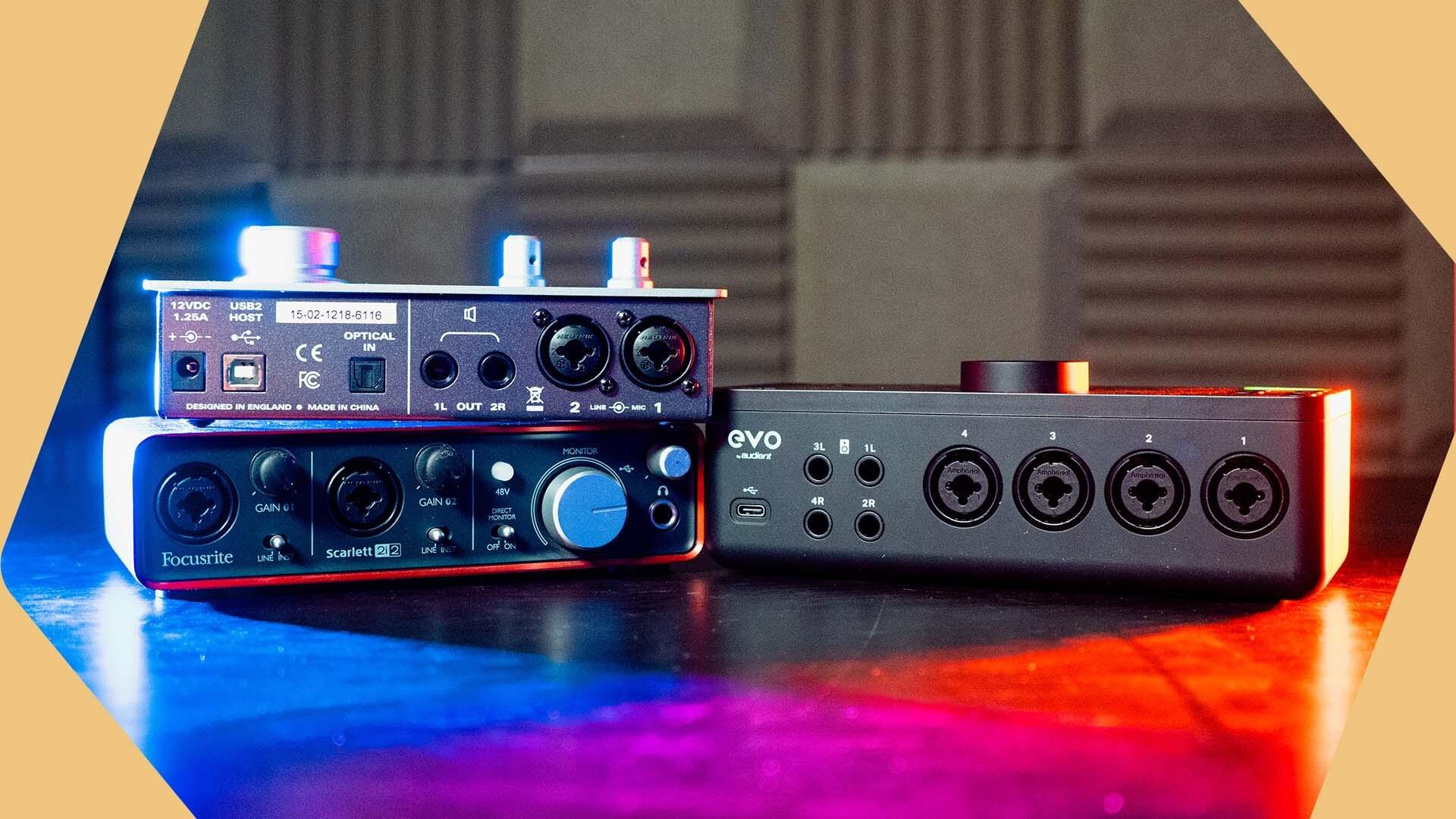 Buying an audio interface is no longer the cut and dry experience it was once. In recent years some strong contenders have entered the market-place. And the best-selling interfaces like the Focusrite Scarlett 2i2 now have healthy competition.
If you're a complete broadcasting beginner, keep reading for an explanation on what an audio interface is. And why you need one.

But if you've been in the game a while, you can skip down to our round-up of 6 of the best audio interfaces for Windows and Mac, and for all budgets. The audio interfaces we've listed are largely for home-studios or small radio stations. But there's also an audio interface option for growing radio studios too.
What is An Audio Interface?
Essentially, an audio interface is a device that converts analog signals (e.g.from a microphone) into digital audio. Digital audio can be read by your computer and broadcast online.

But that's not all it does.

Just as an audio interface converts analog signals to digital, it can do the reverse. Connect your audio interface to your computer, and it'll take digital audio and convert it to analog. The analog signals are sound waves. And you hear these either through headphones or speakers. Audio interfaces are also sound-cards that improve the quality of your computer audio.
Audio Interfaces Power Microphones
Many elements of your radio studio will produce analog signals. These signals need to be converted into digital audio to be broadcast online.
Probably the most essential and common bit of radio kit that produces an analog signal is an XLR microphone. XLR mics produce less noise than USB microphones. And give you a professional, cleaner sound.
The audio interface connects your XLR mic to your computer and provides the power for it. For condenser microphones, that's 48V aka Phantom Power. For dynamic microphones, an audio interface will boost the gain on the mic to give you a usable signal.
Best Audio Interfaces For Online Radio
Here's our round up of the 6 best audio interfaces for online radio. It's worth noting though, these are the audio interfaces we recommend specifically for radio, and not for music production.
Fancy actually hearing some of these interfaces? Then check out our founder, James, review a few we've listed here:

1) Focusrite Scarlett 2i2

The Focusrite Scarlett 2i2 is a best-selling audio interface and for good reason. When we think of a USB audio interface, the Focusrite Scarlett 2i2 springs to mind. This popular interface gives good audio quality but an entry-level price point.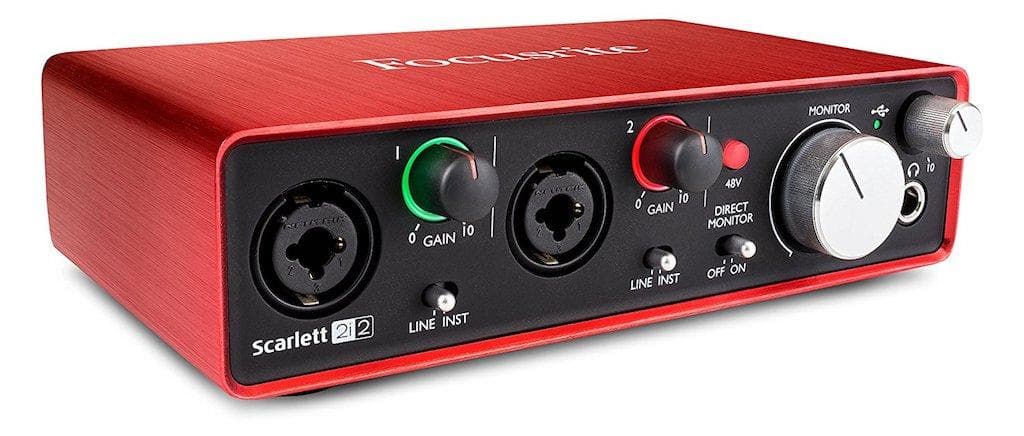 The Focusrite Scarlett 2i2 has two XLR inputs, allowing for two microphones in your radio studio. It's compatible with Mac and Windows, and connects to your computer via USB 2.0.

Overall the Focusrite Scarlett 2i2 is simple to use. It's class compliant with Windows and Mac so you won't have to install any drivers (software components) to use the interface. Alongside being plug-and-play, other features keep things simple.
An extremely reliable interface at an affordable price
Notably, the Focusrite Scarlett 2i2 has two gain dials for your microphones. These dials flash green when your mic signal is good, amber when it's starting to peak, and red when it's peaking and is at risk of clipping. This quick and easy visual indicator for checking the mic gain is especially useful if you're a beginner.
Price: £135/$155
Specs
2) Audient iD4

Like a desktop controller, the Audient iD4 is designed better to integrate with Digital Audio Workstations (DAWS) like Adobe Audition, Audacity or Logic. Its flat-level design has the dials on the top of the interface, giving you control of the gains and monitor volume at your fingertips.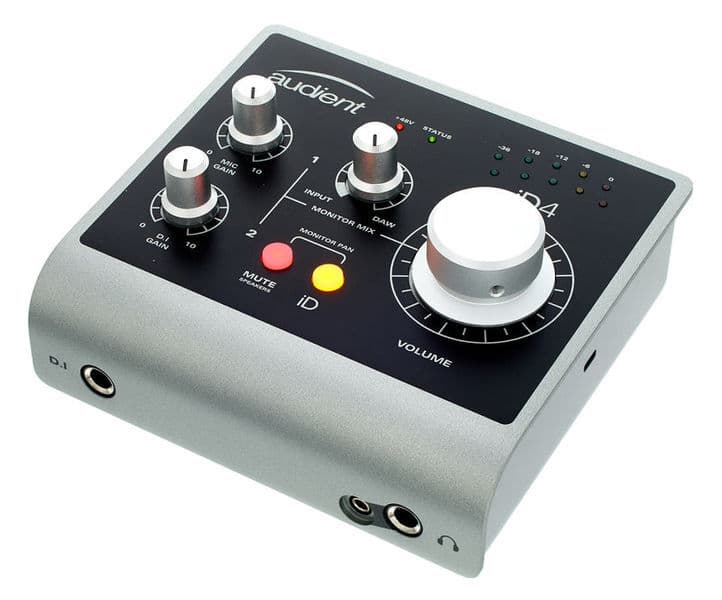 Just like other Audient interfaces, the iD4 has the Audient Console Mic Preamp - the same pre-amp found in Audient's higher-end mixing desk. Sure enough, we've found the Audient iD4 has better audio quality than the Focusrite Scarlett 2i2, and many people report that the Audient iD4 gives a warmer sound for vocals as well as less self-noise.
The Audient iD4 only has one XLR/jack input alongside a J-FET-based instrument DI input, so is not that suitable if you need 2 mics in your radio studio. The iD4 does have both a 3.5mm and a 1"4 jack for its monitoring options though, in case you ever misplace your studio headphones.
An interface offering brilliant audio processing & audio loopback
The Audient iD4 also boasts audio loopback. Audio loopback lets your microphone and your computer audio be recorded on separate channels - all through your audio interface- giving you greater control of mixing your audio.

Price: £129/$199
Specs
3) Audient EVO- 8

The EVO 8 is another stellar interface from Audient, but with some more intuitive features than the iD4.
The EVO 8 is aptly named after its 4 inputs and 4 outputs. This interface has 4 x XLR/1"4 jack inputs, alongside 4 line outputs. Providing you're using a USB-C connection, the EVO 8 can provide 48V phantom power on all four channels. But if you're using USB-B, it'll provide 48v phantom power on two channels.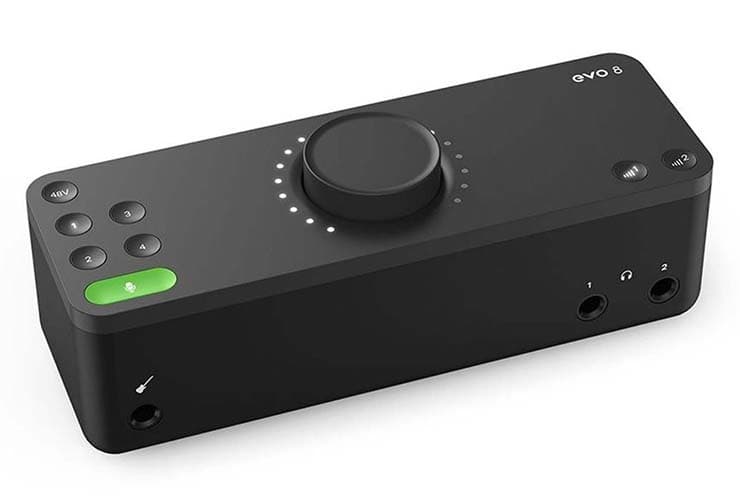 The EVO 8 also has two headphone outputs, and similar to the SSL2+ you can have two different mixes in the headphones. So a producer/engineer/presenter could hear everything that's being broadcast, whereas a radio guest will not be distracted by hearing something other than the vocals.

But it's the intuitive features we're really here for. For example, the EVO 8 has a smart gain feature. When you plug in an input to a channel, the interface will indicate where the gain should be set. Not only will this be invaluable for beginners, it can be a real time saver for even the more advanced broadcasters.

The interface offering extra channels and intuitive features to make broadcasting easier.

Similarly intuitive is how the interface will mute your speaker output when you plug headphones in. Eliminating the task for you and ensuring you don't get any feedback!
Price: £160/$199
Specs
3) Zoom PodTrak P4

Strictly speaking the Zoom PodTrak P4 is marketed as a 'Podcast Recorder' however, with phantom power on all 4 of its mic channels, it's essentially an audio interface.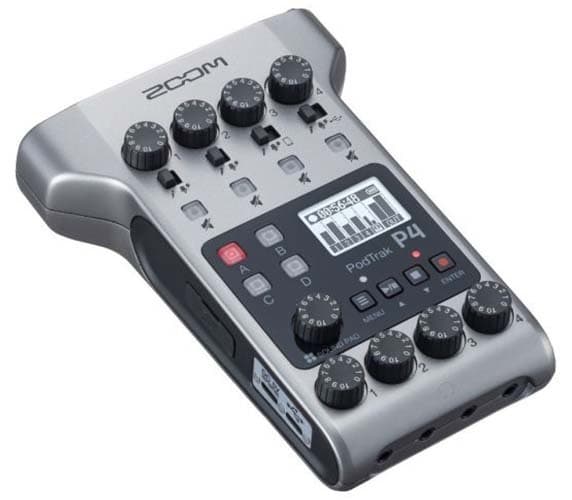 While the PodTrack P4 has 4 XLR inputs, and 4 x 3.5mm jacks for headphones it does not have any other inputs, so doesn't offer many options for recording other analog signals like mixers. Nonetheless the PodTrak 4 is a decent option for talk-based radio if you'll be playing music from your computer.
The phantom power can be turned on/off on each of the 4 channels, meaning you can use a mix of dynamic or condenser XLR mics. Each of the 4 channels has its own gain and mute controls, so you adapt to the quietness and loudness of your guests.
A good interface for talk-based radio, podcasting and recording vocals out and about
The PodTrak 4 is powered by USB-C or AA batteries, making it a portable option for recording in the field. As I'm sure you've guessed from the name, it's a useful tool for recording podcasts too.
The PodTrak P4 lets you record calls, so your guests can join the conversation remotely. It also boasts sound pads, which can be programmed with an SD card, allowing you to easily play jingles, idents and sound effects.
Price: £156/$240
Specs
5) SSL 2+

Although the SSL 2+ is a 2-channel interface like the Focusrite Scarlett 2i2 it, offers a bit more in terms of inputs and outputs. It has two 1"4 headphone jacks for monitoring, rather than the 2i2's one jack. Alongside the two 2 XLR/jack inputs, the SSL 2+ has 2 x dual RCA outputs and 2 x 1/4" TRS (L/R) outputs. The SSL 2+ also features a midi in/midi out, making it more versatile in what you connect.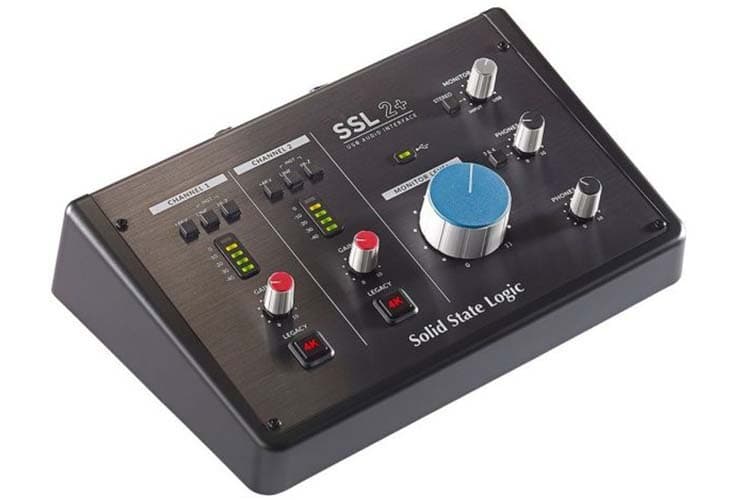 A nice feature is that the interface allows different mixes in two headphones outputs. So you can create a separate mix in your DAW and listen to it on another set of headphones.
If you turn the monitor mix dial down to input, you can monitor your inputs with no latency - ideal for live broadcasts.
A good interface for providing rich, analog type sound and broadcasting the occasional instrument
Whilst we're still advocating for audio interfaces for radio here, the SSL 2+ is a great option if you occasionally want live instruments on your radio show - like a singer-songwriter.
Solid State Logic has a well-deserved reputation of producing brilliant pre-amps, compressors and EQ. And this interface offers a great, clean sound with very little noise. The real selling point are the 4K buttons. Based on the renowned SSL 4000 mixing desk, the 4K button provides your inputs with a high frequency EQ boost as well as some 'subtle harmonic distortion'. These work to enrich your audio with an analog sounding enhancement.
Price: £235/$299
Specs
6) Apollo Twin

Priced at over £800, the Apollo Twin is a serious step up from the other interfaces on this list. At this price you should expect exceptional audio quality and the Apollo Twin does not disappoint.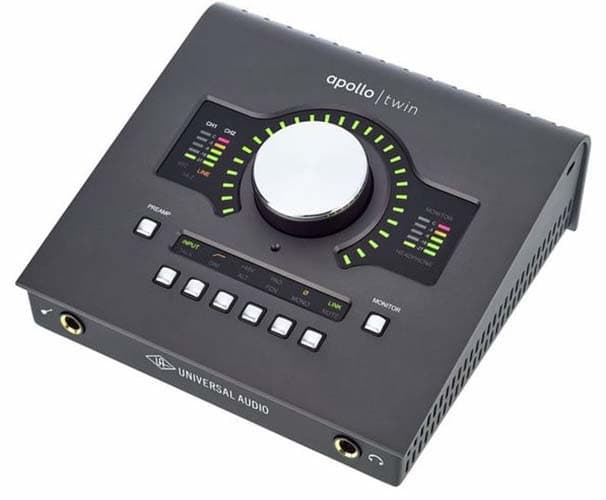 When purchasing the Apollo Twin, you'll gain access to some Universal Audio plug-ins that are bundled with the device, or you can pay for other UA plug-ins you want.
Notably, the Apollo Twin has Digital Signal Processing (DSP) chips that run plug-ins directly on the device. So when plugging in the mic, you can tweak the various plug-in settings from a control panel on your computer, and this in turn will be applied to your mic signal. This gives users a huge amount of control over how vocals sound. Also, plug-ins can be run on top of each other, meaning you can effectively set up a chain.
Exceptional audio quality & a piece of hardware you can expand upon
The Apollo Twin does your processing on the interface itself, which not only frees up processing power on your computer, but dramatically reduces latency which can be disconcerting when broadcasting.
If you go for the Apollo Twin, the thunderbolt connection allows you to daisy-chain up to 6 other Universal Audio devices to it. So, the Apollo Twin allows you to expand your hardware as your station grows, whilst continuing to use the interface.
Price: £850/$1300
Specs
To Wrap Up
With so many good audio interfaces on the market, radio broadcasters are in a good position where they can pick one suited to their specific needs. What audio interface do you swear by? Let us know over on Facebook, Twitter or Instagram.