Best Radio Broadcasting Software You Should Know
Choose the best radio broadcasting software for your station, from simple solutions to professional programs, here's everything you need to know.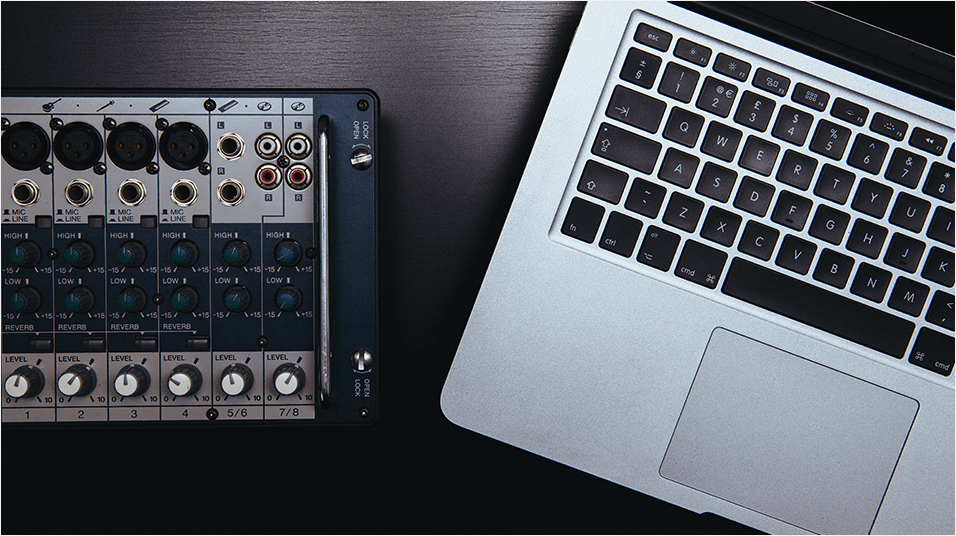 You're probably asking yourself "What's the best radio broadcasting software for my station?", which is a tricky question when you're new to this sort of thing. Admittedly, there's no shortage of choice online, which isn't necessarily bad as you can pick the right one for you.
Whether you're a first-time internet radio broadcaster looking for something simple or an experienced professional scouting for a better alternative, the following covers all bases ranging from easy "click and broadcast" to complex "oh my god why are there so many buttons" solutions.
Whatever the case may be, it's recommended to go over all the options first before deciding on the right one you want.
Schedule Live Events
Before you can do anything you need to schedule a live event for when you want to broadcast.

How to Schedule an Event
To schedule a live event, go to the Schedule in your Radio.co dashboard.
Click on the date and time in the calendar at the point you want to schedule an event.
Adjust the start and end times.
Select a playlist (The playlist is used for backup purposes, it will air in the event the DJ is unable to connect, or does not show up for their slot).
Select a Live DJ.
If you want the show to repeat then select the days you want it to repeat on, it will then add it to the selected days every week forever on your calendar.
Check everything is correct and click Update.
Broadcast Live Anytime
If you're the designated station owner, you can now take advantage of our Live Anytime feature. With this, station owners do not need to schedule an event to broadcast live; all they need to do is hit connect, so long as there's no one already live.
This feature is not accessible to anyone other than the station owner. Any DJ's will still need to have a live event scheduled to go live.
As default, Live Anytime is enabled. You can turn it off if needed by heading to Settings>Broadcast>Live Anytime.

Managing Multiple DJ's
Giving access to multiple DJ's poses a problem - On one hand they can broadcast through your station, but on the flip side handing over complete freedom can wreak havoc on any structured shows you have in place if they spill over their time slot.
User roles in Radio.co restrict access to who can schedule live events - The following can schedule and automate events:
Owner
Station Manager
Music Controller
The DJ role however is restricted - Broadcasters assigned to DJ can only access pre-existing events, this way you have control over your shows.
For an in-depth look at setting scheduled events then check out the Schedule a Live Broadcast help guide.
I'm New to Live Broadcasting (Simple)
If you're just starting your internet radio station, are in a trial period, or just want to get up and running in a couple of minutes then these are the best radio broadcasting software solutions for you.
Radio.co Broadcaster
Radio.co Broadcaster is a simple way for you to broadcast your shows online.

Our new Windows desktop software lets you and your DJs broadcast live from your computer or laptop. It's easy to set up and you can play music on any application such as Spotify or iTunes. You can even hoot up a USB microphone to talk over the music.

BUTT
BUTT stands for Broadcast Using This Tool, which pretty much sums up its simplicity.

Free and easy to use, BUTT offers a simple way to broadcast live with just a few clicks. It may not look like much, but it offers anyone on PC, Mac, or Linux the option to download and start using it without spending a penny.
BUTT broadcasts any input source on your computer, which is great for external microphones, mixers, or even pre-built mics, however, it only handles live feeds like talking into a microphone or your computer's sound-card, meaning it can't hijack the audio stream of a media player and broadcast it like Winamp or Nicecast.
Audio Hijack
From the creators of Nicecast, Audio Hijack is the simplest way to broadcast live audio or music from your Mac.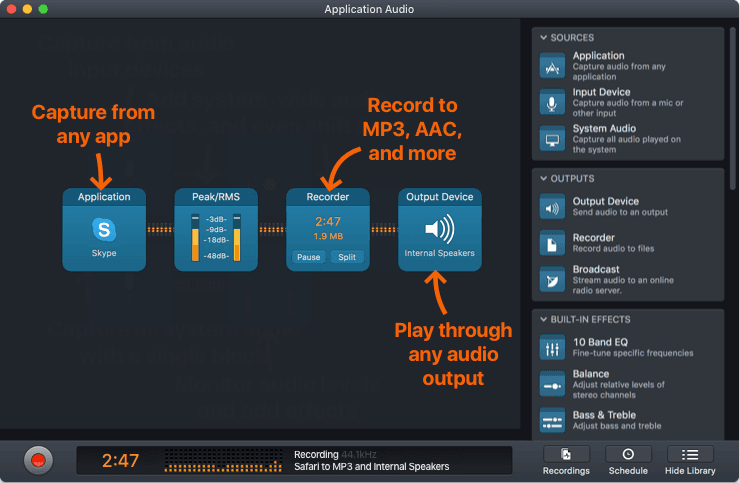 Audio Hijack allows you to create easy to manage blocks which you can drag and drop in the app to easily set up broadcasts from any input source on your Mac. There's also built-in effects you can sandwich between blocks to adjust the EQ, balance, ducking and much more. While you can download a free trial, Audio Hijack is a paid software broadcaster so you need a license to use it.

Loopback
Similar to Audio Hijack, and produced by the same company, Loopback allows you to easily organise and route audio from iTunes, Spotify or a microphone to places like Skype, Discord and broadcast software on your Mac. Allowing up to 64 channels, individual channel volume control and custom channel mapping, Loopback is a great, easy to use tool for any starter or experienced broadcasters.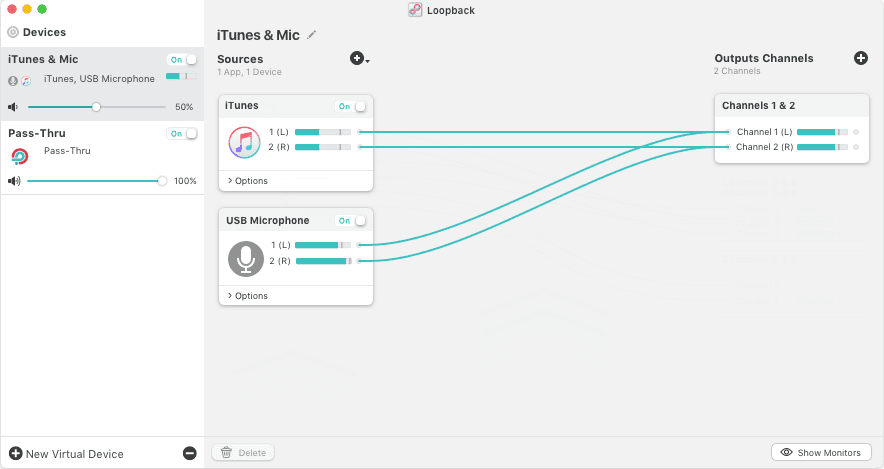 For Loopback to work with Radio.co it will need to be used alongside a broadcasting tool such as BUTT. You can download a free trial version or purchase the full version with a licence key.
Winamp
Probably the most well-known media player, Winamp was and still is to this day a free and simple broadcaster for Windows users.
Coupled with the SHOUTcast DSP plugin, it allows you to manage your tracks into playlists, control stream output with fades, and add effects whilst broadcasting directly to your radio station.
Broadcast either music or live talk with an external source like a microphone or mixer.
Altacast (Edcast)
You may never have heard of Altacast, that's because it was branded under the name Edcast, but nevertheless, it's a fantastic piece of free Windows broadcasting software you should check out.
Although initially a bit fiddly at first to get setup as you have to add your own encoders, it offers minimal design in its user interface so you only need to enter your server details, choose a recording source like a microphone, mixer, or line in, then click Connect.
I Have Some Experience (Enthusiast)
If you've dabbled in broadcast software before and have a grasp of the basics, but you're looking for something more advanced that will allow you more control without busting the bank, these are the solutions for you.
PlayoutONE
PlayoutONE is a great all-in-one package for Windows that allows you to easily manage your music, organise playlists and voice tracks for affordable prices.
PlayoutONE is designed with simplicity in mind, including web browser access which allows your DJ's to broadcast and arrange their playlists without needing anything other than a URL, microphone and internet connection. It comes in numerous packages, but the Pro package features Web Voice Tracking, auto ducking and silence monitoring, which will email you if it detects long periods of silence in broadcasts and will even auto load audio files in the case of emergencies.

If you're not sure about paying for this software, they offer a free trial so you can decide if it's right for you.
RadioBOSS
RadioBOSS is designed to take professional level broadcasting tools and streamline them to make managing your music affordable and simple. In comparison to some of the other beginner software it may seem more complex, but it offers plenty of features such as volume levelling, crossfade editing, block rotation and much more in one streamlined package.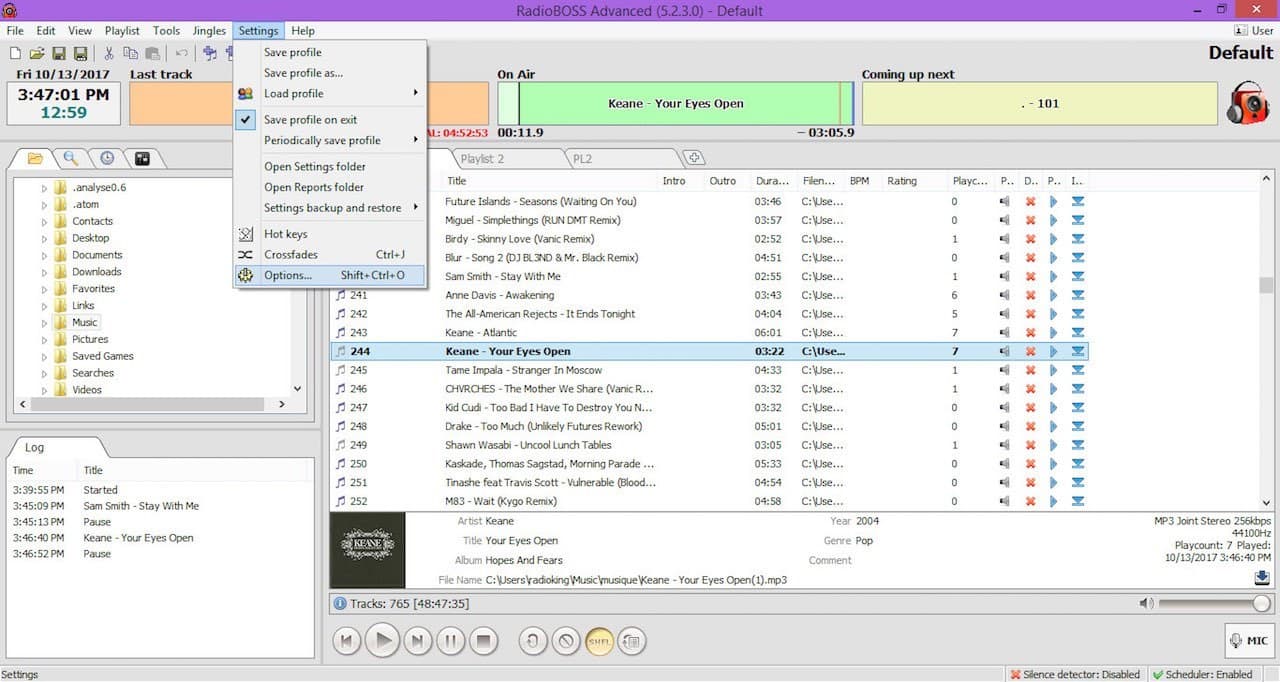 RadioBOSS is a paid service, and only available on Windows, but you can try it for free up to 150 times before being expected to pay anything, so you have plenty of time to figure out if it's right for you.

I Know What I'm Doing (Professional)
If you're a well experienced professional radio broadcaster looking for a better alternative, want to know what's on offer, or you're just looking for more advanced and powerful features then these solutions are what you're after.
Virtual DJ Pro
Virtual DJ Pro is an audio mixing software solution that DJ's use in place of old school vinyl or CD based mixing decks.
Supported by both Windows and Mac, Virtual DJ Pro excels in beat mixing and media management cueing, it also allows just about anyone to start mixing in audio without the need to buy a bunch of expensive equipment, essentially it has everything you need to sound professional.
NextKast Pro
Designed for professional broadcasters, NextKast is a quality piece of broadcasting software that focuses on advanced features.
Crammed with plenty of bells and whistles, NextKast allows you to broadcast live audio online to SHOUTcast v1, v2, Icecast v1, v2, or Radio.co - Alternatively automate shows with rotations and playlists throughout the week and use progressive features like adjusting track crossfade times, automatically trim dead air, and managing all your media within the program.
NextKast is Windows only and requires purchasing, but offers a trial version so you can try before you buy to see if it's worth investing your time and effort.
SAM Broadcaster Pro
SAM Broadcaster Pro is one of the most advanced pieces of broadcasting software with media management, mixers, relays, and statistics.

Power and control are at the forefront of SAM Broadcaster Pro with multiple mixing desks for audio synchronization and mixing controls like the FX voice feature to manage how you sound when broadcasting your voice online.
Standout features include playlist creation and high set rotations, scheduled shows, real-time listener info, and the ability to mix two shows for voice overs and fade in and out segues.
Although this broadcasting software is Windows only and carries a commercial license, meaning you have to pay to unlock the full version, it offers a free trial so you can see if it's right for you.
Mixxx
Mixxx is the ultimate free audio mixing software solution that allows for a wide range of media management, voice tracking and broadcasting.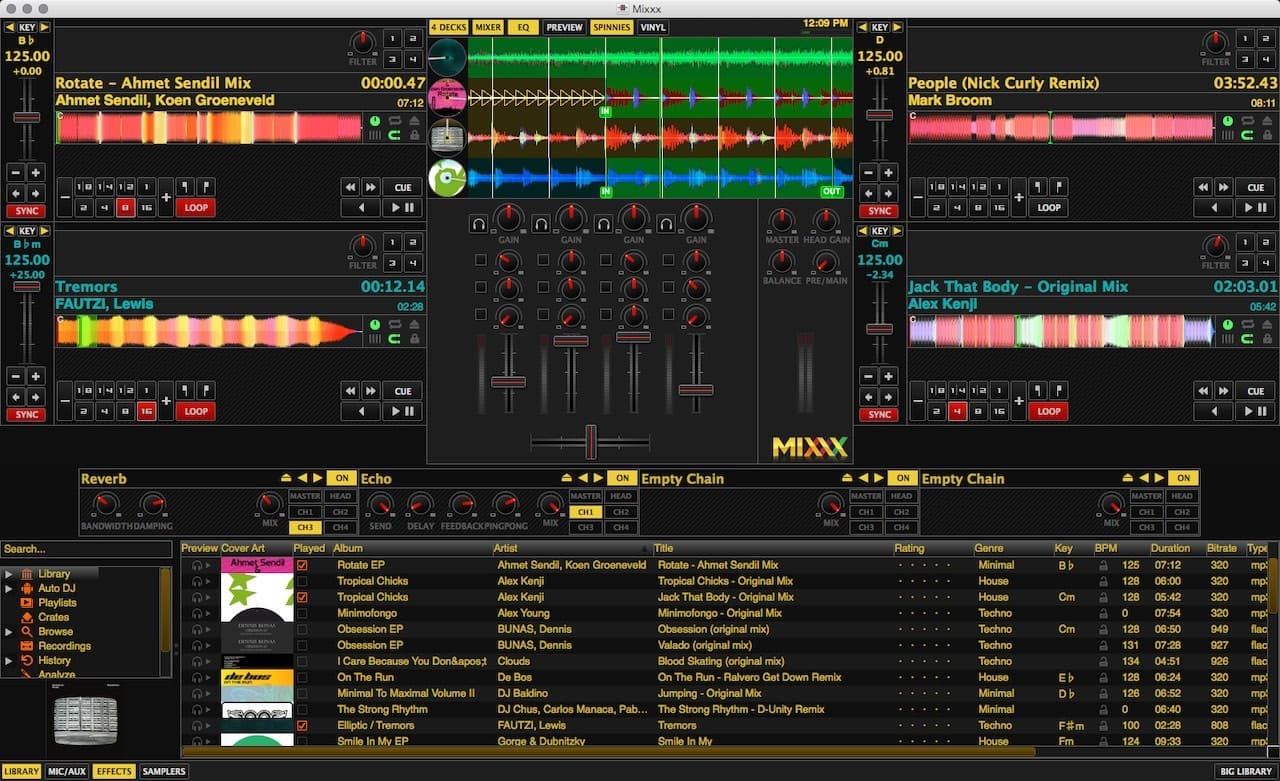 Compatible with Shoutcast, Icecast and Radio.co, Mixxx is a comprehensive broadcasting tool that allows for advanced mixing features, playlist organisation, track automation and full track information, inputted either manually or through MusicBrainz, Mixxx's comprehensive music encyclopaedia. You will need to download the LAME MP3 encoder to allow it to stream through your online station.

It is a highly professional piece of software for Mac and Windows, making it an incredible steal at no cost, although you can donate to the developers if you want.
Serato DJ
Used by legendary DJ's like Mix Master Mike and DJ Jazzy Jeff, Serato DJ has quite the pedigree backing it up. Unlike the other software featured, Serato is compatible with a large variety of hardware, such as mixing desks and vinyl decks.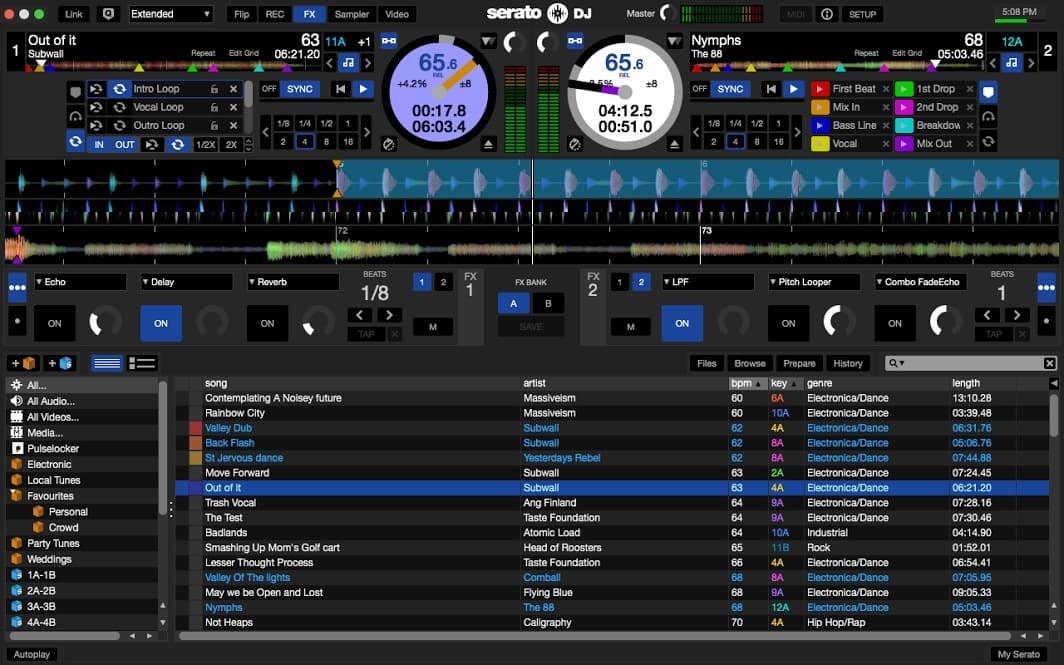 To broadcast through Serato you will need to route your audio through a multi-channel encoder such as BUTT. Despite this, it is a fantastic, easy to use piece of software which allows you to record your shows for later use, manage your tracks and playlists through a simple interface and even manage your tracks remotely from your mobile.

Serato DJ is a premium product for Windows and Mac requiring a paid licence or full purchase to use, although there is a free trial available for those interested.
The Best Radio Broadcasting Software
Deciding the best radio broadcasting software solution can make or break a station as it's a tool that you will constantly rely on.
Ensure you have weighed up the advantages and disadvantages of each program and how you can make the most out of the functionality on offer before committing - Research each tool, see what others are saying, and even try them out first if you can.
Whether it's a free broadcaster or a paid premium one, make sure it does everything you need it to. Alternatively, if you're not quite at the stage of getting a broadcaster and looking for a hosting platform then either get in touch with our in-house experts for a quick chat or try Radio.co yourself for free!