DBX 286S Microphone Processor Review & Setup
DBX 286S microphone processor review and setup - The unit is perfect for radio broadcasters and can give your voice added presence on air!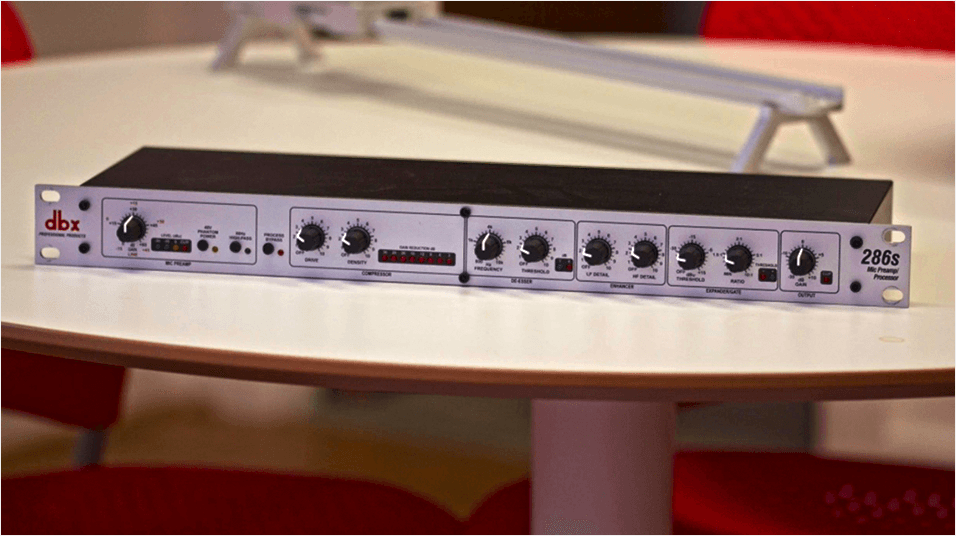 Looking for a great microphone processor? Check out the DBX 286S. It's a fantastic piece of audio processing equipment perfect for your home studio. Here's why...
DBX 286S Microphone Processor
Did you know that most commercial radio stations use compression and audio processing? They do this to add larger volume and quality to their shows, which gives presenters added presence to their voice.
The DBX 286S retails for around $190 / £135, ideal for those on a budget. It's available on Amazon USA and Amazon UK.


The team here at Radio.co have been using the DBX 286S for the past few years in the studio, you can even take a look inside:
Why Use a Microphone Processor?
Microphone processors give your voice clarity and a crisper feel. Radio presenters use processors to add warmth to their voice and to sound more present when broadcasting, which is key if you're going up against other stations.
Another thing processors do well is remove background noises and sibilants, which are words with the letter "S" in that usually causes problems due to the higher frequency and bad signals that distort the "S" sound.
Generally speaking, microphone processors like the DBX 286S enhance your voice and give you a bit more punch on air.
How Do I Get Setup?
We'll show you exactly what each bit of the DBX 286S, what it does, and how to set it up.
Mic Preamp Gain
The mic preamp gain is the overall volume and application of your microphone. When the level is set correctly when you speak you're not going to clip the red light, but the 2 green lights should be on when talking.
If the green lights aren't being hit then you're talking too quietly, so try and find that perfect balance.
Phantom Power
The DBX 286S has a 48v phantom power switch which is used to power most condenser microphones like the Behringer B-1, Blue Spark, and Neumann TLM 103 as mentioned in How to Get a Radio Voice post and a few others in Best Microphones for Online Radio post.
High-Pass
The high-pass 80Hz cut out switch helps to reduce background noise like low hums, rumbles, and wind. It will however reduce the dynamic range of your voice, like talking loudly will be softened, so it's recommended to switch this setting off for most of the time.
Process Bypass
The process bypass disables all other settings mentioned below. It's recommend you disable this setting when you don't want to highly process your audio.
Compressor
The compressor makes a real difference to your voice. It adds a punch to what you're saying, it crunches and compresses your voice so it's at 1 level.
We recommend adjusting the Drive to around 3 and Density to around 3 as well. Tweak these settings to develop a sound that's really good for your station and your style of voice.
De-Esser
We mentioned sibilants earlier on, which affect words with the letter "S" in. The De-esser helps remove S's from speech. Set the Frequency to 4k and the Threshold between 1 and 2, but it really depends on your voice.
The best way to set this is to say "S-ssss", then adjust it until you're happy with the result and it works with your voice.
Enhancer
The enhancer is what give you that "radio sound" that broadcasters look for. It enhances the highs and lows of your voice by taking audio and enhancing the levels.
Set LF Detail and HF Detail to around 2 and 3. If you've got a low voice then you won't need to add more bass, the same goes if you've got a high voice, so try and level it out by adjusting the knobs.
Expander & Gate
The expander and gate act as the switch to minimise background noise. When you're not talking into the mic then it will reduce sounds. We recommend setting the Ratio to 151.
The Threshold should be set to 0 for perfect silence when you have your headphones on, this means you should hear background noise. When you turn it up the background noise will start to fade away.
Output
The Output should be set to 0. Adjust this if need be to fit the equipment you're using like a mixing desk or a USB soundcard like the Scarlett 2i2.
Make sure the equipment isn't going into the red section on the metre - Keep your eyes on those metres at all times.
Whatever device or whatever part of the system, make sure you're not going into red because that will ultimately cause clipping and problems for your listeners. Buy the DBX 286S on Amazon USA or Amazon UK.
---
Now is the perfect time to build your home studio with Radio.co - Join the Radio.co family today to start your 7-day free trial by hitting the button below.