Radio.co Data Reveals Boom in Lockdown Listening
The world has changed. We're changing with it. Lockdown listening has exploded and broadcasters are rising to meet the increased demand. Don't miss your opportunity, start broadcasting today.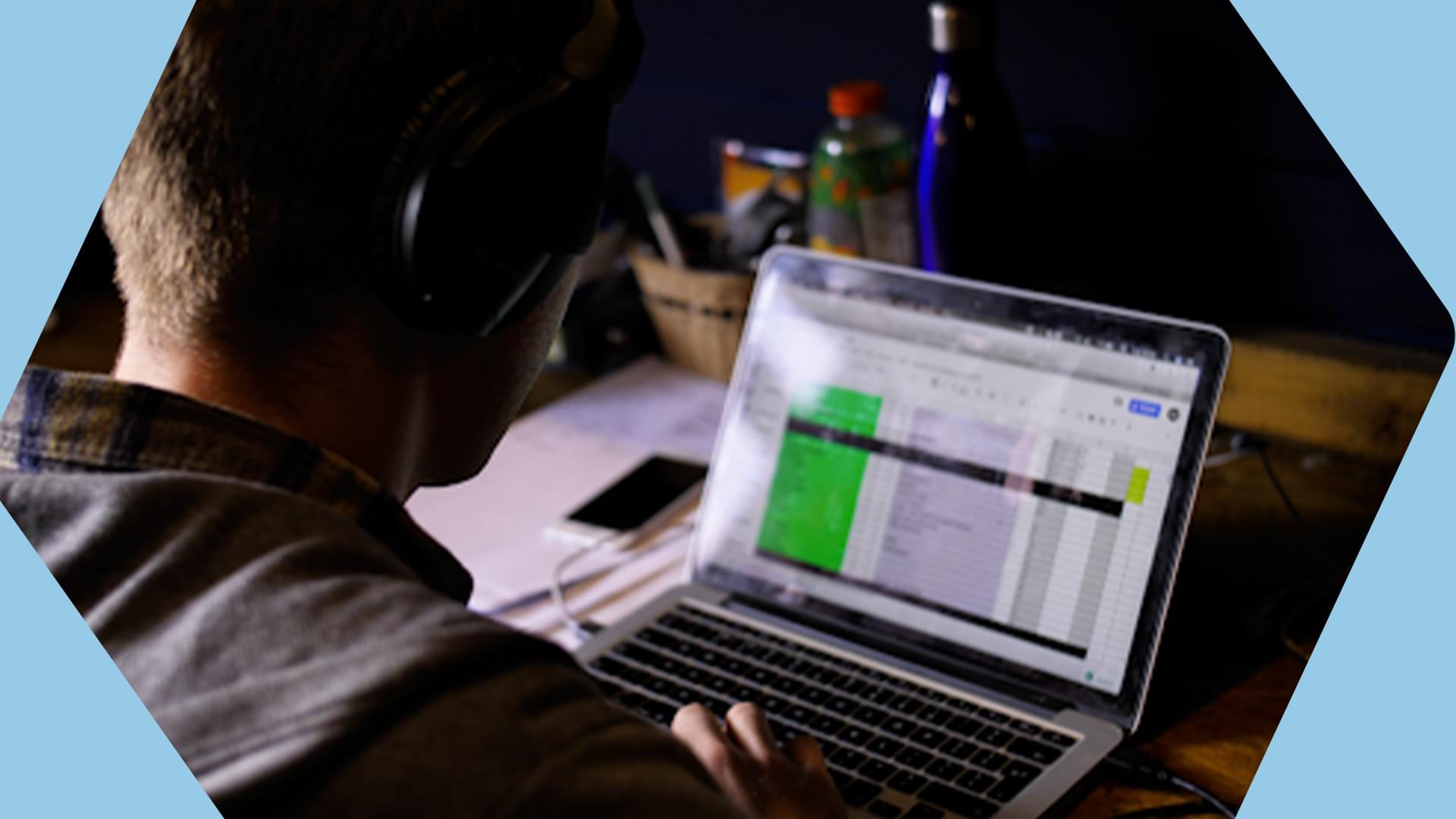 Lockdown Listening; How Much has Changed?
Since the lockdown began, listening figures are up. In the UK, listeners have gone from tuning in 12 hours a week to a massive 26 hours a week! Radio.co daily listening figures have surged massively, doubling what they were prior to quarantine. Unsurprisingly, new stations have been signing up for our services, eager to rise up to the increased demand of lockdown listening.
The graph below shows how much listening figures have risen since the beginning of March, at times quadrupling the numbers we were averaging before the lockdown.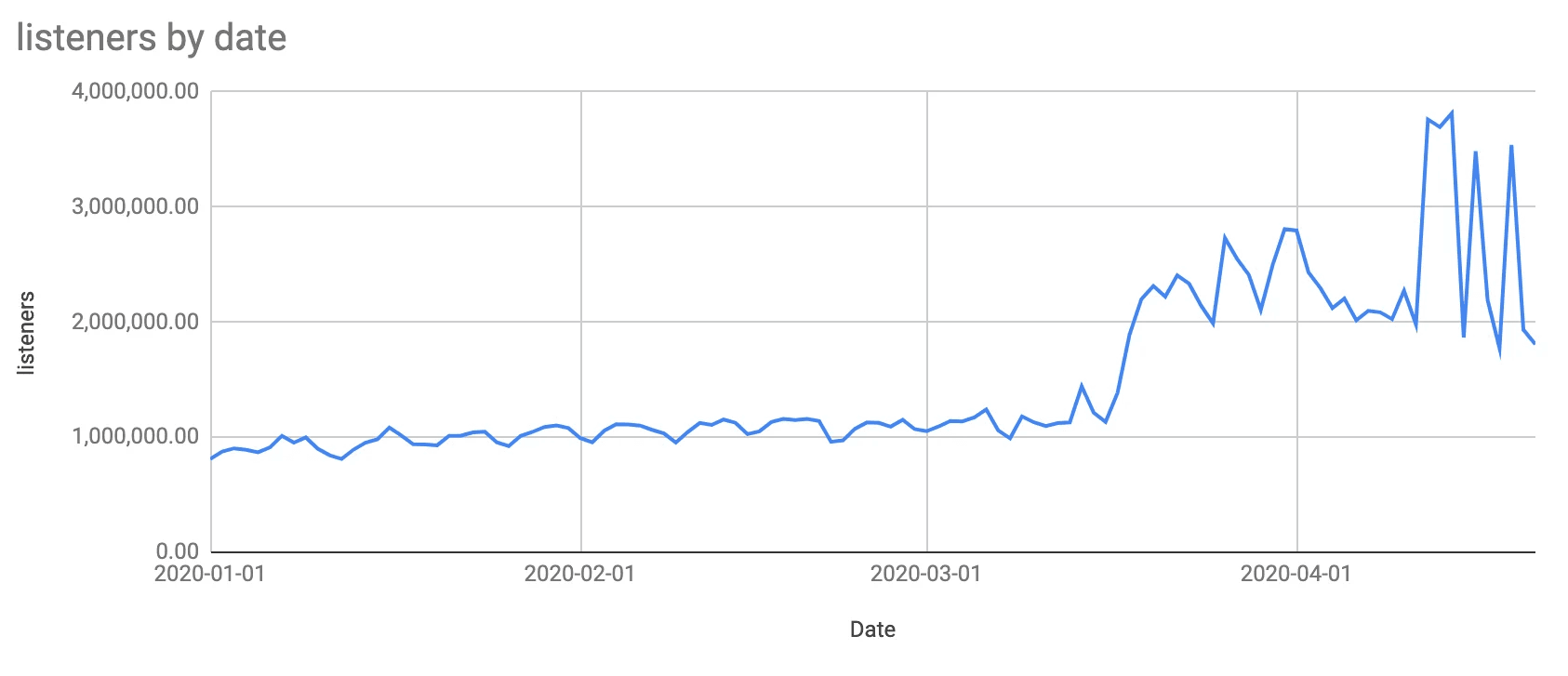 As you can imagine, with such a drastic increase in listeners and broadcasters, we at Radio.co have our work cut out for us keeping up with the increased demand of lockdown listening and the potential strain that could put on our workforce. And with some experts expressing the idea that social distancing measures may be required until 2022, this may be something we have to deal with for a while.

Happily though, we're always prepared for a challenge and have been implementing measures to ensure that all of our customers and listeners get the great service they've come to expect!
New Friendly Faces 🙂
As part of our efforts to constantly improve our services, we have taken on 3 new team members onto our Customer Success Team, who handle customer queries and sales.
Joshua R
"As a Customer Success Officer, my role is to use my experience and knowledge of Radio.co to assist broadcasters from all walks of life. That's exactly what attracts people to this platform - the human aspect. The fact that people who are behind the support screen are people that have been where they've been."
Lester F
"It's wonderful to be a part of such a great company. Every day I get the honour of talking with interesting broadcasters to help help them on their journey, solve issues, and continue to uphold the high-quality Radio.co is known for."
Lawrence W
"My role at Radio.co is to provide success for those interested in creating their own digital radio station. I believe what piques people's interest so much with broadcasting is the opportunity to express their ideas without financial obstructions. A person does not have to be a multimedia giant anymore to be accessible worldwide. Streaming, podcasting, and digital broadcasting is the new social media."
They have been brought in to help manage the increased demand of lockdown listening and to relieve the strain from our other Customer Success Officers. With these new members of the Radio.co family we are able to more efficiently answer any queries you send in to us, while also affording more time to your issues as they arise so that you get the best assistance possible without delay.
How Radio.co is Working for You
At Radio.co we strive to deliver the best service possible, but we know we're not perfect. Creating something worthwhile takes refinement, and we always aim to patch any issues and bugs within our systems so that you receive the best customer experience possible.
Prevent Deletion Of Currently Playing Tracks: You'll no longer be able to delete a track if it's currently playing, which previously could have resulted in abnormal station behaviour. You can still delete tracks not currently playing as usual.
Spotify Web Player Integration: Due to Spotify changing their search URL, listeners clicking the Spotify link on the Web Player would have been advised that no track could be found. This has now been resolved, so that listeners can access the currently playing track.
New Tools, Better Insight
Improving our services doesn't just stop at fixing problems, we frequently add extra features to streamline our interface so it's as accessible as possible while offering you customisation and freedom to truly make your station your own.
Weekly Digest Emails: You can now enable this feature in Settings > Profile > Weekly Digest. The Weekly Digest is an email which is sent to the station owner once a week, containing statistics relating to the station's performance over the last 7 days.
Track Editor (Millisecond Support): The Track Editor now allows you to edit tracks in milliseconds, allowing greater control over the fade and cue points.
At Radio.co, we're always on the lookout for ways to improve our services, so that we can provide a world class experience that you can't get anywhere else.

Businesses Love Radio.co ❤️
Several high-profile businesses use Radio.co to host their online stations and help grow their influence. Some of these stations have only just signed up in the last few weeks! Here's some of our most recent partners:
Honest Burgers
Honest Burgers initially intended their radio station to be purely for their employees' benefit, keeping them entertained and informed on business matters. After they realised the exposure having their own online station could bring, it quickly developed into a public station that employees and customers can enjoy together.
Roundhouse
A champion of creative arthouse music, media, and performing arts, Roundhouse has been broadcasting a variety of content showcasing the best and brightest individuals. Having a radio station allows Roundhouse to reach a wider audience and achieve its goals of helping young artists grow and expand their influence.
Australian Department of Health
During these troubling times, governments are looking for better ways to connect everybody together. Using Radio.co, the Australia Government's Department of Health have opened up a new avenue to easily and efficiently keep the public informed.
What The Future of Radio Looks Like
As exciting as the increased demand lockdown listening brings is, as well as the surge in broadcasters that has been occurring, it can leave one wondering about the future of radio once this current crisis is over.
Radio.co founder James Mulvany had this to say on why listening figures have spiked and will only get bigger over the coming years:
"Radio is an incredibly personal form of communication. As a result, we've noticed more and more people turning to the medium during the past few months for connection, entertainment, and comfort." "It provides a personal touch that you don't get from listening to playlists or listening to pre-recorded content and I think that is the primary driver to the drastic increase in listener levels we've noticed across our entire network."
"Furthermore, we have seen a higher number of customers joining Radio.co with all kinds of interesting projects designed to inspire, educate, entertain, and delight people during these unsettling times. Radio.co has become the go-to provider for stations looking for a complete cloud-based solution in the past 5 years and has quickly grown to serve thousands of radio stations and millions of listeners each day in every corner of the globe." "Not only is our platform slick, feature-rich and easy to start for new users, but we have a world-class customer success team based across the UK, USA, and Canada who are always on hand to answer questions and assist customers getting their projects off the ground quickly which I think has attributed to our strong growth over the past few months."
Seize Your Opportunity, Reach New Listeners
Looking to the future, we can only imagine what time will bring to the online radio community now that we are experiencing such a renaissance period. Radio is rising to meet the everyday activities that other forms of media normally fulfil. Even within Radio.co, we've been experiencing an unusual number of customers enquiring about starting radio stations dedicated to replicating the drive-in movie theatre experience.
With amateur radio in general on the rise to meet listeners new demands in a socially distanced society, this injection of new blood into the broadcasting community should bring some exciting new personalities that could bring more exposure and more listeners to online radio than ever before. Perhaps while we're still unable to do normal social activities - seeing friends, going to the movies, live music - radio will fill this void?
While this is purely speculation, at the moment, there's never been a better time to get involved in online radio! With Radio.co you can try out our world class services with a free 7 day trial where you'll be able to discover an audience hungry for new and exciting content!