SoundDesk: Turn Your Mac Into A Virtual Mixing Desk
Need to save space in your studio? Turn your Mac into a virtual mixing desk with the low-cost software, SoundDesk.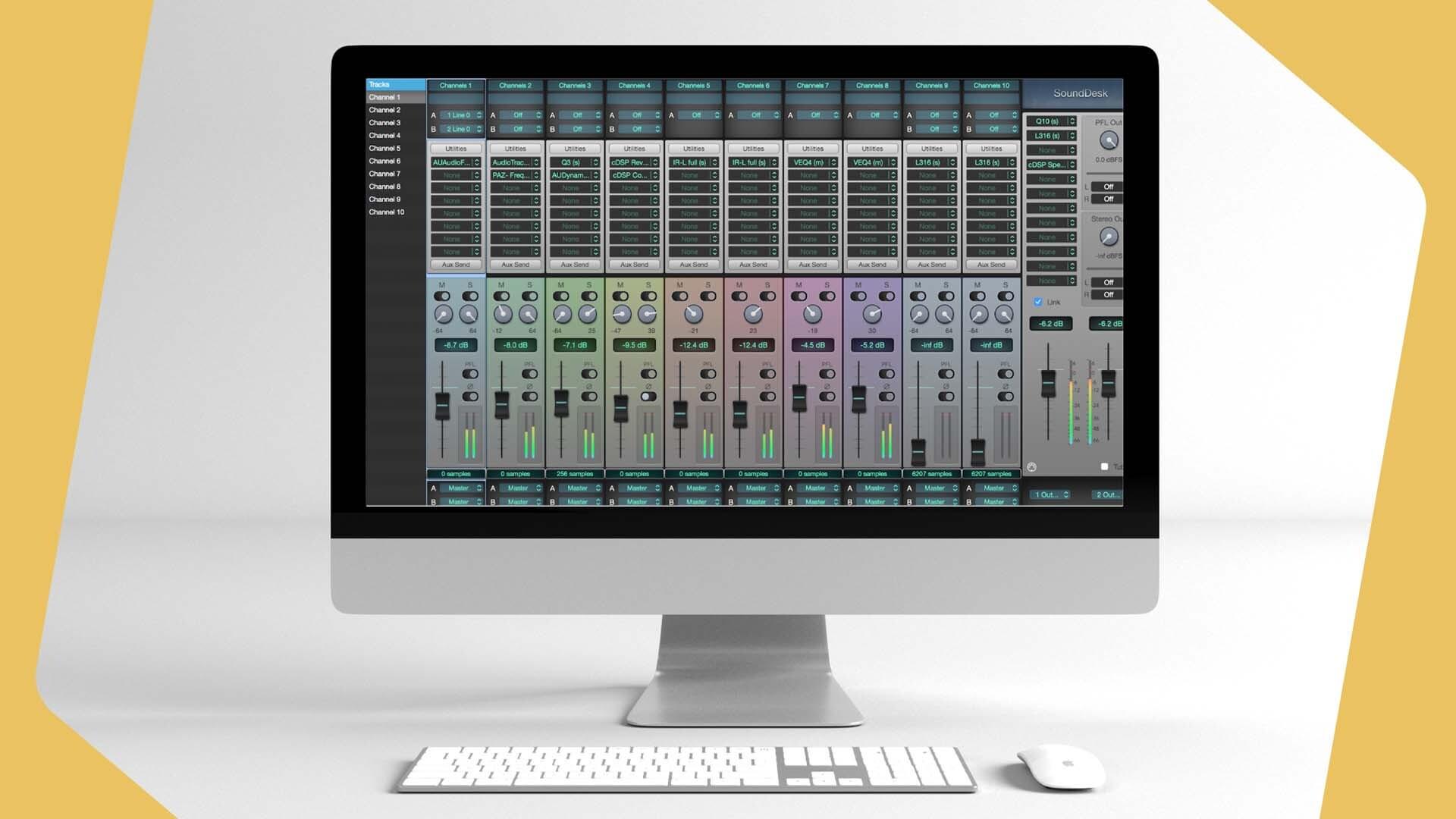 For many broadcasters, a mixing desk to weave audio together is a must. But if you don't have the space (or money) for a physical desk, your computer can do the job. For macOS users, SoundDesk is the low-cost solution to turn your Mac into a virtual mixing desk.

This guide runs through how SoundDesk works and how to set it up with Radio.co. So you can expertly mix your radio programmes using just your computer.

What SoundDesk Is

SoundDesk is a DAW (Digital Audio Workspace) from the audio company, LoudLab. Now in its 4th edition, it's a virtual mixer for mixing, recording & broadcasting audio on Macs.

SoundDesk is similar to Audio Hijack, but it allows much more advanced control of your audio. SoundDesk is most suited for those experienced in using broadcasting desks.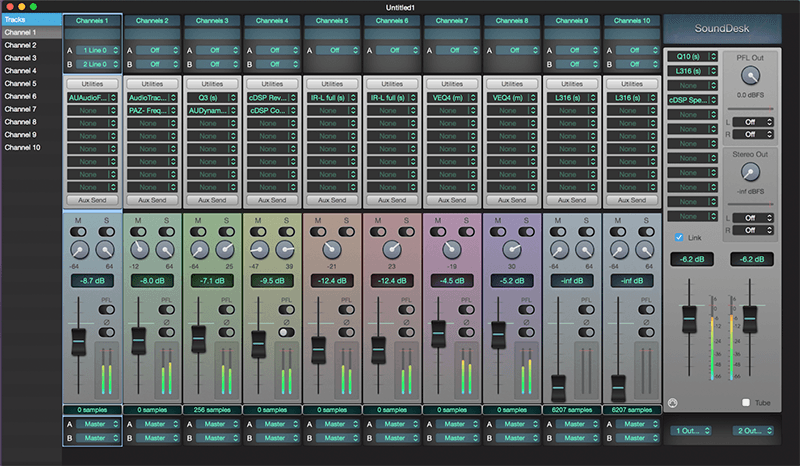 SoundDesk Cost
A SoundDesk licence costs $30 + local taxes. You can also try SoundDesk for free for 15 days.
How SoundDesk Works
You can route audio sources into SoundDesk. This could be hardware, like a USB microphone. Or from other applications, like Zoom.
Audio effects and processing can be added to these sources, and they can be mixed together.
This mixed audio can then be sent to your radio station by using a virtual audio cable.
This virtual audio cable connects SoundDesk with your broadcasting software, like BUTT.

Confused? This guide goes in to more detail.
How To Set Up SoundDesk
What You Need
Step 1. Change Your Mac Audio Settings
After downloading SoundDesk and SoundDesk's Virtual Driver, you'll need to change your Mac's audio settings.
Click the Apple logo (top left of your Mac screen), go to System Preferences and select Sound.
Under both input and output, select SoundDesk Audio Driver as the device.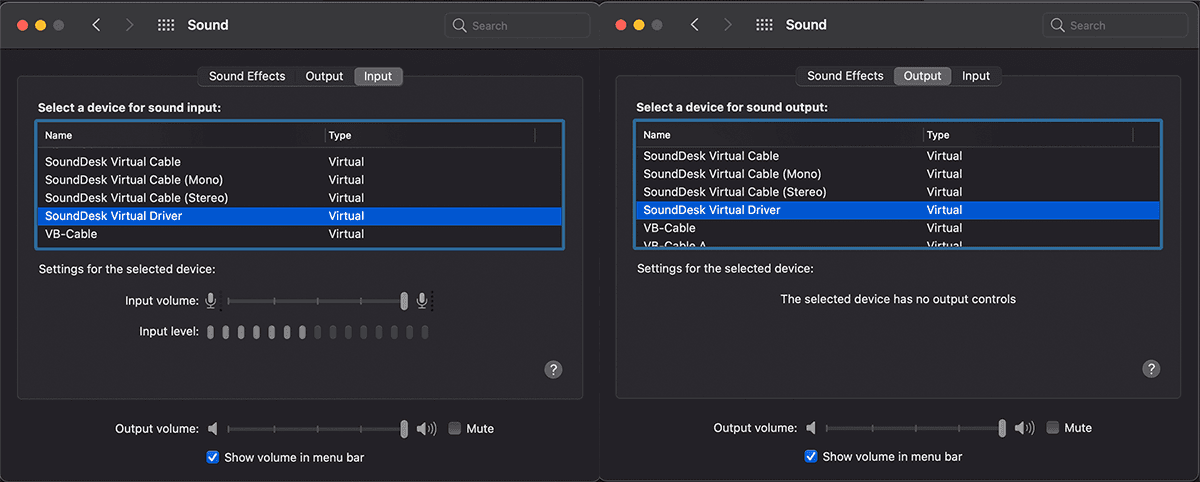 Once done, close this window.
Step 2. Change Your SoundDesk Audio Settings
Go to SoundDesk, Preferences then audio.

Now change the Input Interface and Output Interface to "All-In-One Device".
Keep the Audio Setup window open.
Step 3. Route Audio From Your Apps To SoundDesk
Now we can assign our apps to the SoundDesk's inputs. Within the Audio Setup Window you have open and next to Virtual Driver, click Matrix.
All your open apps should appear on the left hand side of the Audio Driver Matrix.
Including the apps that have nothing to do with audio - either ignore these or close them down.

If an audio app is not appearing, check you have it open. If it still isn't appearing, you may need to start playing audio within the app for SoundDesk to recognise it.
Assign your apps to an input by checking a box in one of the columns. To keep things simple, only assign one app per input.

Once finished, close the Matrix. Now, you need to assign your inputs to channels within the SoundDesk mixer. We can do this by choosing the inputs from the Virtual Audio Driver options. The video below shows where you change a channel's inputs.

For example, if you assigned your Music player to inputs 7-8, on the A input for a channel, go to Virtual Audio Driver and select "input 7". Then, on the B input for a channel select "input 8".
Rename each channel with whatever app has been assigned to it. This means when you look at your mixer, you know what each of your channels and faders are for.
Step 4. Set Up Your Outputs
Set the PFL output Left & Right to be external headphones, as shown below.
Set the Stereo output Left and Right (highlighted in yellow below) to be external headphones.
Change your master fader output (highlighted in yellow) to SoundDesk Virtual Audio Cable (Stereo).
Step 5. Configure BUTT
If you haven't set up BUTT with your Radio.co account, follow this guide on how to do so.

In BUTT settings, go to Audio. Under Main Audio Settings, change your input device to SoundDesk Virtual Audio Cable.
You should have your SoundDesk audio coming through to BUTT now. When you're ready to go live, press the play button in BUTT to connect to your radio station.

Once live, your radio stations stream will be controlled by SoundDesk.
SoundDesk Alternatives?
While SoundDesk has some advanced controls for your audio, it's not the most intuitive software if you're new to broadcasting. If you're looking for something simpler to use, Audio Hijack is your best bet.

Using Windows? Then Voicemeeter is similar software that let's you route, mix and broadcast audio in a virtual mixing desk. Like SoundDesk, you need a virtual audio cable to connect Voicemeeter to BUTT.
To Wrap Up
SoundDesk is a low-cost solution for turning your Mac into a virtual mixing desk. And it offers advanced control for those with some audio production or sound engineering under their belt. What do you think of the software? Is there something better out there? Let us know over on Instagram, Twitter (or X, whatever you to call it these days), Facebook, or TikTok. And if you need any assistance, don't be a stranger. Reach out to us at help@radio.co.