Radio Push Notifications: App Alerts for Listeners
New radio apps mean new features! Introducing push notifications: the app alerts for updating listeners about your station's events, directly to their phone.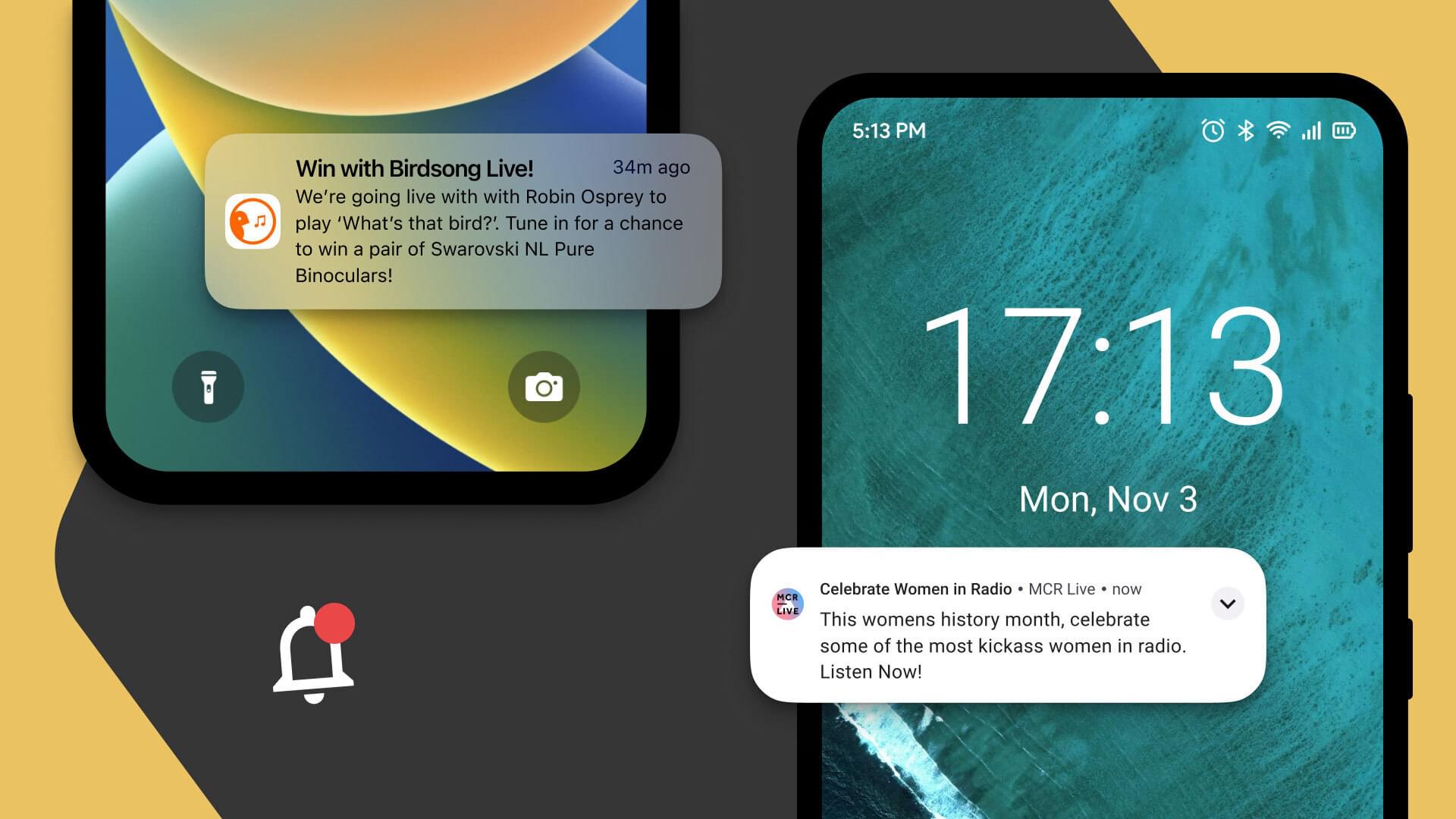 When life is hectic, keeping track of everything is tricky. Thankfully, there are all sorts of useful tools for helping us stay on top of things. One tool is push notifications, the handy little alerts that apps bump out to our home screens. Use push notifications to remind your listeners what's upcoming on your station, direct to their phone.
Push Notifications Explained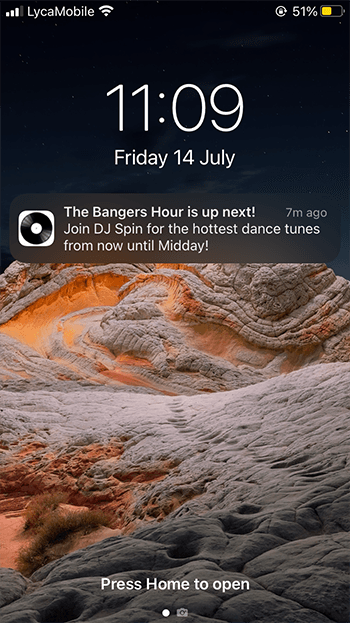 Push notifications are essentially notifications from the Radio.co mobile apps that pop up on the user's home screen.
They're pretty handy as they don't need the app to be open to pop up. Meaning no matter what's going on, listeners won't miss a beat.

A popular way to use push notifications is to update listeners about important events, like a particular radio show or DJ about to go live.
But really they can be used to communicate any short message to your listener.

Push notifications are made up of a title, a message and an (optional) image.
To set up push notifications, you'll need the following:
The new Radio.co mobile apps
A Firebase account
How To Get Access To Send Push Notifications
Push notifications are a feature of the new Radio.co apps. Apps are included in the Plus & Premium plans. Or, they can be purchased as a monthly add-on for Lite & Standard Plans.

The good news is you don't need any special knowledge to get your own custom apps! Just give us some information and we'll get building the apps for you.

Bear in mind it takes around a month for the apps to be built, so get started ASAP if you want them for a particular event.

Set Up Your Firebase Account
Push notifications are created and scheduled in Firebase. So to use push notifications, you need to set up a Firebase account and invite Radio.co as a user.
Go to Firebase and sign in using the same Google Account you've used for Google Play Store Console. Create a project within Firebase and then add Radio.co as a member with 'Owner' status.

We'll receive this request on our side, and the support team will accept it within 2 working days.
Create Your Push Notification
Once we've accepted the request, you're good to start creating push notifications. So go to Firebase again and select the Project you created previously.

Under 'Engagement' select the following:

➡️ 'Messaging'
➡️ Then 'Create your first campaign / Create campaign'
➡️ Then 'Firebase notification messages'
➡️ Then 'Create'
➡️ Then 'New Campaign'
➡️ Then 'New Notification'
From here, create your push notification by completing the following:

Necessary info:
Notification Title e.g. The Bangers Hour Is Up Next
Notification Text. e.g. Join DJ Spin for 1 hour of the hottest dance tunes now until 8pm.
Optional info:
Image: This must be a public image stored online.
Notification name: e.g. Bangers Hour Next notification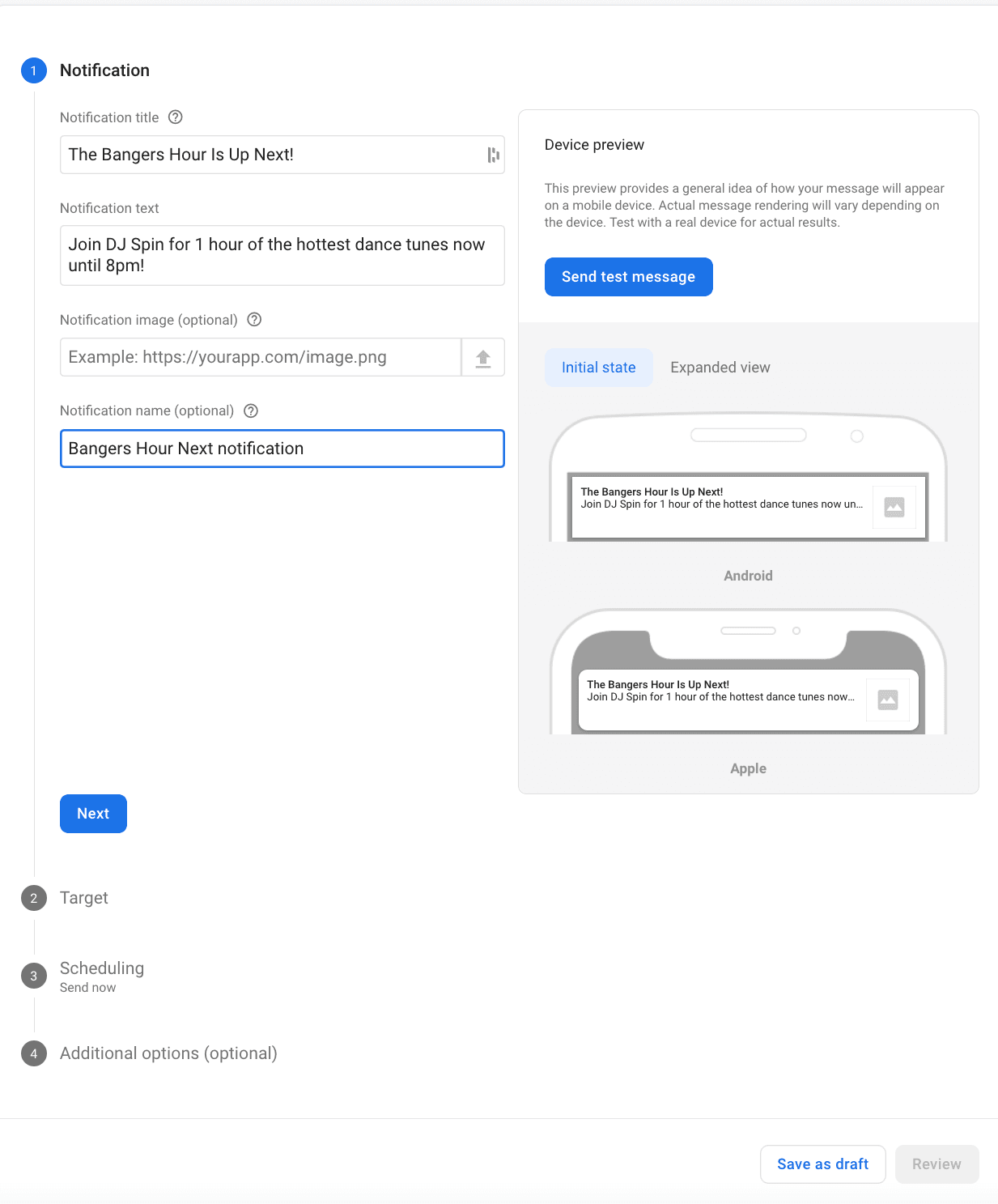 Target Your Messaging
Targeting is a good way of seeing which listeners respond best to certain messaging. With push notifications you can choose to send them to the different operating system of devices.

Target either Android or IOS by selecting it from the dropdown. If you want to target the other as well, click the 'Target Another App' button.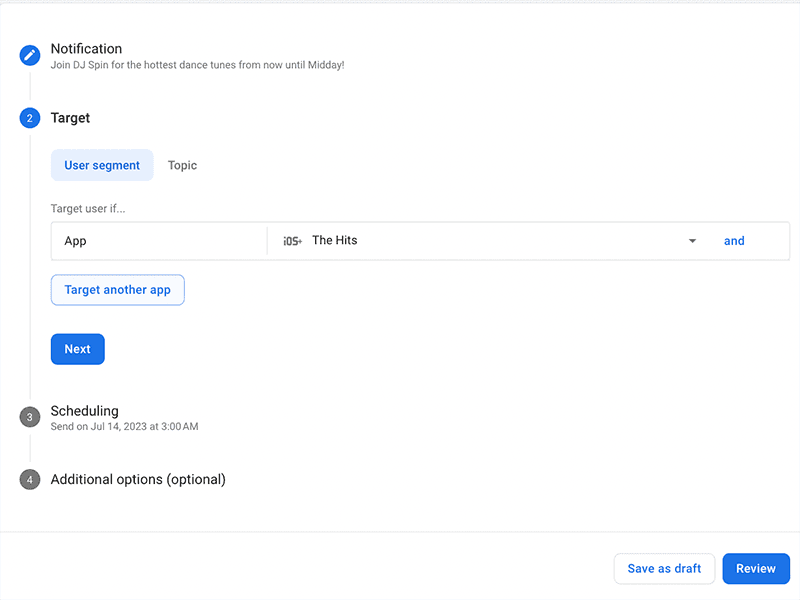 Set Up Your Push Notifications to Suit You
Push notifications can either be done on the fly, or scheduled ahead of time. If you want the same notification to be sent frequently, you can even schedule it to recur.
In the scheduling section, choose to send your notification straight away or schedule it for a later time.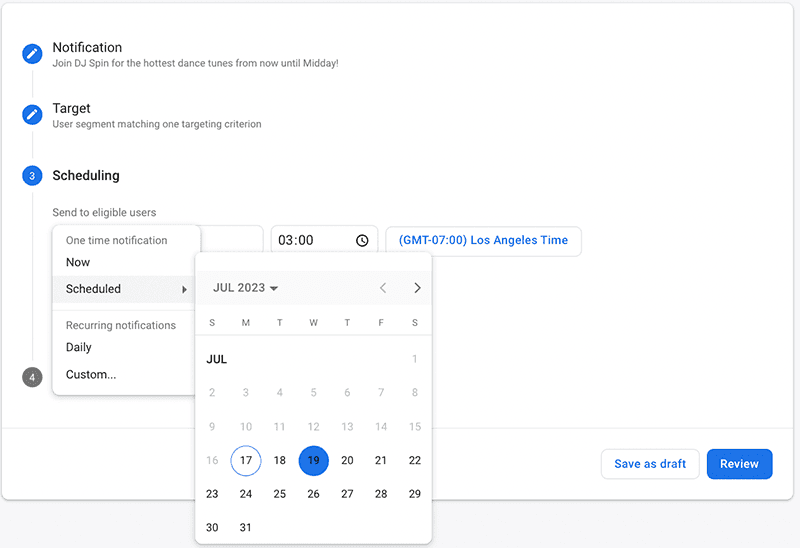 Don't worry, you'll have a chance to review the push notification before you go live.

Once the notification is scheduled, you can edit it by clicking three dots on the right hand side and selecting edit.

Want To Know More About Our Radio Apps?
We've designed our new radio apps to work hard for both broadcasters and listeners alike. They've got cool new features, from track requests to podcast feeds, to give everyone a great listening experience.

The result is modern custom iOS and Android apps that are out of the box ready for broadcasters, including loads of new bells and whistles.

You don't have to just take our word for it, have a look for yourself.