SAM Cast Setup & Broadcast Online Radio
SAM Cast setup for your online radio station | Install everything you need to get started with Spacial's SAM Cast encoder software.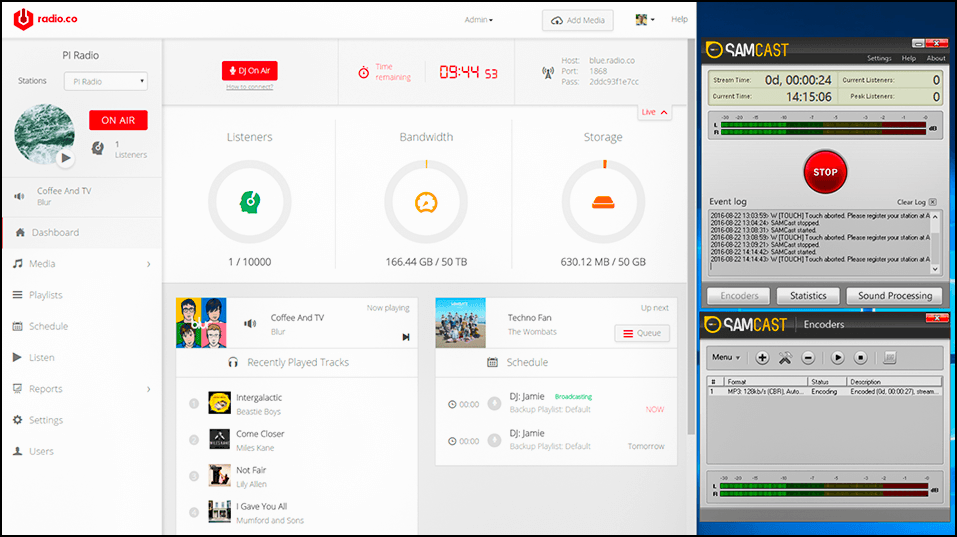 Sometimes broadcasting software can be a bit of a head scratcher with all their bells and whistles, but what if you just want something simple? This is where a SAM Cast setup can really come in handy.
The little sister of the widely popular SAM Broadcaster, SAM Cast is a stripped down version that lets you connect to your station, manipulate audio, and provides a simple setup experience.
Dive into what makes SAM Cast stand out, what you can actually do with it, and how to use it to stream live to your online radio station.
What is SAM Cast?
SAM Cast is a live streaming program for talk and music broadcasts developed by Spacial. Compatible with Windows 8/10, it's designed with simplicity in mind as you can add Digital Signal Processing (DSP) plugins to use with your chosen media player like Winamp and iTunes. The free trial version of SAM Cast offers live audio from your microphone, but you need to purchase the full version to stream pre-recorded audio and music from your media player - You can find out more here.
SAM Cast Features
SAM Cast is essentially a stripped down version of SAM Broadcaster; it has an encoder that pushes your audio from either your microphone or media player, with a little wiggle room to manipulate the output.
Free Trial vs Paid
Who doesn't love a freebie? The free trial gives you a taster at what you can do with SAM Cast, like broadcasting live sounds from your microphone. The trial version seemingly doesn't end, so you can use it for as long as you like granted you just want to do live talk shows.
The full paid version however offers a few more features like DSP plugin support - You can connect SAM Cast to your media player like iTunes or Winamp for music and pre-recorded audio.
Sound Processing
You can manipulate your out going audio by using SAM Cast's built in sound processor.
Features include a stereo expander, equalizer, 5-band processor, clipper, and gate AGC. You can adjust the levels to get them just right, then save it as a preset for future broadcasts.
Online Radio Encoder
Much like SAM Broadcaster, you can add encoders to stream audio from your computer's sound card, through SAM Cast, and out to your online radio station.
When setup just open up SAM Cast and hit a button to start broadcasting online to your listeners.
SAM Cast Setup: Connect to Your Online Radio Station
How to connect SAM Cast to your online radio station (like Radio.co) and broadcast live to your audience.
What You Need
Download SAM Cast - The free trial lets you broadcast from your microphone for a limitless amount of time, but offers limited features, however, you can get the full paid version.
Initial Setup
Install and launch SAM Cast.
Select Encoders.
Click the + button and choose MP3 (LAME_ENC).
Choose 128kbps for Bitrate, then click the Server Details tab.
Enter Your Station's Details
Your station's details are unique and can be found under the Live tab in your Radio.co Dashboard.
Server Type: ShoutCast v1
Server IP: Your host URL (e.g. blue.radio.co)
Server Port: The 4 digit port number (e.g. 1000)
Password: e.g. 11a1aa1a1a1a
Broadcast Live
Before you can broadcast live, you must schedule a live event within your station's calendar by following this guide.
Select the encoder you just added and click the play button, SAM Cast will then connect to your online radio station. Start broadcasting your audio by clicking the Start button to stream your audio live.
Check you're broadcasting in your Radio.co Dashboard. The No DJ Connected status should have changed to DJ On Air.
Listen to your stream either from your dashboard or listen links to make sure the signal is being sent - Check out this guide on how to use listen links here.
That's it! You're now up and broadcasting using SAM Cast. If you have any trouble connecting or need someone to walk you through getting SAM Cast setup, then get in touch with Radio.co support.
---
Join the Radio.co family today by starting your 7 day free trial and broadcast your station on the most advanced and reliable radio platform.