How to Start Your Radio Station for Free
How to start your radio station for free with Radio.co: An all-in-one solution to help you get broadcasting online in minutes.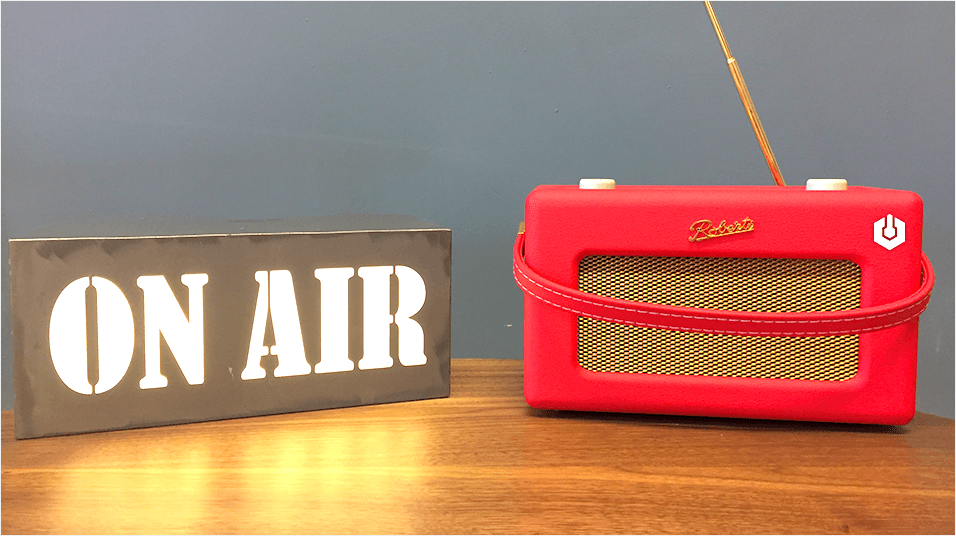 If you've ever thought about starting your own station but not sure where to begin then don't worry because here at Radio.co we've got the answers! We can help you start your radio station for free with your 7 day trial.
Not quite ready yet? Read through this guide before you get started on what you need, how to setup your station, and how Radio.co can help you along the way.
Should I Start a Radio Station?
If you have an idea and goal to get online broadcasting, then Radio.co can make that happen. Over the past 10 years internet radio has seen incredible growth. There are now more listeners and radio stations then there has ever been before.
124 million people per month in the USA alone are tuning into radio exclusively via their laptop, tablet, and mobile devices. Radio is no longer restricted to FM/AM signals at home or in the car. Listeners can now connect anywhere from their phone.
People are connecting and want original curated content from broadcasters like you. Radio is only going to go from strength to strength, so now is the best time to start your own station.
Common Questions Answered
You're not the first to look into starting your own station. Many others come to us asking questions on how, where, and what they need. Here are the most common questions answered:
I'm new to online radio broadcasting and not very technical. Can you help me?
We all have to start somewhere, so asking is the first step. If you have this grand idea of what you're station needs to be, but not sure on the journey to get there then we can help.
You don't have to know the ins and outs of your computer or how the web works. It's actually quite easy easy with the help of Radio.co. The system is streamlined to get you up and running in minutes without having to know all the buttons. Plus we have support you can talk through the entire process with here.
I'm on a budget and don't have thousands to spend. Is this right for me?
As the saying goes "You get what you pay for". Radio.co is the best all-in-one solution that makes it easy for you to get up and running. It minimises high costs, whilst still offering everything you need to broadcast your show online.
In the end you need a reliable radio platform managed by experts that guarantees your station is online 24/7.
Do I need expensive equipment to broadcast?
With Radio.co you don't really need much to get going. Further down the line you can invest in high quality microphones, a soundproof studio, and a top notch mixer. For now you only need the following:
Computer/Laptop: Modern computer or laptop from the past 10 years. Nothing high-end as it should run day to day operations for your station.
Internet Connection: Preferably with around 512kbps upload and 10mbps download speeds (check your connection here).
Microphone: Use an external mic for better quality and flexibility, or an internal one that come pre-built, like laptops and iMacs.
If you don't plan on broadcasting spoken word then you can get by without a microphone.
What if I can't broadcast 24/7?
Not everyone can be near a computer all day, but that's how Radio.co's automated system helps you out.
Upload tracks, create playlists, and schedule shows to take over when you're not around. You can even invite friends and guests to take over your station, ideal if you want a diverse range of personalities.
We've answered a few of the common questions we get asked here at Radio.co. You can find a bunch more questions and answers on getting setup here.
What Equipment Do I Need?
Setting up a radio station was an expensive and timely endeavour. Fortunately technology has made it incredibly easy and fast to get on-air. You do however need a few things before you start. Let's take a look at some of the equipment mentioned above in a bit more clarity.
Computer / Laptop (with a Stable Internet Connection!)
Do you have a computer or laptop with access to an internet connection? You're practically a step away from broadcasting online to your station.
There's two ways you can manage your station. Either upload and manage tracks or broadcast live from your computer. If you're going for the latter option then you need a good soundcard (improves stream quality) and a stable internet connection (512kbps upload and 10mbps download).
Microphone
Choosing a microphone is a bit like choosing a car. You need one that's the right fit for your needs, whether that's power, quality, or accessibility. Luckily there's plenty to choose from!
The Rode Podcaster is a good starter's microphone. It's got background noise cancelling capabilities, ideal if you're in a loud area. You can hook it up to your computer via USB, so no need for a mixer. It's small and durable, easy to fit into shock mount arm for easier access.
A lot of podcasters use this for it's dynamic qualities and low price point at $200 / £140. However if you're on a budget then we recommend the Behringer B1 studio condenser microphone for $100 / £70. It's a good fit for community radio, schools, or people that don't want to break the bank.
The Behringer B1 has a nice wide diaphragm, so it's a got a good frequency response that captures clear audio. As it's a condenser mic it picks up audio from afar, so you can use it for groups of people.
Both the Rode Podcaster and Behringer B1 are great starter microphones. If you're looking for something more professional then we recommend checking out our guide on the best microphones for online radio here.
Headphones
You need a good pair of headphones for broadcast playback. The Sony MDRZX310 are a great choice that are portable and affordable at $17 / £14.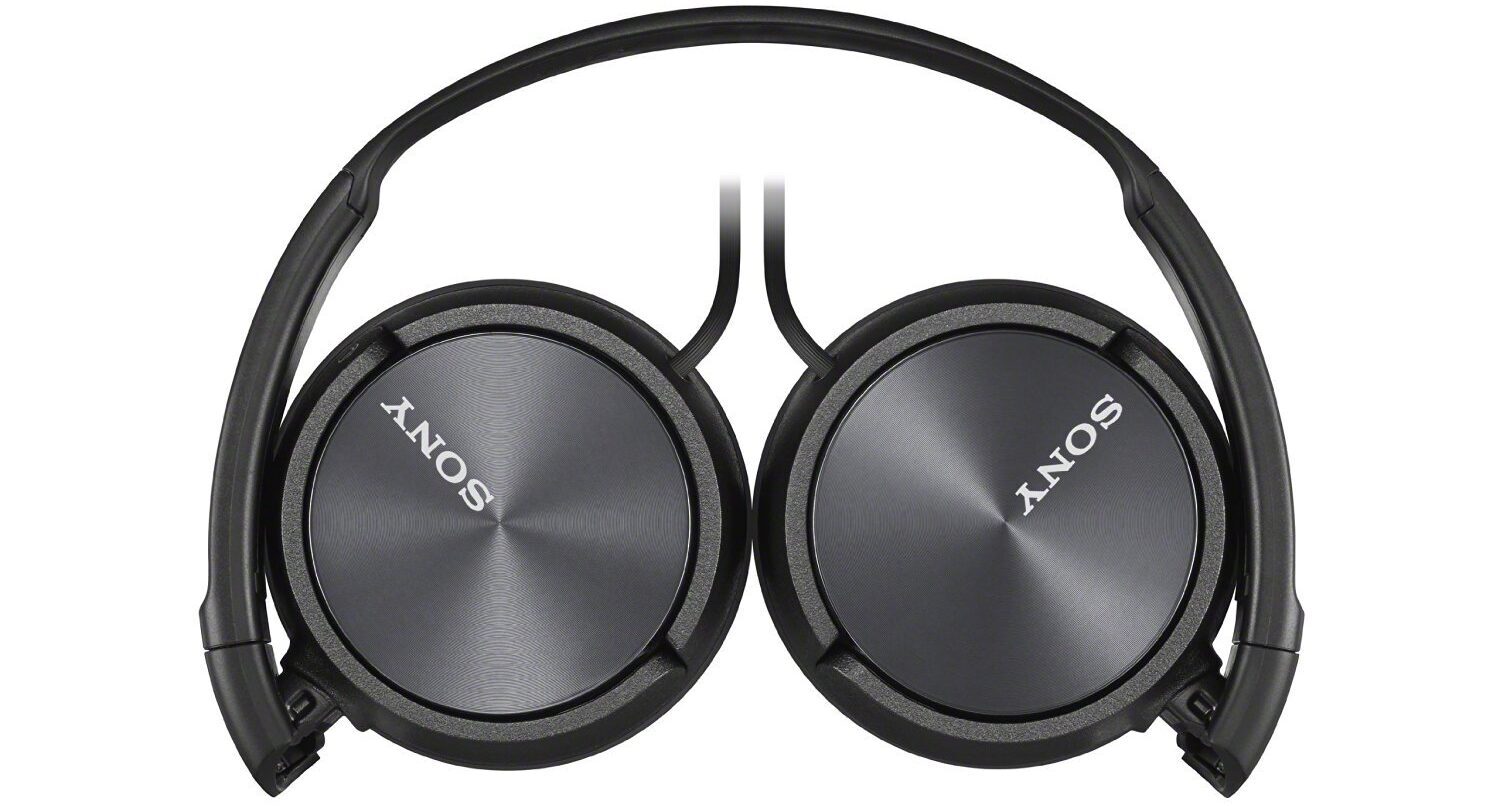 They're lightweight and you can fold them away for storage purposes or if you're travelling. If you're looking for a pair of better quality headphones with noise reducing capabilities then check out our best radio headphones guide here.
Mixers, Processors, & More
If you're going beyond a basic setup then you'll most likely need a mixer, microphone processor, and more top grade equipment. Luckily we've put together a full guide on the best advanced equipment.
Why Choose Radio.co?
Radio.co is the best platform that's custom built with you in mind. We're always ahead of the curve building new technology so it's easy for you to get on-air. Our services are cloud based with no servers for you to manage, nothing to install, and support is always on hand to help.
You get custom software, a dedicated team of experts, and a huge list of features. Radio.co is the best place for you to get your station online in minutes.
The team here have been working hard building new tools for you - Let's take a look at some of the recent additions.
Custom Album Art
Artwork is automatically grabbed from third-party services, but what if you need to show your own art? Custom album art allows you to upload images by dragging and dropping them in your browser.
Your entire music catalogue can be updated within your Radio.co Dashboard.
Broadcast Live Anytime
Need to hit the airwaves right this second? You can now with the broadcast live anytime feature.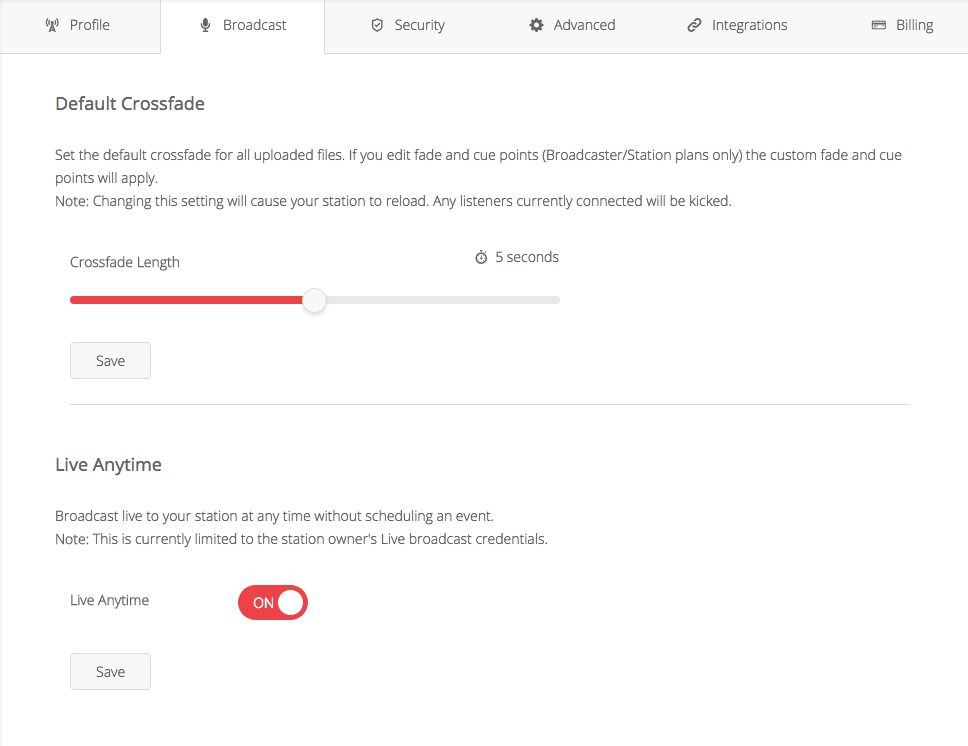 Switch this on to connect anytime from your computer or mobile device.

Stream Relaying
Got a fellow broadcaster or affiliated show you'd like to play on your station? Grab their stream and relay it to your radio station.
How it all works and how you can relay streams can be found in this guide.
How Do I Get Listeners?
Listeners won't tune into your station if they don't know about it. Get yourself heard by making some noise with ads, promotions in your area, and getting listed on radio directories. Here are 5 of the best places to submit your station.
5. DeliCast
Listing over 7,000 stations, both internet radio and TV, DeliCast is a simple directory listing by country, genre, popularity, and more.
4. Streamitter

Streamitter.com is a modern online radio directory listing thousands of radio stations from all around the world and every type of genre.
3. Dirble

Dirble is an open directory consisting of thousands of radio stations that allow you to get found for desktop and mobile listeners.
2. Streema

Streema is a free online radio directory to discover, share, and listen to radio stations from all over the world. There are more than 70,000 radio stations like BBC Radio 1, Absolute Radio, and more that anyone can tune into online.
1. TuneIn

Millions of listeners worldwide access online radio through TuneIn, so it's definitely the place to be. TuneIn is one of the best radio directories as listeners can easily access your shows, not to mention it's a free and a simple way to get discovered and grow your audience.
A full list of online radio directories you can submit your station to can be found here.
How Do I Earn Money?
Turn your hobby into a business. Generate revenue for your station with actionable strategies that will turn your station into a sustainable venture.
We've put together a course on how you can make money from your station. Start your Internet Radio Cash course by heading here.
Start Your Radio Station for Free Today
Ready to get started? You can start your radio station for free with your 7 day trial. Choose the plan that suits you and get broadcasting in minutes.