Taking Song Requests on the Radio
Give your listeners the ability to request songs and automatically play them out on your station with the new Radio.co song requests feature.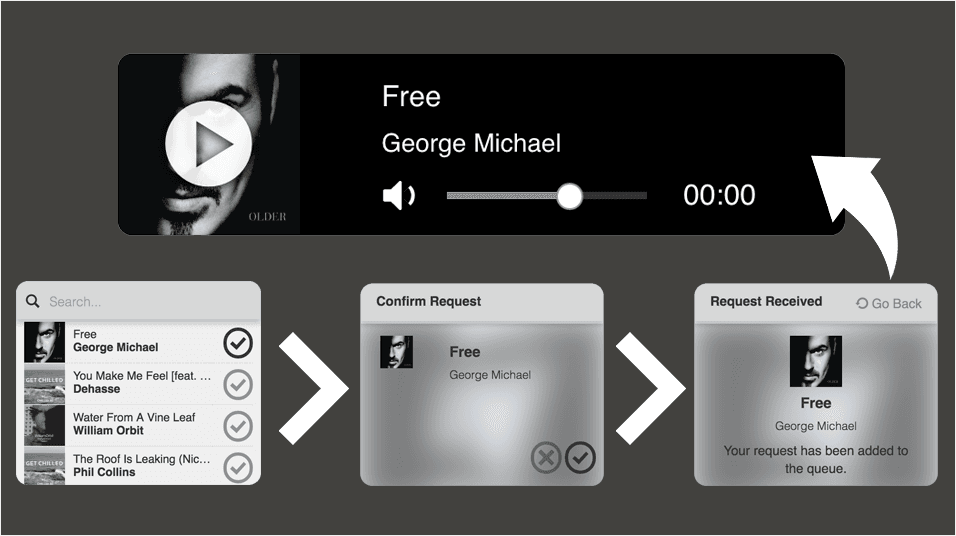 Give your listeners the ability to request songs and automatically play them out on your station with the new Radio.co song requests feature.
Song Requests on the Radio
Song requests are designed so listeners can play tracks from your music collection. Anyone can add requested songs to be played out on your radio station. The more requests a track gets, the sooner it will get played. It's a great way to get your listeners engaging with your shows.
Try it for yourself! Request a song from the widget above and stay tuned to the player below for it to broadcast.
You can start using the song requests feature on your station today. It's available on the Bronze, Silver, and Gold plans. If you are on the Lite plan then upgrade in Dashboard > Settings > Billing > Change Plan.
Making a Request Widget
To take song requests you first need to create an embeddable widget. This can be placed on your website for visitors to access, just like we've done here on Chilled.io.
In your Radio.co Dashboard access Requests > Widgets in the sidebar. Click the Create Widget button and give the widget a name.
Use the widget editor settings and preview to modify how your request widget will look and feel.
Go through the settings so they match your station's brand or page it will be embedded on.
Name: Rename your widget to something meaningful like "Blog" if you add it to a blog post.
Size: Choose predefined sizes like small, medium, large, or a custom size to fit your page.
Background, Text, Button: Select colours you want to use for your widget.
Corners: Set the corners either rounded or square.
Style: Fill your background with the current album artwork blurred out or choose a colour.
Button Style: Choose either squared or rounded buttons.
List Artwork: Enable or disable artwork in your widget.
Confirmation Text: Customise text shown when a listener requests a song.
Save Changes at the bottom of the page to save the widget. You can now embed the widget onto your website using the code shown at the top of the widget editor.
Playing Requests
In order to play requests from listeners, you need to add them to playlists. To do this you will need to add the special Request Tag to your playlists.
Under Tags, drag and drop Play Request into your playlist. Requests in your queue will be played each time the tag is reached in the playlist. If the request queue is empty, the request tag will be ignored and the next track will play.
Note: Requests will not be played if you do not have the Play Request tag in your playlist.
Request Settings
Set which tracks you would like to become available for request, along with listener rules by either clicking the cog icon within Requests or going to Settings > Advanced.
Turn on requests and modify the settings.
Policy: Choose to allow or block tagged tracks on your request widget.
Tags: List tags you wish to either allow or block.
Rules: Change the number of times each listener can request tracks within a specific time period.
Expiry: Specify how long a request can remain unplayed before being removed from the queue. Set to 0 for no expiry.
If you don't want to enable requests, toggle the switch off in Advanced Settings. When requests are disabled, a message will appear on your widget letting listeners know.
Request Management
View listener tracks in Requests > Manage. Here you can see how many votes each track has had and remove tracks from the queue. The track at the top of the queue will play first. You can clear all requests by clicking Clear All.
Note: Requests uses a voting priority system. If a track gets more votes it will move up the queue and play sooner.
Have you tried the new request widget yet? If you're on the Radio.co Lite plan then upgrade your account to either Bronze, Silver, or Gold by going to your Dashboard > Settings > Billing > Change Plan.
If you haven't taken the leap yet to start your own radio station then now is the best time! With a 7 day free trial you can get up and running in minutes. Just click the button below to get going...