Top 10 Radio Presenters of All Time
Broadcasting with finesse is an art form. Take a page from the best in the business, discover the top radio presenters of all time.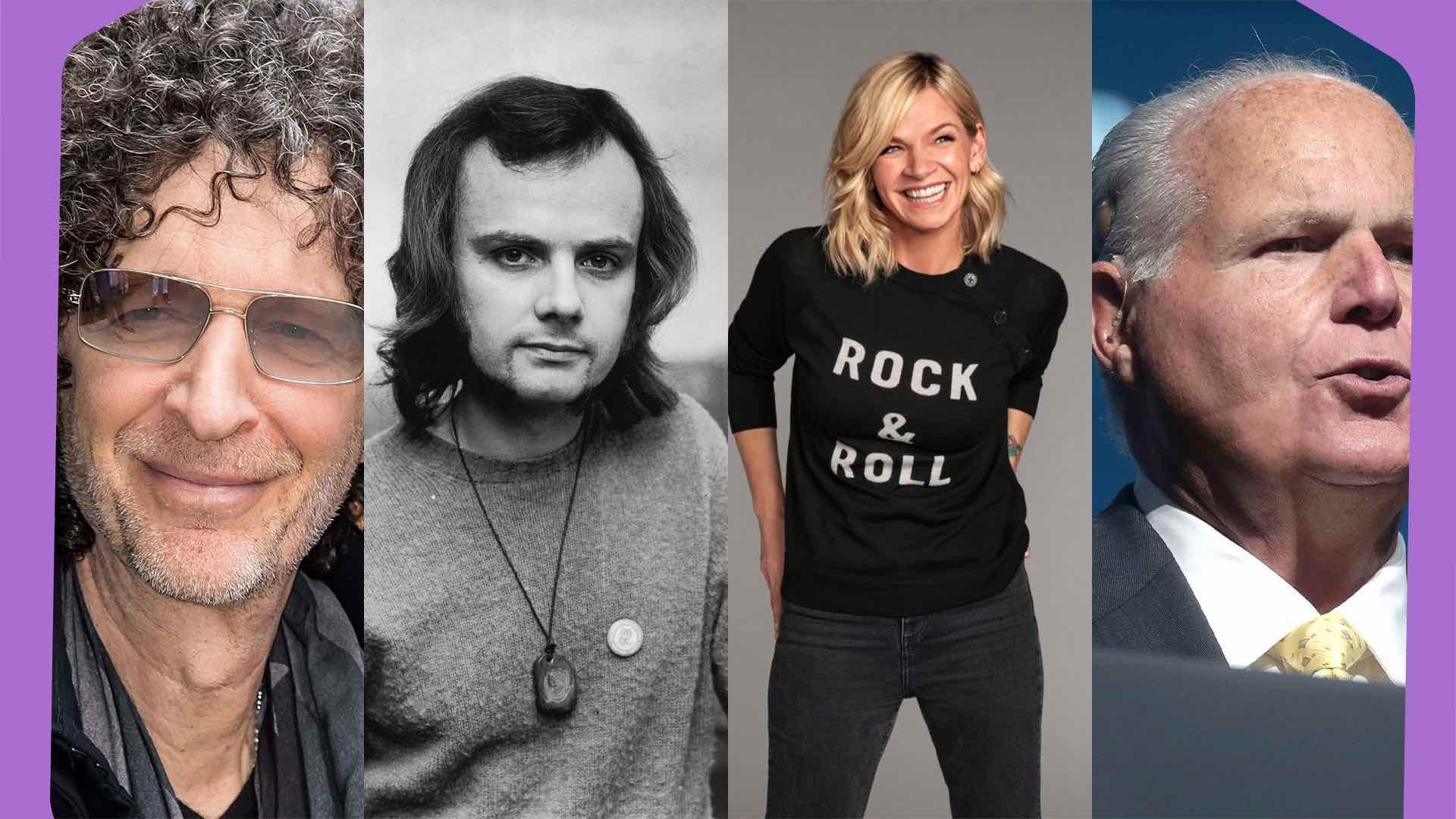 Anyone can call themselves a presenter these days. But it takes unparalleled skill, unbreakable determination, and heaps of talent to captivate an audience of millions. Take a page from the best in the business. Discover our top radio presenters, hand-picked based on popularity and lasting appeal.
New to radio? Get help by talking to a specialist.
Please be aware, presenters aren't ranked in order. Choosing just the top 10 radio presenters of all time was hard enough, so take the following with a pinch of salt. And if your favourite presenter has been missed, then feel free to share away down in the comments.
10. Howard Stern


Whether or not you think he's the best, there's no arguing that Howard Stern is possibly the most iconic radio presenter to hail from the US. Initially starting his career in the '70s, Stern earned himself a reputation as a 'shock jock' by consistently pushing the boundaries of what could be said and done. His shows consisted of outrageous humour and sexual content that shook the radio establishment at the time. In recent years, however, he has calmed down significantly.
"My show was revolutionary, ground-breaking. When I came on the scene, people were not doing a thing."
Now hosting The Howard Stern show, he has brought his laid-back personality to a new audience, moving away from the purposefully shocking antics of his younger self. The Howard Stern show broadcasts through the SiriusXM subscription network, who signed a contract with him in 2015 that guarantees a yearly salary of $90 million. SiriusXM does not release their listener figures to the public, so it's difficult to say how many listeners he still pulls in, although we'd be willing to bet that figure is still very high.
Forbes has ranked him as the highest-paid radio personality for 5 years in a row. As well as the number 8 highest-paid celebrity. The command he still pulls, his immense salary and lasting legacy as an innovator of radio, easily lands Howard Stern a place as one of the top radio presenters. There's even a film about his life that stars the man himself if you're interested.
9. Rush Limbaugh

America's most listened to radio host, Rush Limbaugh commands an audience that averages 15.5 million people. As SiriusXM doesn't release their audience figures, Stern could have him beat, but we can't say for sure.

Along with his immense audience, Limbaugh earns a pretty penny too, raking in $84.5 million in 2018, according to Forbes, making him the 2nd highest paid radio host in America. He works for Premiere Networks and is not broadcast on a single station or platform like Stern, instead he broadcasts over 650 stations.
"I'm a member of the media. I'm America's Anchorman."
He's even interviewed President Donald Trump as recently as October 9 2020, in the lead up to the November election. This interview was described by Limbaugh himself as a 'MEGA MAGA rally', declaring it the largest radio rally in history. It's easy to see why a show like Limbaugh's would attract the president, as Limbaugh has expressed support for Trump previously, and his massive audience ensures that Trump is heard by millions. Limbaugh's show even experienced what's been called the 'Trump Bump' in 2017, when he experienced a 21% growth in listeners.
8. Ryan Seacrest

Ryan Seacrest is considered by many to be the top music presenter in US radio. He currently works with iHeartRadio, who broadcast his show On Air with Ryan Seacrest, across their network of stations covering the US. In 2019, iHeartRadio announced that they had 128 million registered users, giving them absolutely massive reach. However, unlike Sirius XM, becoming a registered user does not require a paid subscription, so users don't have the same incentive to listen that Sirius XM users do. Because of this, we can't use these figures to estimate what his listenership is, but it's probably still in the millions.
"When I moved to Hollywood, one of the first people I ever wanted to meet wasn't a movie star. It was a disc jockey, it was Casey Kasem."
Despite being unable to pin down his listener numbers, we can see his salary, which in 2018 was estimated by Forbes to have been $74 million. This along with his work in television have earned Seacrest a large following that puts him in the top radio presenters.
7. Sean Hannity

A controversial figure among political discourse; Sean Hannity works for Fox News as a political commentator and hosts a nationally syndicated talk program; The Sean Hannity Show, where he discusses global and social affairs. He also has several published non-fiction books focused on politics. His conservative beliefs and provocative style have earned him a controversial reputation over the years.
"When I started in radio, I worked for free. I lived at the radio station. Then I worked for very little money."
Hannity gets 15 million weekly listeners on average, making him second only to Rush Limbaugh. If nothing else, this does suggest that American audiences trend towards conservative voices, although without specific numbers for other platforms like Sirius XM and iHeartRadio, it's difficult to tell how accurate that assumption is. Like Limbaugh, Hannity is syndicated on Premiere Networks, being broadcast over countless stations across the US.

He has recently been catching flak for some of the inflammatory comments he has made about the Biden/Harris campaign in the lead up to the November US election. As you can imagine, he is firmly on Trump's side. In 2018 he earned $36 million, so his methods seem to have a hefty payoff.
6. Glenn Beck

Another consistent member of Forbes' highest-paid radio presenters list over the past few years, and another controversial conservative political commentator. US readers may be familiar with him for presenting his show the Glenn Beck Radio Program, which draws millions of listeners every week. Like Limbaugh and Hannity, Beck is hosted by Premiere Networks.
"Good for you, you have a heart, you can be a liberal. Now, couple your heart with your brain, and you can be a conservative."
Beck presents his show in a traditional talk format with a focus on politics. Like similar conservatives, he has a provocative, almost aggressive approach, making hyperbolic statements that court controversy. While this approach doesn't work for everyone, there's no denying that this style of presenting can whip listeners into a frenzy and is effective at gathering a cult of personality around yourself.
Recently, Beck has been in full support of Trump, although some are questioning the sincerity of this support, given some of his statements regarding the president in the past. Despite this, Beck's income and popularity get him the nod for our top radio presenters.

5. John Peel

John Peel is a legend within British radio culture and history. One of the original pirate radio DJ's on Radio London, Peel managed to infiltrate the establishment when the BBC just couldn't ignore the pirate radio scene anymore and wanted to earn some street cred, so they gave him his own show on then-new BBC Radio 1 in 1967. From then on, he was dedicated to his true passion; music. He was notorious for absorbing as much music as he possibly could, even sleeping in his studio so he could receive new submissions sent in by listeners. This enthusiasm and open-mindedness with his musical tastes led him to become a great supporter of the pioneering music of the times, even if the mainstream had trouble accepting it.
"All I ever wanted to do was hear music that I like and play it to other people"
He loved music from pop to jazz, from soul to punk and even into the burgeoning heavy metal scene in the '70s through to extreme artists like Napalm Death on his shows in the '80s. He would invite artists onto his shows as part of his 'Peel Sessions', where they would perform 4 songs live in the studio during broadcasts, which would often be the first major exposure these bands would experience. Through this, he helped introduce countless listeners to the music of Genesis, Gary Numan, The Happy Mondays, Jimi Hendrix and far more. His willingness to explore this love of music and his tangible passion so endeared him to his listeners all the way up until he died in 2004. John Peel left an indelible mark on British radio and impacted the careers of so many around him, making him one of the greatest radio presenters to ever live.
4. Kenny Everett

A man remembered for his legacy in British radio, Everett was one of the original pirate radio presenters who broke through into the mainstream in 1967, along with the likes of John Peel, when the BBC created the BBC Radio 1. In its inception, Everett had even created the jingles for the station, the first time any BBC station had featured them, only to be fired from the corporation in 1970 after an inappropriate joke, or something more, as has been suggested. After this, he moved onto Capital Radio, where he had a successful career until his untimely death in 1995.
"Q: Does this train stop at Brighton? A: I hope so or there's going to be a hell of a splash."
Everett was not just one of the original members of BBC's historic Radio 1 cast, he was a true pioneer among disc jockeys, arguably creating the modern image of the DJ; someone who captivates the audience with both technical skill and charming banter. Before Everett, DJs just manned the mic in the studio while engineers and assistants worked the technical stuff behind the scenes. He introduced the idea that you could do it all yourself into the mainstream. Indeed, his willingness to experiment and innovate within the studio is what drew the attention of both audiences and producers when he first started. Kenny Everett's lasting impact on the world of radio lands him a place on the top radio presenters.
3. Terry Wogan

At the other end of the spectrum, we move onto one of the most prestigious radio hosts to ever grace the UK. In his time, the late Wogan was regarded as the most listened to radio presenter in all of Europe, regularly drawing in listener counts of up to 8 million people. After his initial time in Irish radio and the BBC from the 1960s to 1975, he decided to embark on a television career, but he just couldn't stay away, and so he returned to radio full time in 1992 with his legendary BBC Radio 2 show Wake Up to Wogan.
"Television contracts the imagination and radio expands it."
His charming demeanour, casual banter and warm disposition towards his fans earned him the adoration of millions. Wake Up to Wogan would, as the name suggests, be the first thing people in the UK would hear on the radio in their car or kitchen before work, and Wogan's humorous interactions with both his producers, guests and listeners themselves made him the favourite for people looking to start their day positively. He had a regular segment of his show where he would read out viewers comments and letters. His uncanny ability to create a welcome and friendly atmosphere every morning is what made him so cherished to so many. We could all learn a lot from him, and if you're interested in becoming a great presenter, you should check out our How to Become a Great Radio Presenter course.

2. Zoe Ball

The current presenter for BBC Radio 2's breakfast show, Zoe Ball holds the honour of having become the BBC's first solo female presenter for Radio 1 in 1997 after her co-host Kevin Greening moved to the BBC's Sunday show. In her heyday in the '90s, she was known for her hard-partying ways, even earning herself multiple warnings from the BBC for swearing on air.
"Now I look back and think who walks away from the Radio 1 Breakfast Show. It was huge. Perhaps I should have sobered up a bit and carried on."
Despite this, she now has the coveted position of being the BBC's second-highest-paid talent, behind Gary Lineker, earning herself a tidy salary of around £1.3 million a year. Even though she has been criticised for her ratings after taking over from Chris Evans in 2019, she still pulls in over 8 million listeners with her commentary.
1. Joe Rogan

This one could be a bit contentious. While his show, the Joe Rogan Experience, isn't necessarily classed as a radio show, instead it's a podcast, Joe fulfils the traditional radio presenter role so well we just couldn't leave him out.
Starting in 2009, the Joe Rogan Experience is a talk show that generally features 1 guest per episode, often a public figure or someone who Joe has brought in to tell their story. His experience as a UFC commentator has given him a deft ability to guide discussion and keep on topic while displaying a friendly and inviting demeanour.
"One of the most fascinating lessons I've absorbed about life is that the struggle is good."
The popularity of his show has this year landed him a multi-million dollar deal with Spotify, making him one of their top draws for new users. While the numbers have not been disclosed, some experts hypothesise that he may now be the world's highest-paid broadcaster, potentially even beating out Howard Stern. This isn't confirmed, however.

Joe Rogan has repeatedly shown willingness and enthusiasm to expose himself to varied viewpoints and hear the stories of a diverse range of people. New presenters could learn some lessons from his ability to calmly and rationally discuss sensitive topics while maintaining a casual tone and providing some great entertainment for his audience.
Honourable Mention: Orson Welles

You may be more familiar with him for his work in film, but before he set the world on fire with films like Citizen Kane, Orson Welles performed in theatre, and in the 1930s, brought his theatre work to the radio.
"I want to give the audience a hint of a scene. No more than that. Give them too much and they won't contribute anything themselves. Give them just a suggestion and you get them working with you. That's what gives the theatre meaning: when it becomes a social act."
While not a presenter in the traditional sense, he hosted his CBS Radio show Mercury Theater On Air in 1938 and performed in it. The productions broadcast on this show included H.G. Wells War of The World's, which became the centre of a popular legend where the broadcasts of this show sent the US into a panic, believing there to be a true Martian invasion. While, sadly, this didn't actually happen, the impact of transitioning theatre into a more accessible medium showed the potential of radio outside of being a means to broadcast news. Now we knew that people could really be affected by the voices they heard coming out the wireless.
His innovation pushed radio forward, and his command of radio as a storytelling medium should be inspirational to anyone looking to don the presenter hat and captivate an audience.
Who's Your Top Radio Presenter?
And that about wraps up our top radio presenters. But what do you think?
As for the presenters themselves, they all had to start somewhere. Luckily, FM radio recording software means we can travel back in time to enjoy past shows on old terrestrial stations. For Howard Stern that was college radio; for John Peel it was a small station in Dallas. But now it's time to start your journey. Start broadcasting today with a passionate team backing you up at Radio.co.