100 Famous Radio Hosts of the Century
Radio is over 100 years old. To celebrate a century of amazing broadcasters, here's a countdown of 100 famous radio hosts of all time.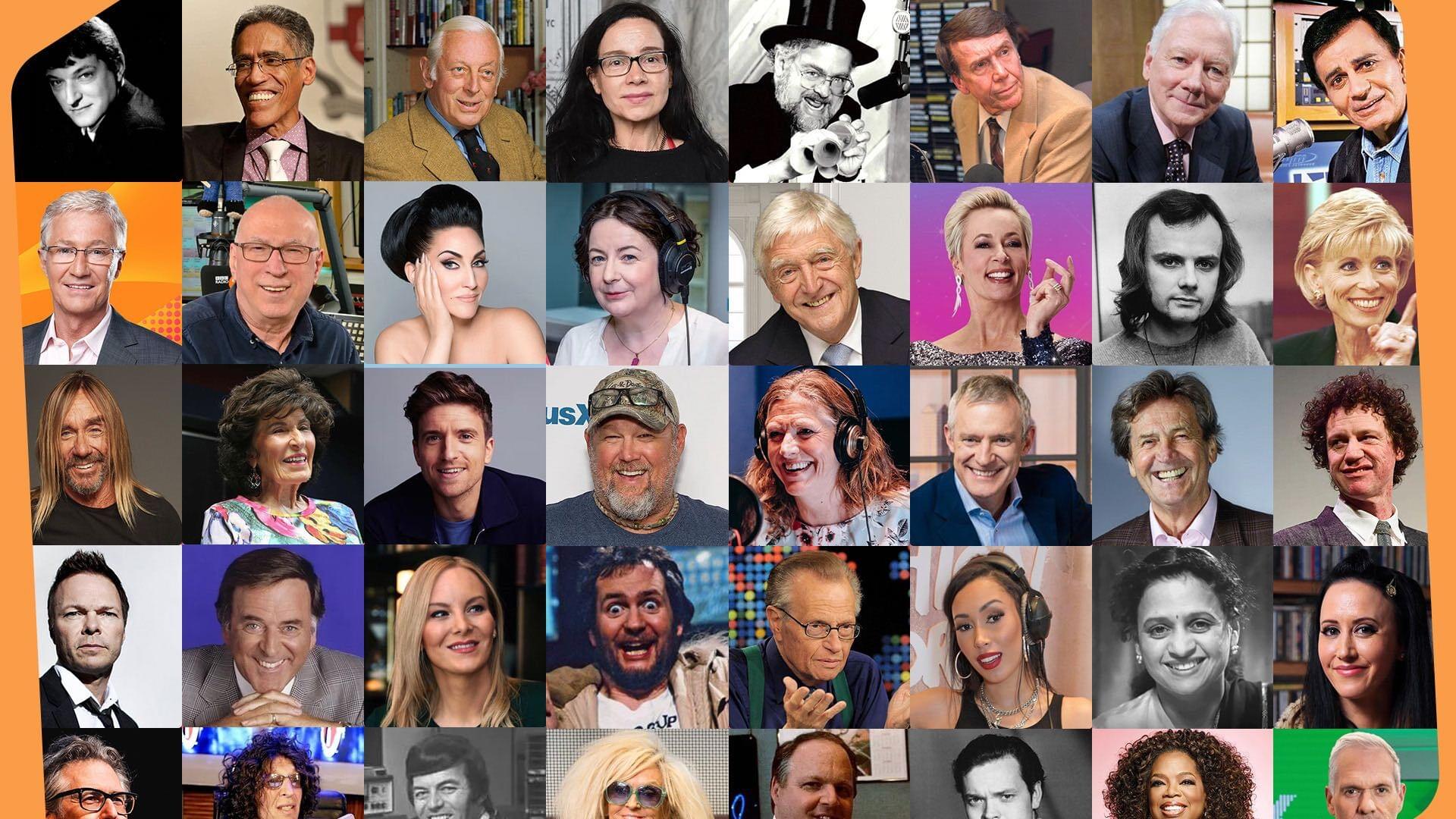 There are well over 100 famous radio hosts from around the globe who belong on this list. But seeing as we recently commemorated 100 years of radio, it seemed only fitting to highlight 100. Ranked in no particular order, buckle into our DeLorean and hold on tight, as we take you on a trip through a century's worth of 100 famous radio hosts.
100. Casey Kasem

The voice of Scooby-Doo's Shaggy (no, really!) helmed American Top 40 from 1970-1988, and did such a fine job of it that he would go on to host the eponymous spinoff Casey's Top 40. The show is now presented by his successor Ryan Seacrest, who cites Kasem as his biggest inspiration in radio. Zoinks.
Radio hasn't changed. Despite all the technical improvements, it still boils down to a man or woman and a microphone, playing music, sharing stories, talking about issues.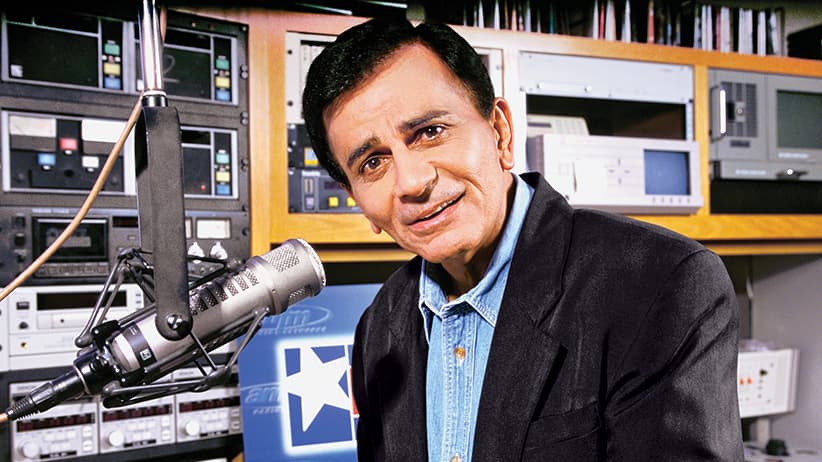 99. Ken Bruce
Popmaster presenter was at the helm of BBC Radio 2 for 31 years until his shock departure in March 2023.

98. Jane Garvey
Woman's Hour legend Garvey was the first voice heard on BBC Radio 5 Live back in 1994.
97. Amanda Keller
Co-host of WSFM's Jonesy & Amanda, Keller is the People's Princess of Aussie breakfast radio.
96. Dr. Laura Schlessinger
The Dr. Laura Program catapulted the controversial Schlessinger to a net worth of $40 million.
95. Mary McCoy
85-year-old McCoy has hosted various radio shows since she was just 12 years old, if you can believe it. But only recently has she become famous outside of Texas. She entered the Guinness World Records for possessing the longest career as a radio presenter (71 years, 357 days). Now that's what you call a dedicated radio host!

Radio has been my life for as long as I can remember.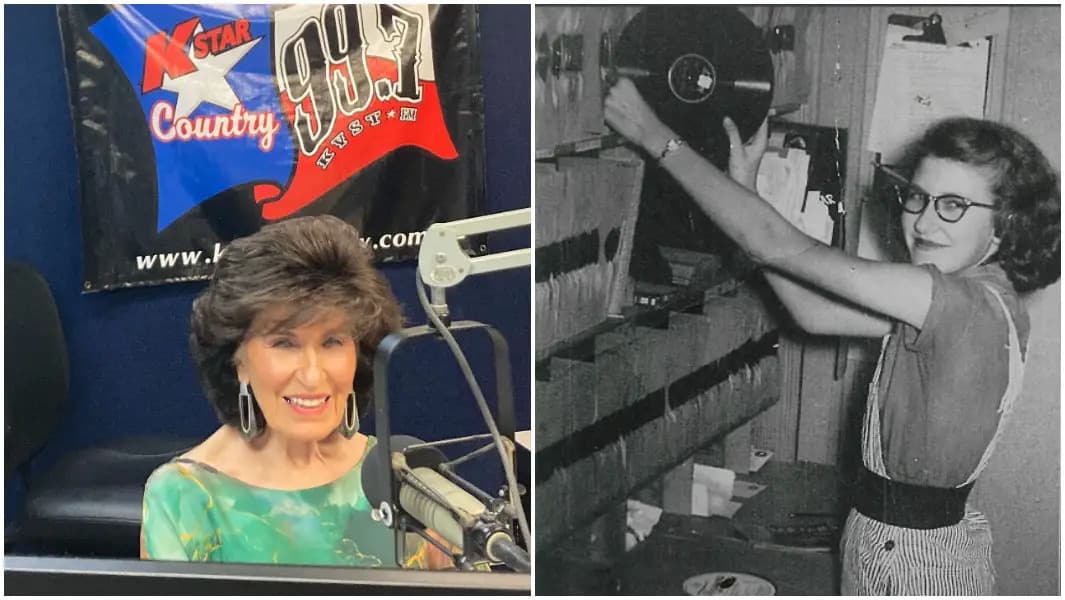 94. Larry The Cable Guy (Daniel Whitney)
Prior to the birth of the Cable Guy, Whitney started his career in comedic radio in the 90s.
93. Halloween Martin
One of the first female disk jockeys, Martin revolutionised the morning radio format in 1929.
92. Jeremy Vine
BBC Radio 2's political agony uncle, Vine's show is a British lunchtime institution.
91. Bob Grant
The conservative radio host pioneered the format that now dominates American airwaves.
90. Chris Morris
The Brass Eye British comedian created the radio riot On The Hour, a news parody programme. Not only did it win multiple accolades, add credibility in the comedy world to radio as a medium, and spawn a spin-off TV series, but it blessed us with a new radio icon. The most famous fictional radio host since Frasier, Alan Partridge, was first featured on Chris Morris' show. Thank you Chris.
The pursuit of approval usually ends in disaster.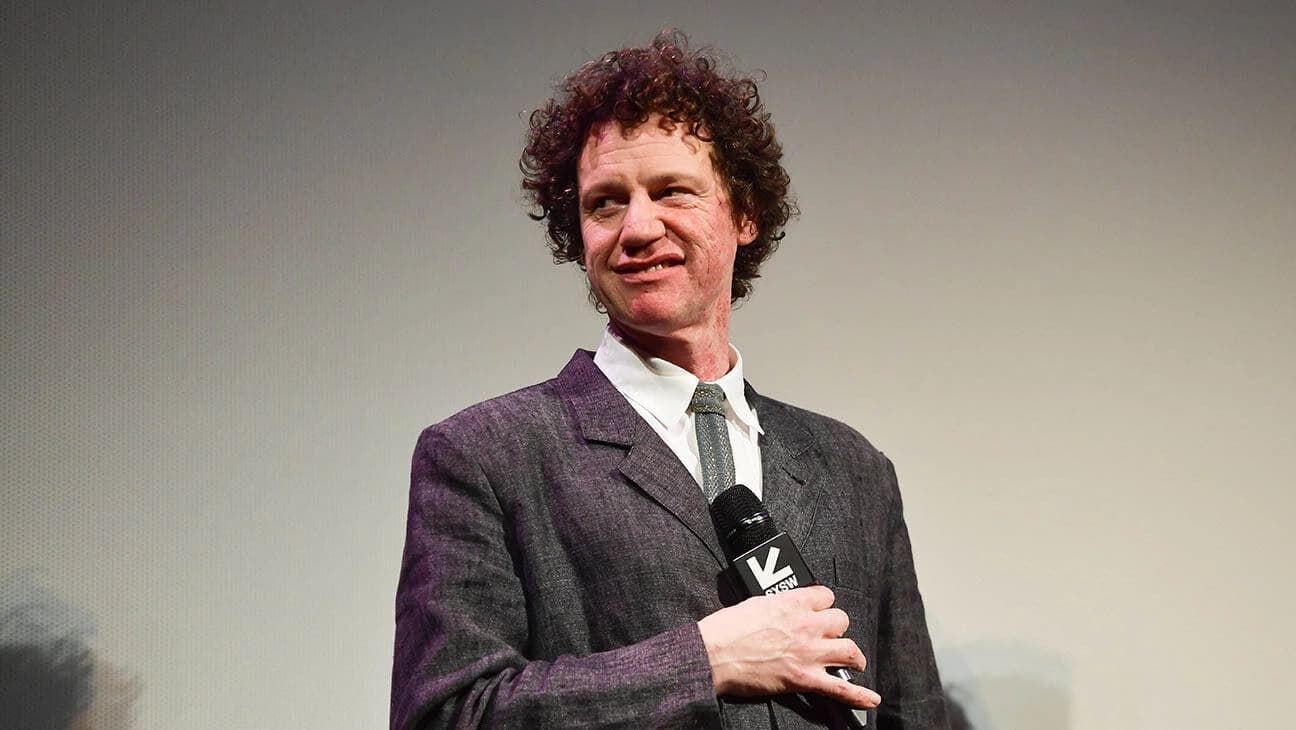 89. Pete Tong
Eternally embedded in cockney rhyming slang, the dance DJ has a 30+ year hosting career.
88. Michael Jackson (no, not that one)
The KABC veteran aka the "all night psychatrist" solved problems with listeners for decades.

87. Stephanie Hirst
Trailblazer Hirst was hired as the first trans radio host at the BBC in 2018.
86. Larry King
Beloved late night talk-show host found his fame conducting radio interviews with WMBM.
85. Venu Chitale
Also known as "Leela Ganesh Khare", the Marathi broadcaster, novelist and secretary to George Orwell has a fascinating radio history that's absolutely worth researching. She worked from 1940 for both the Eastern Service and the Domestic Home Service and was a popular voice during wartime, uniting both Indian and British listeners in their appreciation of her work.
[On broadcasting recipes to India] Scones and biscuits — things made on top of the heat sound simply ideal.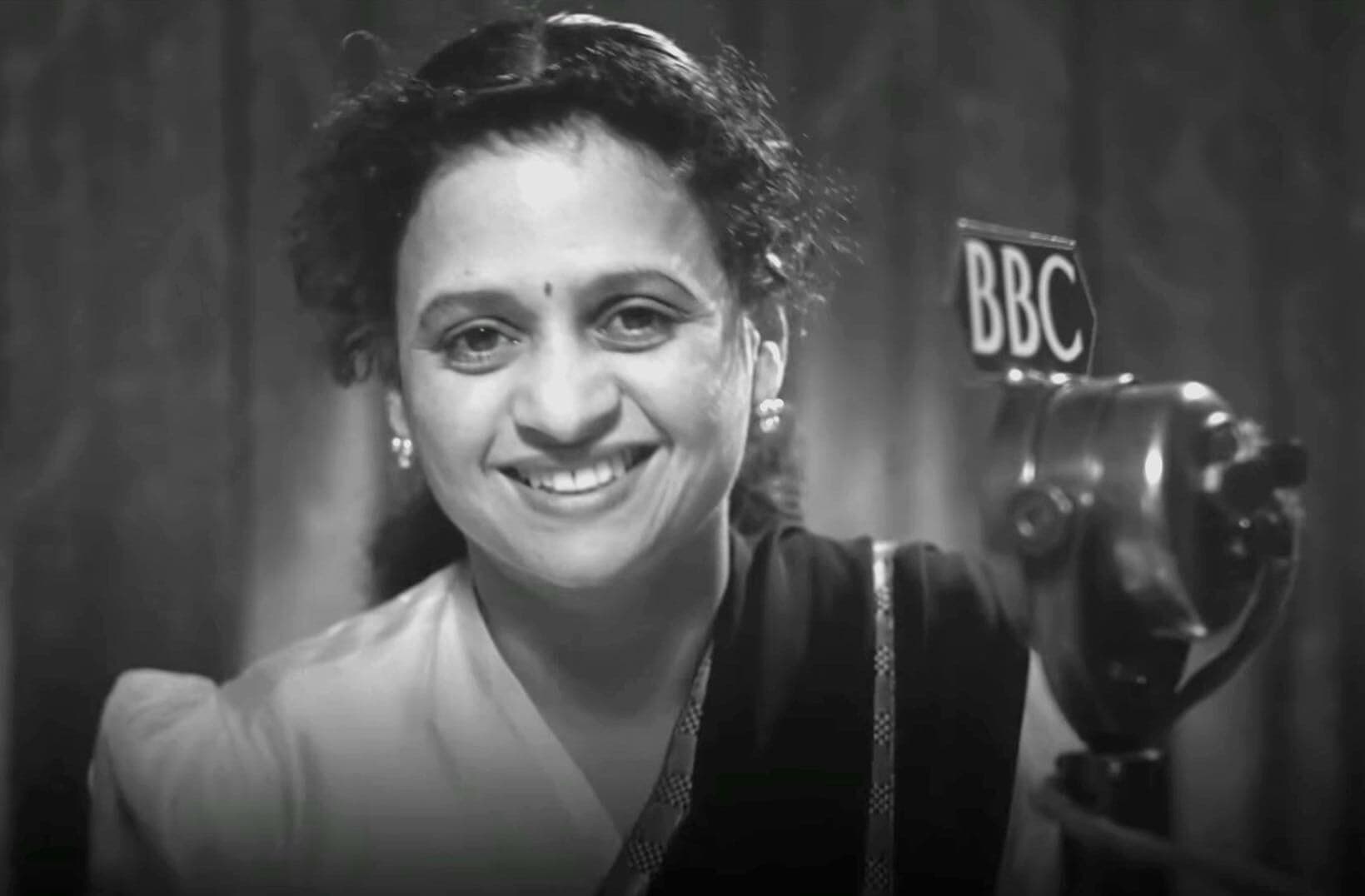 84. Cerys Matthews
From Catatonia-crooner to radio host, Matthews' soft Welsh tone found its way to the BBC.
83. Art Bell
Founder of conspiracist Coast To Coast FM, Bell's spooky shows normalised the paranormal.
82. Joe Rogan
Though *technically* more of a podcast presence, Rogan's SiriusXFM show is infamous.
81. Kyle and Jackie O
The Kyle and Jackie O Show is literally Australia's most popular radio show. Joint slot justified.
80. Tony Blackburn
One of the most recognisable voices at the BBC, Blackburn's been at the Beeb on and off since 1967. Blackburn got into radio at a young age by working on pirate radio ships like the infamous Radio Caroline, and the rest, as they say, is history. Blackburn is still ruling the radio and presents Sounds of the 60s on BBC Radio 2 every Saturday.
I'm not a showbiz person. I just enjoy talking nonsense on the radio.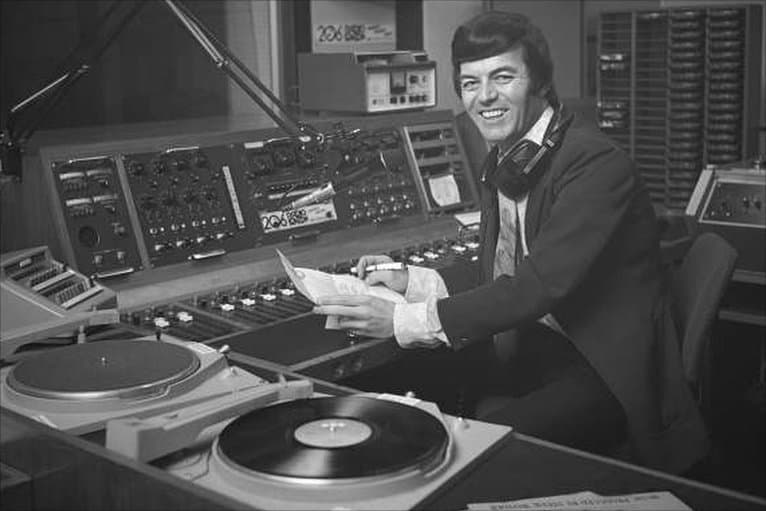 79. Glenn Beck
Commentator/conservative radio host who owns over 400 radio stations across America.
78. Jack L. Cooper
Chicago, 1929: WSBC commissions the first ever Black radio host. Enter, Cooper.
77. Jo Whiley
30 years of radio and music know-how under her belt makes Whiley a great Glastonbury rep.
76. Robin Quivers
NAACP award-winner Quivers is best known for co-hosting The Howard Stern Show.
75. Howard Stern
"Hey now." The shock jock himself, Stern ranked on our list of 10 Radio Presenters Of All Time for being arguably the most iconic American radio presenter of recent times. At a yearly salary of $90 million and consistently topping Forbes' lists of wealthiest radio hosts, Stern's success is only skyrocketing with each year of his show that passes.

There are things that I won't do on the radio. The next logical question is, what won't you do. I say, you've got to find out when you're on the air.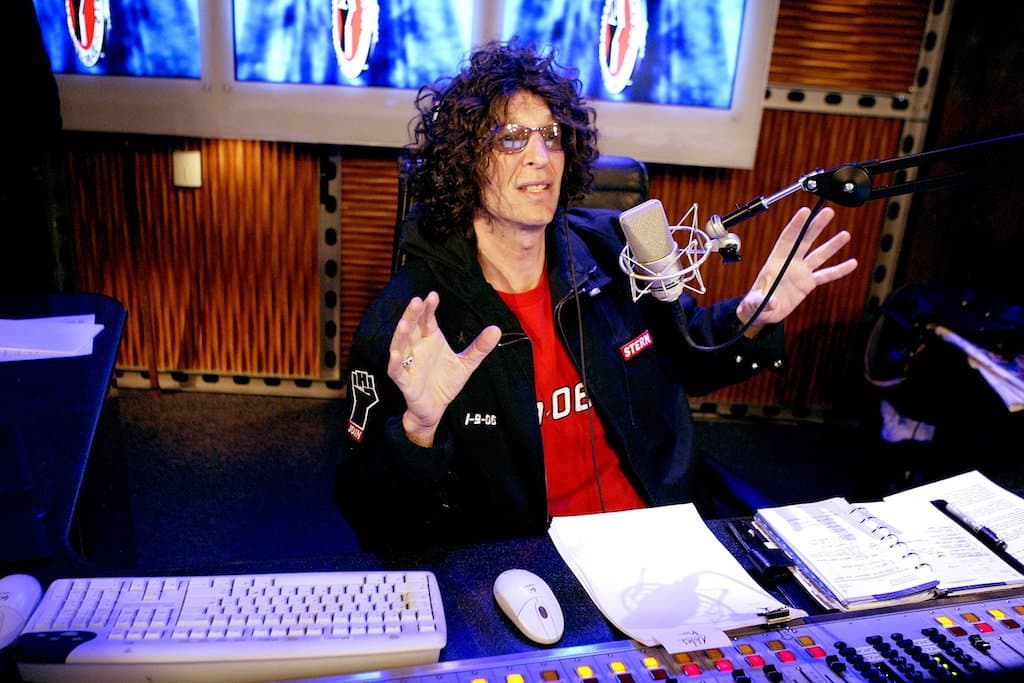 74. Zoe Ball
The BBC's first solo female presenter for Radio 1, Ball is one of Britain's brightest radio stars.

73. Patricia Hughes
Known for her 'Kensingtonian' vowels and master of Received Pronunciation on Radio 3.
72. Ben Shapiro
Though a controversial character, Shapiro's show racks in millions of listeners each year.
71. Sue Lawley
Desert Island Discs host (1988-2006) Lawley hobnobbed regularly with rock 'n' roll alumni.
70. Dr. Demento (Barret Hansen)
One of the most eccentric radio hosts of the century, Hansen's show on KPCC-FM highlighted novelty artists by offering them the airplay they normally wouldn't receive - namely, "Weird Al" Yankovic. With equally eccentric fans like Frank Zappa and er, fictional guests like Spinal Tap, Pasadena's Wizard Of Weird ruled the radio for 40 years.
When I did the first Dr. Demento Show I wasn't even sure I'd be doing one the next week.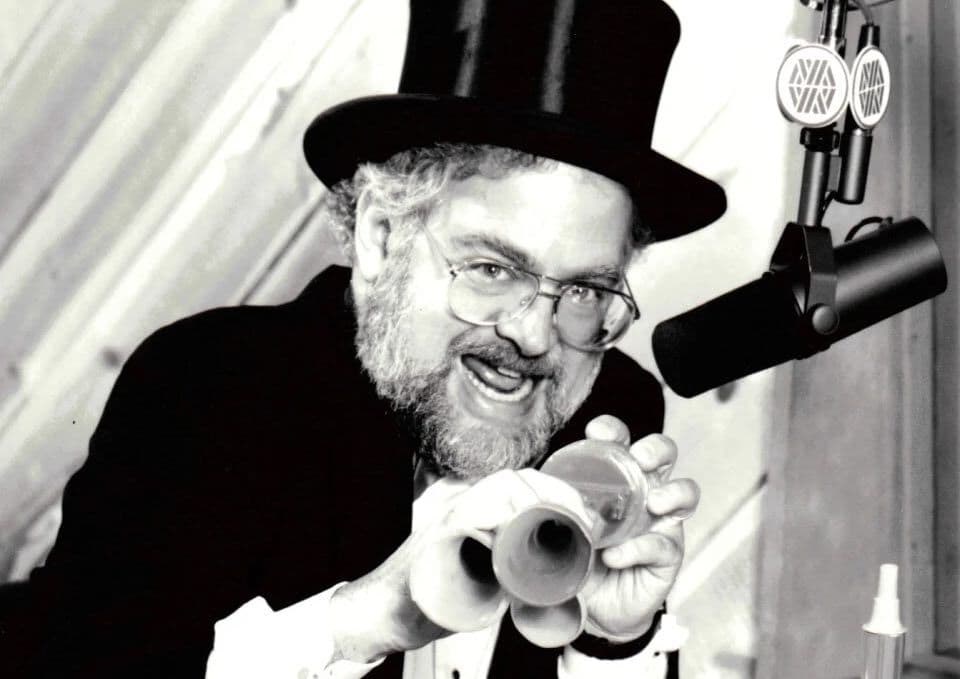 69. Nick Grimshaw
Resonating with younger listeners, 'Grimmy' was a BBC Radio 1 mainstay from 2007-2021.
68. Humphrey Lyttelton
Lyttelton hosted The Best of Jazz for 4 decades and was the UK's oldest panel game host.
67. Steve Harvey
YouGovAmerica's 4th most popular radio show in 2022? The TV star's AM show, ironically.
66. Delilah Rene
Rene's request show has loyal listeners in their millions thanks to her Friday Nite Girls fan club.
65. Annie Nightingale
In 1967, then pop-music columnist Nightingale applied for a job at BBC Radio 1, and was rejected on the grounds of being a woman. She persisted and kept auditioning for three years and, thanks to the support of her pals - a little-known band called The Beatles - Nightingale got the gig. She's been on the air for 53 years and counting, baby. Now that's girl power!

I've always had this passionate feeling about music, so I wanted to share it and ask,'What do you think?'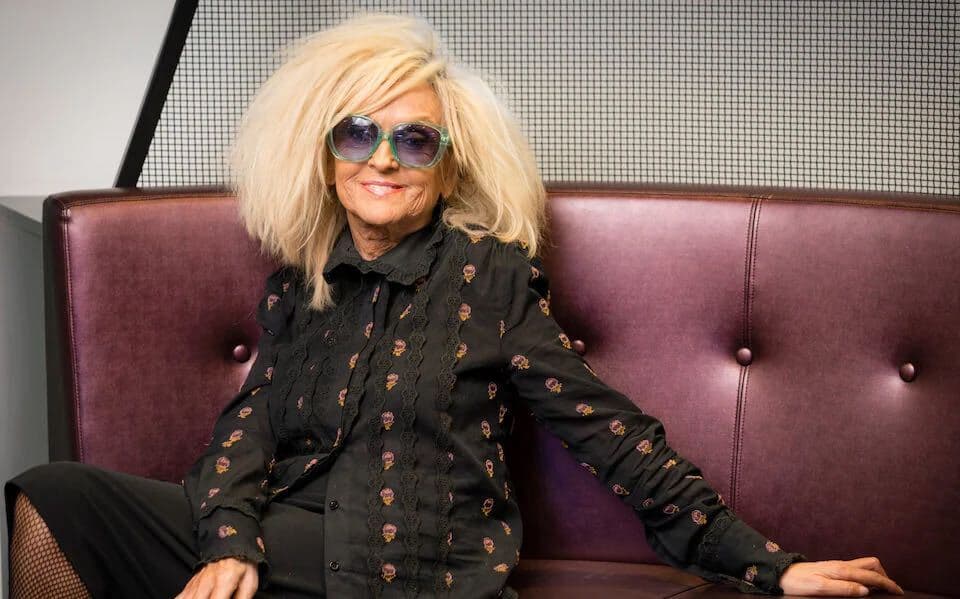 64. Chris Moyles

Now Radio X royalty, Moyles is the BBCR1 stalwart who popularised their breakfast format.
63. Orson Welles
Citizen Kane icon brought "the theatre, darling" to radio with his War of the Worlds in 1938.
62. Sean Hannity
The 'Hate-Hannity' hotline helps to Hannity amass 14.5mil weekly listeners, funnily enough.
61. Oprah Winfrey
Powerful personality on TV and radio, Winfrey had her own talk radio channel for a decade.
60. The Real Don Steele
Even after hearing "Tina Delgado is alive, alive!" for 30+ years, we still don't know who Tina Delgado is. Ever the enigmatic figure, The Real Don Steele soundtracked the sixties/seventies (and, retrospectively, a Quentin Tarantino movie) with jives and jingles galore. If you don't believe us that the guy's iconic, Steele's star on the Hollywood Walk of Fame *should* vouch for that.

I don't think I'm any different now. I've never stopped. I've never changed. I never did anything else. This is the music of my life.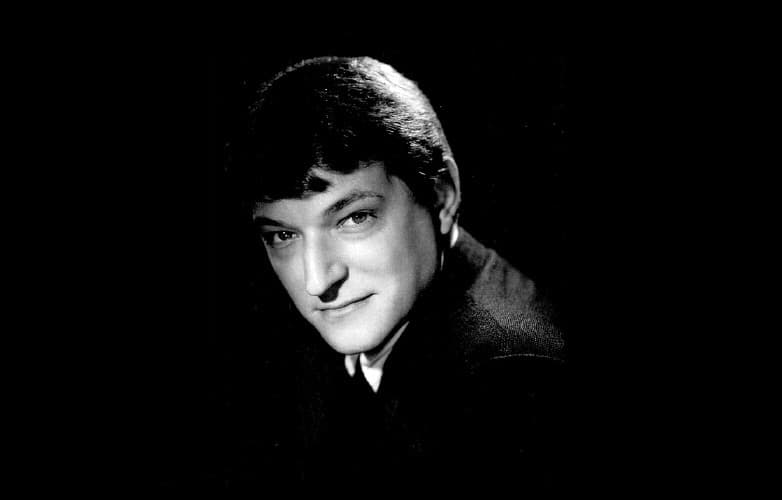 59. Lauren Laverne
6music songstress Laverne launched m4d Radio, an online station for dementia patients.
58. Douglas John Mulray
'Uncle Doug' Mulray has been a fixture of Australian radio since the '80s.
57. Bob Hope
Hollywood star Hope created NBC's The Bob Hope Show, the comedy radio blueprint.

56. Ryan Seacrest
Radio rags-to-riches: interned at a local radio station at 18, now earns a $75mil salary.
55. Dr. Ruth Westheimer
Airing on 100s of radio stations in the 1980s, therapist Westheimer's Sexually Speaking therapy show struck a chord with listeners due to its frank humour and honesty. A Holocaust survivor who lost much of her feet during the Palestinian war would go on to work with Playboy in her late sixties. Well... Westheimer made for one of the most interesting radio hosts of the century, that's for sure.
When people turned on the radio, they [certainly] knew it was me.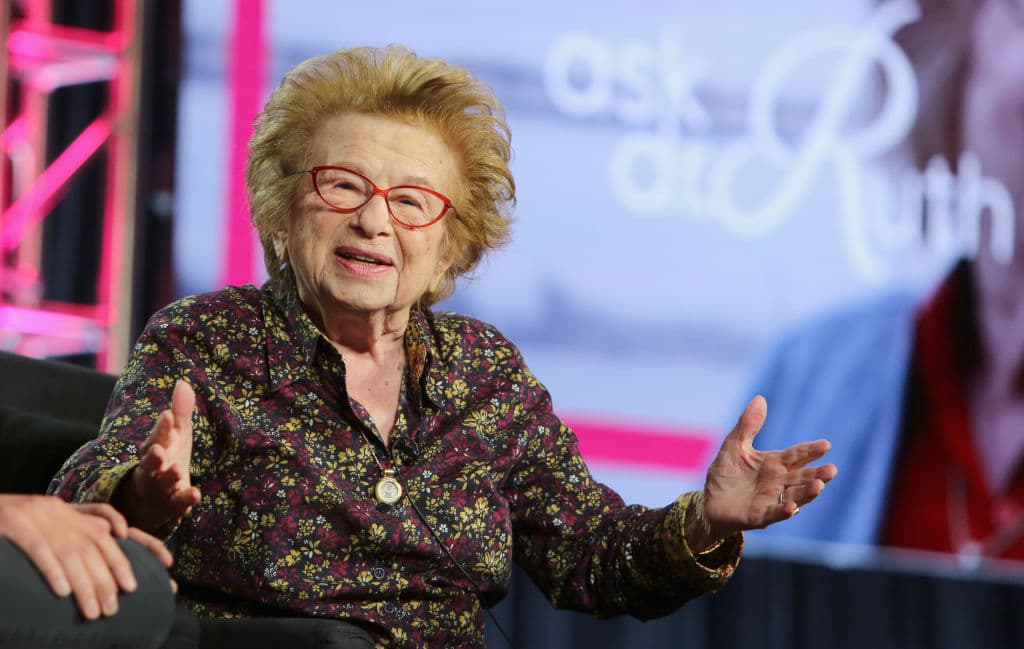 54. Sara Cox
Boltonian BBC2 drivetime presenter famous for her comforting Northern drawl.
53. Betty Lou Gerson
This 1930s star of the Golden Age of Radio is now known for a disdain of dalmatians.
52. Craig Charles

From Corrie cabbie to soul spinner, Charles is a popular radio personality among funk fans.
51. Siddharth Kannan
Recipient of multiple radio awards, Kannan became India's youngest radio host at 14.

50. Chris Evans (again, not that one)

The most successful British breakfast radio presenter of all time (in terms of loyal listenership). Evans broke the mold with The Big Breakfast in the 90s and its format, and boosted the breakfast slot's listeners to 7mil per week by 1996. But his work also radically redefined the entire style and direction of BBC Radio 1 that is still felt even today.
I crave the uncertainty, but you can only do that against a backdrop of certainty and security. Uncertainty is where creativity lives.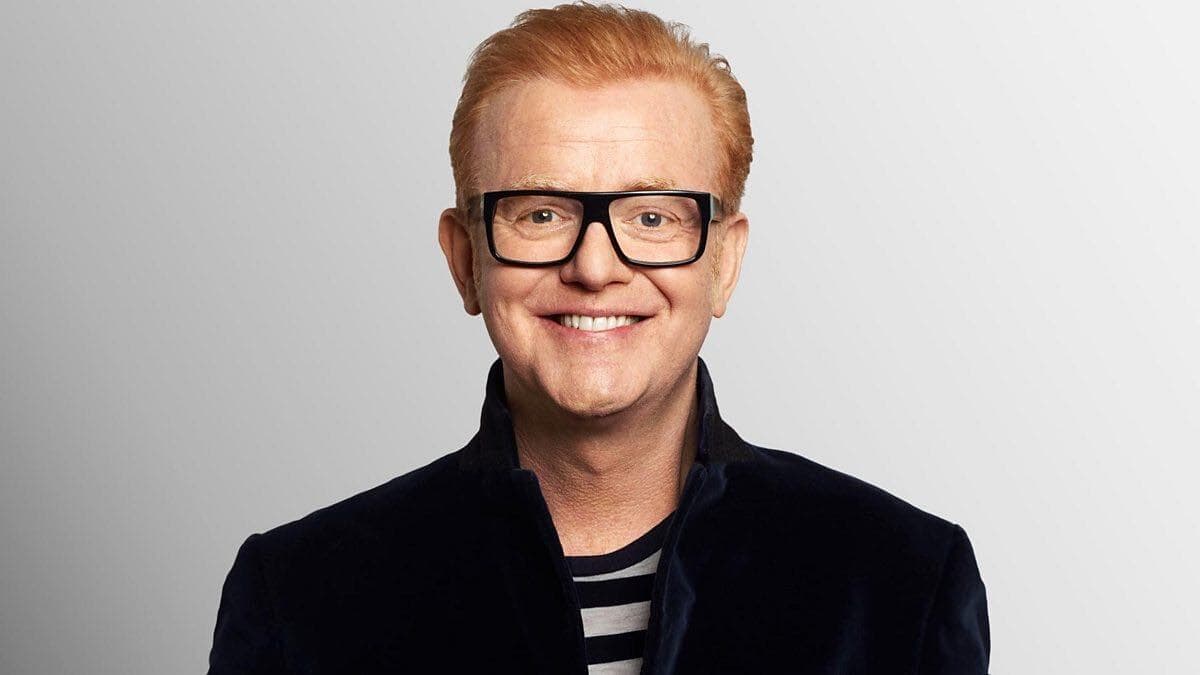 49. Larry O'Connor
Huge name radio host who interviews, er, huge names. Ever heard of Donald Trump?
48. Janice Long
The late, great Long served her radio service for 50 years, and to that we doff our hats.
47. Jim Bohannon
Late-night broadcaster Bohannon had a sharp wit and strong command of his audience.
46. Jocko Henderson
Rapid-fire radio rip roarer was a different disk jockey to his more straight-laced peers.
45. Rush Limbaugh
Political radio behemoth Limbaugh's show was, prior to his death, broadcast to an audience of over 15.5mil people across 650 stations. That's a staggering statistic for SiriusXM - and an unparalleled level of radio influence as a whole, making Limbaugh virtually untouchable in his political and cultural power.
I am sort of proud that I think radio has become a dominant influence in shaping public opinion. Good radio paints the picture for the audience.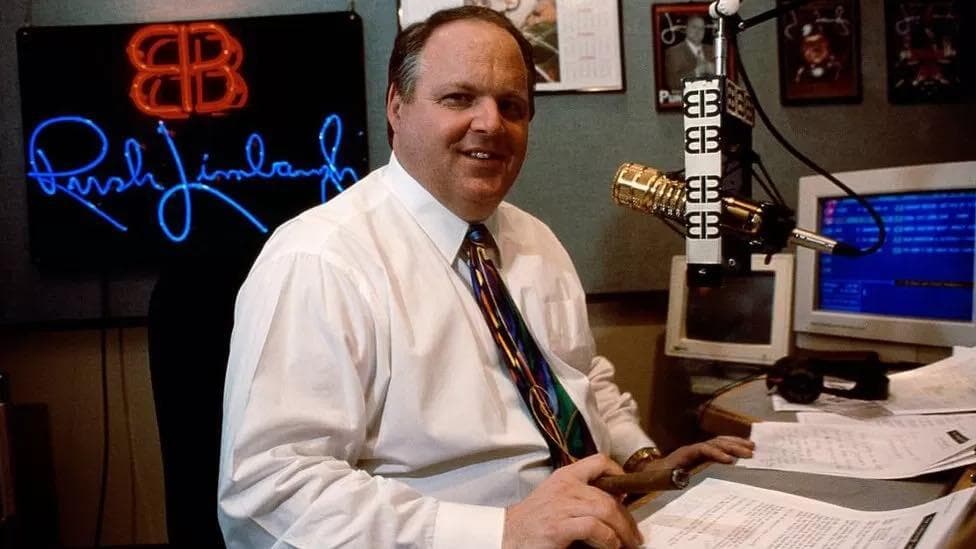 44. Graham Norton
Irish funnyman Norton is no stranger to radio, having hosted multiple shows on/off since '99.
43. Terry Gross
Award winner Gross's show Fresh Air has solidified her status as famous radio host since 1975.
42. Johnnie Walker
Walker's radio efforts have earned him an MBE and a permanent role at Sounds of the 70s.
41. Rickey Smiley

Prank phone calls are a radio art that few hosts have perfected, and Smiley is one of them.
40. Abbott and Costello
A comedy team rivalling only Laurel and Hardy, Abbott and Costello's first broadcast was on The Kate Smith Hour in 1938. From that was born The Abbott and Costello Show. It ran for 9 years and was a variety of sketches and bits - sketches and bits that cemented them as not only two of the most famous comedians of the century, but two of the most famous radio hosts, too.
I'm a b-a-a-a-d boy!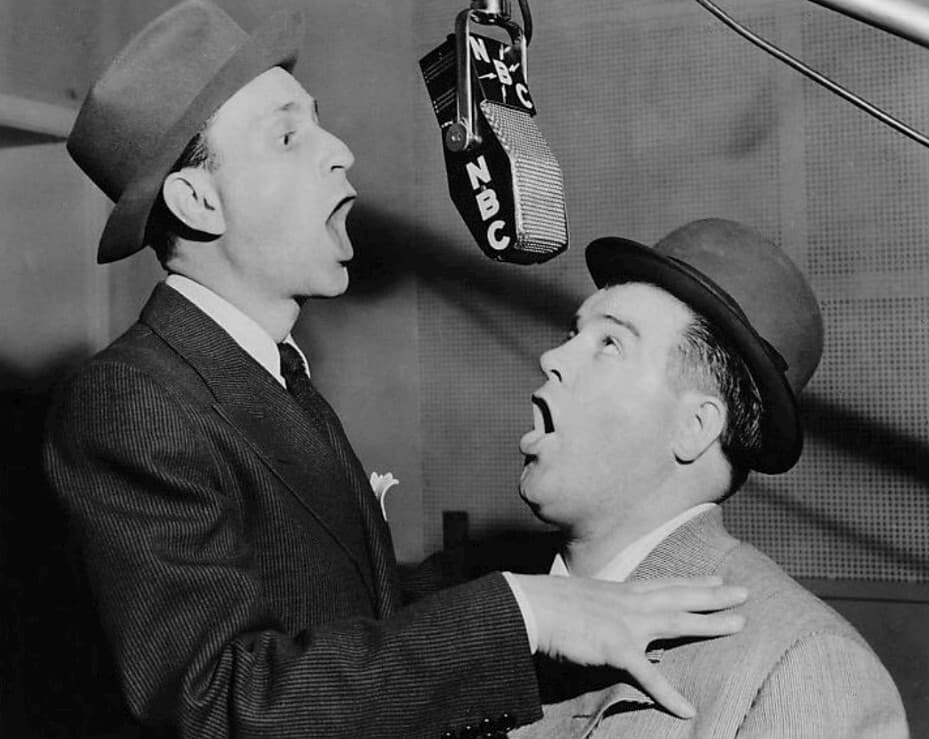 39. Sook-Yin Lee
Canadian musician Lee presented Definitely Not The Opera on CBC Radio One until 2016.
38. Clara Amfo
Amfo went from KISS FM intern to taking over Annie Mac's coveted Future Sounds slot on R1.
37. Steve Lamacq
Lamacq is a champion of upcoming youth artists over on 6 Music with 25 years in the field.
36. Jimmy Young
"What's the recipe today, Jim?" Young was old-school, but had nationwide appeal.
35. Janeane Garofalo
Reality Bites, but Garofalo's successful Air America Radio show sure didn't. The grungy 90s actress-turned-radio presenter famously hosted The Majority Report for a short but eventful spell. Garofalo frequently came to blows with her co-host about politics and Scientology; once even interviewing her conservative father. Garofalo is an example of how to make an impact in a short time; she's a famous radio host despite having only a two year tenure over a decade ago.
I don't enjoy sparring with the audience. It devastates me.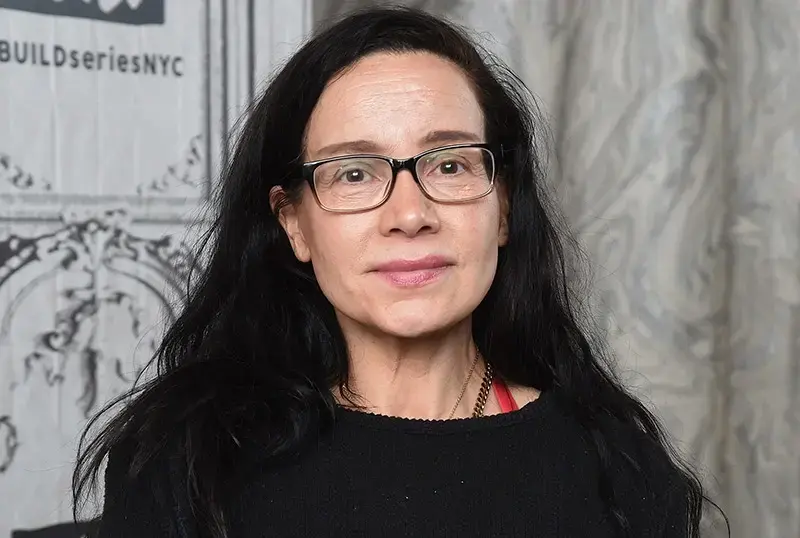 34. Moondog (Alan Freed)
1950's host famous for taking record company payolas...and making them illegal.
33. Don Imus
Love him or hate him, this growling prankster pushed the limits of radio radically.
32. Sally Boazman
A famous radio host and a national service - the BBC's dedicated traffic reporter is beloved.
31. Simon Mayo
"Mayooooo, Simon Maaaaayo, drivetime's on and we want to go home."
30. Alistair Cooke
Cooke was Salford born and bred, and yet made waves across the pond with his journalistic contributions to the point that he became an American citizen. Cooke deserves his spot on this list for his work as a BBC film critic, NBC Radio's London correspondent, and most famously Letter From America. The latter was a staple of BBC Radio 4, made 2869 broadcasts, and became the longest-running speech radio programme hosted by one individual. Cooke's commitment to radio was certainly admirable.
People in America, when listening to radio, like to lean forward. People in Britain like to lean back.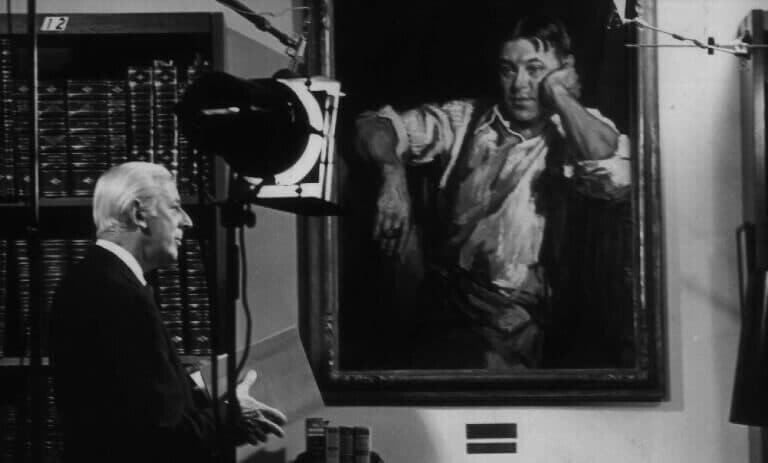 29. Federica Panicucci
La superclassifica is *the* Italian chart show, and Panicucci is *that* radio host.
28. Claudia Winkleman
Winkleman's a dab hand at radio hosting as well as her skilled TV presenting (fringe and all).
27. Christian O'Connell
He's the Australian Gold Coast host with the most, and is a bonafide hit in the UK, too
26. Alexander Armstrong
Armstrong's popular Classic FM show is anything but Pointless. Sorry. Couldn't resist.
25. Shaun Keaveny
The former 6music radio host has inadvertently become the face (or rather, voice) of independent radio when he found his green thumb. Community Garden Radio is an online radio station covering a variety of topics: from callers' dream festival line-ups to the Creative Cul-De-Sac podcasts, Keaveny's passion project is still blooming. Furthermore, he joined Greatest Hits in November - proving he's a master of all radio mediums. A Shaun of all trades, if you will.
[Traditional] radio is restrictive, so it can be a vanilla experience. But there are niches I knew my listeners would get into [with online radio]. I was surprised at what level and how much.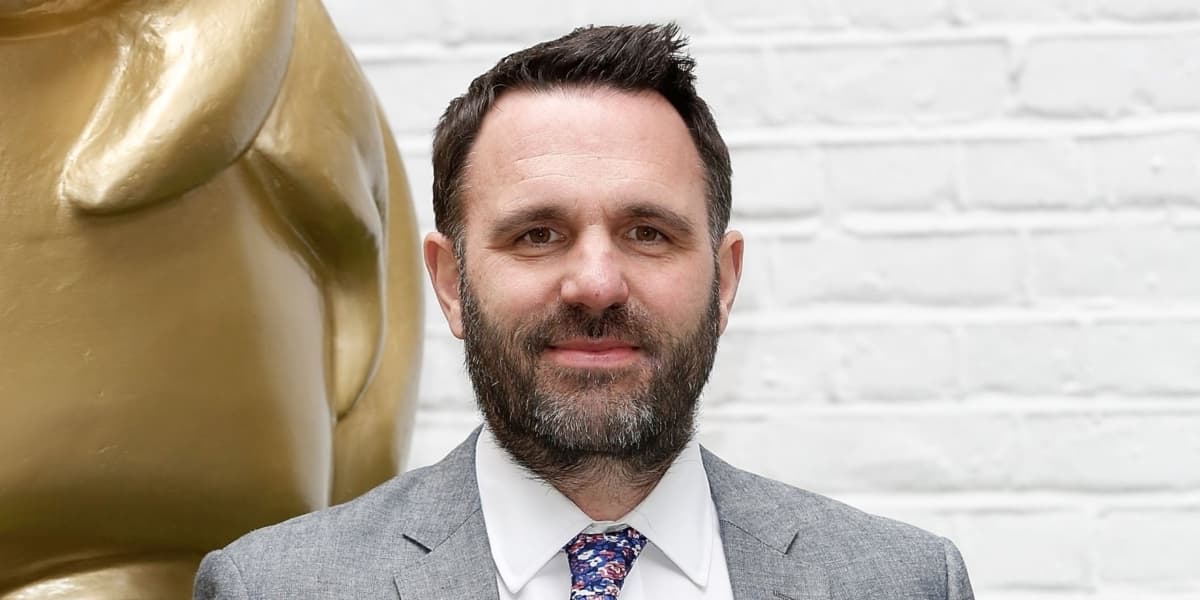 24. Mary Anne Hobbs
In radio, like many things, you've either got it or you don't. Hobbs has got it.
23. Terelu Campos
Though her work was most notable in the 1980s, her legacy is still felt in Spanish radio.

22. Clare Balding
Balding presented Ramblings and the religious show Good Morning Sunday to name a few.
21. Toby Anstis
The beating heart of er, Heart Radio. And Heart Dance, for that matter.
20. Ted Williams
'The Man With The Golden Voice,' Williams was at the top of his game as a radio personality in the early '80s. However, over the decade in his post, Williams struggled with addiction and was dismissed - finding himself homeless. But when journalist Doral Chenoweth filmed a short interview with Williams, the video went viral. He got sober, started appearing on talk shows, and now is the host of his own show on the RadioFreeNetwork, as well as the voice of numerous commercials and becoming the voiceover of Pepsi. Inspiring stuff, and we agree:
Listen to me, radio is defined [as] theatre of the mind.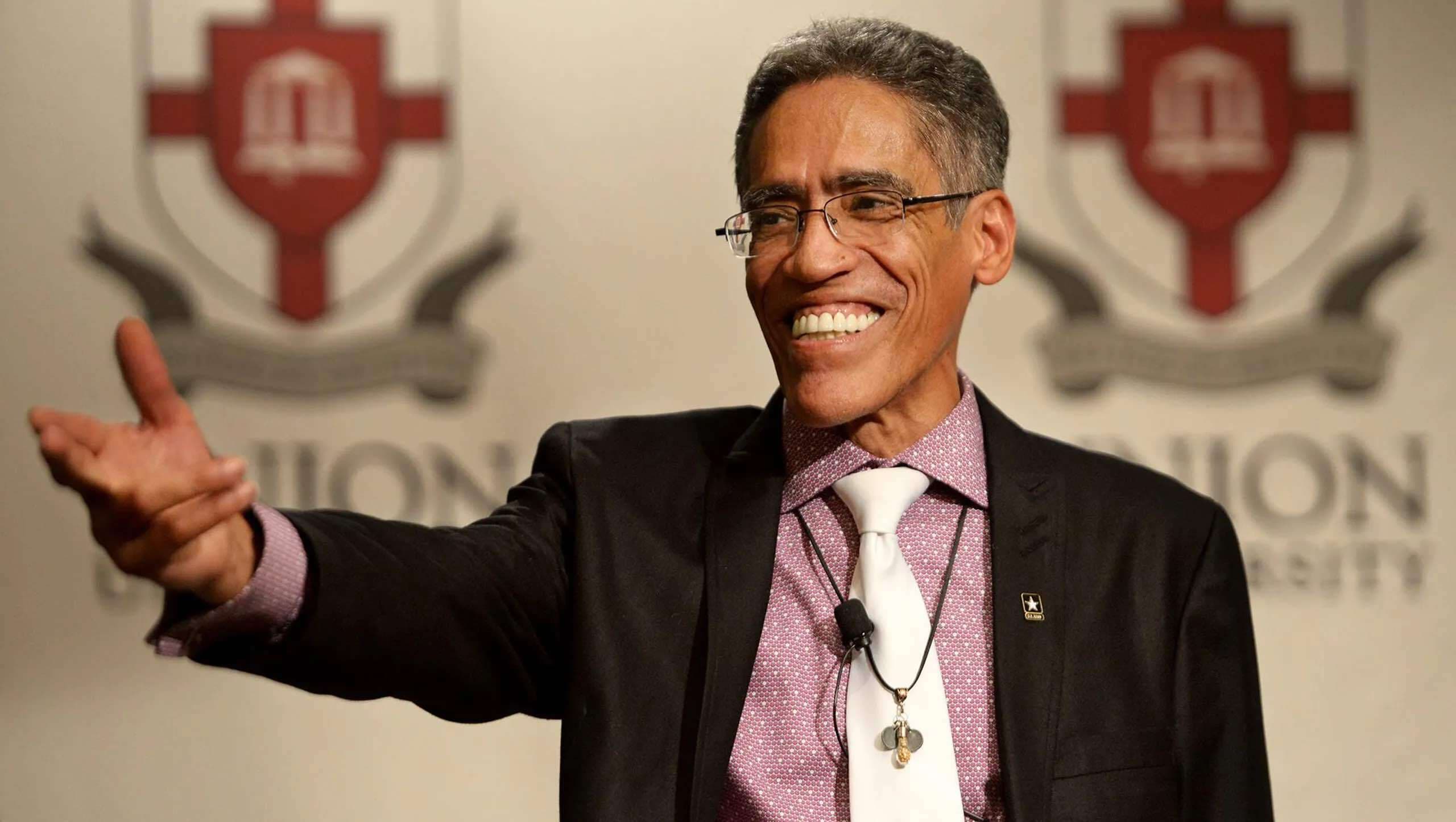 19. Nick Ferrari
He's all over buses in the UK - LBC's leading radio host of Conservative call-in shows.

18. Manoush Zomorodi
The TED Radio Hour hosted by Iranian-American Zomorodi highlights inspirational speakers.
17. Bing Crosby
A Christmas Sing With Bing and his General Electric shows put the classic crooner on this list.
16. Danny Bonaduce
Son of the Partridge family, Bonaduce's Seattle show is a hit (though currently on hiatus.)
15. Ira Glass
Named by Time Magazine as the "Best Radio Host in America"; Glass is kinda a big deal when it comes to radio. NPR's golden boy Glass worked there for 17 years and hosted 3 shows. After a lull in his mainstream radio career and focusing on improv freeform radio, Glass returned to the airwaves with This American Life. The show has been widely critically acclaimed, has won multiple Peabody Awards, and its storytelling structure has been highlighted as influential in American journalism. After all -

Great stories happen to those who can tell them.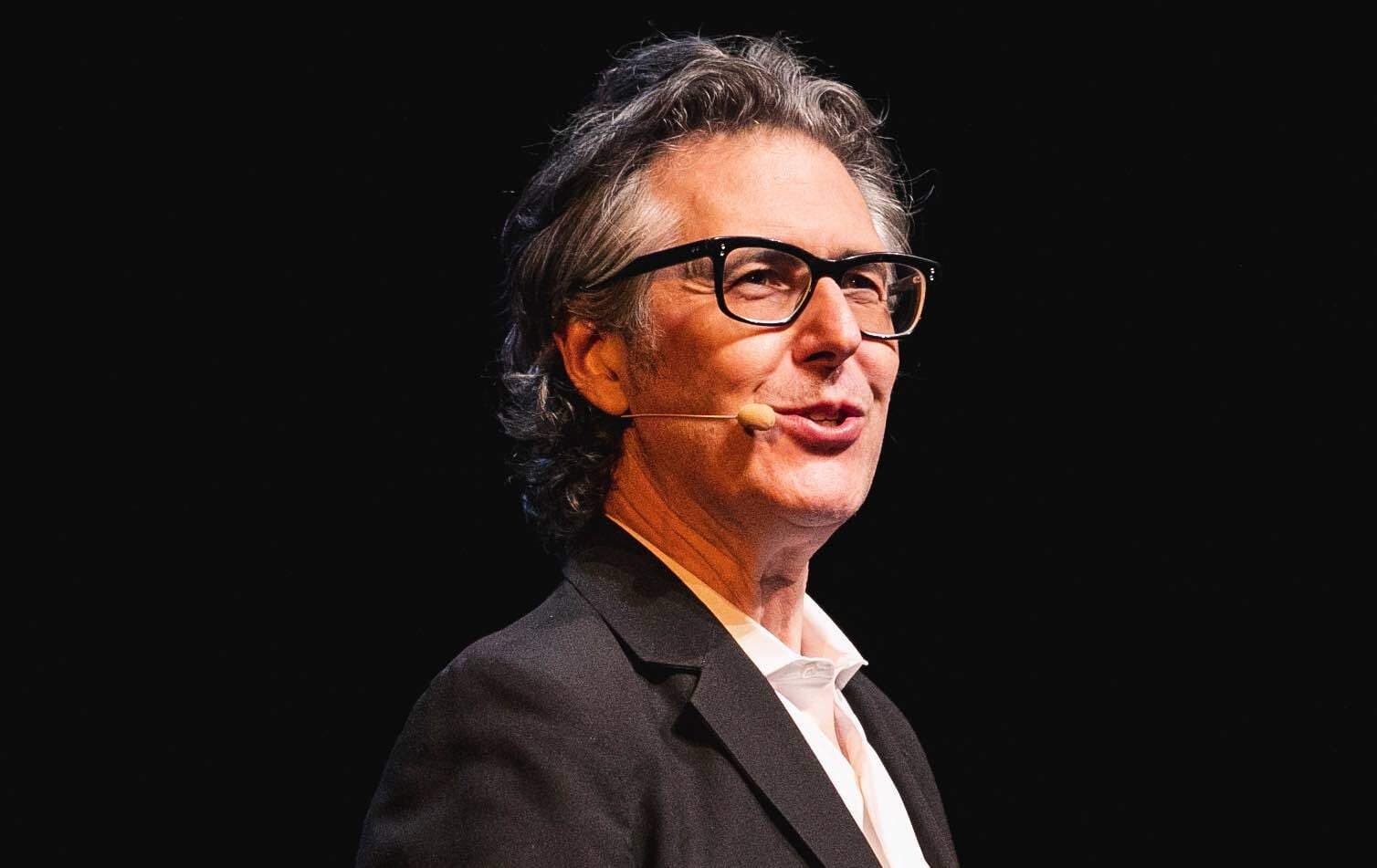 14. Jane Gazzo
Gazzo hosts radio shows in the UK and back in Oz - plus, she's a dynamite DJ.
13. Long John Nebel
Meandering, freewheeling conspiracist with a fascinating co-host. Look up Candy Jones...
12. Snoochie Shy (Cheyenne Davide)
Shy, radio host on 1Xtra, is set to be one of the biggest names of the next century. Trust us!
11. Kenny Everett
Radio rebel Everett was oft fired/rehired. He was crude with attitude and was loved for it.
10. Terry Wogan
When you ask any Brit who the most famous radio host of all time is, nine times out of ten Wogan's name will be first on their list. The British-Irish broadcasting icon was principal in many's morning routines; feeling familiar and like a softly-spoken family member. He provided humorous commentary to Eurovision coverage, was the face of Children In Need and *made* Blankety Blank what it, er, what-ity was. Wogan was radio. As he said it himself:
Television contracts the imagination and radio expands it.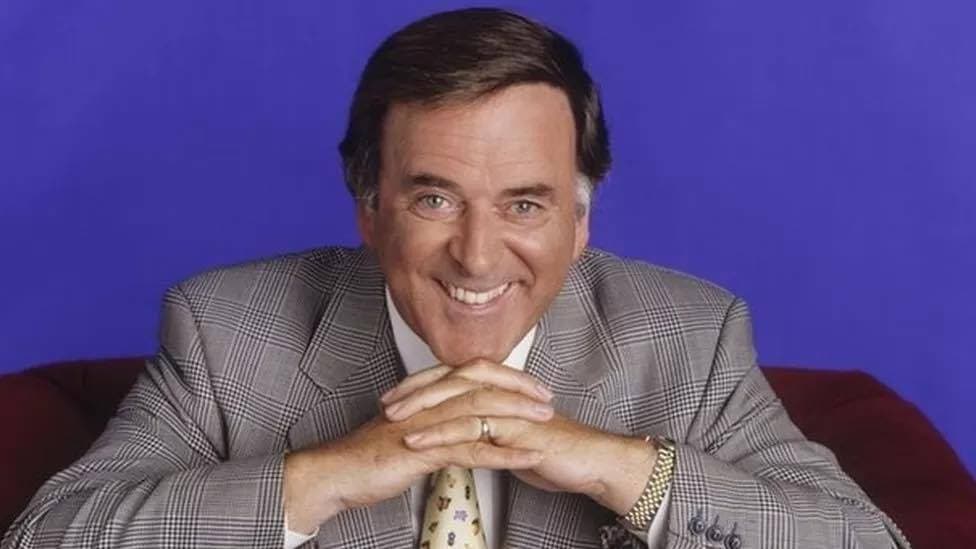 9. Melvyn Bragg
In Our Time is a radio show listened to by historians and amateurs alike, thanks to Bragg.
8. Kathryn Ryan
Named International Radio Personality of the Year in 2015, Ryan illuminates NZ radio.
7. Greg James
Current host of The R1 Breakfast Show, James has presented radio since his uni days.
6. Iggy Pop

The 'Godfather of Punk' has a show on 6, Iggy Confidential, and he's a gravelly natural.
5. John Peel
Ah, John Peel. Any seasoned music fan is no stranger to Peel's Radio 1 show, starting in 1967. Then his Home Truths programme on BBC Radio 4 wowed, as did Offspring, and his work on the punk pirate radio scene. We can thank Peel Sessions for the widespread success of bands like The Smiths, The Undertones, The Fall, Blur and many more. Though Peel's personal character has come retrospectively into question, his radio work will always remain famous.
All I ever wanted to do was hear music that I like and play it to other people.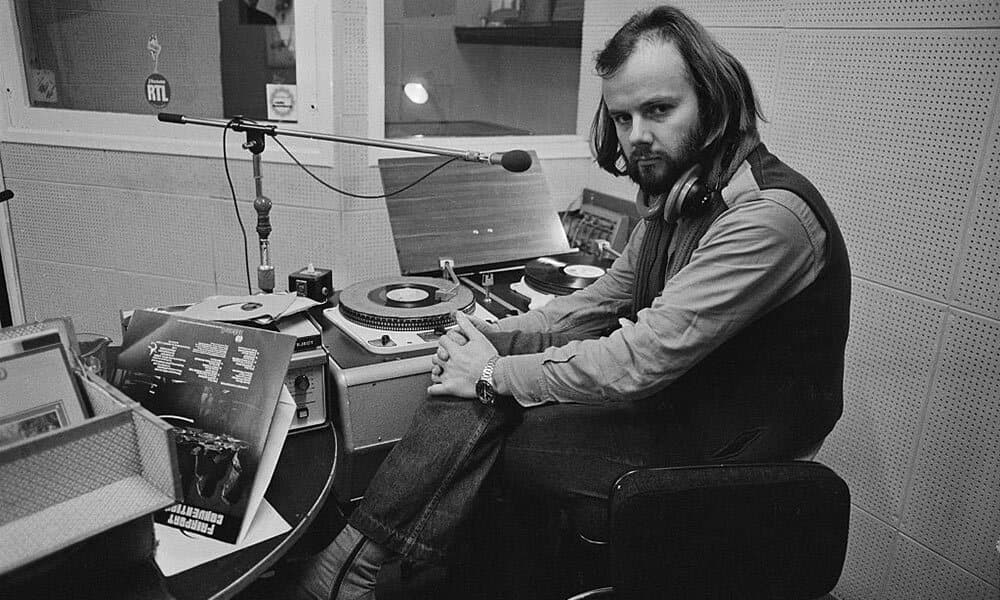 4. Michael Parkinson
Broadcasting legend Parkinson presented across BBC4, 5 Live, BBCR2 and LBC.
3. Michelle Visage
RuPaul's confidant Visage presented US radio in the 1990s, but now hosts on the Beeb.
2. Gay Byrne
Irish showbiz sensation Byrne hosted The GB Show live from 1973 to 1998.

1. Paul O'Grady
Though this list is (of course!) in no particular order, we felt the tragic recent passing of O'Grady meant he deserved highlighting for his services to radio and entertainment as a whole. So, we've ended our list of 100 famous radio hosts with a tribute. The former drag queen, TV presenter, dog lover and LGBTQIA+ legend migrated his radio show to Boom Radio last year. His radio work over the years on Paul O'Grady On The Wireless was a massively popular Sunday slot regularly racking up millions, and his warmth as a radio host is already deeply missed.
I dress up as a middle-aged prostitute and do a game show.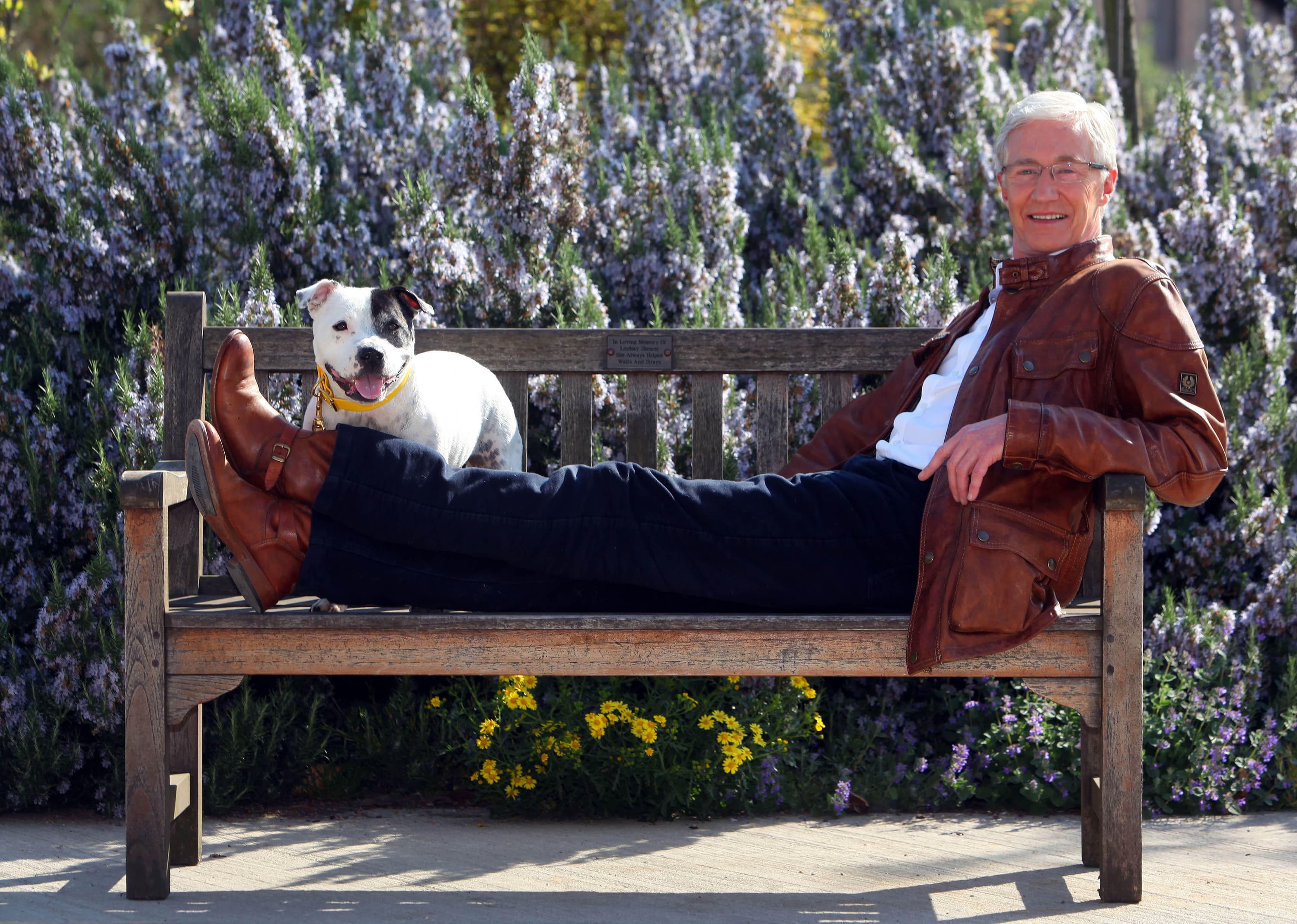 100 Famous Radio Hosts - Who'd We Miss?
Listing 100 famous radio hosts was a mammoth task. No doubt we've missed 100 other radio hosts that should've been on the list. So, go on, who've we missed then?
Share your top picks over on socials (be sure to @ us so we can judge you and your listening choices). But be warned, a century's worth of radio excellence can prove extremely tricky to narrow down. Trust us. We know first-hand.