How Internet Radio Stations Make Money
Turn your hobby into a business. From big commercial shows to independent broadcasters, get to know how internet radio stations make money.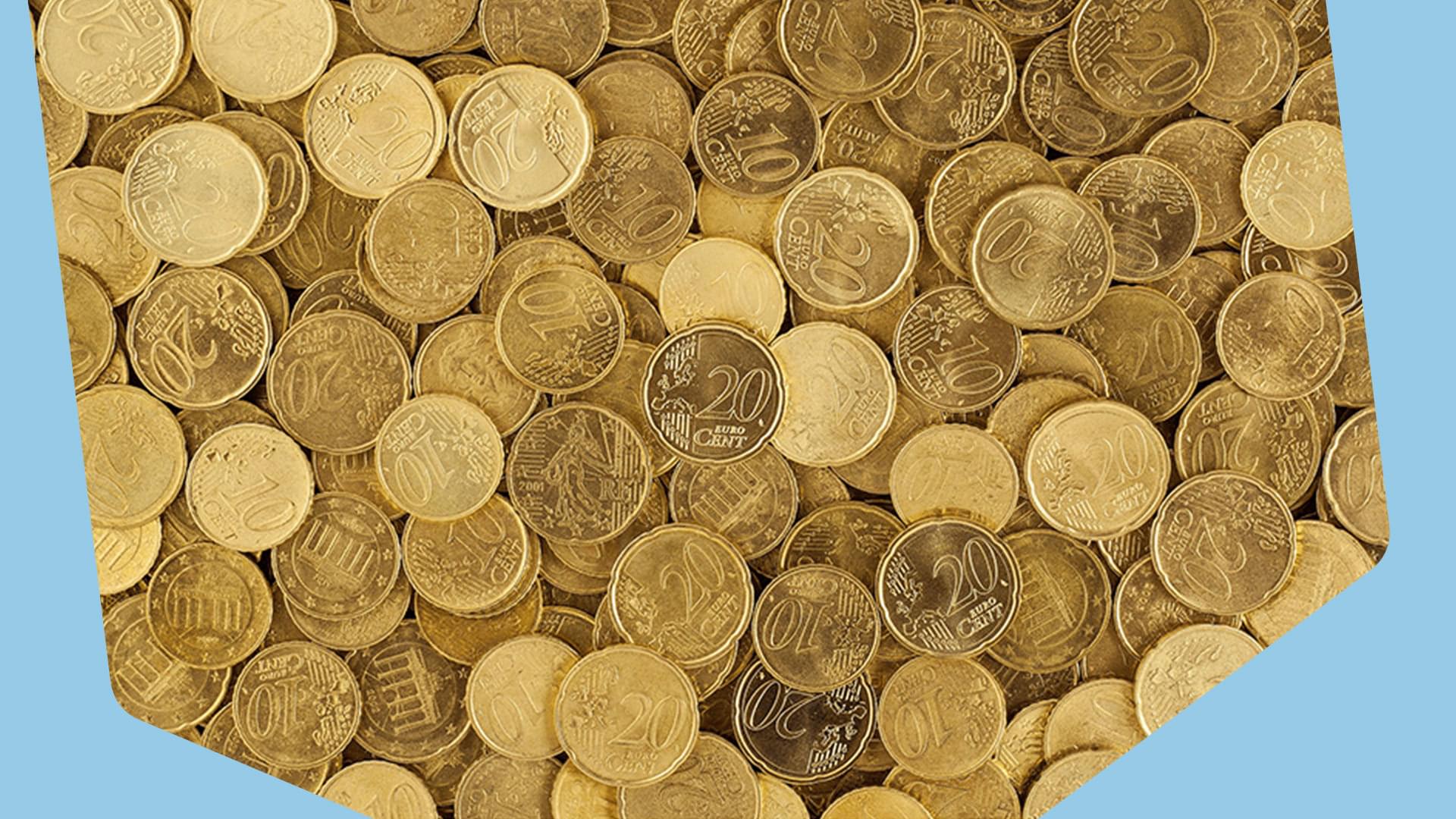 Let's be real for a second. There's no get rich quick scheme or simple way internet radio stations make money. It takes hard work and dedication. But with a good plan and insight, turning a profit is achievable.
Get to know the tools of the trade. From big business like Global and Bauer to small independent broadcasters like Melodic Distraction, choose the right solutions for your radio station.

Multiple Ways Radio Stations Make Money
Just like any business, radio stations don't rely on one way to earn cash. Right off the bat, ads and sponsorships are the most popular. And investors trying to get in front of a large audience will pay good money. But there are several ways radio stations make bank.
Paywall/Subscription: Regular payments on a rolling basis.
Merchandise: Physical goods like clothes.
Affiliates: Sales from referrals.
Crowdfunding: Donations from loyal listeners.
Events: Earn from hosting, like conventions or sports games.
Competitions: Free giveaways to promote businesses.
Ads: Play clips selling a business's goods or services.
Sponsorships: Promote businesses throughout your station.
Get to know each model better and see if they're a right fit for your radio station.
Paywall: Subscription-Based Payments

Just like a gym membership, get regular payments on a rolling monthly or yearly basis.
The key difference between this method and others, listeners won't get annoyed or turned away with the likes of ads or sponsorships. Subscriptions provide value to listeners with exclusive content, whilst keeping them engaged for longer.
Using Patreon or getDPD, earn recurring revenue to safeguard yourself so you can keep doing what you love.

Exclusive content sat behind a paywall, like a VIP club, makes listeners feel special. And if it's content they can't get elsewhere, then all the more reason to stay subscribed.
$2 to $5 monthly charges work best. Not too big that subscribers wince looking at their credit card statements.

But pricing is important. Don't charge high costs that stick out on a credit card bill. Make it low, like $2 to $5 per month, so listeners won't wince and decide to cancel.
At the start focus on volume to show your value. So overdeliver, produce as much content as possible for your VIP subscribers. And remember to give them access to content they can't get elsewhere.

Merchandise: Psychical Goods
People love owning physical goods. And I'm not talking about mugs and keyrings, but clothing. Hoodies, t-shirts, and laptop cases that have usage on a daily basis offer value.
Services like CafePress and Teespring offer on-demand printing, so you don't need to buy in bulk or have a huge amount of stock. Just upload a design, make a sale, and print.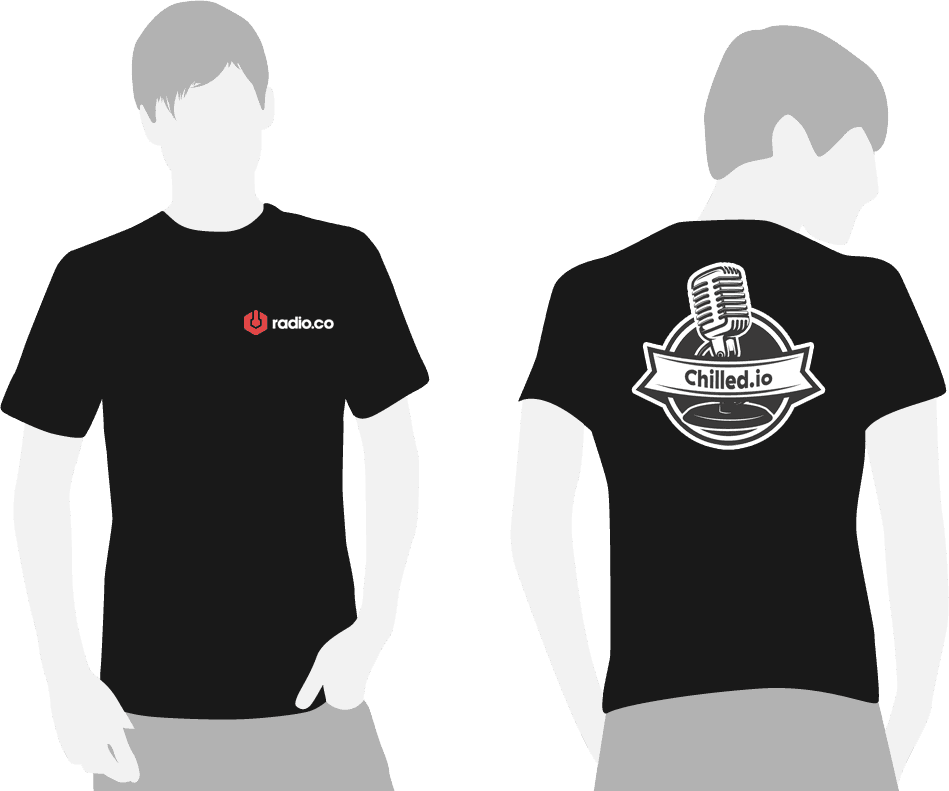 But you're not a big household name like Nike or Addidas, so nobody will wear a t-shirt with just your logo. Be clever, offer a few different designs. If your station plays 60s or 70s music, look at the artists, famous quotes, and even song lyrics. Brainstorm straplines and clever catchphrases that fit in with your station's themes.
Just stay away from WordArt. Hire designers to turn your ideas into nice visual aesthetics. People already do this successfully, but your advantage is you know your listeners, what they're listening to, and the songs they like. As you have that connection, create merchandise about the theme or genre of your radio station.

Affiliates: Sales from Referrals
Affiliate marketing is a way to make money without creating or doing anything. When a sale is made on goods or services from other websites, you get a cut of the commission. So if you get lots of traffic to your blog or website, adding links to recommended products allows you to make relatively easy money. And with digital products, commissions are usually high. Some places offer 40% or 50%, so you take half the sale price.
Places like ClickBank have specific services that might fit your station. If you broadcast chilled shows, products on mental health and well-being would resonate with your audience who are looking to relax or improve their sleep patterns.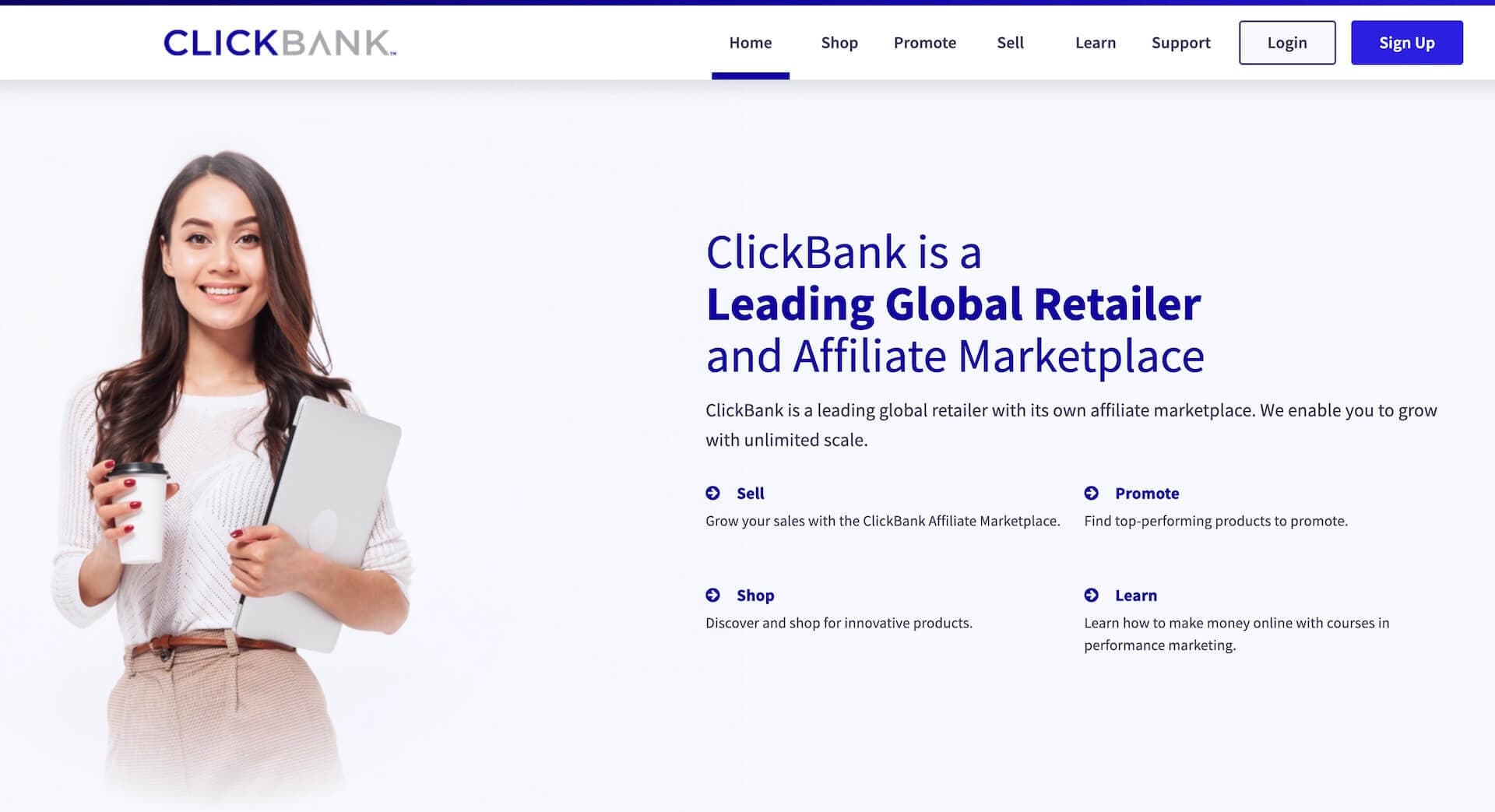 Think of affiliate marketing like a pick and mix. Choose several products, recommend to your listeners, and make money, all without actually doing anything.

Crowdfunding: Donations From Loyal Listeners
Crowdfunding is a way to raise money for a specific target, like a new website, equipment, or presenters.
And asking lots of people to donate small amounts of money works nowadays. Places like Indiegogo and Kickstarter are household names, so people feel comfortable giving money to a cause they believe in.
The main trick to successful crowdfunds is offering awesome incentives, just like subscription services. Tickets to gigs, events, and invites to your studio or broadcast live shows as a guest offer value. Our friends at Melodic Distraction raised over £10,000 to help run their station 24/7, with perks like stickers, bags, and even a dinner with one of the founders.

Then there's Podcast Radio who crowdfunding through Seedr with the aim of expanding their reach out of the UK and into international territories.

Events: Host & Earn
There are two types of events. Ones you host, and ones you help run.
Running an event gives you control over pricing. So things like an entry fee, merchandise, and sponsorship deals go in your favour.
Take Radio.co's MCR Live. Partnering up with world-renowned audio equipment company Pioneer DJ and a local venue Manchester Museum, the event created a good video for both brands and attracted a high sponsorship fee for producing content and running everything. Plus, it was held underneath a big T-rex, which was cool.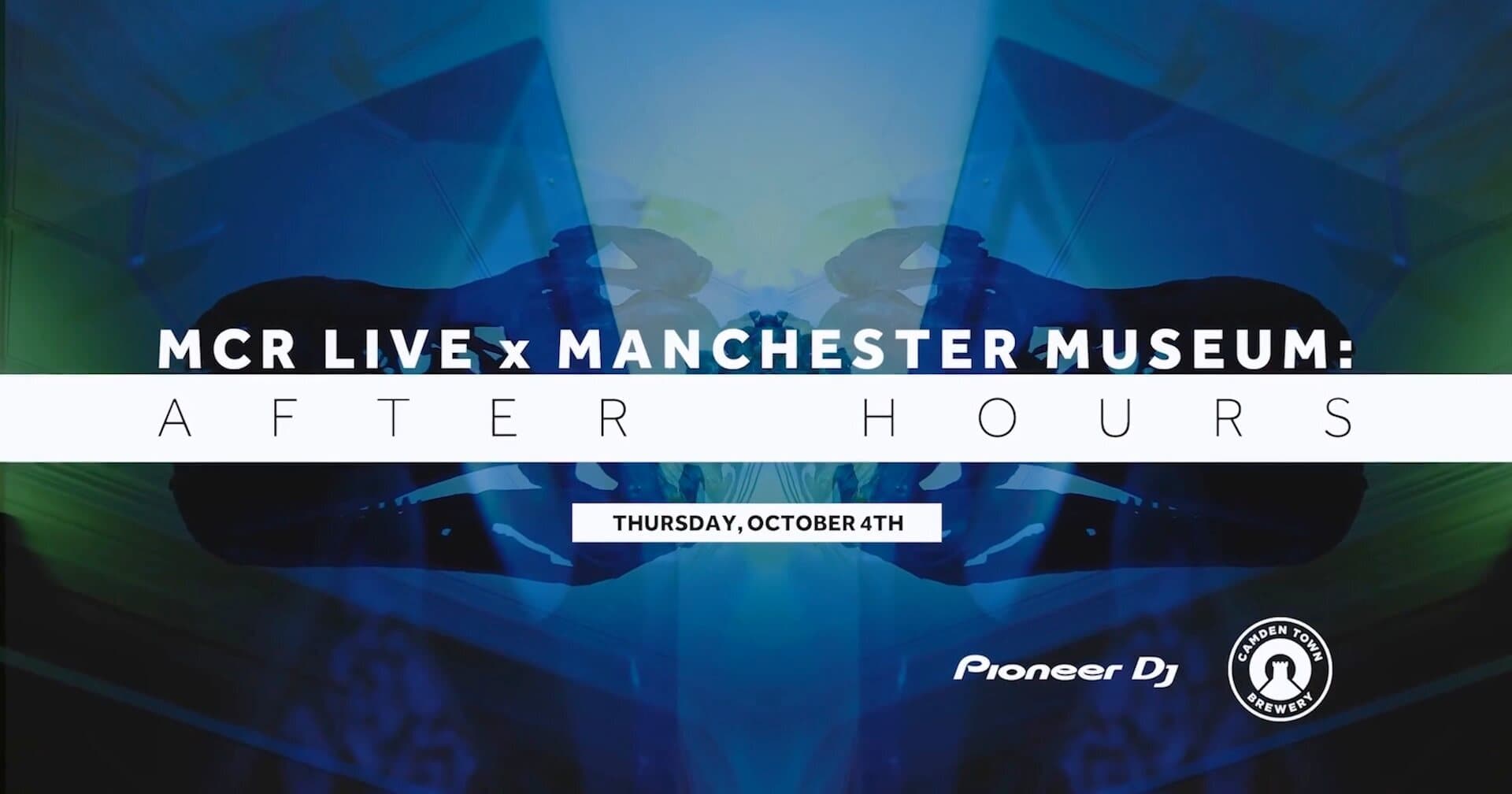 The other is getting involved in other people's events. Whether that's producing content or DJing, there's a double-edged benefit. Get paid whilst promoting your radio station. So it's a win-win.

But nowadays, events are moving online. Charge for virtual gigs like merch sold or food delivery, just like ComplexLand.
Competitions: Free Giveaways
Although not strictly a way for internet radio stations to make money, but instead grow an audience.
Competitions have been around for years. In days gone, you'd phone a number and get charged a small fee, then be entered into a raffle. Prizes varied wildly - they could be signed CDs, merchandise, a big cash prize, and even a holiday.

But competitions work because people think they can win, just like gambling. And the companies that run them do so efficiently. Storing previous submissions, the next competition reaches susceptible people by bulk texting or emailing, increasing their chances the next time around. Which worked out quite well for Podcast.co when giving away over $2,800 worth of audio equipment.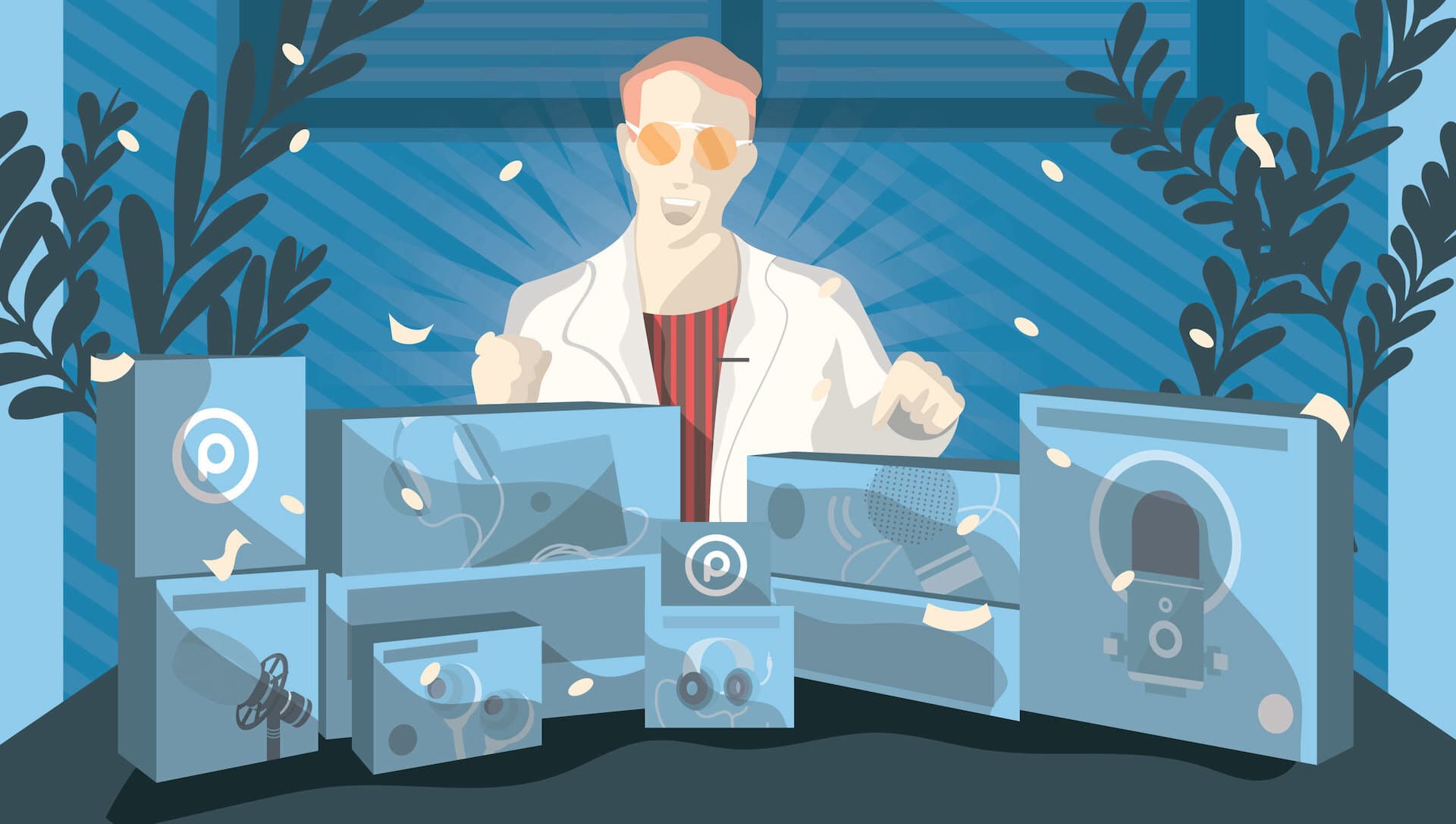 And the winners give you a chance to shine a spotlight on your audience. Create content around the competition and lucky winner, then interview them on your show, share them on socials, and show others how easy it is to enter and win.
Ads: Sell Business's Goods or Services
Traditionally, ads are small spots promoting a business. Aka money for airtime.
But instead of playing 30-second ads, be creative. Host read ads sandwiched between shows work best, it's where listeners are more open to pitches. Speaking of which, when reaching out to advertisers, be clear who your audience is. A one-page pitch outlining listener numbers, website traffic, and the demographic that tunes in helps paint a clear picture and promote your station.
In the UK, companies like Global and Bauer own countless stations like KISS FM and Capital. Most revenue comes from ads, promoting local businesses and services in the area. But just like every other station, how much each one earns depends on listener reach. And advertisers need to know who they're talking to and how many before they can talk cash.
Sponsorships: Promote Businesses
Ads are like big neon signs, direct and hard to avoid. Whereas sponsorships are like friend recommendations, subtle in nature, but highly effective.
Stations like Absolute Radio partner with companies that align with their brand and listener interests. In this case, DIY store Wickes is perfect for the 30+ male demographic.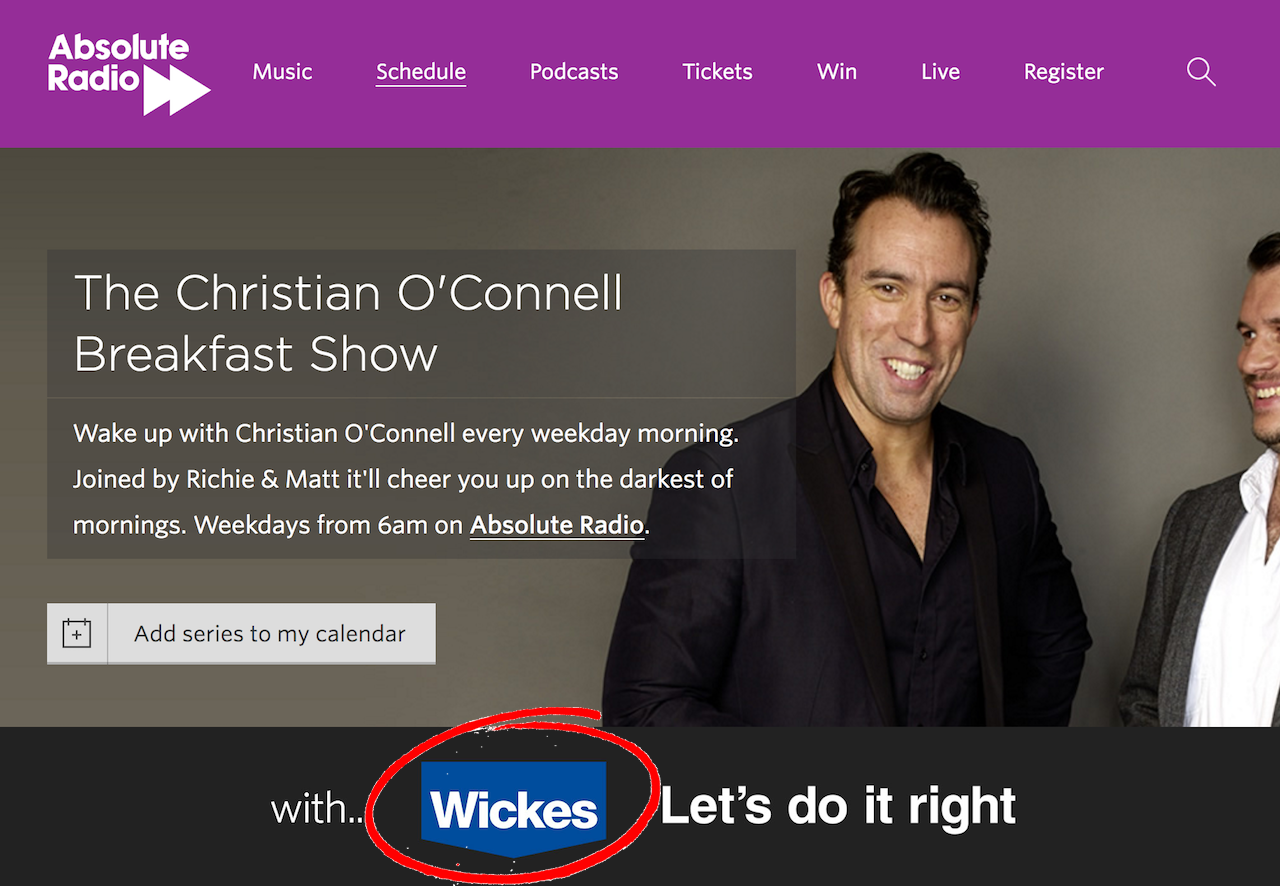 Rippled throughout their brand, like website, host read ads, and apps, stations promote sponsorships at multiple points for greater reach. That means companies are willing to pay more for package deals.

Choosing The Right Business Model

There's more than one way for internet radio stations to make money. But which one is right for you?
Honestly, it depends on your audience. Events work best for younger listeners wanting to attend gigs, sports games, and conventions. But older listeners might not have the time. Crowdfunding, competitions, subscriptions, or a mix of all three would probably translate better.

But oversaturation is real and can confuse listeners. So it's best to choose one method to make your messaging clear and have a single point of entry to measure your success.

Conclusion
From independent broadcasters to big commercial stations, making money takes hard work and dedication.
But whichever method you choose, if one doesn't work out, move onto the next. Whether that's ads, merchandise, or affiliate marketing, try the pick and mix approach until you find the right one for your station.