How to Make a Radio App for Your Station
How to make a radio app for your station with Radio.co: The easiest way to design, build, and publish your own iOS and Android apps.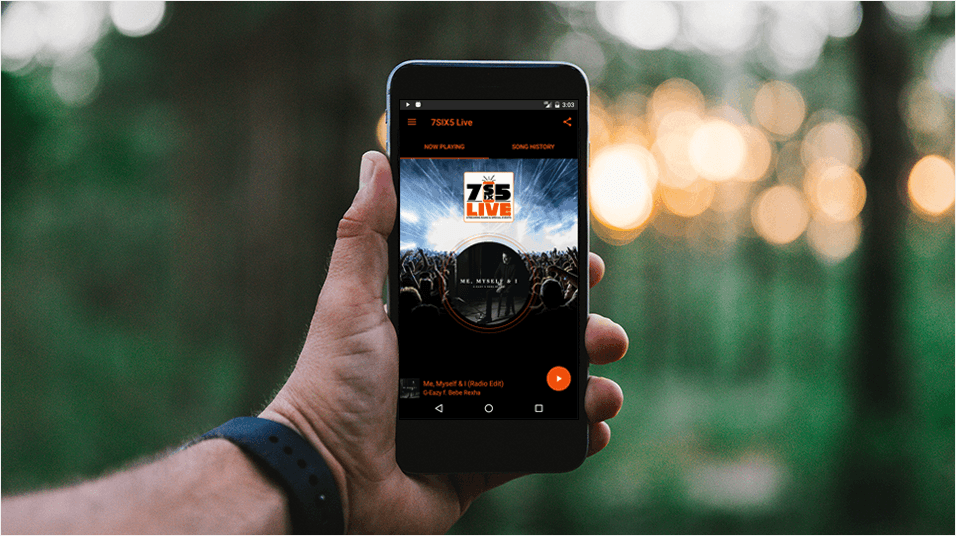 Having your own radio station app is like having access to the internet. It's an essential tool that you shouldn't go without. Every broadcaster needs to make a radio app that's custom built for purpose and showcases the best of what you have to offer.
If you're not already in The App Store or Google Play, then this guide will show you everything you need to know. We'll look at why you should have your own apps, some of the best apps chosen by the team here at Radio.co, and how you can get started.
NOTE: Due to high demand, both iOS and Android app development time is around 1 week.
---
Why Should I Make a Radio App?
Nearly everyone has a phone. There's around 4 billion smartphones with an average daily usage of 2 hours. It's definitely a missed opportunity if you don't have your own app.
Apps that display your station, like TuneIn and Streema, don't have the same feel to them as your own app would. Plus there's the fact it takes a lot longer for listeners to navigate to access your stream and there's dreaded ads to contend with.
Your custom radio app is designed, branded, and offers an intuitive experience for listeners to access your stream with just a tap of a button.
Give your listeners a piece of your station that they can take with them. Hundreds of thousands of listeners can download and carry your app in their pocket, wherever they go.
Listen on Tablets
It's not just smartphones either as tablets can use your app as well. The cool thing about Radio.co apps is they've been designed to adapt to different screen sizes.
So if you're on an iPad, Amazon Fire, or Samsung Galaxy it will adapt and look just like it does on a smartphone.
Wake Up or Snooze Your Radio Stream
This "set it and forget it" feature allows your stream to be controlled automatically from your listener's phone. Wake up to or snooze your stream by setting it directly within the app.
Not an early bird? Adjust the snooze time to get some extra sleep when using the alarm clock to 3, 5, or 10 minute intervals.
Share What's Playing
Spread the love! Listeners can share the current track via popular social media channels like Facebook and Twitter.
You can even showcase your own social accounts within the app, which is ideal for listeners to keep up with news and alerts about your station.
iOS & Android Apps
With Radio.co you can make a radio app for both iPhone and Android devices. We've already developed and published hundreds of interesting and downright gorgeous looking apps. Here are some staff favourites that have caught our eye.
3. MCR Live
MCR Live is a multi-platform and multi-format content network across DAB digital radio in Manchester, podcast networks, social media, and much more.
MCR Live is the ideal platform for local musicians, bands, DJs, creatives, artists, influencers, and businesses to connect with Manchester and beyond!
2. IKON
iKon Radio is a digital radio station playing the best independent music from today's most talented undiscovered artists. Listen to live on-air broadcasts, specialty radio shows, and exclusive DJ mixes.
iKon Radio is a 24/7 station that's available on both Android on Google Play and iOS in The App Store.
1. 7Six5 Live
7Six5 Live is an open format radio station, playing music from several genres including hip-hop, rap, R&B, EDM, latin, k-pop, alt rock, metal, punk, and more! Not only will you get to hear awesome new music from a wide spectrum of genres, but also listen to local and national celebrities live on-air.
Along with great music, 7SIX5 Live provides marketing and promotions services via the app, website, online stream, social media, on-location remotes, and at special events.
Design & Build Your Apps with Radio.co
A lot of work goes in to make a radio app, but Radio.co simplifies everything. We take your designs, build it ourselves, and even submit it to the stores. Here's a brief overview of what goes into crafting your app.
Developer Account
Before our dedicated team of mobile app developers can get to work, they need a few things from you first. One of which is a developer account.
Both Apple and Google require all apps be submitted through developer accounts. Start your enrolment for either account by clicking the links below.
Once your account has been setup and your app's ready to go live we can takeover. Your app will be submitted through your account so it's branded to you or your station.
Order Your Apps
If you're already with Radio.co you can order your apps for both iPhone or Android in the Radio.co Dashboard under the Add Ons section.
Alternatively if you're new to Radio.co then you can grab your apps on checkout by selecting a plan here.
Design & Submit Your Details
In the App Builder you can design the look and feel of your app. Go through the steps indicated on screen to submit your details.
Make sure your station's brand and messaging is correct, so things like colours, logos, and artwork all match your radio station. Finally submit your app to the mobile development team - They will be in touch within 48 hours to confirm everything is on track.
If you get stuck and need a bit of guidance then follow our full walkthrough on how to submit your app here.
---
Make a Radio App Today for Your Station
In just a few simple steps you can have your own iOS and Android apps. You don't need to know coding or have any technical knowledge as Radio.co handles everything. Design your app and send it over to our dedicated team of mobile developers today.
Already with Radio.co?
If you're already part of the Radio.co family, you can design your app right now. Simply go to your Radio.co Dashboard, then go to the Add Ons area. Here you can purchase your app, design, and send it for development in just a few steps.
The Station Plan includes both iOS and Android apps as part of the package. If you're already on this plan then make an app for your station now.
New to Radio.co?
If you're new to Radio.co then it's really easy to get started. Start your 7 day free trial by picking a plan and choosing the apps you want as add ons. Within your Radio.co Dashboard's Add On area, design and send your apps over to us. Get started now by clicking the button below.