How to Make a Radio Station
How to make a radio station - Your complete guide on building your very own station, mobile apps, and website to connect to your listeners online.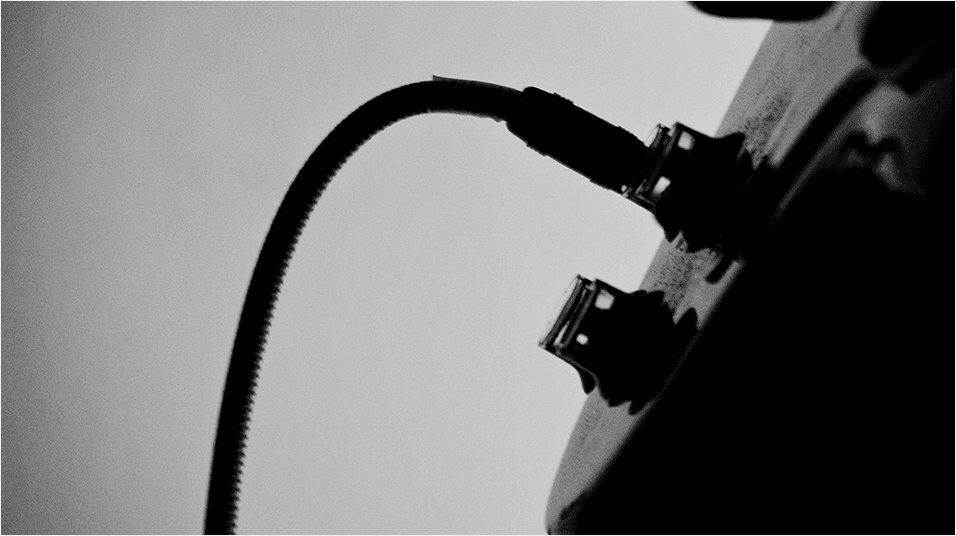 Everything you need to know on how to make a radio station is including in this essential guide. Get to know what the equipment you need, how to broadcast online, and much more from the radio professionals at Radio.co in this complete walkthrough.
Note: This guide is a long read, so we recommend bookmarking it to save for future reference.
How to Make a Radio Station - Overview
Building your own radio station can be a journey in itself, but the path can be broken down into smaller bite sized pieces to help you get up and running in no time. Here's everything we'll cover:
License: Whether you need one or not and the type of licenses available.
Equipment: What equipment you need, ranging from basic to advanced depending on the level of station you're after.
Broadcast: How to connect online to your station with the help of Radio.co.
Tune In: Ways listeners can access and listen to your radio station.
Mobile Apps: How to setup iPhone and Android apps branded to your station.
Website: How easy it is to setup your own radio station website.
Promote: Different ways you can build your audience.
Do I Need a License?
Unlike traditional radio (FM / AM), you don't necessarily need a license to transmit a radio stream online, but really it depends on where your station is based and what you intend to broadcast. For instance if you're planning on using commercial music like mainstream hits then you will need to pay royalties, however if you're broadcasting your own content or royalty free music then you don't need a license.
That being said, we always recommend consulting with qualified professionals or relevant authorities for your country regarding copyright and licensing. For a complete rundown of music, licensing, and royalties we recommend reading this.
What Equipment Do I Need?
You'd be surprised at how little you need on how to make a radio station. If you have a computer and internet connection then that's pretty much it!
Upload your own tracks and manage your station with just the essentials, but if you're looking for the types of microphones, mixers, and headphones available then we've broken down the best equipment on offer for basic, advanced, and professional setups.
Basic Setup
New to online radio and the broadcasting community? Start here first with the basics, but first we recommend checking our guide on what you need to know first.
Microphones
There's 2 microphones we suggest for a basic setup, the Behringer B1 and the Rode Podcaster.
The Behringer B1 is a reliable and cost effective condenser mic for around $100 / £70. It has a wide diaphragm for picking up every bit of audio. Buy on Amazon USA or Amazon UK.
However, if you're in a noisy area then try the Rode Podcaster as it's excellent at cancelling our background noises. However, it's a little bit more pricier at $200 / £140. Buy on Amazon USA or Amazon UK.
This guide on "How to Make a Radio Station" depends on your location, so when choosing the right microphone either get the Rode Podcaster for a loud area to isolate your voice or the Behringer B1 for a quite area.
Stand & Shockmount
You need somewhere to place your microphone, with a stand and shock mount it can hold and reduce vibrations for better sounding audio.
Most microphones don't come with these, but you can usually get them for around $12 / £10. Buy on Amazon USA or Amazon UK.
Headphones
A pair of over the ear headphones like the Sony MDRZX310 are ideal as they're lightweight, foldable, and affordable for $17 / £14. Buy on Amazon USA or Amazon UK.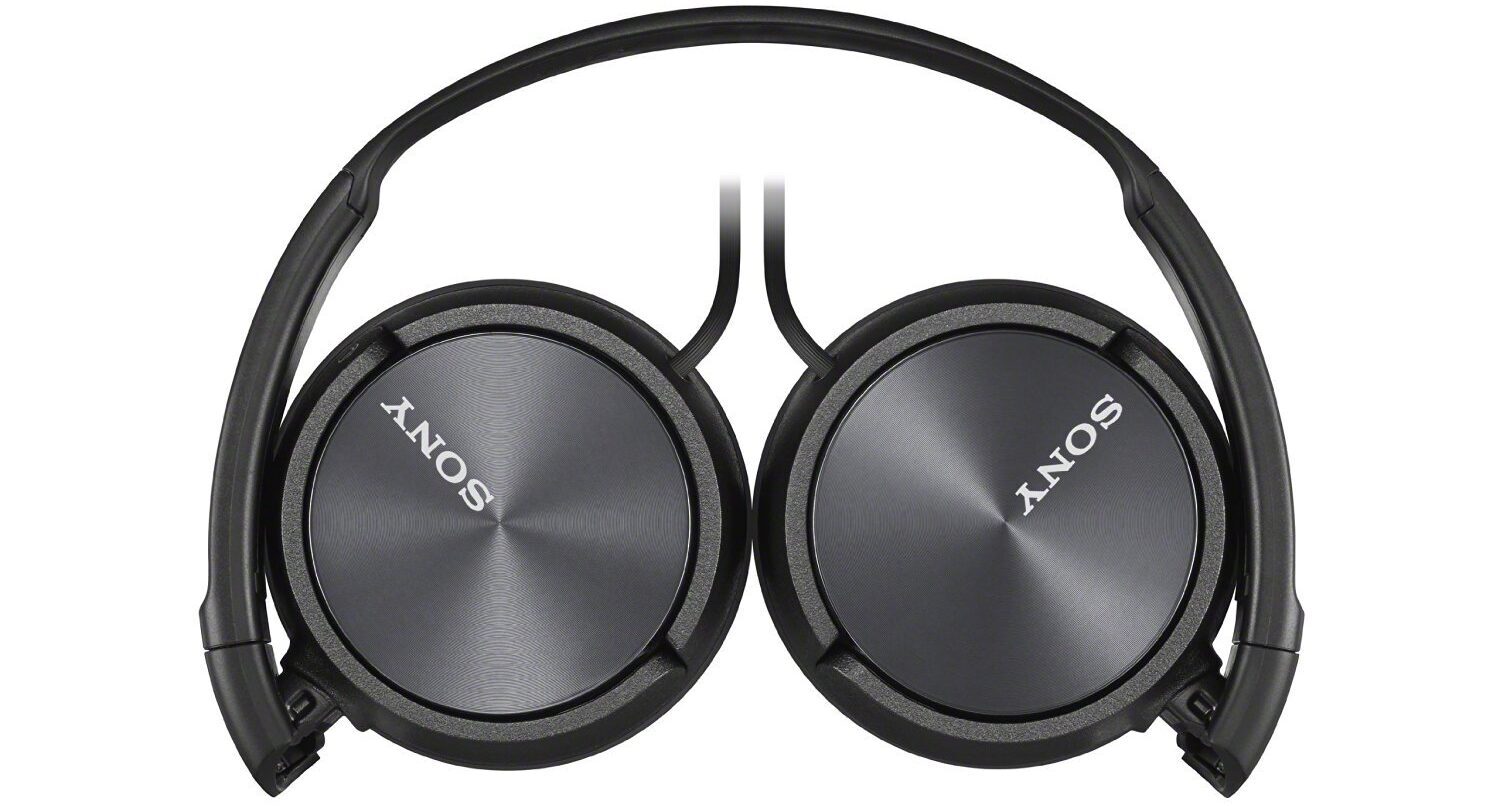 You can also use a pair of earphones if you don't want to over the ear headphones.
Advanced Setup
Often the basics simply aren't enough, so if you need more advanced equipment closer to that of a commercial radio station then take a look at the following.
Audio Interface
All condenser microphones, like the Behringer B1, need phantom power to run, something the Focusrite Scarlett 2i2 offers with a few extra perks.
Plug up to 2 microphones for you and a guest, then adjust volume levels and monitor the audio through the audio interface - Get the Focusrite for around $180 / £100. Buy on Amazon USA or Amazon UK.
Here's a full run down of the how it works in this guide.
Microphone Processor
A microphone processor is a way to power your microphone, enhance your vocals, and overall give your mic's audio a grander feel and presence. The DBX 286S is a must have as it offers simple and adjustable dials for enhancing your voice.


Processors such as this remove background noises and clean up audio, like removing harsh sounds like "S" which can often cause high frequency and often bad signals. The DBX is ideal in case you're on a budget as you can get it for around $190 / £135 from most places online. Buy on Amazon USA or Amazon UK.
Read our full review and how to setup the DBX 286S in this guide.
Microphone
The Blue Spark is an advanced condenser microphone ideal for studio setups as it's highly sensitive and provides a great warm sound.
Much like the Behringer B1, the Blue Spark is a sensitive condenser microphone great for picking up audio from far away, so it's perfect if you've got a guest on your show. You can pick the mic for around $240 / £190 with either an XLR or USB/lightning cable. Buy on Amazon USA or Amazon UK.
A range of the best advanced microphones available can be found in this guide.
Professional Setup
Professional broadcasters need a serious setup - The following equipment is high-end aimed at radio experts that want the best that's on offer.
Broadcasting Desk
A broadcasting desk is the hub of any radio station as it offers multiple input channels and controls for audio management. The Behringer DX2000USB is one of the best and highly recommended from commercial stations and professional broadcasters alike.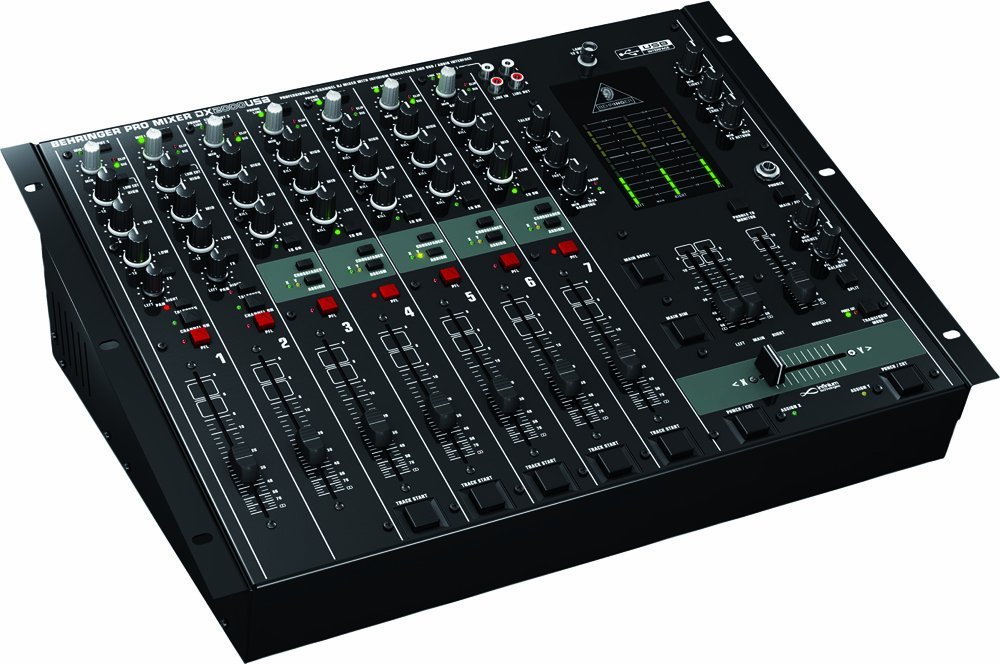 This low-cost desk at $320 / £260 is best suited for broadcasters and online radio station owners as it offers plenty of mixing capabilities for several microphones and external devices. Buy on Amazon USA or Amazon UK.
As the DX2000USB is a mixture of analogue and digital, you may one to look at some other options we recommend in our Best Broadcasting Desks guide here.
Boom Arm
A boom arm is an attachable crane for your microphone you can adjust from your desk to suit your position. It's a must have for any radio professional as it gives you better flexibility.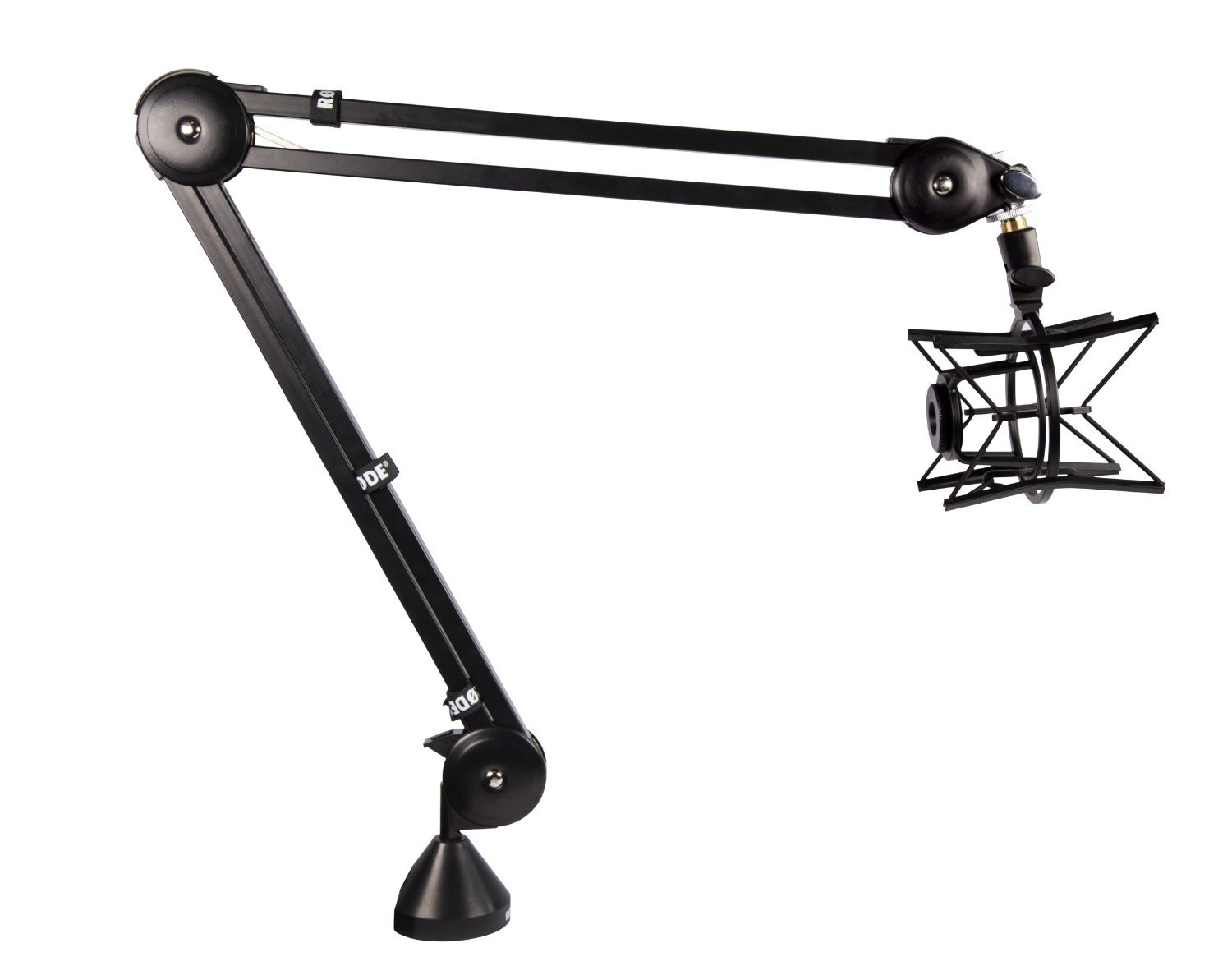 The Rode PSA1 boom arm is one of the best out there as it's easy to place at the edge of your desk and has cable ties to clean up any messy wires, plus it's only $90 / £70. Attach any microphone and shock mount to the end of the arm like the Neumann TLM 103. Buy on Amazon USA or Amazon UK.
Microphone
The Neumann TLM 103 is an industry standard microphone professionals use across the UK and USA. We highly recommend this microphone as we use it in our studio for our Internet Radio Podcast series.
The TLM 103 is a sturdy microphone with a large diaphragm for picking up low noises and enhancing audio capture. With its sleek design and unparalleled power, it's a must have for both home and commercial broadcasting studios. The Neumann microphone retails for about $1000 / £850. Buy on Amazon USA or Amazon UK (103 not available. Instead, get the 102 which is similar in performance).
How Do I Broadcast?
You'd be shocked at how easy it is to broadcast online - You can play music or mix it up with talk radio with just a computer, internet connection, microphone, and hosting your station on Radio.co.
Broadcasting your audio requires one extra step by using broadcasting software to encode your stream's sounds.
Broadcasting Software You Need
There are several pieces of broadcasting software we recommend, some of which are simple and free to use like BUTT; others are paid and a bit more complex that are designed with multiple decks like Virtual DJ. Choose from one of the following:
BUTT - Windows / Mac / Linux (Free)

BUTT is short for "Broadcast Using This Tool", it's a multi-operating system broadcaster that runs on Windows, MacOS, and Linux systems. It's free and easy to use as it grabs your input, like your microphone or computer's sound-card, and broadcasts it online to your station.
Download and install BUTT by following this guide.
Winamp - Windows (Free)
Winamp is a well known media player that's free to use for Windows systems. Manage tracks, playlists, and your stream output with fades and effects. Coupled with the SHOUTcast DSP plugin, you can broadcast online to your radio station.
Download and install Winamp by following this guide.
Virtual DJ 8 - Windows / Mac (Free Trial / Paid)
Virtual DJ is an advanced piece of audio mixing software designed for professional broadcasters. It offers beat mixing, cueing, and multiple decks for a grander control over your shows. Virtual DJ 8 works on Windows and Mac systems, you can download a free trial with limited functionality, then purchase a license.
Download and install Virtual DJ 8 by following this guide.
There are more pieces of software we recommend - View the entire list of guides on how to get setup and broadcasting to your online station here.
How Can Listeners Tune In?
If listeners struggle to access or can't find your station's stream then that immediately paints you in a bad light. You want as many ways as possible for your listeners to tune into your radio station. Here are 3 different ways you can make it easier for your listeners to tune in:
Web Players
Build your own custom web player branded to your radio station, then embed it onto your or your friend's website, for instance check out:
Direct links to your stream can be used so you can create your own player with the DIY Player Kit.
Radio Directories
Submit your station to third-party online radio directories where millions of listeners have access. Places like TuneIn and Streema are great to increase your station's visibility and get listed on their iPhone and Android apps.
With your Radio.co station you can integrate it with TuneIn and use the AIR API so your track information is sent automatically to the TuneIn directory - More details on how you can set it up can be found here.
A link to a full list of radio directories you can submit your station to can be found below in "Promote My Radio Station".
Mobile Apps
Build your own custom branded iOS and Android apps. Submit your details and how you want your apps to look, then the team at Radio.co take over and do all the hard work. Your app gets built and submitted to The App Store and Google Play without you having to write a single line of code or getting confused over unnecessary technical guides.
You can purchase your mobile apps in your Radio.co Dashboard -> Add Ons area. Alternatively, if you're not with Radio.co then when you signup for a plan and purchase the apps on check out (the Station plan offers both apps for free as part of the package).
How Do I Setup iPhone & Android Apps?
With billions of smartphones active around the world, now is the time to get your station on the app stores.
Creating apps is simple using our app builder wizard. You can completely match the look and feel of the app, upload logos, and link to your social media accounts like Twitter. There's no need to hire a developer or learn code, we'll take care of that for you and submit your apps on your behalf to the app stores.
Get started designing your apps today by adding the iOS and Android apps to your account in your Radio.co Dashboard -> Add Ons area. Alternatively you can select either or both on checkout when selecting your plan over on the pricing page.
More info can be found on how you can create a mobile app for your radio station here.
How Can I Create My Own Website?
Building your own websites doesn't have to be a pain, it can be as simple as dragging images and typing text directly onto pages - That's the idea with Radio.co's website builder.
The Radio.co website builder is the best solution for you to create an amazing website for your radio station with no fuss and no technical headaches. Just like Radio.co, the website builder runs entirely from the cloud, so you can access and edit your site from anywhere. There's no software to download and install, plus no code to learn!
The extensive theme library has dozens of designed templates to choose from, so you can easily customise the look and feel of your site. Building new pages is fast, just drag and drop what you want to your site, then click and edit.
You can purchase the website builder in your Radio.co Dashboard -> Add Ons area. Alternatively you can select it on checkout when selecting your plan over on the pricing page.
More info can be found on how you can create a website for your radio station here.
How Can I Promote My Radio Station?
One of the biggest challenges you face as a radio broadcaster is getting your station found online. That's why we've put together a complete list of the best online radio directories you can add your station to for free - Here are the top 5:
5. DeliCast
Listing over 7,000 stations, both internet radio and TV, DeliCast is a simple directory listing by country, genre, popularity, and more.
4. Streamitter

Streamitter.com is a modern online radio directory listing thousands of radio stations from all around the world and every type of genre.
3. Dirble

Dirble is an open directory consisting of thousands of radio stations that allow you to get found for desktop and mobile listeners.
2. Streema

Streema is a free online radio directory to discover, share, and listen to radio stations from all over the world. There are more than 70,000 radio stations like BBC Radio 1, Absolute Radio, and more that anyone can tune into online.
1. TuneIn

Millions of listeners worldwide access online radio through TuneIn, so it's definitely the place to be. TuneIn is one of the best radio directories as listeners can easily access your shows, not to mention it's a free and a simple way to get discovered and grow your audience.
For the full list of places you can submit your station to then head here.
What if I Need Help?
Still need help getting started? We have a bunch of courses from leading professionals in the broadcasting industry on how to be a better presenter, how to generate revenue, and how to grow your audience.
Radio Courses
How to Be a Better Radio Presenter
Discover how to be a better radio presenter with the radio industry expert Kate Cocker. Learn how to stay ahead of the competition by drawing in listeners and keep them returning.
Head down the right path on becoming a great radio presenter by going here.
Internet Radio Cash
Learn how to generate revenue for your station with actionable strategies that will turn your station into a money generating machine.
Start your Internet Radio Cash course by heading here.
Listener Magnet
With over 50% of people now listening to internet radio, audience numbers are exploding! This resource will teach you how you get your share of the biggest transfer of listeners in history, so turn your station into a listener grabbing machine today.
Grab the Listener Magnet course today here.
Radio.co in Top 10 UK Technology Companies
Did you know that Radio.co is one of the top 10 technology companies in the UK as voted for in the Northern Stars in 2016.
You're in safe hands with us when starting your online radio station, so if you have any questions on how to make a radio station then you can talk to us by booking a demo. Alternatively, get started today with your 7 day free trial by clicking the button below.