Radio Station Equipment for a Professional Studio Setup
Want to build your own professional studio and have total control over your shows? Here's everything you need to setup your radio station equipment.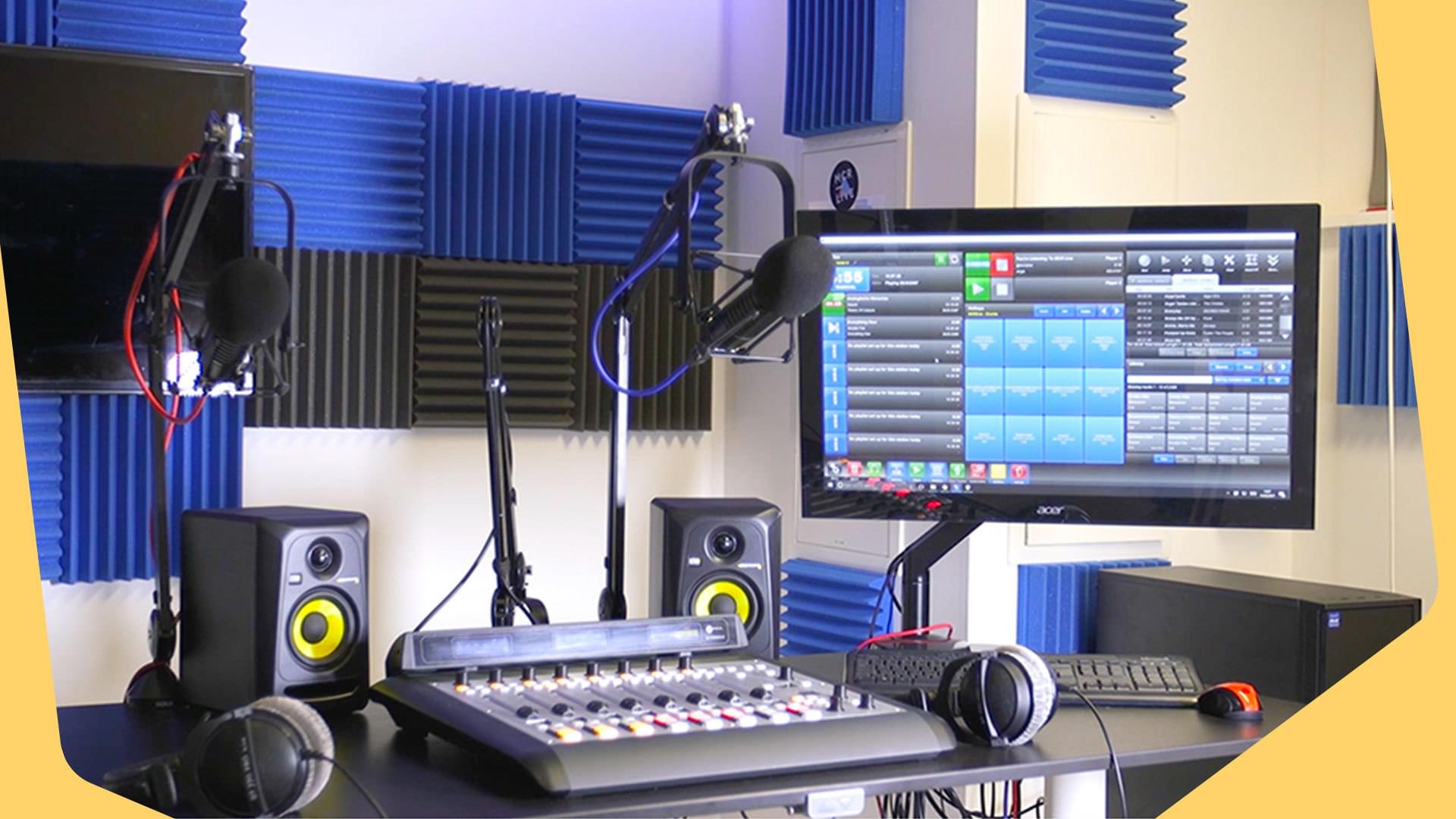 Want to build your own professional studio and have total control over your shows? We show you everything you need to get set up, from radio station equipment to how it all fits together. By the end, you will have a studio suitable for multiple guests, live callers, and have complete control over your shows.

Professional Radio Station Equipment
Everything you need is right here in the MCR Live studio setup. It's completely state of the art and contains all the radio station equipment you need to broadcast online.
We have a mixing desk, microphone, pre-processor, headphones, and much more which we will get into soon.
Axia iQ AoIP Mixing Console
We are using the Axia iQ AoIP mixing console. It has 8 configurable channels. 4 of which are mic inputs. These are ideal for managing up to 3 live guests on your shows.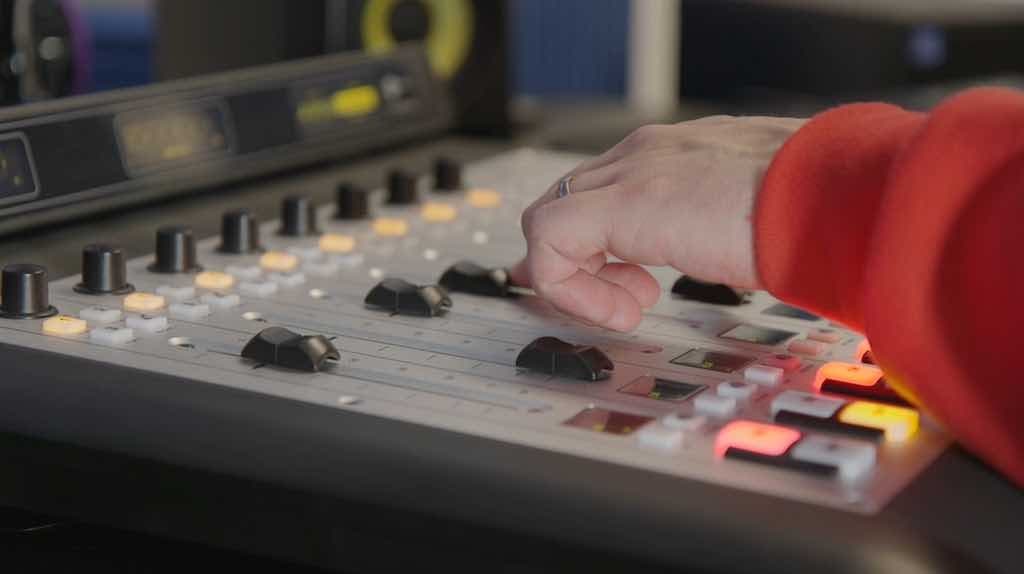 The mixer is a completely digital system. It runs audio over IP, this means nothing is connected to the mixer directly. Instead, everything is plugged into the QOR.32 mix engine. The console itself is just a control centre for each channel, so it's easy to move around without pulling on any cables.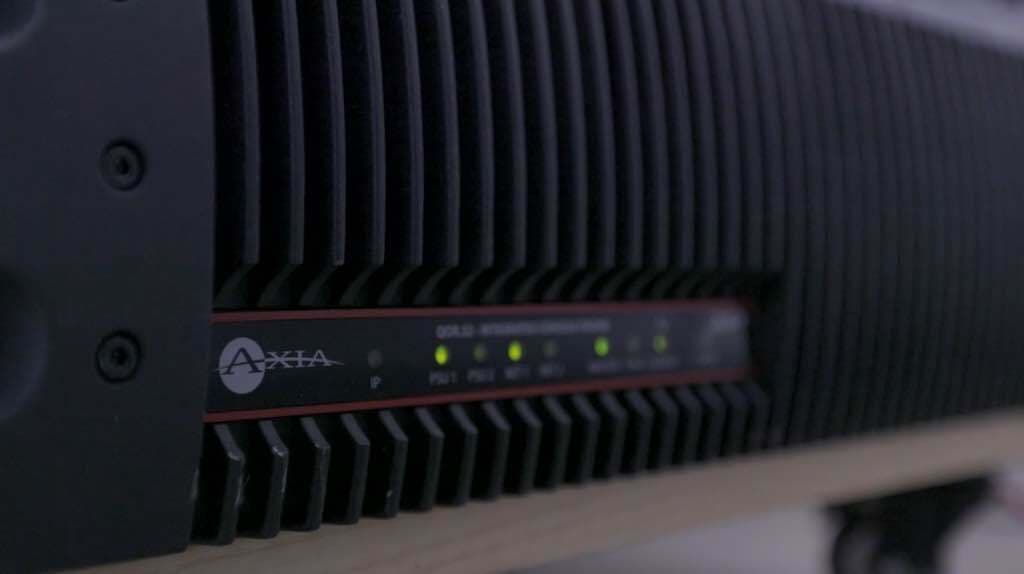 One cool thing about Axia is it's fully customisable. Unlike other mixers which just have set channels, like for a presenter microphone, you can assign devices to any source going into the Axia system. For example, you can change a channel by going into the source menu and selecting another input device.
If you want to take a live caller you can hook up your phone and set a dedicated channel with preset volume levels. Likewise, you can do the same for other pieces of radio station equipment like a CD desk.
Configure each channel by accessing the power station control centre in the browser. In here you can define devices. For example, if you have a microphone you can name it "Presenter Mic 1", switch on phantom power, and change its processing settings like EQ gains. Finally, when you come to present you just select the pre-configured device and the settings will be applied automatically.
Overall the Axia iQ is an extremely flexible and versatile desk. It's ideal for lots of audio equipment and can be customised to meet most station needs.
Electro Voice RE320 Microphone
The Electro Voice RE320 is an exceptionally versatile microphone. It's commonly compared to its older counterpart the RE20 which was featured in the best radio microphones here. Both UK and US commercial stations use the RE320 as an industry standard microphone.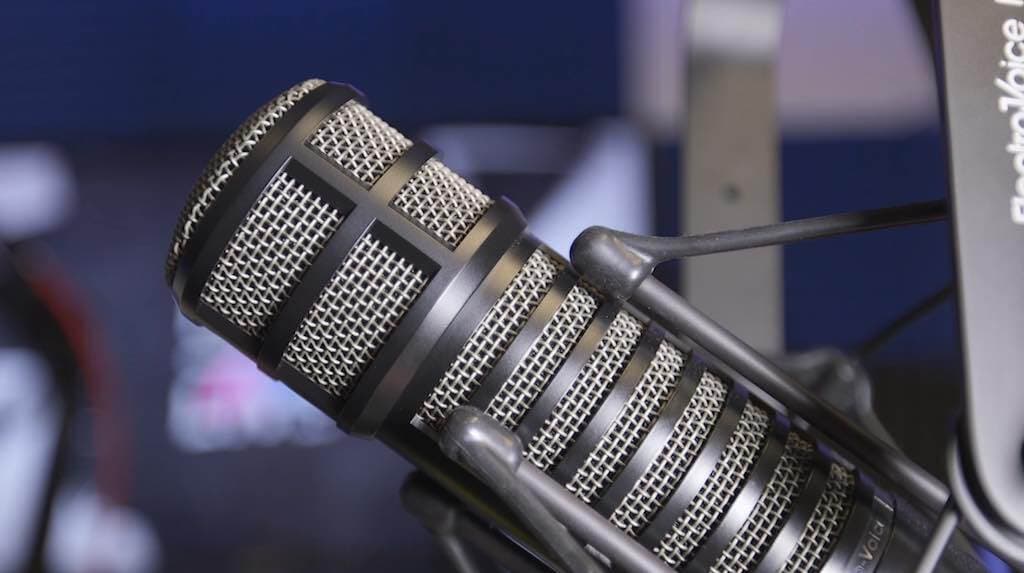 The RE320 has a dual position contour switch which picks up spoken word clearly, along with instruments like guitars and drums. As it's a dynamic mic it cancels out background noise. The humbucking coil within the mic automatically reduces sensitivity from far away sounds, giving your voice a warm rich sound.
Electro Voice 309A Shock Mount
We are using the RE320 with the Electro Voice 309A shock mount. This keeps it in place, so it essentially reduces chances of vibrations if the mic or desk gets nudged accidentally.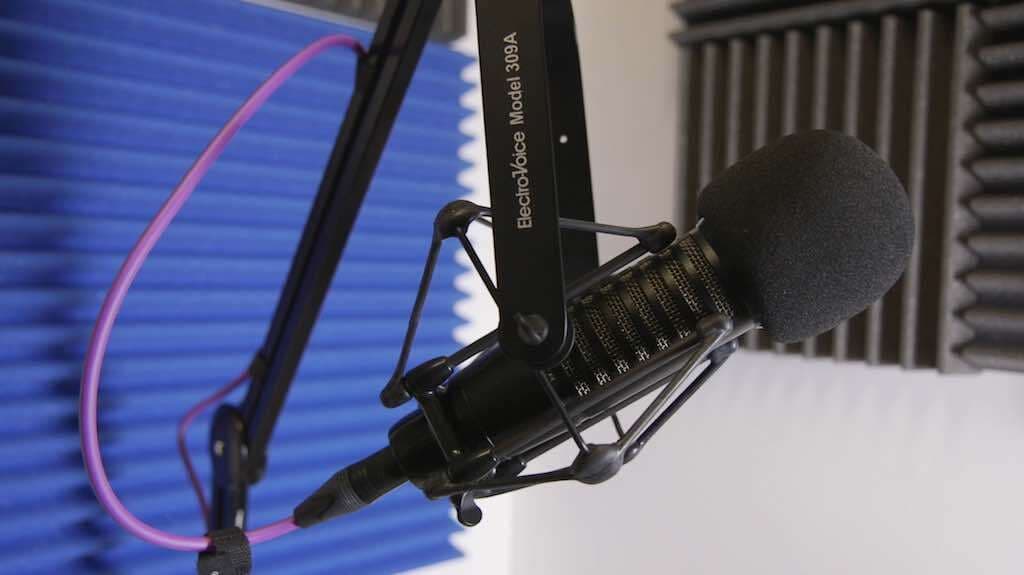 Rode PSA1 Boom Arm
The shock mount is attached to the Rode PSA1 boom arm. Swivelling boom arms like this can be adjusted for height and direction.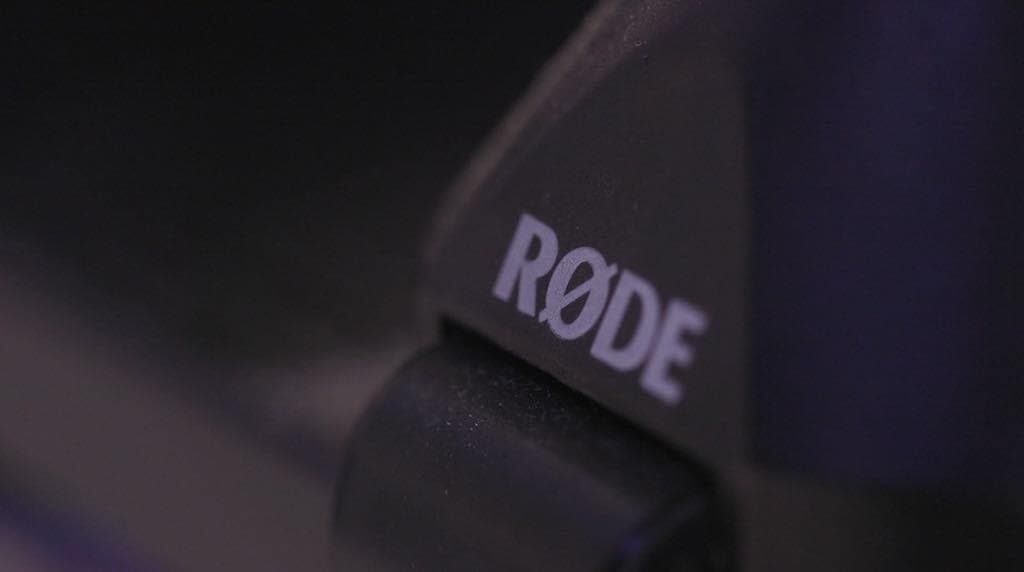 Easily manoeuvre it for a sitting or standing position. Attach the arm to the edge of the table and tie your mic's cable to the arm itself for a neater setup.
DBX 286S Microphone Processor
A microphone processor like the DBX 286S adds a grander feel to your audio and cleans up the signal. For example, it can remove background noises and sibilants. These are words that have an S in them, resulting in harsh sounds.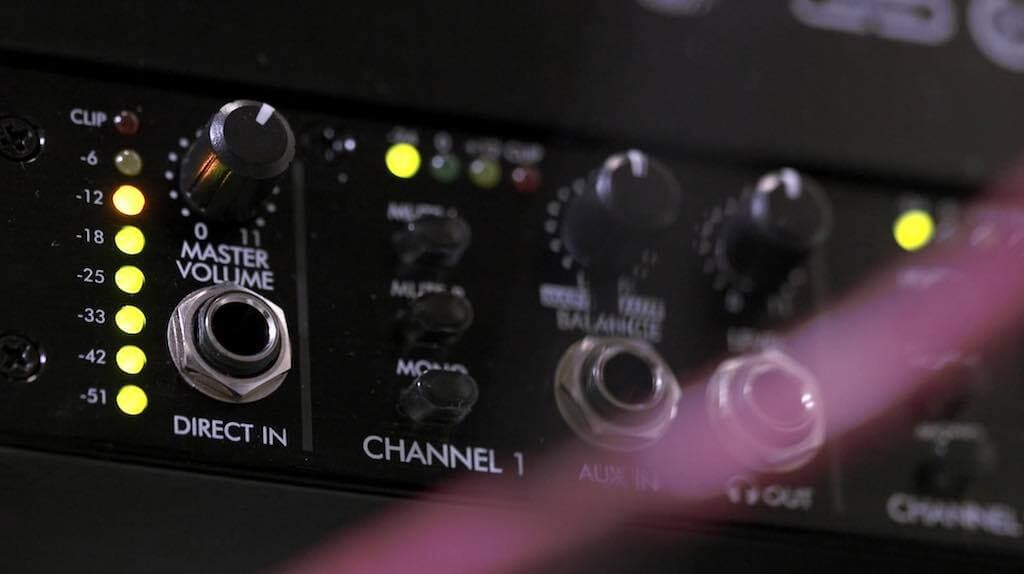 These often cause high frequency and audio distortion, so the processor levels out these types of noises for smoother sounding audio.
Beyerdynamic DT770 Pro Headphones
Beyerdynamic DT7770 Pro are industry-standard headphones used by popular commercial stations like BBC Radio 1. You often see broadcasters wearing a pair of these because they are really comfortable and ideal for long periods. They come with a long flexible cable which is handy if you happen to be far away from your setup or move about a lot.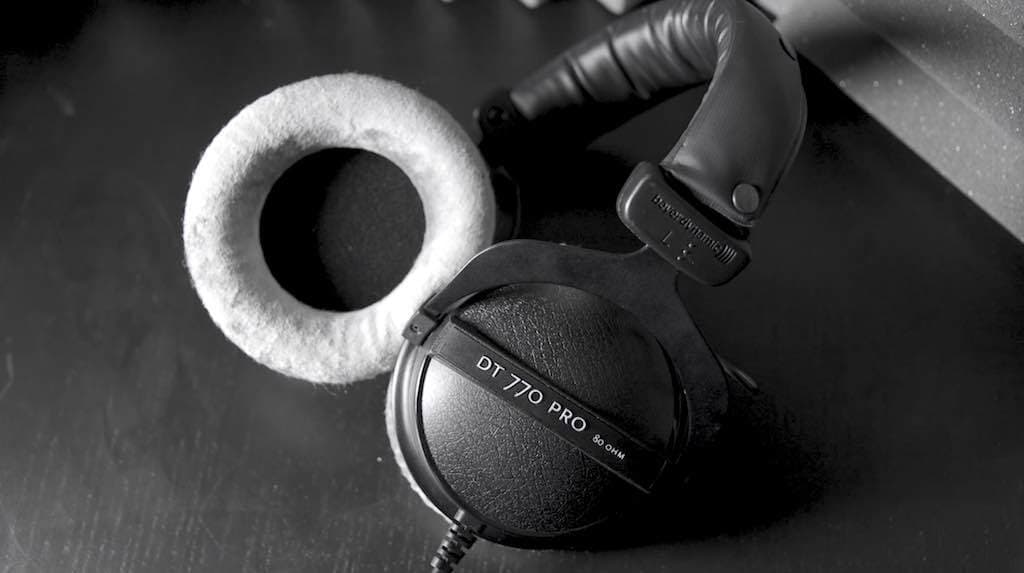 Each headphone cup is padded and rests gently over the ear. They cancel out most outside noises. Although really this is to improve bass response for higher quality audio reproduction. As far as headphones go these are definitely worth every penny.
Custom Built PC (Running Windows 10)
Powering the studio is a custom built PC that runs Windows 10. It has a 4th gen i3 processor, 240GB SSD, 8GB DDR3 RAM, and 4TB external hard-drive. It's a pretty fast machine that can keep up with the demands of a professional radio studio setup.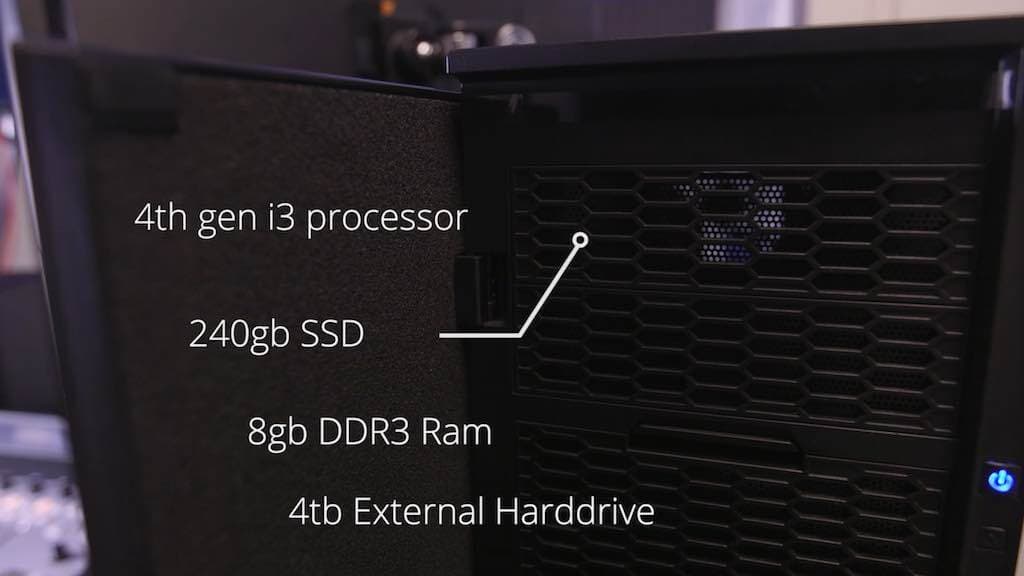 All of this is housed in the Silencio 452 case which minimises noise. For ease of use, the station is managed with an Acer T232HL touch screen. The monitor is attached to an arm desk mount just like the mic boom arm. This allows broadcasters in the studio to manoeuvre the screen for a better position.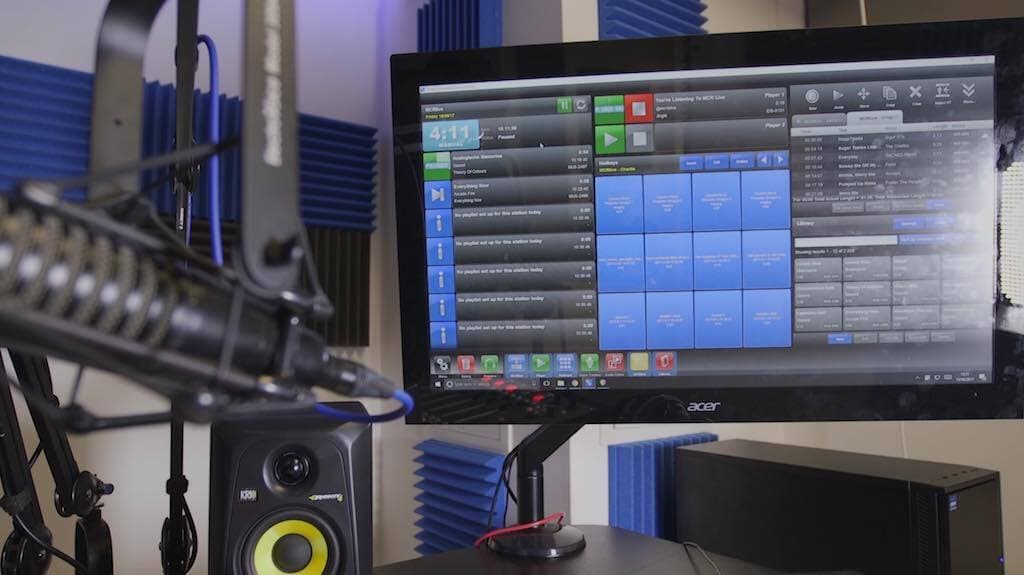 Amazon USA Links
Amazon UK Links
Professional Studio Overview
Lastly, we use the following cables to connect all of these different pieces of radio station equipment together.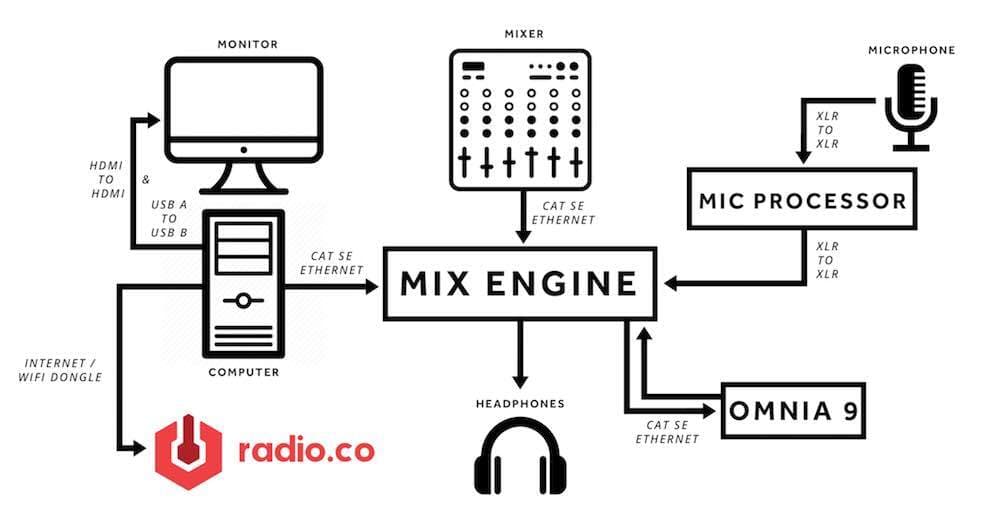 Now we have our professional studio setup. Audio travels from the studio to listeners by going through the microphone > mic processor > mixing desk > mix engine > computer > Radio.co.

Alternative Audio Equipment

Being the proactive broadcaster you are, you may want to see what else the market can offer before you make a firm decision. Happily, we're here to show you what else is available:
Shure SM7B
One of the most iconic microphones around, the Shure SM7B is known for its reliability and quality in professional studio settings. Famously used in Michael Jackson's 'Thriller' and is the go-to mic for the Joe Rogan Experience podcast (and our very own Podcast.co studio). The SM7B is fast becoming an industry standard, but without a hefty price tag. That's not to say you want drop a fair bit of money, but for a professional level mic with the quality of the SM7B, it's not as bad as you might expect.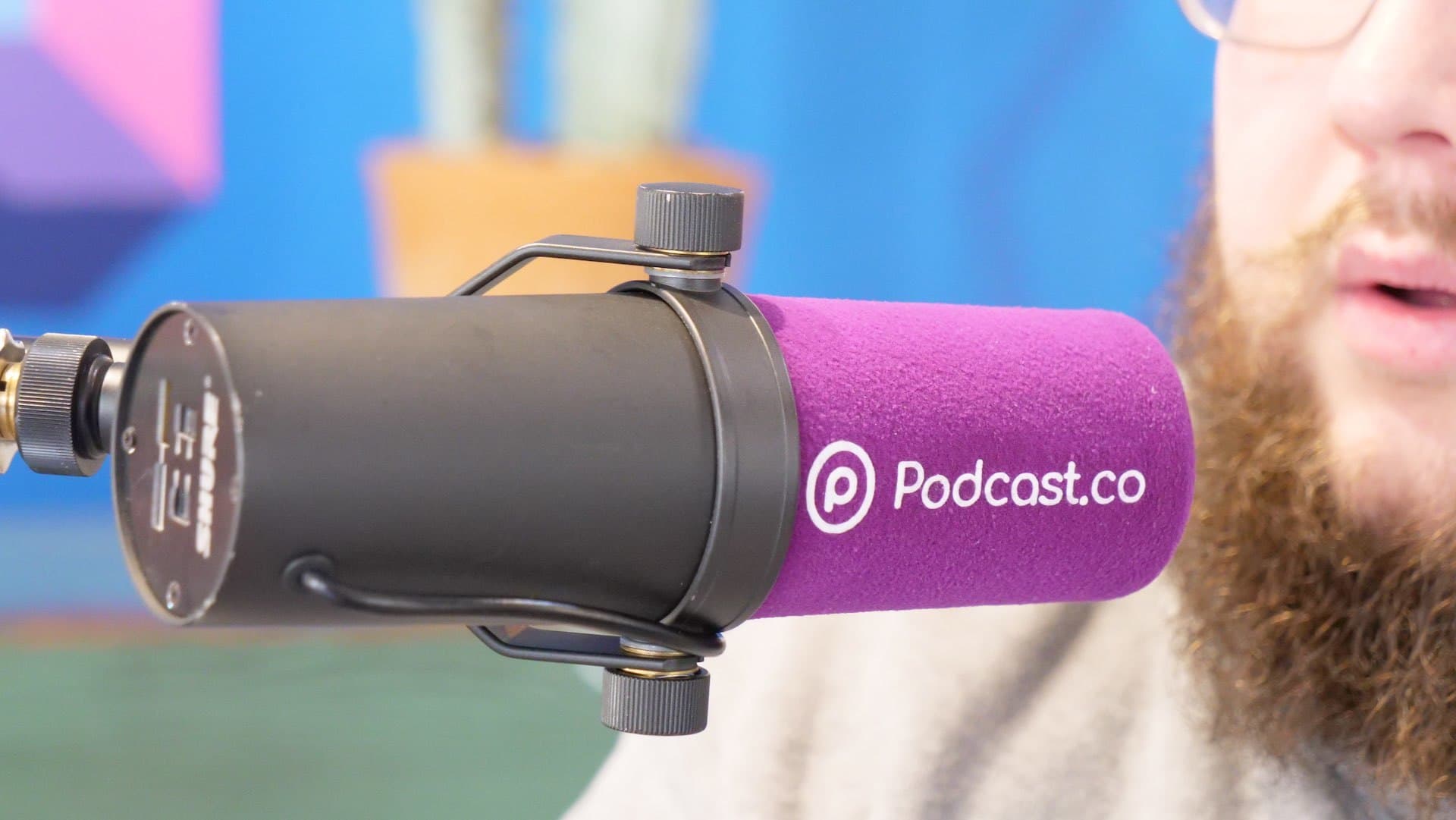 The Shure comes packed with a variety of features, including a built in pop filter to reduce plosives and background noise, a filter to eliminate any pesky electromagnetic hum you may experience due to interference from your computer, and adjustable frequency response. Add vibrancy, volume or set a flat response for spoken word. This is an incredibly versatile mic that will get you great results every time!

Neumann TLM 103
The Neumann TLM 103 is one of the best and most well-rounded studio condenser microphones available, widely used by radio professionals like Howard Stern and many other stations across the globe.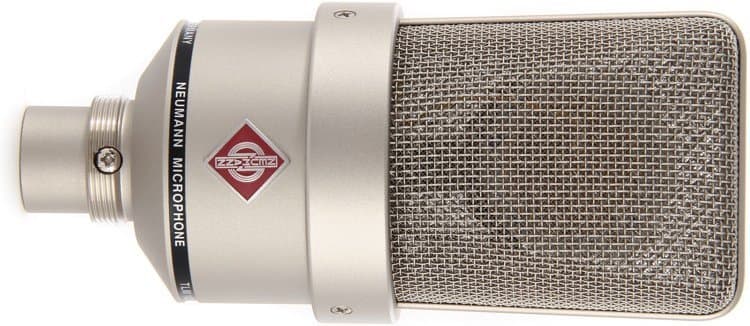 The TLM 103 features design elements that make it perfect for any professional studio. The body rejects sounds trying to come in from the sides and uses a transformer list circuit which cuts out background hiss. It also has great versatility beyond capturing voice. For example, Jack White from The White Stripes uses this for his guitar rig when playing live, making it perfect for live music and spoken sessions in your studio.
Peavey 24FX2 24-Channel Mixer
Peavey brings a wealth of features to your professional studio with their pristine 24 channel mixer. This desk was built for usability and quality, with an assortment of effects, 20 Silencer mic preamps and Peavey's Feedback ferret anti-feedback tech.
Peavey built the desk for ease of use and accessibility, and built-in USB ports make it quick and easy to use with a memory stick, hard drive, or computer. But if you're looking for a professional studio setup with the option for as many tracks as possible, the Peavey could be right for you. Alternatively, if you're looking for a minimal setup, then try an audio interface for voice over or music mixing.
Warm Audio WA12 MK2 Discrete Mic Preamp
We've praised Warm Audio previously for their take on the Neumann U87, and here comes their take on the Melcor 1721. As you can tell by the name, they aim to produce the warmest audio possible, ensuring you quality, professional results every time. The circuitry found within is an X731 op-amp, designed to produce a clean and natural tone, full of vibrancy.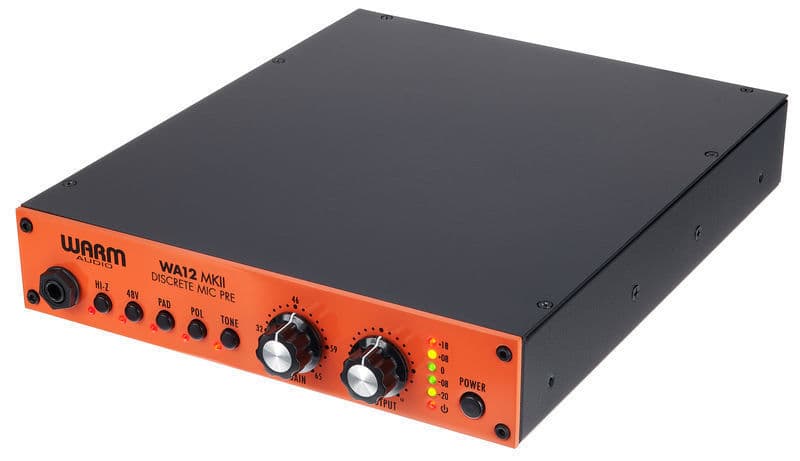 Alongside the impressive circuitry, Warm Audio have a few more tricks up their sleeve, including a TONE button, which shifts the impedance from 600 ohms to 150 ohms, changing the tone of the mic. As well as a number of other features, including output attenuation control, allowing you to saturate the audio and get a whole host of new sounds.

Sennheiser HD300 PROtect Professional Monitoring Series
A staple of studios across the world, Sennheisers HD range caters for radio beginners, all the way to seasoned industry veterans. The HD300 represents some of the pricier options in this range, but Sennheiser more than justify the price tag by crafting comfortable headphones built for long studio sessions. They won't become irritating or awkward to wear.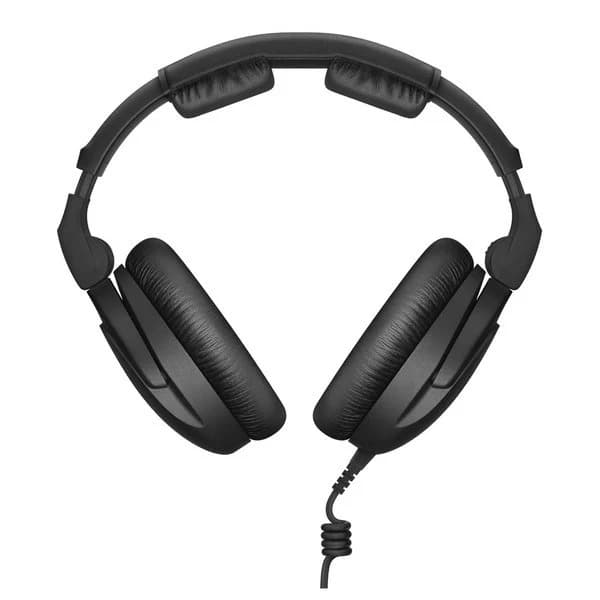 The ActiveGuard tech and passive noise isolation also ensure your hearing won't become affected by extended periods of use. Factor all this in with Sennheiser's trademark quality audio playback and a linear frequency response, you can't go wrong with the HD300.

Building Your Perfect PC
Determining what parts you need to build an ideal PC for your professional studio can be quite complicated. The constant updating of hardware and software in the tech industry can make it hard to keep up with the latest developments. But for a professional studio setup there isn't a one-size-fits-all solution for your computer, so it may be worth searching around to see what suits both your needs and your price range.
Despite this, here are some parts we'd recommend when building your PC with:
And finally, to wrap everything up in a neat bow. Radio.co is an all-in-one platform for modern broadcasters. It provides everything you need in order to host and manage your radio station completely from the cloud.