How to Start an Internet Radio Station: What You Need to Know
Full guide on how to start an internet radio station, what equipment you need, how to brand your shows, and everything else you need to know.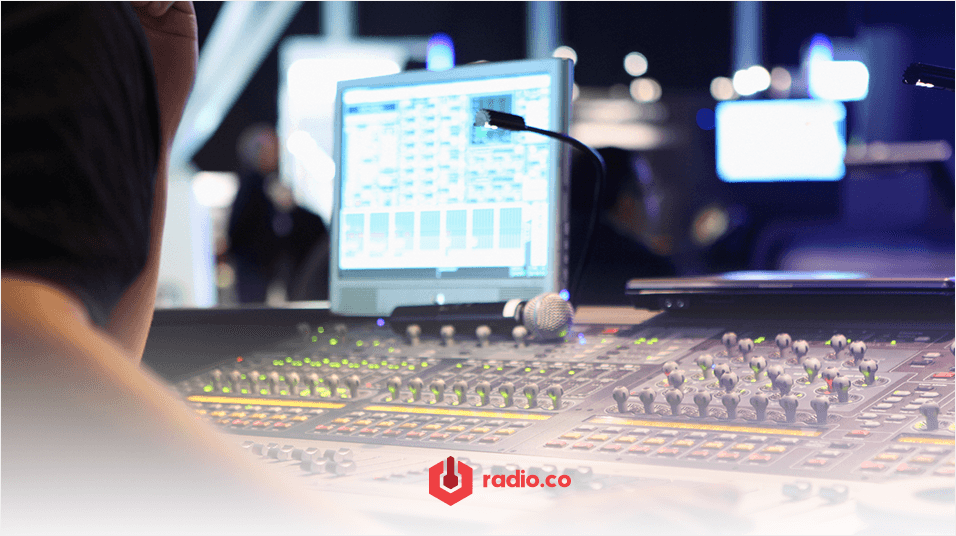 How quick can I start an internet radio station? I get asked this question a lot from newcomers that want to get their feet wet within the online radio world. The short answer is it takes minutes to get up and running, but there are a number of things to consider before diving in.
Starting an internet radio station is a journey that can be broken down into the following steps -
Getting Started: What you need to get up and broadcasting.
Setting up a Website: Advice on setting up a website for your station.
Marketing Your Station: How to attract an audience and grow.
Internet Radio Overview
So how exactly does internet radio work? Well, there are 3 basic stages -
Source: Your computer changes your audio into a stream of data from your sound-card which is sent to the server.
Server: We take your audio stream and then redistribute it to listeners.
Listener: Your audience from anywhere in the world that have access to an internet connection can connect and hear whatever you're broadcasting.
Do I Need Equipment to Broadcast?
You can broadcast your station from practically any device, but you need some essential equipment to get started -
Computer: This can be either a desktop computer or laptop which has a good soundcard, is relatively quick, and can store your music.
Internet Connection: Most internet speeds are sufficient to upload streams at 128kbps, but having a faster connection ensures you can go up to a higher quality at 129kbps and do other things online.
Microphone: There are 2 types of mics worth thinking about when starting out: USB and XLR. USB is a simple plug and play mic that fits into your USB port - XLR is a condenser mic that requires an XLR port and phantom power to keep it running.
Headphone & Amplifier: A comfortable pair of headphones and amplifier go along way as you can control audio output for you and guests.
Mixer: Not necessarily essential, the mixer is a key radio hosting tool that works well with an XLR mic by removing the phantom power and accommodating for multiple mics for guests.
For a more in depth look at what you need then check out our Home Studio Basics video.
What If I Can't Broadcast Live 24/7?
When you're not available you can switch to automated shows, these are scheduled programmes throughout the week that allow your station to broadcast around the clock.

Preferably stations have a mix of automated and live shows sprinkled on a regular basis during the week, but having shows scheduled is a failsafe in case no one is around to do a live show, for instance with Radio.co you can set what plays and when.
Can I Invite DJs to Broadcast?
You can have several DJs on your station, each with their own scheduled slot to take over your broadcast.
Collaborate with DJs on your station by allowing them to add tracks, create playlists, and schedule tracks during the week. With Radio.co you can give DJs different levels of permission depending on what you want them to do, like oversee day to day activities as a Station Manager, control what's been played as Music Controller, or simply DJ when scheduled.
Inviting multiple DJs gives your shows a more diverse feel and overall makes it easier to manage.
Do I Need a License to Broadcast Online?
No! Unlike FM or AM, you don't need a license to transmit a radio station over the internet. However, you may need to pay royalties if you plan to use commercial music - However If you're using your own content or royalty free music then you don't need a license.
Create a Website
Building and running a website is optional, but it goes along way to have a greater presence online and a place for your listeners to find out more info about your station.
If you're not a master programming wizard then you can use what's known as site builders to get started.
Site Builders
Website builders are easy to use services that help you develop web pages without having to know a line of code. Here are some of the best site builders to date -
Wix: Kickstart your site with ready to use templates and beautiful layouts.
Weebly: A friendly drag and drop site builder that's robust enough to be a good e-commerce tool.
Squarespace: A visually pleasing builder aimed at mobile responsive sites.
Listen Page
Present your station at every possible opportunity on your site, for instance a listen page is a dedicated place to send people to tune into your stream, however there are other methods.
Offer listeners links to tune in via media players like iTunes and Windows Media Player, alternatively embed a player directly into pages.
You can find more info on how listeners can tune into your stream on the Listening In & Player Builder page.
Schedule Page
Display what's upcoming on your shows throughout the week and the DJs scheduled to play, this keep listeners updated and coming back when to their favourite shows.
App Widget
A large portion of listeners are on mobile, so cater for them by offering the option to download and tune into your station via an app.
You can use WordPress' Mobile AppWidget plugin to display iOS, Android, or Windows apps depending on the user's device.
Contact Page
Create a simple contact form for listeners to get in touch with you or your DJs, this can be anything from song requests to shows ideas.
Links Page
Show off your partners or exchange links with other stations, DJs, or third-party sites if you're offering affiliate programs.
Market Your Station
Running a radio station can be a fun hobby, but if you're looking for some extra cash then you should monetize your radio station.
Directories
Radio directories are the marketplace for your station, so you want to be on as many as you can, such as -
TuneIn: One of the most popular directories, it offers a wide selection of stations, from amateur to professional broadcasts.
Streema: Lists all major radio stations like BBC Radio and ESPN, Streema is a great place to place your station.
iTunes Radio: Billions of people own an iPhone, so what better way to get in front of those users by being on iTunes Radio, a simple way to lift your listening figures.
Branding
An unbranded radio station is like writing a message in a bottle, then throwing it in the sea. You need to stand out from the crowd by having a unique look, sound, and message.
Check out our guide on branding your radio station's audio.
Lead Capturing
Getting leads is an art form with the right tools - You want to grow your list of contacts so you can get in touch and keep them regularly updated.
Capture leads by using input boxes on your site with incentives to join your newsletter or enter into competitions, anything to entice listeners to hand over their info.
Popular Guests
What would happen if Paul McCartney from The Beatles, Bob Dylan, or even Taylor Swift were guests on your show? Overnight it would attract such a huge number of listeners that you wouldn't know what to do with them.
Reason being, popular guests or DJs on your show attracts their fanbase to you, which is a sure fire way to quickly get recognised and grow your radio station, for instance The Radio.co Show invites well recognised radio guests to chat about broadcasting and the radio industry.
Backlinks
A simple but effective method - Backlinks on your website are a way to hook up other sites as a network to increase your search results in Google and also offer visitors the chance to check out related content, this works for other sites as well that are linking to you, overall increasing your site's traffic.
Start Your Station
Radio.co offers you the ability to easily start your own internet radio station in a matter of minutes. Once your tracks are uploaded and playlists scheduled, you can switch your station on at the click of a button.
If you need guidance along the way then you can check out resource for everything you need to know to run your own internet radio station at The Radio.co University.
Alternatively experts are only a message away, so drop them an email over on the Radio.co Contact Page.
Start your internet radio station today with Radio.co's 7 day free trial.