Make Your Own iPhone and Android Radio Mobile Apps
Make your own iPhone and Android radio mobile apps using Radio.co's app builder - Design your own branded apps with our simple step-by-step wizard.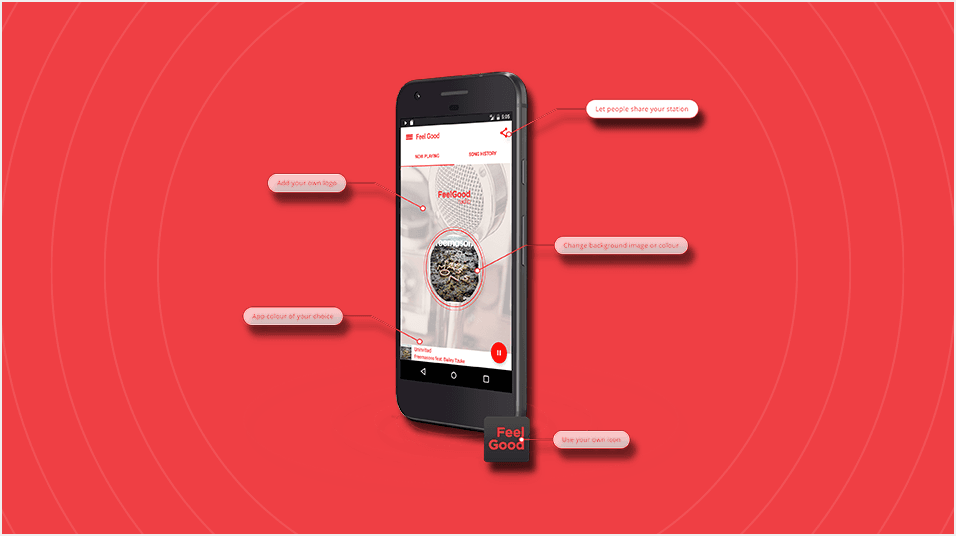 You can make your own iPhone and Android Radio Mobile Apps with Radio.co. Our step-by-step wizard makes it incredibly easy to get your station app up on The App Store and Google Play. Besides from tuning into your station, you can also use it as an alarm, set it to sleep, and link out to your social media accounts. We actually showed off these cool new features for the app here.
Some of the most popular radio stations have already got their iPhone and Android radio mobile apps live through Radio.co. We thought we'd share the 5 best apps we've seen so far.
5. MCR Live
MCR Live is a multi-platform and multi-format content network across DAB digital radio in Manchester, podcast networks, social media, and much more.
MCR Live provide a platform for local musicians, bands, DJs, artists, creatives, influencers and businesses to connect with Manchester and beyond!
---
4. Revive
Revive Radio is a Christian based internet radio station with positive uplifting music and programs for everyone. Listen to the best mix of music, teachings, devotionals, and debate programs from up and coming artists.
Tune in and listen live to both English and Spanish music and talk radio. Enjoy great music whilst you workout, driving in the car, or relaxing at home.
---
3. IKON Radio
iKon Radio is a digital radio station playing the best independent music from today's most talented undiscovered artists. Listen to live on-air broadcasts, specialty radio shows, and exclusive DJ mixes.
iKon Radio is a 24/7 station that's available on both iOS in The App Store and Android on Google Play.
---
2. DentonRadio.com
DentonRadio.com is an online 24/7 radio station devoted to Denton's one-of-a-kind sound. Broadcasting LIVE from the Discover Denton Welcome Center, tune in for original and independent Denton music and entertainment!
DentonRadio.com is your one stop shop for Denton music and entertainment. Hear the original and independent sounds of Denton, Texas on your mobile.
---
1. 7Six5 Live
7Six5 Live is an open format radio station, playing music from several genres including hip-hop, rap, R&B, EDM, latin, k-pop, alt rock, metal, punk, and more! Not only will you get to hear awesome new music from a wide spectrum of genres, but also listen to local and national celebrities live on-air.
Along with great music, 7SIX5 Live provides marketing and promotions services via the app, website, online stream, social media, on-location remotes, and at special events.
Make Your iPhone and Android Radio Mobile Apps Today
Ready to build your app? Just upload your own images, customise how it looks, and hook it up to your radio station. There's no code needed and you don't need to spend hundreds hiring a developer.
Radio.co handles everything. We build your app, upload it to the stores, and make sure it's up-to-date with the latest iOS and Android versions. So what are you waiting for? Build your app today and submit it to Radio.co to get it live and in your listener's pocket.