MCR Live: Radio & Podcast Network for Manchester
MCR Live is a brand new radio, podcast, and content network based in Manchester. Discover how they use Radio.co to connect with thousands of listeners.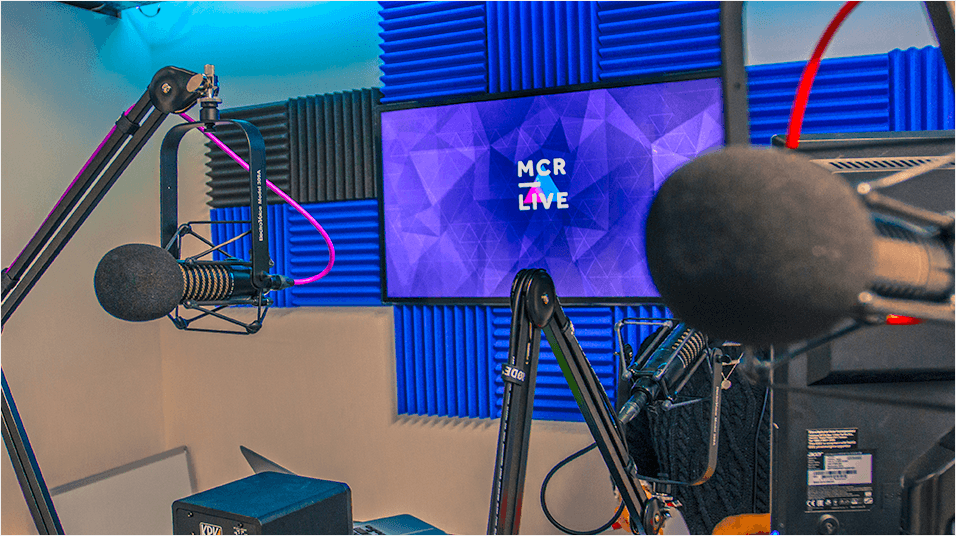 MCR Live is a brand new radio, podcast, and content network based in the heart of Manchester. Using Radio.co they broadcast to thousands of listeners worldwide with both live and pre-recorded mixes. Discover how they use the platform to easily manage shows and reach their audience.
MCR Live Showcases the Best of Manchester
MCR Live is the new voice of Manchester. Moving away from the ad-heavy format of existing commercial radio, they have put content front and centre by focusing on the vibrant cultural scene in the north of England. Shows are accessible on multi-platforms and in multi-format content networks. If you are in Manchester you can tune into shows via DAB digital radio, catch up on podcast episodes through Mixcloud, or listen on your phone using their mobile app and in the browser.
MCR Live works with brands such as Skiddle, Shindigger, Oi Polloi and more to create content across platforms including radio, social media and events The network has launched with a diverse lineup of interesting shows like Silent Radio, Plastic Fantastic, Funkademia, Mike Shaft, Percolate, Sofar Sounds, Crazy Animal Face, Everything Everything, and a whole bunch more.
Working behind the scenes are a passionate team of radio and music enthusiasts. They bring together the freshest content from in and around the city. That's everything from bands, businesses, and local events. MCR Live Content Director Rhys Hancock says:
We are trying to build something that showcases the brilliant scene here in Manchester by working with the best artists, brands, and creatives to create some incredible content across multiple channels.
MCR Live broadcasts both live and pre-recorded shows. Using Radio.co they effortlessly schedule tracks throughout the week, mixing in live shows with guest DJs and the afternoon show. Rhys adds:
Working with Radio.co makes it super easy to curate and schedule the next generation of audio content thanks to the power of the cloud.
As part of the MCR Live network, podcasts like The Rundown with Skiddle showcase the best of Manchester. That's every upcoming event, gig, club night, and more across the city. Each weekly episode is a mixed bag of goodies worth checking out.
There is always something going on at MCR Live. Radio shows are broadcast 24/7 that feature recurring residents, special live takeovers, and much more you can catch up with on-demand through Mixcloud. Less than 6 months old, MCR Live is quickly becoming the go-to platform for music lovers and festival goers. You can check out more and see what's going on in the city here.