Radio Track Editor, Advanced Analytics, & More Radio.co Improvements
Your radio broadcasting toolset just got bigger! Introducing new features like the radio track editor, advanced analytics, & a whole lot more!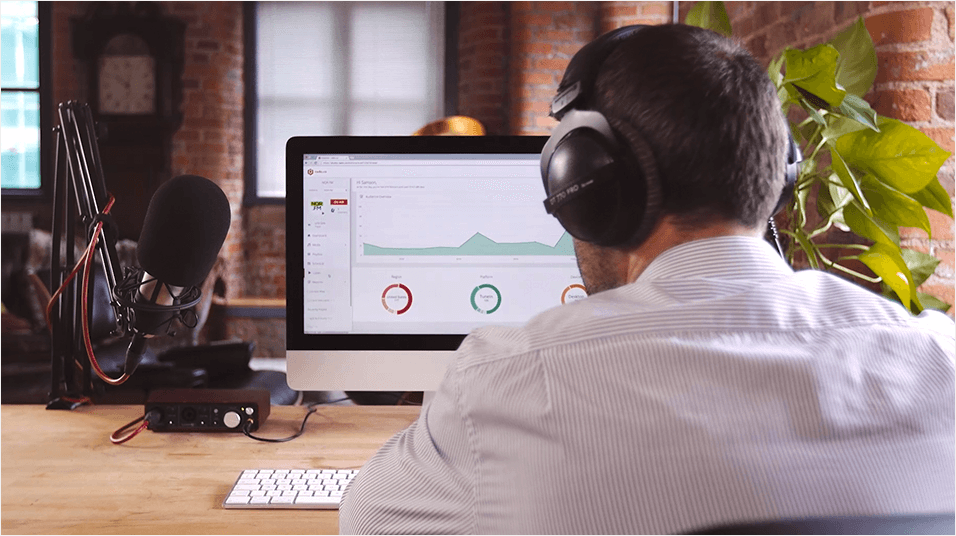 Your radio broadcasting toolset just got bigger! Over the past couple of weeks Radio.co has been rolling out a bunch of cool new features like the radio track editor, advanced analytics, and whole lot more.
Dive into your new radio gear and discover how easy it is to create and manage your own online station with Radio.co.
Why Improve Radio.co?
In a rich online digital landscape there's plenty of awesome new tools being built everyday. We wanted to give you the best that's on offer, all the while offering an easy to use experience. It's not just new features you're getting your hands on, but a smoother radio platform. Most online radio services offer a variation of the SHOUTcast or Icecast platform, which can be rather limited in terms functionality and server stability. The Radio.co platform is custom built, meaning new tools can be developed based on your feedback and servers improved to minimise outages. Here's a breakdown of what we've rolled out and how you can use them for your online radio station.
Radio.co Station 2.0
The entire infrastructure has been replaced and upgraded, but you maybe asking "What does that mean to me?" Simply put it's a general fix to improve overall stability and server capacity. It resolves some issues we've had in the past and prepares Radio.co for new features in the future.
Track Editor
The track editor is a broadcaster's must have tool as it allows you to seamlessly transition between audio, making you sound like a true radio professional.
All your tracks can now be edited on a "per track" basis for cue points and fading. Edit and listen to audio playback directly in your browser within your radio station's dashboard.
Spotted a typo in your track or album? Now you can update each of your track's meta description.
The track editor is only available on the Broadcaster and Station plans, if you're on the DJ plan and would like to try the service then get in touch with support.
Please note: Track editor is currently in beta, by using it you acknowledge that changes to files may cause undesired effects to playback if set incorrectly. Radio.co does not provide email support for beta features.
Mobile Stream Bitrate
The mobile stream bitrate is now adjustable between 16kbps, 32kbps, and 64kbps aacPlus.
Listeners tuning in on mobile devices will automatically be switched over to the mobile quality stream based on your settings.
Improved Analytics
You can now view in-depth analytics like total listeners and data usage for the previous selected period of hour, day, week, or month.
Click "Last" on the analytics page to load the previous selected period's statistics.
View more at a glance with the advanced analytics to get deeper insight into your radio station's stats.
In Stream Metadata
Metadata is information your tracks have, like artist name, track title, and the album it's from. In stream metadata sends this track's information to third-parties media players like VLC and iTunes whilst streaming.
You can view and edit your track's metadata in your Radio.co dashboard -> Media -> Track Actions -> Edit.
Queued Tracks
Whether you're taking listener requests or just got a catchy song stuck in your head that you want to play, you can now take action and queue multiple tracks directly in your dashboard.
Add tracks and view a full list of upcoming queued tracks directly in your dashboard.
Separation Rules
Have you ever tuned into a station and heard a song repeat itself over and over? It's rather annoying isn't it? Well now you can ensure that this doesn't happen to your broadcast with separation rules.
Separate both artists and albums within a given time frame, for instance setting the duration to 60 minutes will stop any artist or album from repeating within that time.
You can also exclude tracks from separation rules by using allowed tags, for instance if you want jingles or promos to play without disruption.
For an in depth explanation on how these work then follow the separation rules guide.
Listeners Map
The Radio.co dashboard shows an overview of listener locations by country, giving you a quick summary of who is currently tuned into your station.
However, the map doesn't pinpoint exactly where listeners are, that's why the listeners map is now available in Reports -> Current Listeners.
Know exactly where listeners are located and how they are tuning into your station, all in real-time.
Embeds
Listeners need to know your radio station's info at a glance to get a feel for what you will stream, wether that's what's currently playing, what you have played, or the current DJ that's broadcasting, this is why embed codes are now available to copy and paste directly into your website.
By simply adding a bit of code you can display the following -
Album Artwork
Current Song Title
Current DJ
Stream Status
Song History
If you need more control over what's shown, then you can use the DIY Player Kit to fully customise your radio station.
Upcoming New Features
Aside from the improvements you've already got, there are bunch more coming soon we can't wait for you to get your hands on.
One cool new feature you will get at the end of the year is the stream relay - Add any SHOUTcast, Icecast, or Radio.co stream to your station and schedule it to broadcast at specific times.
Add and vote on the features you want to see in the future.
Join the Radio.co family by starting your 7 day free trial today and broadcast your station on the most advanced and reliable radio platform.