Using Radio.co to Setup Silent Disco
How Amsterdam based creative agency ...,staat created a mobile silent disco radio station for music festival goers with the help of Radio.co.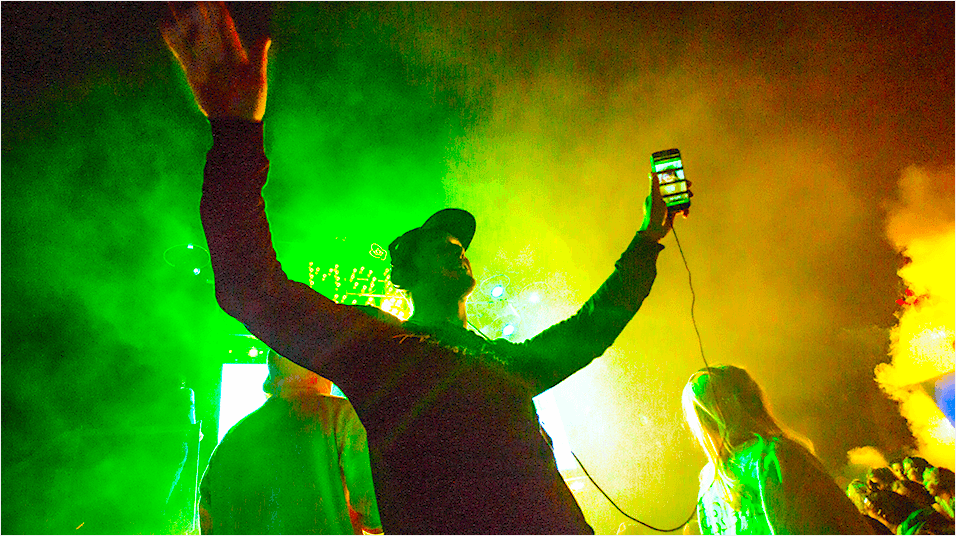 Silence isn't the first thing that comes to mind when thinking about music festivals, but this exactly what Amsterdam based creative agency ...,staat achieved with their unique mobile silent disco event this year.
Amsterdam's leading telecommunication provider KPN sponsored the creative presence at the four major Dutch summer festivals: Pink-pop, Down the Rabbit Hole, PITCH, and Lowlands. Music festival goers were in for a treat and connected to the mobile silent disco radio station.
Mobile Disco Radio... AKA Silent Disco
A take on the popular silent disco, the mobile disco event had a slightly different twist using mobile phones, wi-fi, and online radio.
At the mobile disco radio KPN site, music festival goers could tune into the best live DJ sets using free wi-fi that stretched across the entire festival. If they didn't have a smartphone then "phone booths" were available to tune into shows.
Silent Disco Radio Setup
Listeners needed to be able to access the silent mobile disco radio wherever they were, luckily using Radio.co and the rest of the setup the KPN event was able to broadcast live music in real-time. The final result looked something like this:
1. DJ Setup
iPad & Microphone: Apps like Spotify were loaded up on the iPad to manage music live and talk to listeners via the microphone.
DJ Set: Shows were altered and mixed through DJ desks for grander sounds.
Mixer / Limiter / EQ: Adjustments in sound levels, limits, and quality were adjusted here.
Soundcard: All audio was pushed and processed through the Mac Mini's soundcard.
Mac Mini & Nicecast: An encoder (Nicecast) processed the music into a live stream to an online radio station.
2. Online Radio
Live Radio: DJ sets broadcast live online for music festival goers and anyone in the world to access.
Real-Time Statistics: Information is shown in real-time about listener locations, devices, and platforms.
Backup Playlist: In case the connection with Nicecast is lost a backup playlist takes over in Radio.co.
3. Listener Connections
Wi-Fi: Listeners needed access to wi-fi or a cellular network (3G / 4G) to access the mobile disco radio.
Mobile App / Phone Booth: Online radio streams were accessible via the free mobile app.
Online Radio Benefits
Creative agency ...,staat chose Radio.co as part of their mobile disco setup. Listeners tuned into the station locally across the music festival, but the stream was also available online for those that couldn't attend.
Radio.co became our go-to platform for managing the audio streams. The crowd could tune in via a player integrated in the o cial festival apps - For those who forgot (or lost) their phone, we had four 'mini clubs' inside transformed phone booths, including the streamed sound, lights, and smoke.
Intuitive & Friendly
DJs at the festival could manage shows through mixing desks and apps on their iPad. As anyone at the festival and internet access could download the app and tune into the stream, DJs could see the number of connected listeners in real-time that were enjoying their sets.
Beside Radio.co's super intuitive and easy to use features, what we really loved were the statistics and live tracking of listeners. This gave us a simple way to check the number of party peeps enjoying the show.
Verdict
In the end the silent disco at the Pink-pop, Down the Rabbit Hole, PITCH, and Lowlands music festivals was a hit.
Music lovers got to experience a one time and unique way to tune into DJ sets like never before, making this grand event really shine.
I was really positive about the experience and would use it again as soon as we need it!
---
Did you know that anyone from anywhere can start their own online radio station? Upload music and manage your shows live for a global audience. Start your journey today by clicking the button below.