StationPlaylist Studio Setup for Live Online Radio Broadcasts
StationPlaylist Studio Setup - Broadcast to your online radio station with StationPlaylist Studio, a Windows based automation software.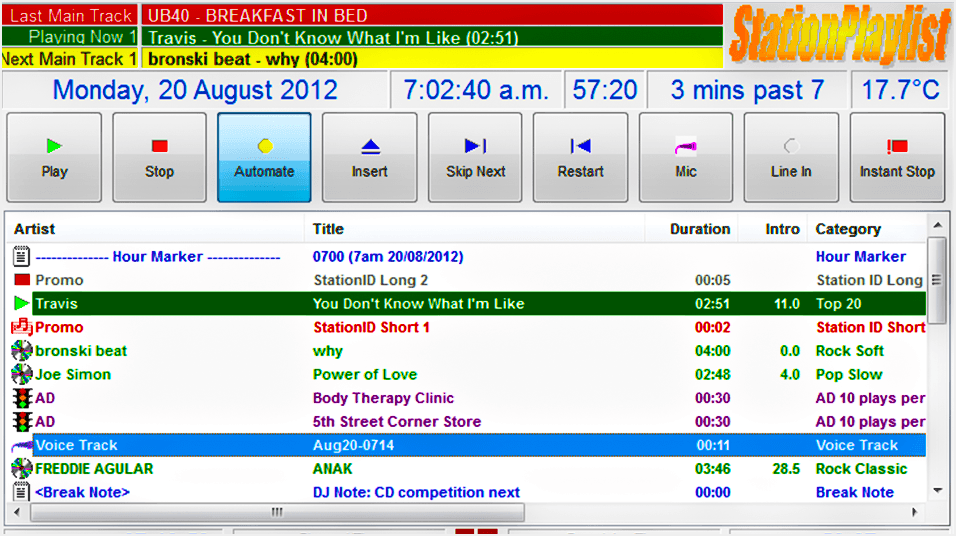 You're on this page because you most likely want to get StationPlaylist Studio setup or at least know something more about the program. We'll show you what it is, why it stands out, and how to connect it to your online radio station.
What is StationPlaylist Studio?
StationPlaylist Studio is a Windows based automation software for managing media and broadcasting online. Known for its advanced features like scheduled music automation and extensive playlist management capabilities, it's ideal for online stations to plan out weekly content.
StationPlaylist Studio Features
Design & Layout
When you open StationPlaylist for the first time, everything is laid out in a clean and simple user interface which allows new and existing users to navigate the software with ease.
Adding music is easy as StationPlaylist Studio allows you to simply drag and drop your tracks into the program.
Broadcasting Live
You can broadcast to your listeners through Radio.co using StationPlaylist Studio.
StationPlaylist Studio sends song information such as track title and artist to your station and then out to your listeners, so they know what is currently being played.
StationPlaylist Studio Setup
Setup Guide
Download StationPlaylist Studio
Download StationPlaylist Studio - It's only supported on Windows.
Install StationPlaylist Studio
Download the latest version of StationPlaylist Studio and run the .exe file.
Work through the installer by accepting the terms and conditions, then hit finish when it has finished installing.
Customise StationPlaylist Studio
After the installer has completed, you will be greeted with another wizard that allows you to customise your install of StationPlaylist Studio.
Customise the install however you like, but you need to ensure that in the "Stream Encoding" window you set the "Enable the stream encoder in the studio?" option to "Yes".
Selecting this option will enable the stream encoder and allow you to broadcast online to your Radio.co station.
Setup The Encoder
After you have finished the wizard, you will be greeted by the StationPlaylist Studio dashboard. In the SPL Encoder window, click "Add Encoder" and then double click the encoder you just created, this will open up the options window to enter your station's details.
Grab your radio station's details in the Radio.co Dashboard.
The details should be entered as follows:
Encoder Type: Shoutcast
Host: E.g. silver.radio.co
Port: E.g. 1172
Login: (Leave blank)
Password: E.g. 0q8ye9hdqa
Mountpoint: (Leave blank)
After entering your station's details, hit OK.
Schedule Live Events
Schedule a live event before you broadcast - Set an event within your station's calendar by following this guide.
Broadcast Live Radio
Hit "Connect" in the SPL Encoder window and StationPlaylist Studio will establish a connection ready to broadcast your shows. Hit "Play" and your tracks will be streamed to your station.
You're now up and broadcasting with StationPlaylist Studio to your radio station!
---
Did you know that you can start your radio station today for free? With Radio.co you can get started with your 7-day free trial right away! Click the button below to start your journey, alternatively if you have a few questions then get in touch with us at: radio.co/contact.