Should You Create Your Own Radio Station?
Have you got an idea for a station, but don't know where to start? In this guide, we teach you everything you need to know to create your own radio station.
Our in-house team of experts at Radio.co have put together an overview of things you need to know when setting up your station. The following advice is completely free and will hopefully provide you with some insight to head down the right path. You will learn:
Fundamentals of Internet Radio - What to look out for and terminology you should know.
24/7 Automated Broadcasting - Tools to broadcast non-stop to a global audience.
Live Broadcasting - Different methods to get your shows live online.
Radio Equipment - Microphones, headphones, mixers, and other essential radio equipment.
Station Branding - How to stand out from the crowd and get noticed.
Common Questions Answered
On a regular basis, we get asked common questions on how to setup a radio station. Such as "Do I need expensive equipment?" and "Do I need a license to broadcast?". We answer these questions and more below.
I am new to online radio broadcasting and not very technical. Can you help me?
If you are unsure on how to get started and you do not have a techie background then there is no need to worry. Creating your own radio station is pretty easy. Radio.co has streamlined the process of getting up and running in minutes. This means that you can broadcast without having to know what everything does. Just click a few buttons and you are on the air!
I am on a budget and do not have loads of money to spend on a radio station. Is this for me?
You cannot start a radio station with zero investment, however, you can start one with very little investment. Radio.co is an affordable solution that offers you everything you need to broadcast your shows online. When the time comes and you need to scale up, upgrade your plan for better features like iOS and Android mobile apps, build your radio website with our builder, and more to help you grow.
Do I need expensive equipment to broadcast?
It is a common misconception that you need expensive equipment to setup a radio station. Really, you just need a standard computer or laptop, an internet connection, and a microphone (internal if need be). When you are first starting out it is better to just get up and running as quickly as possible. Use the equipment you have and upgrade as you go.
Can I broadcast live from anywhere to anyone?
If you have access to the internet then you can broadcast from anywhere. Whether that is on a laptop or mobile phone. Same goes for listeners. They can tune into your shows as long as they have an internet connection.
Do I need a license for my internet radio station?
Unlike terrestrial radio, you do not actually need to own a license to broadcast. However, if your station is playing commercial music, like a song from the top 40, then we have a few suggestions you can check out here.
There are quite a lot of common questions broadcasters have when it comes to creating their own radio station. That is why we have compiled a full list of questions and answers you can check out here.
Fundamentals of Internet Radio
Understanding the basics of how internet radio works can help tremendously. Get a clear picture of what things mean and what you should be looking out for.
How Everything Works
There are 3 basic stages when it comes to broadcasting over the internet:
Source (You): Your computer mixes audio, like your microphone input or music, then it converts it into a stream of data packets which are constantly sent to a server.
Server (Provider): When your stream arrives at the server it is cleaned up, managed, and dispensed to the appropriate channels like a mobile app or website player.
Listener (Everyone): Wherever your broadcast is online, if that is a direct streaming link to the server or via a player, anyone can connect and hear your show.
Quite straightforward right? Your content is broadcast to the internet, managed in the cloud via server providers like Radio.co, and distributed to your audience worldwide. Now let's break down online radio terminology and what it means to you.
Server Costs
Online radio providers use data centres to store radio stations on servers. It costs money to host and maintain them, especially on reliable ones. Prices vary depending on the performance like memory, storage, and so on. The better the servers, the more expensive it is for broadcasters.
Providers offering low-cost services should be looked at sceptically. They need to cover their own costs and make a profit to run their business. Servers unable to handle listener loads and operate 24/7 may encounter problems like crashes and downtime. They are cheap for a reason!
Bandwidth
The content you stream to listeners uses bandwidth. It's a unit of measurement for data sent out across the internet. Using bandwidth costs money, but how much depends on the audio quality (kbps), your number of listeners, and how frequently you broadcast. Use the Internet Radio Bandwidth Calculator to determine how much you will use based on your listeners, time spent listening, and bitrate.
Listener Caps
Servers have limits. Without them, they fall over when pushed too hard. Listener caps prevent server loads becoming unmanageable and deteriorating the quality of streams. Providers often set an amount of listeners you can broadcast to at any one time as a precaution.
Radio.co handles things a bit differently. Radio streams are served to listeners depending on their location. For example, a listener on the east coast in the US streams from a New York server. Whereas a listener on the west coast streams from Los Angeles. Shows are streamed from the closest server, that way they do not get encumbered with listeners so everything runs smoothly.
Storage Space
Storage space determines how many tracks you can upload to your station. For example, 10GB is enough for around 2,500 tracks and 50GB is 12,500 tracks. This is based on 128kbps stream and 4 minute MP3 files encoded at 128kbps. Preferably the more space you have, the more tracks you can manage into playlists. However, if you do need more space than you upgrade your plan to include additional storage. You can check out storage space and more here.
Listening to Shows
There are multiple ways listeners can tune into your radio station.
Stream URL - Enter your station URL in a browser to listen on a desktop computer, tablet, or mobile like streaming.radio.co:80/s7ee52dd88/listen.
Internet Radio Directories - Join millions of listeners by tuning into third-party radio directories like TuneIn, Streema, and more here.
Mobile Apps - Design your own branded mobile apps that listeners can take with them anywhere on their iPhone and Android devices.
Embedded Players - Build custom players that match the look and feel of your station, then embed them on your website like this...
Grow your listeners by making it easy to tune in. The more ways listeners can access your shows, the greater they are to return along with new listeners.
24/7 Automated Broadcasting
Running a radio station live throughout the week can sometimes be exhausting, especially in the long run, that's where automation can help. Radio.co provides an all-in-one solution to create round the clock radio shows. Not to mention it gives you peace of mind knowing your radio station is running non-stop and managed by professional veterans in the industry.
Take MCR Live for example. They broadcast via DAB in Manchester and online worldwide. There's always someone tuned in, so it's important to be on-air 24/7. Using the automated system from Radio.co, playlists are scheduled with tracks and pre-recorded audio to keep things fresh.
When no one is available to do live shows friends and DJs can take over. Set the date, time, and duration for when they can go on-air. Make it a regular thing by having them come back for weekly shows. Check out how you can set DJ slots up and more automation tips here.

Live Broadcasting
Radio automation is a handy tool for when you're not around, but when it comes to connecting with your listeners doing live is still king.
Talk to your listeners in real-time and engage with them on topics they are interested in like current events, fresh new tracks, and run weekly competitions. Everyone loves getting involved, so have people phone into your radio station or message you on social media to get the conversation going. Broadcasting live to your Radio.co station requires software, either for Windows, Mac, or Linux depending on your setup.
Are you new to internet radio and need a simple solution? Or are you an experienced professional looking for alternatives? There are plenty of options to choose from like easy click and broadcast to more complex solutions. Here are a few we recommend...
BUTT (Beginner)

BUTT is a simple broadcasting tool that is quick and easy to get setup for Windows, Mac, and Linux. Best of all it's free and works quite nicely with Radio.co, so we highly recommended it. Download and install BUTT here.

Mixxx (Advanced)

Mixxx is an advanced open-source DJ software for Windows, Mac, Linux, and Ubuntu. You can add your entire music library and manage shows locally on your computer. Mixxx is perfect if you want full control over your music. For example, you can mix together 4 decks, control EQ, and input multiple microphones. Download and install Mixxx here.

RadioDJ (Expert)

RadioDJ is a free Windows broadcasting software that is great for managing music, playlists, and broadcasting live to your online radio station. Getting setup is a little tricky, but RadioDJ is aimed at experienced radio professionals that want more control over their shows. Download and install RadioDJ here.

Whatever you are after it is best to way up the options and see what else is available. We have more suggestions on some of the best radio broadcasting solutions worth checking out here.
Radio Equipment
What you need depends on what you want to do. For example, will you have live callers phoning into your station? Will you have guests joining you in your studio? We have a few recommendations for basic, advanced, and professional broadcaster setups.
Basic Equipment
Microphone
Extremely popular among broadcasters, podcasters, and voice over artists. The Rode Podcaster is their go to microphone as it is great at cancelling out background noises. You can plug it directly into your computer via USB and start using it from the get go. Buy on Amazon US or Amazon UK.
Headphones
The Sony MDRZX310 are ideal if you are looking for an affordable pair of entry level headphones. They are lightweight and foldable, so you can easily carry them with you on long journeys. Buy on Amazon US or Amazon UK.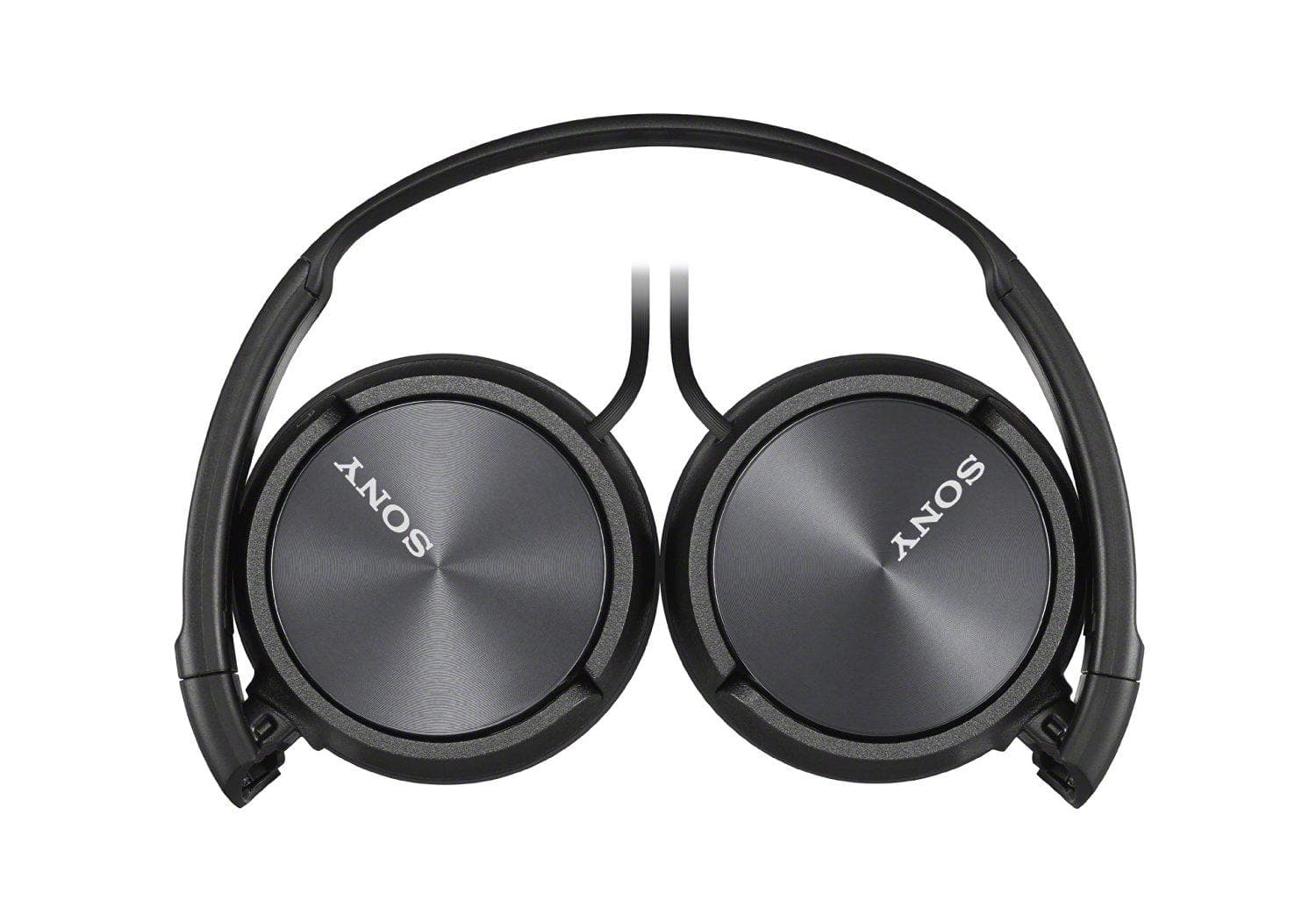 Stand & Shock Mount
A microphone needs to be held in place. A stand and shock mount helps to stabilise it and reduce vibrations from accidental nudges. Buy on Amazon US or Amazon UK.
Advanced Equipment
Microphone
The Electrovoice RE20 is the industry standard mic in the US. Well-known broadcasters like Ryan Seacrest have used it for decades. It gives you that 'radio sound', picking up bass and higher end notes for classic sounding audio. Buy on Amazon US or Amazon UK.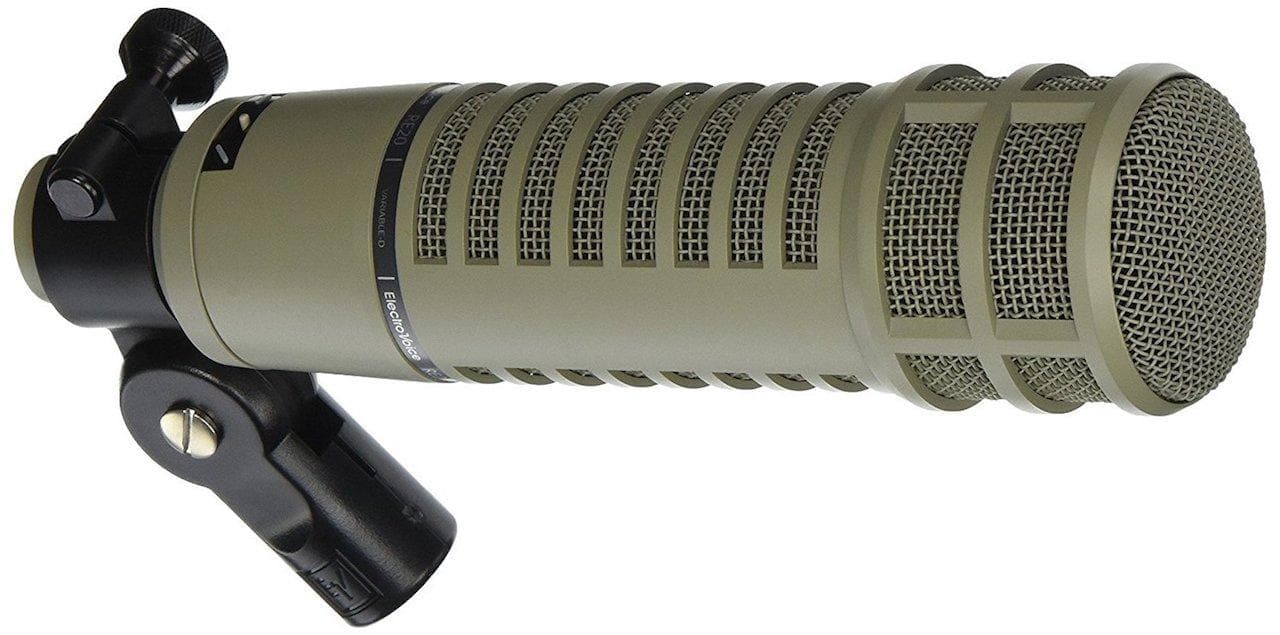 Headphones
The Audio-Technica ATH-M50x are a fantastic pair of headphones. They have over the ear padding, so noise is blocked from outside and they are comfortable to wear for long periods. The audio cable can be detached to swap it out for a longer or shorter cable. The earcups swivel to 90 degrees for easy storage. Buy on Amazon US or Amazon UK.
Audio Interface
Studio condenser microphones like the Electrovoice RE20 need phantom power in order to work. The Focusrite Scarlett 2i2 gives your mic power and allows you to control the volume level gains of 2 mics for you and a guest. Buy on Amazon US or Amazon UK.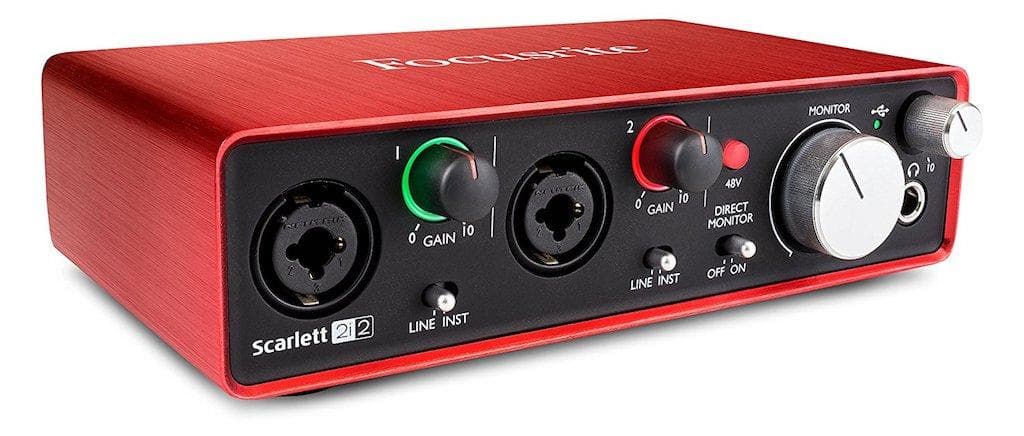 Boom Arm
Add your microphone to an adjustable boom arm. Having one of these makes it incredibly easy to manoeuvre your mic to where you want it to be. Plus, it saves a bit of space on your desk for other equipment like a mixer (something we will cover further down). Buy on Amazon US or Amazon UK.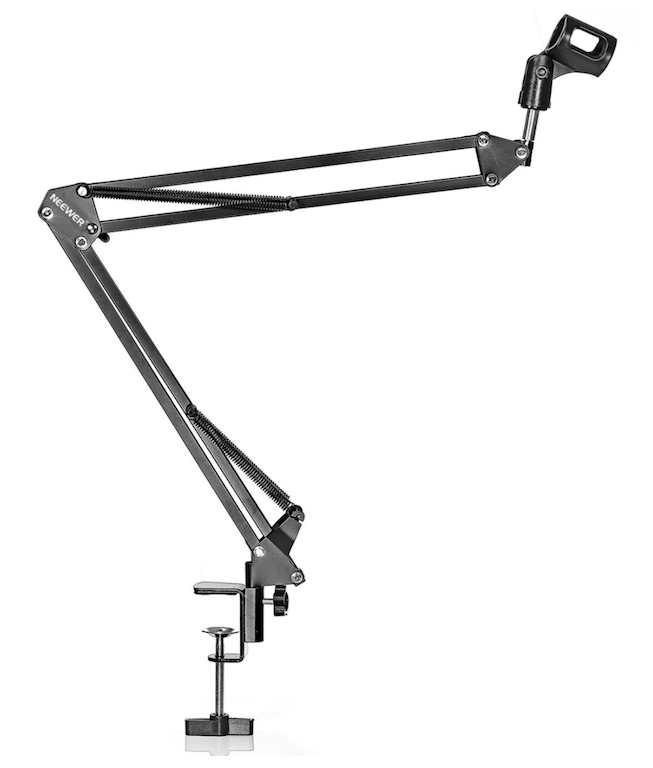 Pop Filter
Sometimes Ps and Bs can sound harsh on the ears due to the microphone's ability to pick up clear audio. A way around this is to use a muffler or pop filter. Simply add it over your mic. Buy on Amazon US or Amazon UK.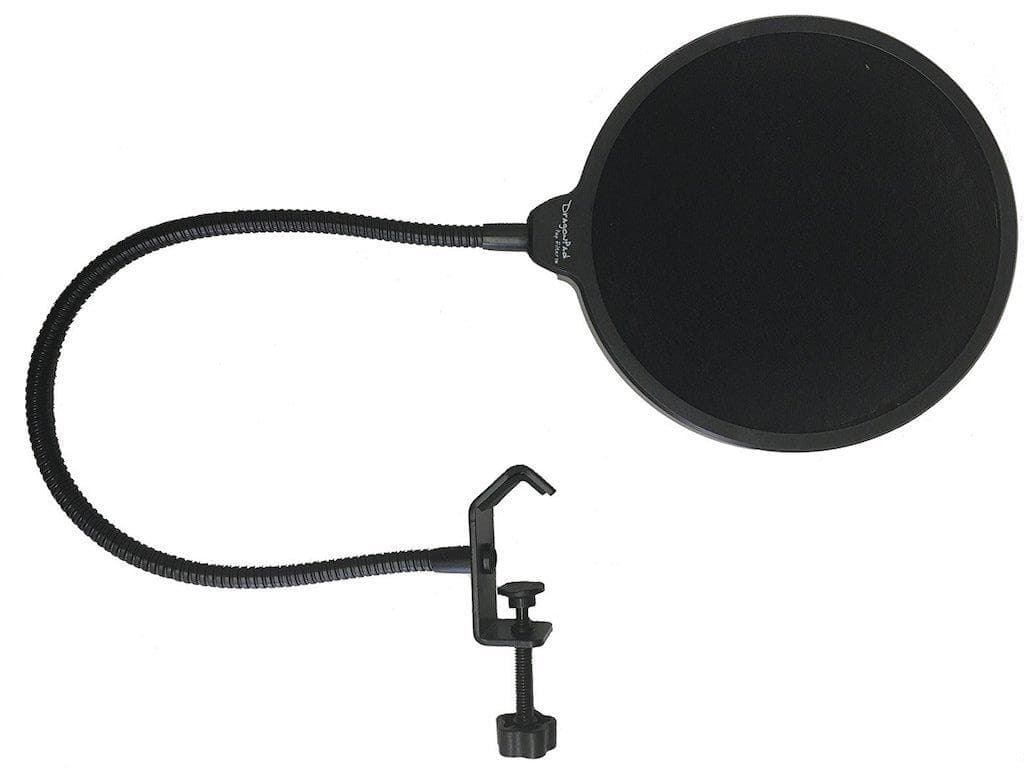 Professional Equipment
Microphone
The Neumann TLM 103 is an industry standard that is hard to beat. It is widely used in commercial radio by professional broadcasters like Howard Stern. As it is a condenser mic it has a large diaphragm for picking up extremely low noises, ideal for sampling, music, home recordings, and broadcasting radio shows. Buy on Amazon US or Amazon UK (only 102 is available).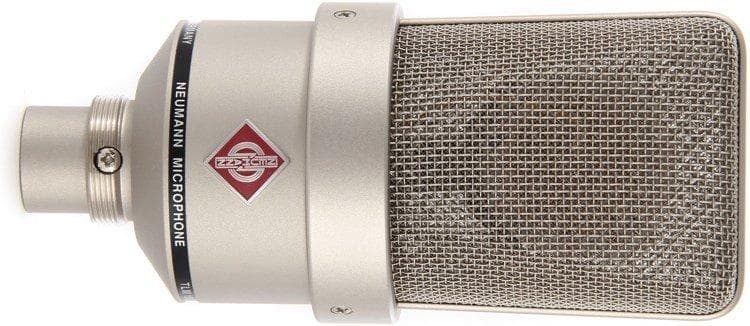 Headphones
The Bluedio U are wireless over the ear headphones. Offering 25 hours battery life, they are designed for comfort with long periods of wear. The sound is delivered through electroacoustic technology, meaning you get rich sounding audio. Buy on Amazon US or Amazon UK.
Boom Arm
A boom arm is an excellent part of your setup as it frees desk space by elevating your microphone. The RODE PSA1 is the best as it is stylish, durable, and comes with cable ties to neaten up your wires. Buy on Amazon US or Amazon UK.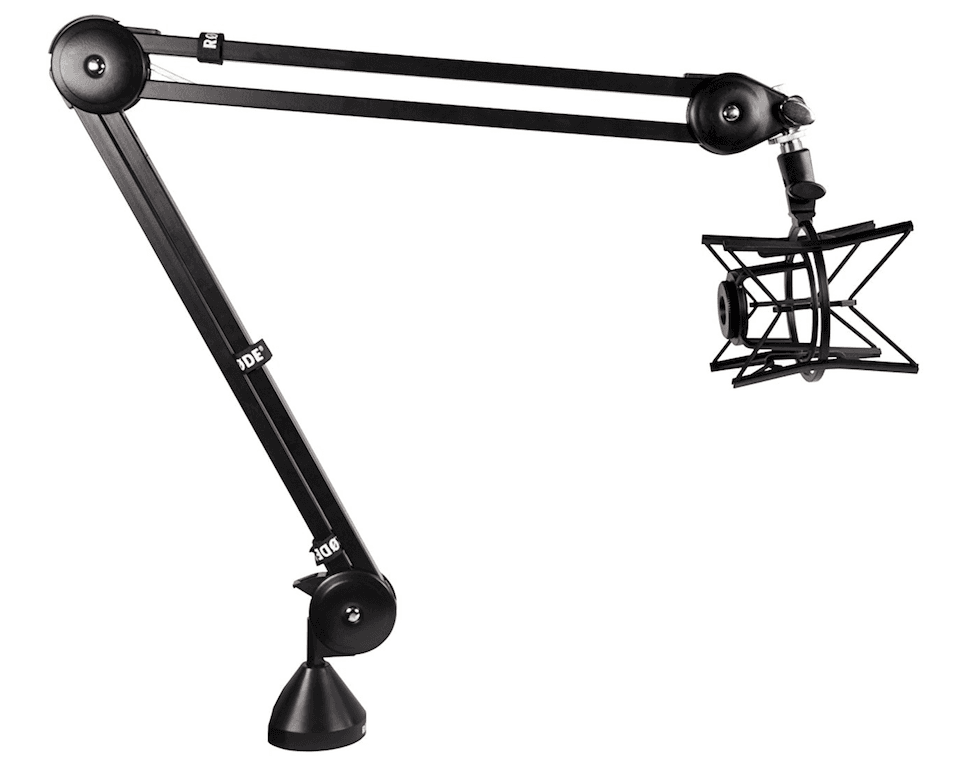 Pop Filter
Pop filters on an arm can be flimsy and get in your way. An attachable pop filter is more durable and adds padding between you and the mic in case of any bumps or scrapes. Recordings sound natural and it gets rid of annoying pop sounds. Overall quality of audio is improved. Buy on Amazon US or Amazon UK.
Mixer
The Behringer DX2000USB Pro Mixer is the central hub of your setup. Manage 7 channels for your external devices like 2 condenser microphones for you and a guest. Mix your sounds and adjust EQ levels for richer audio. Buy on Amazon US or Amazon UK.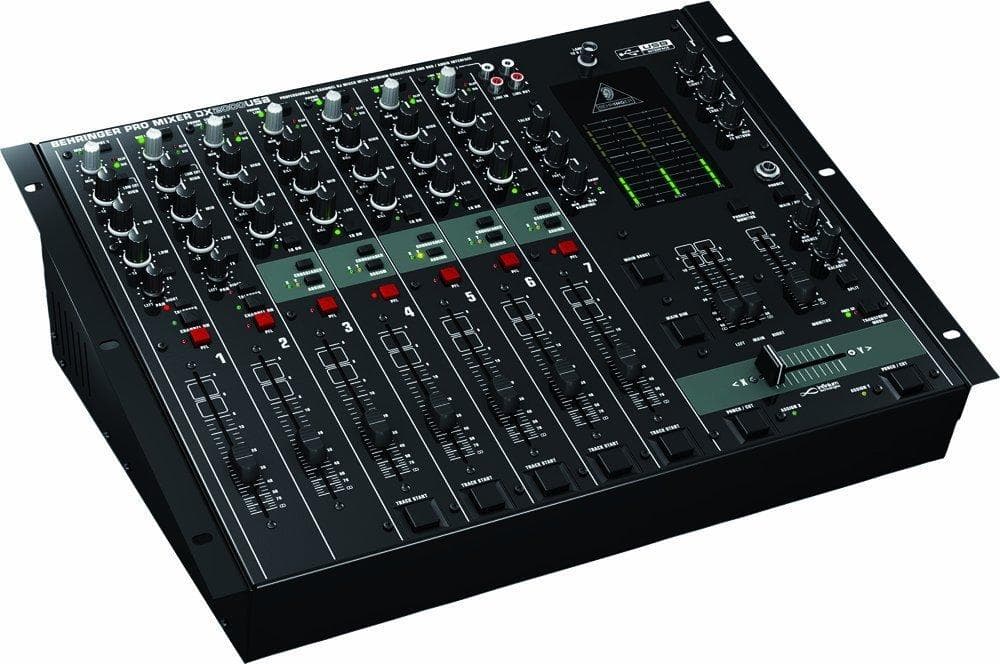 Station Branding
Coca-cola, Apple, and McDonald's all have something very similar in common. They each have very strong and recognisable brands. When your station can easily be identified by it's logo, slogan, or the type of music you play then you are doing something right! There are plenty of stations out there, so your brand need to be strong to beat the competition.
Take Buzz Beach Radio for example. They play relaxing and chill tracks all day long, so they chose a fitting design that is consistent with the look and feel of their shows.

The brand focuses on light colours with images of beaches that match their station's identity. This consistent tone is present throughout their website with the artwork they use and how they position themselves online through advertisements and tone. Your station should be memorable like this so it stays with people.