Pocket-Sized Microphone
The Samson Satellite is a USB microphone with iOS compatibility, expanding the convenience of a typical USB mic by allowing for direct input into an iPhone or iPad, so you can take your broadcasts on the road with greater ease than ever before!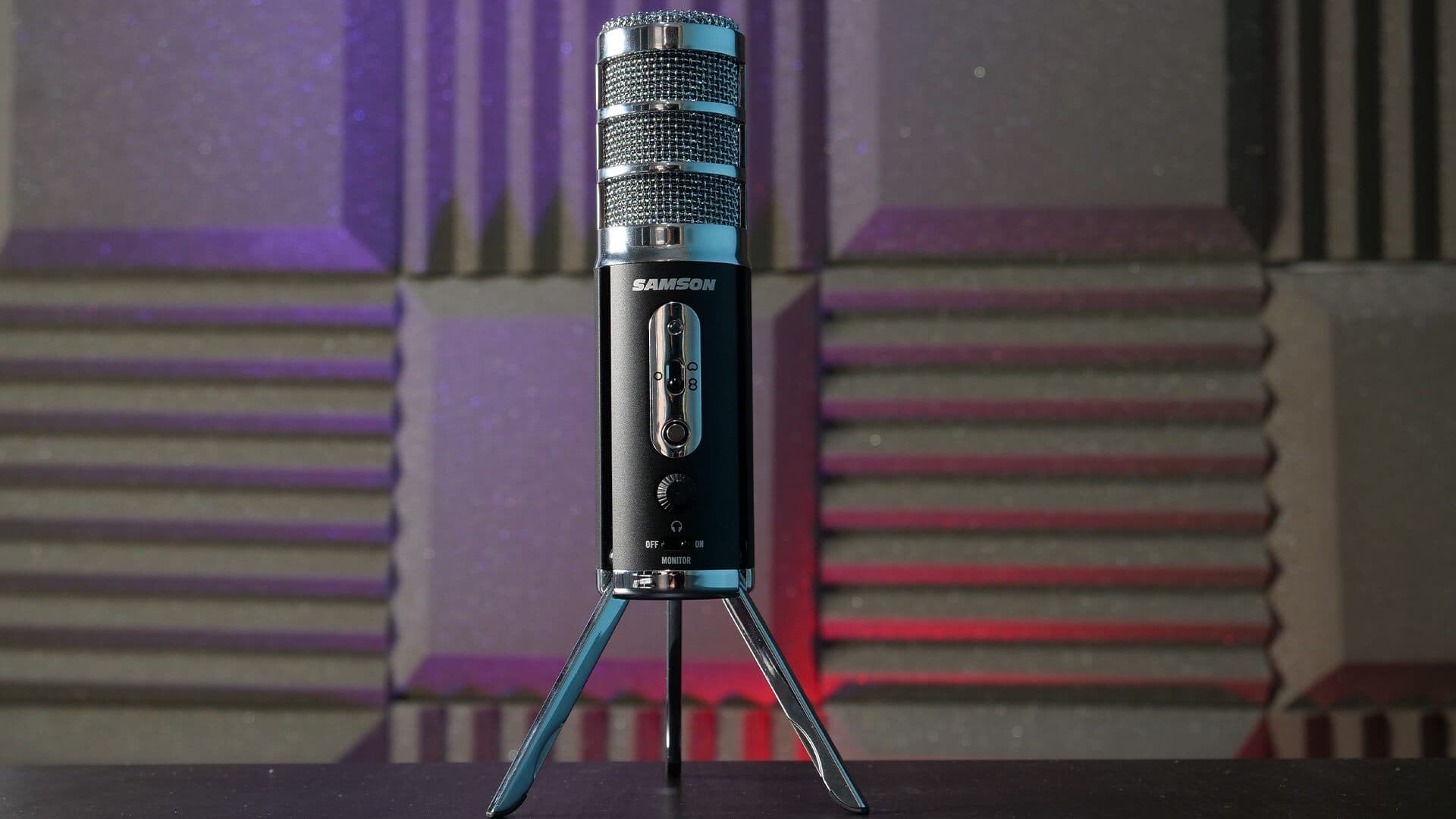 The Satellite is a lightweight, compact microphone in a sleek chrome finish, featuring pull out legs so you can rest it easily without the need for a mic stand, although the Satellite does include a ring mount, just in case. The build quality is of a good standard, feeling robust and able to withstand any stress it may come under, within reason.
Samson Satellite Features
A 3.5mm jack input on the side of the microphone allows you to plug in headphones for direct input monitoring. When monitoring your audio, the volume of your headphones can be adjusted to a comfortable level with the dial located on the front. Above the volume dial is a mute button, handy for if you ever need to take attention away from your broadcast. When pressed, the button does not produce a clicking noise, good for avoiding any distracting audio to get picked up by your listeners.
On the front panel of the microphone is a three-way toggle that switches between the polarities. The Samson Satellite features cardioid, omnidirectional and bidirectional polarities, making it highly versatile. The quality of audio between these polarities is consistently high, capturing crisp and clear audio with a full frequency range, although the bottom end isn't as punchy as some of its higher-cost competitors.
Verdict
At face value, the Samson Satellite doesn't look like much. But there's more than meets the eye. With a sturdy build, multi-functional mic, and all at a bargain price, you can't go wrong with this pocket-sized travel companion.