Radio Station Down? Prevent Dead Air with Online Back-Up
When your radio station goes down, it doesn't have to spell disaster. Discover how you can prevent dead air with Radio.co's online back-up.
Nothing strikes fear into a broadcaster's heart like the thought of dead air. We all have technical difficulties occasionally but smart stations prevent radio silence. You can be one of them by using Radio.co's online back-up.
What Is Dead Air?
Dead air or radio silence is when a radio station fails to broadcast its audio, resulting in silence.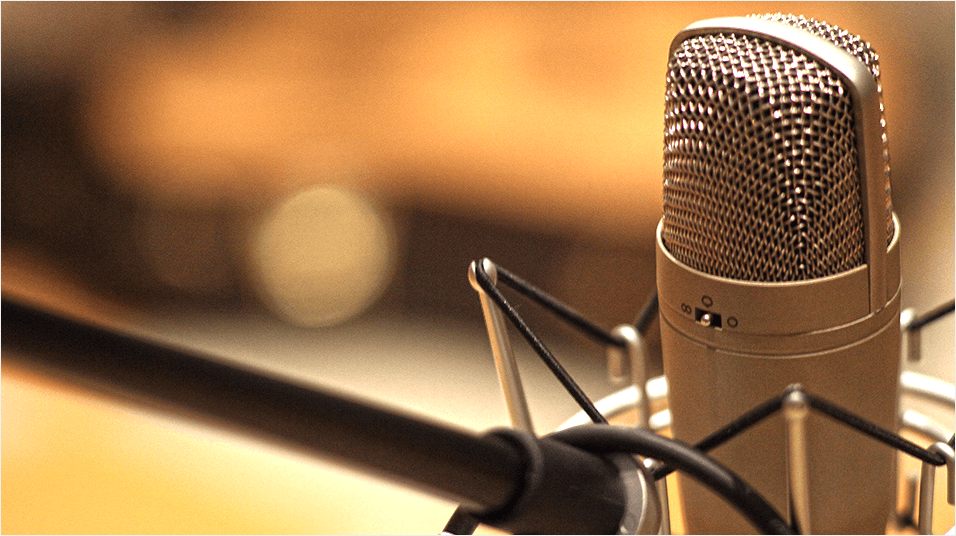 What Are the Consequences of Dead Air?
Dead air is a double-edged source for radio stations. The silence can lose you listeners as they switch to a station they can actually hear. On top of that, licensing bodies penalise stations for dead air. Penalties include fines, having your licence renewed for a shorter period than standard, or having your licence completely revoked. While penalties differ depending on the licensing body of a particular country, they're all detrimental to stations.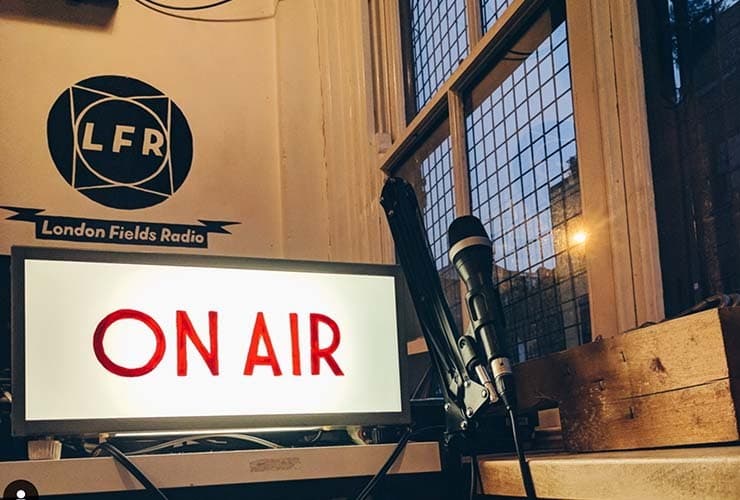 What Causes Dead Air?
A whole host of issues can cause dead air. For online broadcasts, it might be your internet connection cutting out. For terrestrial radio, it might be damage to a transmitter or even bad weather.
How Do You Prevent Dead Air?
You can't always prevent the issues mentioned above, but you can have back-up audio in case this happens.
Radio.co is a cloud-based service. When you upload audio to your Radio.co dashboard, it's stored on the cloud. And isn't affected by your own internet connection. Neither is it affected by issues with your hardware or software.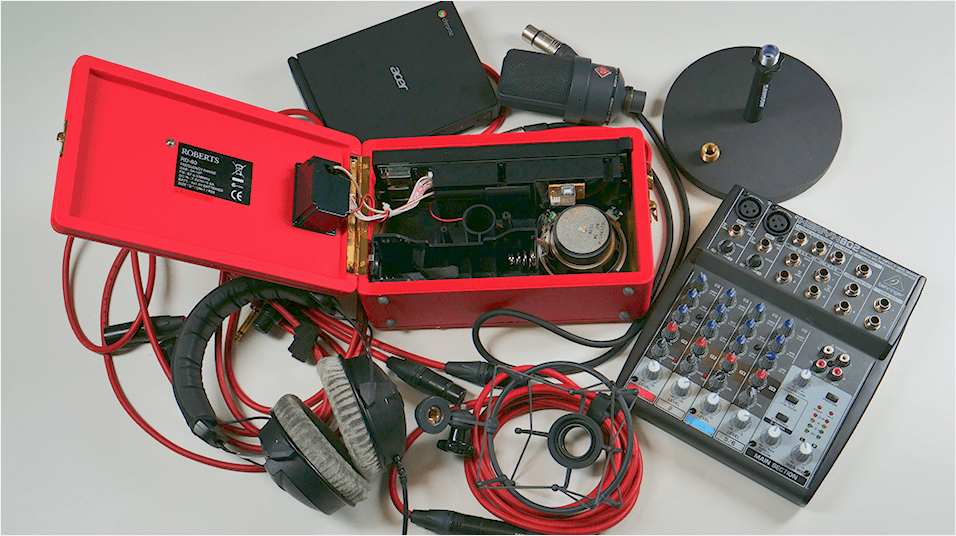 If, for some reason your broadcast cuts out, Radio.co can kick in - and play what's programmed in your schedule. Meaning you keep audio playing. And giving you some time to identify and fix the issues with your broadcast.
Also, unlike other hosting platforms, Radio.co uses several different servers which are at different geographical locations. If one of these servers goes down, your stream is picked up and distributed by one of our other servers.
Route Your FM/DAB broadcast through Radio.co
Send out your broadcasting stream to the Radio.co cloud platform and redirect your feed to the AM/FM or DAB transmitter. Effectively you have a PC listening to the online stream 24/7. Then it gets routed out through your audio processor to the transmitter.

If you're broadcasting AM, FM or DAB, you can also enjoy the safety net of online back-up. It only requires a little re-routing. From your studio, send your broadcasts to your Radio.co account. Then, redirect your Radio.co stream from Radio.co to your AM/FM or DAB transmitter.
So your set-up will look something like this: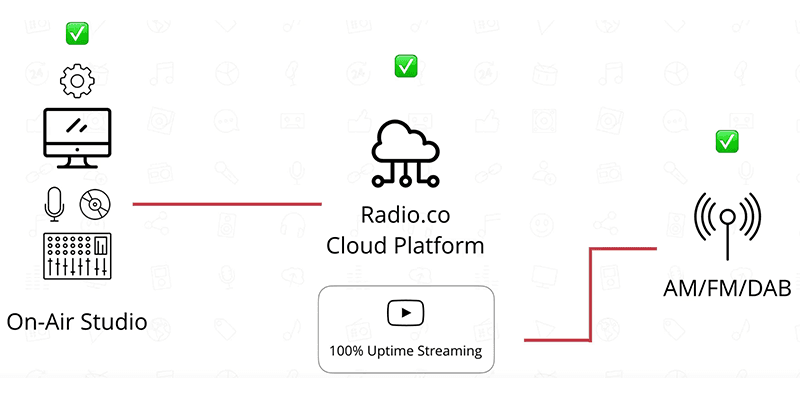 If your live broadcasts drop out for any reason, Radio.co will play your back-up audio instead. Meaning your listeners won't get any dead air. It doesn't matter if they are tuned in via a radio set, or online - they'll keep hearing audio.
If that was to happen, this is what would be happening: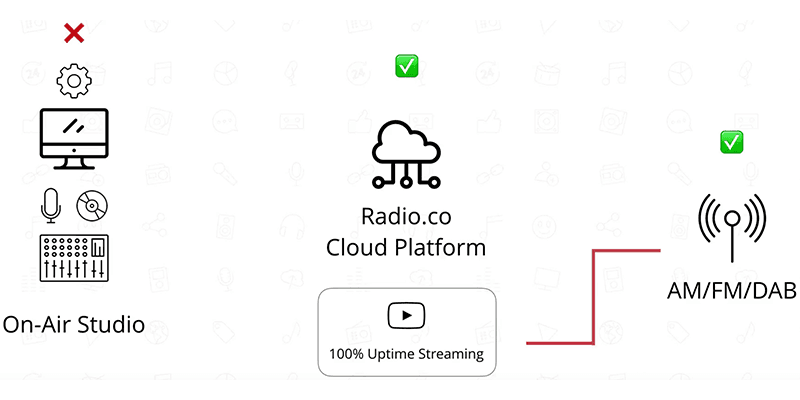 Keep Your Listeners Informed
With Radio.co, you can voice track your shows directly...

This means you can record your voice and upload it directly into your dashboard. Your voice recordings can be played on air. You can even drag and drop them in to your queue in between songs, interviews or other segments.
This way, you can carry on with your radio show by recording your links, questions and general chat.

Or you can record a message explaining the situation to your listeners.
What if I Want To Broadcast Live Still?
To broadcast via Radio.co, all you need is an internet connection and a computer or a smartphone. This opens up more possibilities to keep broadcasting, in case of disaster.
For example, iPhone users can use the iziCast app, to broadcast via their iPhone. The app even lets you broadcast USB devices through it. So, even if your studio goes down, you could continue broadcasting live via your iPhone.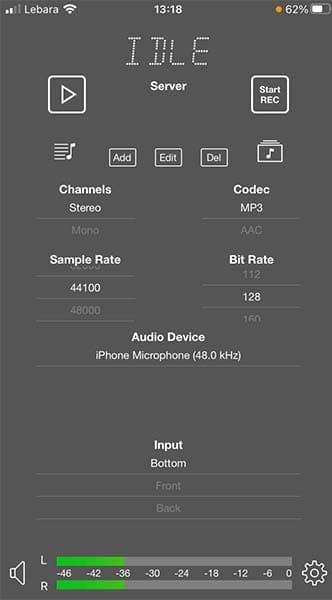 Bonus Benefit: Save On Running Costs With Radio.co
Running a physical radio studio can rack up hefty bills. But with Radio.co, you can programme your station to run from the cloud during quieter periods. e.g. night time.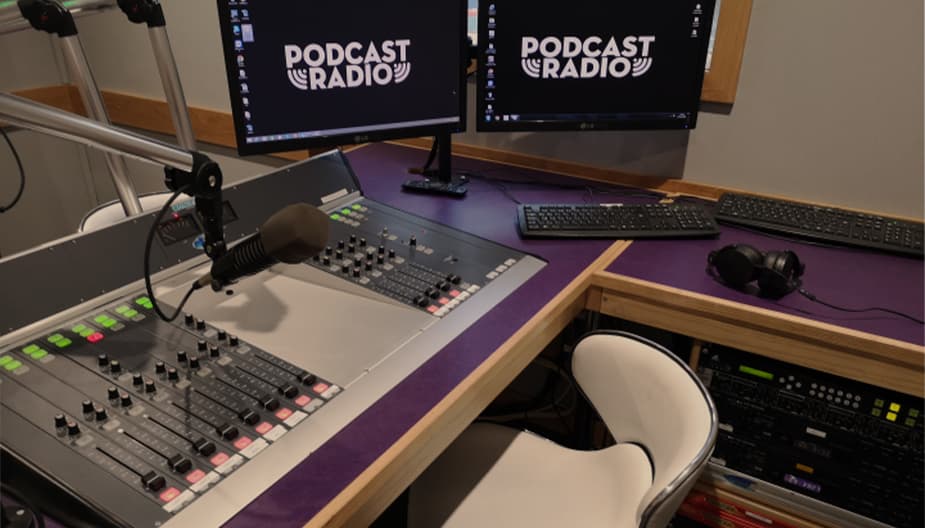 Radio.co's automation tools mean you can put together a professional overnight schedule quickly and easily.

And still go live from your studio when listenership is at its peak. Powering down your studio at night can save big bucks on your running costs.

The Radio.co platform also allows your presenters and DJs to log in and broadcast from their own homes. So if for some reason your studio can't broadcast, your station can stay on air by broadcasting from a different device and internet connection.

To Wrap Up...
No matter your current set up, Radio.co can complement it to ensure you never put out dead air. But if you still have questions, we're more than happy to help. Book a one-on-one call with one of our radio specialists today.